Abstract
At the interface between terrestrial and marine biomes, estuaries display high ecological productivity and provide goods and services to humans. Associated with many ecological functions, they are nursery, refuge, and growing areas for many species fish. These ecological functions and services depend on both their ecological production and trophic carrying capacity and the durability of food web functioning. These transitional key habitats undergo both strong anthropogenic pressures and climatic influences that impact the structure and dynamics of estuarine biodiversity. In this context, we explore, here, three decades of the Gironde estuary ecosystem history to detect the food web's response to global changes-induced effect on biodiversity. At least two Ecological Abrupt Shifts associated with deep modifications in the biodiversity at most trophic levels have been documented for this particular ecosystem. Three food web models were thus calibrated, one for each of the three periods discriminated by the two shifts that occurred at the end of the 1980s and the beginning of the 2000s. Results highlighted that the ecotrophic efficiency estimate for subtidal macrofauna and shrimps reached the maximum possible values during the last period. This could mean that the Gironde estuary fully reached its trophic carrying capacity due to a food limitation especially for benthos demersal fish. We also observed a significant decrease in some food web indicators (such as Average Mutual Information, System Omnivory Index, and Average Path Length) usually associated with ecosystem stress, suggesting a significant impact of global change on the Gironde estuary ecosystem health and questioning the sustainability of the ecological functions associated with this ecosystem.
We're sorry, something doesn't seem to be working properly.
Please try refreshing the page. If that doesn't work, please contact support so we can address the problem.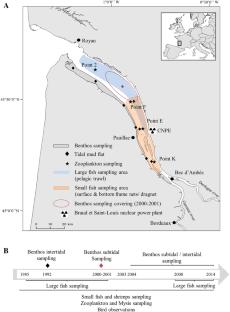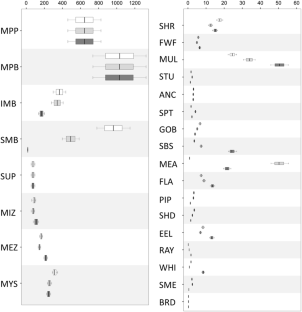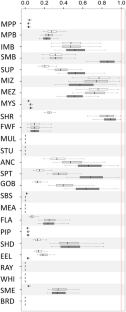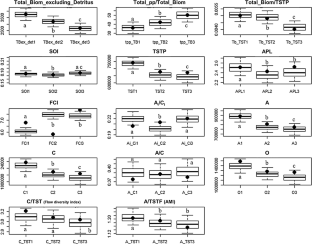 References
Abarca-Arenas LG, Ulanowicz RE. 2002. The effects of taxonomic aggregation on network analysis. Ecol Model 149:285–96.

Able KW. 2005. A re-examination of fish estuarine dependence: Evidence for connectivity between estuarine and ocean habitats. Estuar, Coastal Shelf Sci 64:5–17.

Ainsworth C, Feriss B, Leblond E, Guénette S. 2001. The Bay of Biscay, France: 1998 and 1970 models. Fish. Cent. Res. Rep. 9:271–313.

Allen GP. 1972. Etude des processus sédimentaires dans l'estuaire de la Gironde. Sciences Naturelles. Bordeaux: Université de Bordeaux I, p. 314.

Allen GP, Salomon JC, Bassoullet P, Du Penhoat Y, de Grandpré C. 1980. Effects of tides on mixing and suspended sediment transport in macrotidal estuaries. Sediment. Geol. 26:69–90.

Araújo JN, Mackinson S, Stanford RJ, Sims DW, Southward AJ, Hawkins SJ, Ellis JR, Hart PJB. 2006. Modelling food web interactions, variation in plankton production, and fisheries in the western English Channel ecosystem. Mar Ecol Prog Ser 309:175–87.

Bachelet G, Leconte M. 2015. Macrofaune benthique. Surveillance écologique du site du Blayais, année 2014: Rapp. IFREMER RST ODE/DYNECO/AG/15-01, pp. 199–228.

Baeta A, Niquil N, Marques JC, Patricio J. 2011. Modelling the effects of eutrophication, mitigation measures and an extreme flood event on estuarine benthic food webs. Ecol Model 222:1209–21.

Baird D. 2009. An assessment of the functional variability of selected coastal ecosystems in the context of local environmental changes. ICES J Mar Sci 66:1520–7.

Baird D, Asmus H, Asmus R. 2004a. Energy flow of a boreal intertidal ecosystem, the Sylt-Rømø Bight. Mar Ecol Prog Ser 279:45–61.

Baird D, Asmus H, Asmus R. 2012. Effect of invasive species on the structure and function of the Sylt-Rømø Bight ecosystem, northern Wadden Sea, over three time periods. Mar Ecol Prog Ser 462:143–61.

Baird D, Christian RR, Peterson CH, Johnson GA. 2004b. Consequences of hypoxia on estuarine ecosystem function: energy diversion from consumers to microbes. Ecol Appl 14:805–22.

Baird D, Luczkovich J, Christian RR. 1998. Assessment of Spatial and Temporal Variability in Ecosystem Attributes of the St Marks National Wildlife Refuge, Apalachee Bay, Florida. Estuar, Coastal Shelf Sci 47:329–49.

Baird D, McGlade JM, Ulanowicz RE. 1991. The Comparative Ecology of 6 Marine Ecosystems. Philos. Trans. R. Soc. Lond. Ser. B-Biol. Sci. 333:15–29.

Beck MW, Heck KL, Able KW, Childers DL, Eggleston DB, Gillanders BM, Halpern B, Hays CG, Hoshino K, Minello TJ, Orth RJ, Sheridan PF, Weinstein MR. 2001. The identification, conservation, and management of estuarine and marine nurseries for fish and invertebrates. BioScience 51:633–41.

Béguer M. 2009. Réponses d'une population aux forçages environnementaux et anthropiques: le suivi à long terme de la crevette Palaemon longirostris de l'estuaire de la Gironde (1979–2007). Université de Bordeaux.

Béguer M, Bergé J, Martin J, Martinet J, Pauliac G, Girardin M, Boët P. 2011. Presence of Palaemon macrodactylus in a European estuary: Evidence for a successful invasion of the Gironde (SW France). Aquat Invasions 6:301–18.

Boigontier B, Mounié D. 1984. Contribution à la connaissance de la dynamique de la macrofaune bentho-démersale et pélagique en Gironde. Tentatives et difficultés pour relativiser l'impact mécanique d'une centrale nucléaire: le Blayais (Gironde). Sciences et Techniques en Production Animale option Ichtyologie Appliquée. Toulouse: ENSAT, p. 491.

Brey T. 1990. Estimating productivity of macrobenthic invertebrates from biomass and mean individual weight. MEERESFORSCHUNG/REP. MAR. RES. 32:329–43.

Brook BW, Sodhi NS, Bradshaw CJA. 2008. Synergies among extinction drivers under global change. Trends in Ecol Evol 23:453–60.

Brosse L. 2003. Caractérisation des habitats des juvéniles d'esturgeon européen, Acipenser sturio, dans l'estuaire de la Gironde: relation trophiques, hiérarchisation et vulnérabilité des habitats.

Budzinski H, Jones I, Piérard C, Bellocq J, Garrigues P. 1997. Evaluation of sediment contamination by polycyclic aromatic hydrocarbons in the Gironde estuary. Mar Chem 58:85–97.

Byron C, Link J, Costa-Pierce B, Bengtson D. 2011. Modeling ecological carrying capacity of shellfish aquaculture in highly flushed temperate lagoons. Aquaculture 314:87–99.

Chaalali A, Beaugrand G, Boët P, Sautour B. 2013a. Climate-Caused Abrupt Shifts in a European Macrotidal Estuary. Estuar Coast 36:1193–205.

Chaalali A, Chevillot X, Beaugrand G, David V, Boët P, Sautour B. 2013b. Changes in the distribution of copepods in the Gironde estuary: a warming and marinisation consequence? Estuar Coastal Shelf Sci 134:150–61.

Chevillot X, Drouineau H, Lambert P, Carassou L, Sautour B, Lobry J. 2017. Toward a phenological mismatch in estuarine pelagic food web? PLoS ONE 12:e0173752.

Chevillot X, Pierre M, Rigaud A, Drouineau H, Chaalali A, Sautour B, Lobry J. 2016. Abrupt shifts in the Gironde fish community: an indicator of ecological changes in an estuarine ecosystem. Mar Ecol Prog Ser 549:137–51.

Christensen V, Pauly D. 1992. ECOPATH II - a software for balancing steady-state ecosystem models and calculating network characteristics. Ecol Model 61:169–85.

Christensen V, Pauly D, Eds. 1993. Trophic models of aquatic ecosystems. Manilla, Philippines: ICLARM.

Christensen V, Walters C, Pauly D, Forrest R. 2008. Ecopath with Ecosim version 6 user guide. Lenfest Ocean Futures Project: 235.

Christensen V, Walters CJ, Pauly D. 2005. Ecopath with Ecosim: a User's Guide. Vancouver: Fisheries Centre, University of British Columbia.

Cliff N. 1996. Answering ordinal questions with ordinal data using ordinal statistics. Multivariate Behavioral Research 31:331–50.

Colleter M, Valls A, Guitton J, Gascuel D, Pauly D, Christensen V. 2015. Global overview of the applications of the Ecopath with Ecosim modeling approach using the EcoBase models repository. Ecol Model 302:42–53.

Costanza R, D'Arge R, De Groot R, Farber S, Grasso M, Hannon B, Limburg K, Naeem S, O'Neill RV, Paruelo J, Raskin RG, Sutton P, Van den Belt M. 1997. The value of the world's ecosystem services and natural capital. Nature 387:253–60.

Dauvin J-C. 2007. Paradox of estuarine quality: Benthic indicators and indices, consensus or debate for the future. Mar Pollut Bull 55:271–81.

David V. 2006. Variabilité spatio-temporelle du zooplancton dans l'estuaire de la Gironde et implications au sein du réseau trophique planctonique. Bordeaux: Université de Bordeaux I.

David V, Chardy P, Sautour B. 2006. Fitting a predator-prey model to zooplankton time-series data in the Gironde estuary (France): Ecological significance of the parameters. Estuar, Coastal Shelf Sci 67:605–17.

David V, Sautour B, Chardy P. 2007. Successful colonization of the calanoid copepod Acartia tonsa in the oligo-mesohaline area of the Gironde estuary (SW France) - Natural or anthropogenic forcing? Estuar, Coastal Shelf Sci 71:429–42.

David V, Sautour B, Chardy P, Leconte M. 2005. Long-term changes of the zooplankton variability in a turbid environment: the Gironde estuary (France). Estuar, Coastal Shelf Sci 64:171–84.

de Jonge VN, Elliott M, Brauer VS. 2006. Marine monitoring: Its shortcomings and mismatch with the EU water framework directive's objectives. Mar Pollut Bull 53:5–19.

deYoung B, Barange M, Beaugrand G, Harris R, Perry RI, Scheffer M, Werner F. 2008. Regime shifts in marine ecosystems: detection, prediction and management. Trends in Ecol Evol 23:402–9.

Diaz MV, Pájaro M, Olivar MP, Martos P, Macchi GJ. 2011. Nutritional condition of Argentine anchovy Engraulis anchoita larvae in connection with nursery ground properties. Fish Res 109:330–41.

Elliott M, Quintino V. 2007. The Estuarine Quality Paradox, Environmental Homeostasis and the difficulty of detecting anthropogenic stress in naturally stressed areas. Mar Pollut Bull 54:640–5.

Finn JT. 1980. Flow analysis of models of the Hubbard Brook ecosystem. Ecology 61:562–71.

Folke C, Hahn T, Olsson P, Norberg J. 2005. Adaptive governance of social-ecological systems. Annu. Rev. Environ. Resour. Palo Alto: Annual Reviews, pp. 441–473.

Fox D. 2007. Back to the no-analog future. Science 319:823–5.

Frelat R, Orio A, Casini M, Lehmann A, Mérigot B, Otto SA, Sguotti C, Möllmann C, Handling editor: Marta C. 2018. A three-dimensional view on biodiversity changes: spatial, temporal, and functional perspectives on fish communities in the Baltic Sea. ICES J Mar Sci: fsy027–fsy027.

Fulford R, Peterson MS, Grammer P. 2011. An ecological model of the habitat mosaic in estuarine nursery areas: Part I—Interaction of dispersal theory and habitat variability in describing juvenile fish distributions. Ecol model 222:3203–15.

Guesnet V, Lassalle G, Chaalali A, Kearney K, Saint-Béat B, Karimi B, Grami B, Tecchio S, Niquil N, Lobry J. 2015. Incorporating food-web parameter uncertainty into Ecopath-derived ecological network indicators. Ecol Model 313:29–40.

Hering D, Borja A, Carstensen J, Carvalho L, Elliott M, Feld CK, Heiskanen AS, Johnson RK, Moe J, Pont D, Solheim AL, Van De Bund W. 2010. The European Water Framework Directive at the age of 10: A critical review of the achievements with recommendations for the future. Sci Total Environ 408:4007–19.

Heymans J, Baird D. 2000. A carbon flow model and network analysis of the northern Benguela upwelling system, Namibia. Ecol Model 126:9–32.

Heymans JJ, Coll M, Link JS, Mackinson S, Steenbeek J, Walters C, Christensen V. 2016. Best practice in Ecopath with Ecosim food-web models for ecosystem-based management. Ecol Model 331:173–84

Hillebrand H, Matthiessen B. 2009. Biodiversity in a complex world: consolidation and progress in functional biodiversity research. Ecol Let 12:1405–19.

Hodgson JA, Moilanen A, Wintle BA, Thomas CD. 2011. Habitat area, quality and connectivity: Striking the balance for efficient conservation. J Appl Ecol 48:148–52.

Irigoien X, Castel J. 1997. Light limitation and distribution of chlorophyll pigments in a highly turbid estuary: The Gironde (SW France). Estuar, Coastal Shelf Sci 44:507–17.

Jiang W, Gibbs MT. 2005. Predicting the carrying capacity of bivalve shellfish culture using a steady, linear food web model. Aquaculture 244:171–85.

Johnson GA, Niquil N, Asmus H, Bacher C, Asmus R, Baird D. 2009. The effects of aggregation on the performance of the inverse method and indicators of network analysis. Ecol Model 220:3448–64.

Jorgensen SE, Nielsen SN, Jorgensen LA, Eds. 1991. Handbook of ecological parameters and ecotoxicology. Elsevier, Amsterdam, New York

Jouanneau JM, Latouche C. 1981. The Gironde Estuary.

Kay JJ, Graham LA, Ulanowicz RE. 1989. A detailed guide to network analysis. Network Analysis in Marine Ecology: Springer, pp. 15–61.

Mathews CP. 1971. Contribution of young fish to total production of fish in the River Thames near Reading. J Fish Biol 3:157–80.

Laegdsgaard P, Johnson C. 2001. Why do juvenile fish utilise mangrove habitats? J mar biol ecol 257:229–53.

Le Pape O, Bonhommeau S. 2015. The food limitation hypothesis for juvenile marine fish. Fish and Fisheries 16:373–98.

Leakey R, Lewin R. 1996. The sixth extinction. London: Weidenfield & Nicolson.

Lemaire E, Abril G, De Wit R, Etcheber H. 2002. Distribution of phytoplankton pigments in nine European estuaries and implications for an estuarine typology. Biogeochemistry 59:5–23.

Libralato S. 2008. System Omnivory Index. Jorgensen SE, Fath B editors. Encyclopedia of Ecology. Oxford: Academic Press, pp. 3472–3477.

Libralato S, Christensen V, Pauly D. 2006. A method for identifying keystone species in food web models. Ecol Model 195:153–71.

Link JS. 2010. Adding rigor to ecological network models by evaluating a set of pre-balance diagnostics: A plea for PREBAL. Ecol Model 221:1580–91.

Lobry J, Castelnaud G. 2015. Surveillance halieutique de l'estuaire de la Gironde - Suivi des captures 2014 - Etude de la fuane circulante 2014. Cestas: Irstea, Centre de Bordeaux. p p236.

Lobry J, David V, Pasquaud S, Lepage M, Sautour B, Rochard E. 2008. Diversity and stability of an estuarine trophic network. Mar Ecol Prog Ser 358:13–25.

Lobry J, Désaunay Y, Beucher H. 2006. Anthropogenic impacts on coastal resources: characteristics and evolution of the coastal fisheries of the Bay of Biscay. Alvarez I, deCastro M, Gomez-Gesteira M, Lorenzo MN, Prego R editors. X International Symposium on Oceanography of the Bay of Biscay. Vigo, Galicia, Spain, pp. 345–348.

Loreau M, Naeem S, Inchausti P, Eds. 2002. Biodiversity and ecosystem functioning: synthesis and perspectives. New York: Oxford University Press.

Loreau M, Naeem S, Inchausti P, Bengtsson J, Grime JP, Hector A, Hooper DU, Huston MA, Raffaelli D, Schmid B, Tilman D, Wardle DA. 2001. Ecology - Biodiversity and ecosystem functioning: Current knowledge and future challenges. Science 294:804–8.

Lotze HK, Lenihan HS, Bourque BJ, Bradbury RH, Cooke RG, Kay MC, Kidwell SM, Kirby MX, Peterson CH, Jackson JBC. 2006. Depletion, Degradation, and Recovery Potential of Estuaries and Coastal Seas. Science 312:1806.

Mann KH, Field JG, Wulff F. 1989. Network analysis in marine ecology: an assessment: Springer.

McCann K, Hastings A. 1997. Re–evaluating the omnivory–stability relationship in food webs. Proceedings of the Royal Society of London B: Biological Sciences 264:1249–54.

McCann KS. 2000. The diversity-stability debate. Nature 405:228–33.

McLusky D, Elliott M. 1981. The feeding and survival strategies of estuarine molluscs. Feeding and Survival Srategies of Estuarine Organisms: Springer, pp. 109–121.

McLusky DS, Elliott M. 2004. The Estuarine Ecosystem: Ecology, Threats and Management. Oxford: OUP. p 224p.

Morissette L. 2007. Complexity, cost and quality of ecosystem models and their impact on resilience.: Citeseer.

Nash R, Geffen A. 2000. The influence of nursery ground processes in the determination of year-class strength in juvenile plaice Pleuronectes platessa L. in Port Erin Bay, Irish Sea. J Sea Res 44:101–10.

Nash RD, Geffen AJ, Burrows MT, Gibson RN. 2007. Dynamics of shallow-water juvenile flatfish nursery grounds: application of the self-thinning rule. Mar Ecol Prog Ser 344:231–44.

Nicolas D, Lobry J, Boët P. 2010. Fish under influence? A large-scale functional analysis of relations between abiotic gradients and fish assemblages of European tidal estuaries. ECSA 47 symposium, 14/09/2010 - 19/09/2010. Figueira da Foz, PRT, p. 1.

Niquil N, Chaumillon E, Johnson GA, Bertin X, Grami B, David V, Bacher C, Asmus H, Baird D, Asmus R. 2012. The effect of physical drivers on ecosystem indices derived from ecological network analysis: Comparison across estuarine ecosystems. Estuar Coastal Shelf Sci 108:132–43.

Nunn A, Tewson L, Cowx I. 2012. The foraging ecology of larval and juvenile fishes. Rev Fish Biol Fish 22:377–408.

Nzigou AR. 2012. Production primaire et fonctionnement écologique en milieu estuarien turbide, cas de l'estuaire de la Gironde (France) Océanographie: L'UNIVERSITÉ BORDEAUX I, p. 181.

Odum EP. 1969. The strategy of ecosystem development. Science 164:262–70.

Odum EP. 1985. Trends expected in stressed ecosystems. Bioscience 35:419–22.

Odum EP, Odum HT, Andrews J. 1971. Fundamentals of ecology: Saunders Philadelphia.

Palomares MLD, Pauly D. 1999. Predicting the food consumption of fish populations as functions of mortality, food type, morphometrics, temperature and salinity. Mar Freshw Res 49:447–53.

Pasquaud S, Béguer M, Larsen MH, Chaalali A, Cabral H, Lobry J. 2012. Increase of marine juvenile fish abundances in the middle Gironde estuary related to warmer and more saline waters, due to global changes. Estuar Coastal Shelf Sci 104–105:46–53.

Pasquaud S, David V, Lobry J, Girardin M, Sautour B, Elie P. 2010a. Exploitation of trophic resources by fish under stressful estuarine conditions. Mar Ecol Prog Ser 400:207–19.

Pasquaud S, Elie P, Jeantet C, Billy I, Martinez P, Girardin M. 2008. A preliminary investigation of the fish food web in the Gironde estuary, France, using dietary and stable isotope analyses. Estuar Coastal Shelf Sci 78:267–79.

Pasquaud S, Pillet M, David V, Sautour B, Elie P. 2010b. Determination of fish trophic levels in an estuarine system. Estuar, Coastal Shelf Sci 86:237–46.

Patrício J, Marques JC. 2006. Mass balanced models of the food web in three areas along a gradient of eutrophication symptoms in the south arm of the Mondego estuary (Portugal). Ecol Model 197:21–34.

Patricio J, Ulanowicz R, Pardal MA, Marques JC. 2004. Ascendency as an ecological indicator: a case study of estuarine pulse eutrophication. Estuar Coastal Shelf Sci 60:23–35.

Peuchet L, Lindegren M, Hidalgo M, Delgado M, Esteban A, Fock HO, Gil de Sola L, Punzón A, Sólmundsson J, Payne MR. 2017. From traits to life-history strategies: Deconstructing fish community composition across European seas. Global Ecology and Biogeography 26:812–22.

Polovina JJ. 1984. Model of a coral reef ecosystem. The Ecopath model and its application to French Frigate Shoals. Coral Reefs 3:1–11.

Pronier O, Rochard E. 1998. Fonctionnement d'une population d'éperlan (Osmerus eperlanus, Osmériformes Osmeridae) située en limite méridionale de son aire de répartition, influence de la température. Bulletin Français de la Pêche et de la Pisciculture 350–51:479–97.

Rochette S, Rivot E, Morin J, Mackinson S, Riou P, Le Pape O. 2010. Effect of nursery habitat degradation on flatfish population: Application to Solea solea in the Eastern Channel (Western Europe). J Sea Res 64:34–44.

Rombouts I, Beaugrand G, Fizzala X, Gaill F, Greenstreet SPR, Lamare S, Le Loc'h F, McQuatters-Gollop A, Mialet B, Niquil N, Percelay J, Renaud F, Rossberg AG, Féral JP. 2013. Food web indicators under the Marine Strategy Framework Directive: From complexity to simplicity? Ecol Indic 29:246–54.

Rooney N, McCann KS. 2012. Integrating food web diversity, structure and stability. Trends in Ecol Evol 27:40–6.

Rougier T, Lambert P, Drouineau H, Girardin M, Castelnaud G, Carry L, Aprahamian M, Rivot E, Rochard E. 2012. Collapse of allis shad, Alosa alosa, in the Gironde system (southwest France): Environmental change, fishing mortality, or Allee effect? ICES J Mar Sci 69:1802–11.

Rybarczyk H, Elkaim B, Ochs L, Loquet N. 2003. Analysis of the trophic network of a macrotidal ecosystem: the Bay of Somme (Eastern Channel). Estuar Coastal Shelf Sci 58:405–21.

Saint-Béat B, Baird D, Asmus H, Asmus R, Bacher C, Pacella SR, Johnson GA, David V, Vézina AF, Niquil N. 2015. Trophic networks: How do theories link ecosystem structure and functioning to stability properties? A review. Ecol Indic 52:458–71.

Savoye N, David V, Morisseau F, Etcheber H, Abril G, Billy I, Charlier K, Oggian G, Derriennic H, Sautour B. 2012. Origin and composition of particulate organic matter in a macrotidal turbid estuary: The Gironde Estuary, France. Estuar Coastal Shelf Sci 108:16–28.

Schäfer J, Blanc G, Lapaquellerie Y, Maillet N, Maneux E, Etcheber H. 2002. Ten-year observation of the Gironde tributary fluvial system: Fluxes of suspended matter, particulate organic carbon and cadmium. Mar Chem 79:229–42.

Scharler U. 2012. Ecosystem development during open and closed phases of temporarily open/closed estuaries on the subtropical east coast of South Africa. Estuar Coastal Shelf Sci 108:119–31.

Scharler UM, Baird D. 2005. A comparison of selected ecosystem attributes of three South African estuaries with different freshwater inflow regimes, using network analysis. J Mar Syst 56:283–308.

Scheffer M, Carpenter S, Foley JA, Folke C, Walker B. 2001. Catastrophic shifts in ecosystems. Nature 413:591–6.

Schückel U, Kröncke I, Baird D. 2015. Linking long-term changes in trophic structure and function of an intertidal macrobenthic system to eutrophication and climate change using ecological network analysis. Mar Ecol Prog Ser 536:25–38.

Selleslagh J, Blanchet H, Bachelet G, Lobry J. 2015. Feeding Habitats, Connectivity and Origin of Organic Matter Supporting Fish Populations in an Estuary with a Reduced Intertidal Area Assessed by Stable Isotope Analysis. Estuar Coasts 38:1431–47.

Selleslagh J, Lobry J, Amara R, Brylinski J-M, Boët P. 2012a. Trophic functioning of estuarine ecosystems along a gradient of anthropogenic pressures: a French case study with emphasis on a small and low impacted estuary. Estuar Coastal Shelf Sci 112:73–85.

Selleslagh J, Lobry J, N'Zigou AR, Bachelet G, Blanchet H, Chaalali A, Sautour B, Boët P. 2012b. Seasonal succession of estuarine fish, shrimps, macrozoobenthos and plankton: Physico-chemical and trophic influence. The Gironde estuary as a case study. Estuar Coastal Shelf Sci 112:243–54.

Sheaves M. 2009. Consequences of ecological connectivity: the coastal ecosystem mosaic. Mar Ecol Prog Ser 391:107–15.

Sogard SM. 1992. Variability in growth rates of juvenile fishes in different estuarine habitats. Mar Ecol Prog Ser. Oldendorf 85:35–53.

Sottolichio A, Castaing P. 1999. A synthesis on seasonal dynamics of highly-concentrated structures in the Gironde estuary. C. R. Acad. Sci. Ser. IIa Sci. Terre Planetes 329:795–800.

Sottolichio A, Castaing P, Etcheber H, Maneux E, Schmeltz M, Schmidt S. 2011. Observations of suspended sediment dynamics in a highly turbid macrotidal estuary, derived from continuous monitoring. J Coastal Res 64:1579–83.

Sueur F, Triplet P. 1999. Les oiseaux de la baie de Somme. SMACOPI, GOP, Conservatoire du Littoral, RNBS.

Tableau A, Brind'Amour A, Woillez M, Le Bris H. 2015. Influence of food availability on the spatial distribution of juvenile fish within soft sediment nursery habitats. J Sea Res 111:76–87.

Taverny. 1991. Contribution à la connaissance de la dynamique des populations d'Aloses (Alosa fallax Lacépède) dans le système fluvio-estuarien de la Gironde: pêche,biologie et écologie. Etude particulière de la dévalaison et de l'impact des activités humaines. Bordeaux: Université de Bordeaux I, p. 568.

Tecchio S, Chaalali A, Raoux A, Tous Rius A, Lequesne J, Girardin V, Lassalle G, Cachera M, Riou P, Lobry J, Dauvin J-C, Niquil N. 2016. Evaluating ecosystem-level anthropogenic impacts in a stressed transitional environment: The case of the Seine estuary. Ecol Indic 61(Part 2):833–45.

Tecchio S, Rius AT, Dauvin JC, Lobry J, Lassalle G, Morin J, Bacq N, Cachera M, Chaalali A, Villanueva MC, Niquil N. 2015. The mosaic of habitats of the Seine estuary: Insights from food-web modelling and network analysis. Ecol Model 312:91–101.

Thompson RM, Brose U, Dunne JA, Hall RO, Hladyz S, Kitching RL, Martinez ND, Rantala H, Romanuk TN, Stouffer DB, Tylianakis JM. 2012. Food webs: reconciling the structure and function of biodiversity. Trends in Ecol Evol 27:689–97.

Tomczak MT, Heymans JJ, Yletyinen J, Niiranen S, Otto SA, Blenckner T. 2013. Ecological Network Indicators of Ecosystem Status and Change in the Baltic Sea. PLoS One 8:e75439.

Ulanowicz RE. 1986. Growth and Development: Ecosystems Phenomenology. New York: Springer-Verlag.

Ulanowicz RE. 2004. Quantitative methods for ecological network analysis. Computational Biology and Chemistry 28:321–39.

Ulanowicz RE. 2009. The dual nature of ecosystem dynamics. Ecol model 220:1886–92.

Ulanowicz RE, Abarca-Arenas LG. 1997. An informational synthesis of ecosystem structure and function. Ecol Model 95:1–10.

Ulanowicz RE, Wulff F. 1991. Comparing ecosystem structures: the Chesapeake Bay and the Baltic Sea. Comparative Analyses of Ecosystems: Springer, pp. 140-166.

van der Veer HW. 1993. The 'maximum growth/optimal food condition'hypothesis: a test for 0-group plaice Pleuronectes platessa in the Dutch Wadden Sea. Mar Ecol Prog Ser 101:81–90.

van der Veer HW, Berghahn R, Miller JM, Rijnsdorp AD. 2000. Recruitment in flatfish, with special emphasis on North Atlantic species: Progress made by the Flatfish Symposia. Ices J Marine Science 57:202–15.

Villasante S, Arreguín-Sánchez F, Heymans JJ, Libralato S, Piroddi C, Christensen V, Coll M. 2016. Modelling marine ecosystems using the Ecopath with Ecosim food web approach: New insights to address complex dynamics after 30 years of developments. Ecol Model 331:1–4.

Vinagre C, Salgado J, Costa MJ, Cabral HN. 2008. Nursery fidelity, food web interactions and primary sources of nutrition of the juveniles of Solea solea and S. senegalensis in the Tagus estuary (Portugal): A stable isotope approach. Estuar Coastal Shelf Sci 76:255–64.

Wennhage H, Gibson R. 1998. Influence of food supply and a potential predator (Crangon crangon) on settling behaviour of plaice (Pleuronectes platessa). J Sea Res 39:103–12.

Winemiller KO. 1995. Aspects structurels et fonctionnels de la biodiversité des peuplements de poissons. Bulletin Francais de la Peche et de la Pisciculture 337(338/339):23–45.

Wulff F, Field JG, Mann KH. 1989. Network analysis in marine ecology-Methods and applications-Coastal and estuarine studies formerly lecture notes on coastal and estuarine studies: Springer-Verlag.
Acknowledgements
Particular thanks are due to Hugues Blanchet, Raphael Musseau, and the 'Biosphère environnement' team for their benthos and bird data and highly relevant comments. We thank all TRANSECT, STURAT, SOMLIT, and Blayais team members, technicians, researchers, captains, and crews, who have contributed to samplings since 1979. Data since 1997 can be downloaded at: http://somlit.epoc.u-bordeaux1.fr/fr. These programmes were supported by Electricité de France (EDF), Irstea, Ifremer, and the CNRS.
Funding
This work was supported by the French Ministry in charge of Environment and the Regional Council of Aquitaine (CPER programme) as a part of the LITEAU-TRAJEST Project. This study has been partly carried out with financial support from the French National Research Agency (ANR) in the frame of the Investments for the future Programme, within the Cluster of Excellence COTE (ANR-10-LABX-45).
Additional information
Authors' contributions
XC, JL, GB, BS, and NN conceived of or designed the study; XC, JL, ST, AC, and NN performed the research; XC, JL, ST, AC, GC, GB, and NN analysed the data; XC, JL, ST, AC, GL, and NN contributed new methods or models; XC, ST, AC, JS, GL, GB, NN, BS, and JL wrote the paper.
Electronic supplementary material
Below is the link to the electronic supplementary material.
About this article
Cite this article
Chevillot, X., Tecchio, S., Chaalali, A. et al. Global Changes Jeopardize the Trophic Carrying Capacity and Functioning of Estuarine Ecosystems. Ecosystems 22, 473–495 (2019). https://doi.org/10.1007/s10021-018-0282-9
Received:

Accepted:

Published:

Issue Date:
Keywords
trophic carrying capacity

global changes

food web functioning

ecopath

estuary

ecological abrupt shifts

ecological network analysis

ENAtool

gironde estuary