Abstract
Reduced precipitation treatments often are used in field experiments to explore the effects of drought on plant productivity and species composition. However, in seasonally snow-covered regions reduced precipitation also reduces snow cover, which can increase soil frost depth, decrease minimum soil temperatures and increase soil freeze–thaw cycles. Therefore, in addition to the effects of reduced precipitation on plants via drought, freezing damage to overwintering plant tissues at or below the soil surface could further affect plant productivity and relative species abundances during the growing season. We examined the effects of both reduced rainfall (via rain-out shelters) and reduced snow cover (via snow removal) at 13 sites globally (primarily grasslands) within the framework of the International Drought Experiment, a coordinated distributed experiment. Plant cover was estimated at the species level, and aboveground biomass was quantified at the functional group level. Among sites, we observed a negative correlation between the snow removal effect on minimum soil temperature and plant biomass production the next growing season. Three sites exhibited significant rain-out shelter effects on plant productivity, but there was no correlation among sites between the rain-out shelter effect on minimum soil moisture and plant biomass. There was no interaction between snow removal and rain-out shelters for plant biomass, although these two factors only exhibited significant effects simultaneously for a single site. Overall, our results reveal that reduced snowfall, when it decreases minimum soil temperatures, can be an important component of the total effect of reduced precipitation on plant productivity.
Access options
Buy single article
Instant access to the full article PDF.
US$ 39.95
Tax calculation will be finalised during checkout.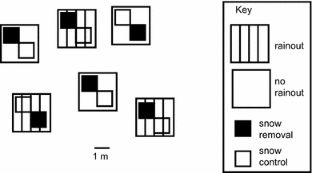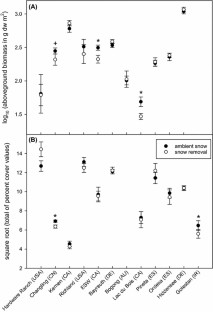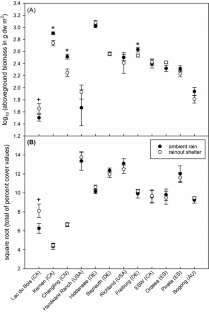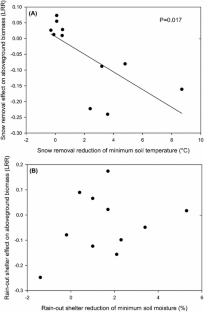 References
Allen CD, Macalady AK, Chenchouni H, Bachelet D, McDowell N, Vennetier M, Kitzberger T, Rigling A, Breshears DD, Hogg EH, Gonzalez P, Fensham R, Zhang Z, Castro J, Demidova N, Lim JH, Allard G, Running SW, Semerci A, Cobb N. 2010. A global overview of drought and heat-induced tree mortality reveals emerging climate change risks for forests. For Ecol Manag 259:660–84.

Blankinship JC, Hart SC. 2012. Consequences of manipulated snow cover on soil gaseous emission and N retention in the growing season: a meta-analysis. Ecosphere 3:1–20.

Bonham CD, Mergen DE, Montoya S. 2004. Plant cover estimation: a contiguous Daubenmire frame. Rangelands 26:17–22.

Borer ET, Harpole WS, Adler PB, Lind EM, Orrock JL, Seabloom EW, Smith MD. 2014. Finding generality in ecology: a model for globally distributed experiments. Methods Ecol Evol 5:65–72.

Breshears DD, Cobb NS, Rich PM, Price KP, Allen CD, Balice RG, Romme WH, Kastens JH, Floyd ML, Belnap J, Anderson JJ, Myers OB, Meyer CW. 2005. Regional vegetation die-off in response to global-change-type drought. Proc Natl Acad Sci USA 102:15144–8.

Bruce TJA, Matthes MC, Napier JA, Pickett JA. 2007. Stressful "memories" of plants: evidence and possible mechanisms. Plant Sci 173:603–8.

Campbell JL, Socci AM, Templer PH. 2014. Increased nitrogen leaching following soil freezing is due to decreased root uptake in a northern hardwood forest. Glob Change Biol 20:2663–73.

Carlyle C, Fraser LH, Turkington R. 2014. Response of grassland biomass production to simulated climate change and clipping along an elevation gradient. Oecologia 174:1065–73.

Ciais P, Reichstein M, Viovy N, Granier A, Ogee J, Allard V, Aubinet M, Buchmann N, Bernhofer C, Carrara A, Chevallier F, De Noblet N, Friend AD, Friedlingstein P, Grunwald T, Heinesch B, Keronen P, Knohl A, Krinner G, Loustau D, Manca G, Matteucci G, Miglietta F, Ourcival JM, Papale D, Pilegaard K, Rambal S, Seufert G, Soussana JF, Sanz MJ, Schulze ED, Vesala T, Valentini R. 2005. Europe-wide reduction in primary productivity caused by the heat and drought in 2003. Nature 437:529–33.

Comerford DP, Schaberg PG, Templer PH, Socci AM, Campbell JL, Wallin KF. 2013. Influence of experimental snow removal on root and canopy physiology of sugar maple trees in a northern hardwood forest. Oecologia 171:261–9.

Dai AG. 2011. Drought under global warming: a review. Wiley Interdiscip Rev Clim Change 2:45–65.

Dai AG. 2013. Increasing drought under global warming in observations and models. Nat Clim Change 3:52–8.

Daubenmire R. 1959. A canopy-coverage method of vegetational analysis. Northwest Sci 33:43–64.

Dunne JA, Harte J, Taylor KJ. 2003. Subalpine meadow flowering phenology responses to climate change: integrating experimental and gradient methods. Ecol Monogr 73:69–86.

Elliott AC, Henry HAL. 2009. Freeze-thaw cycle amplitude and freezing rate effects on extractable nitrogen in a temperate old field soil. Biol Fertil Soils 45:469–76.

English NB, Weltzin JF, Fravolini A, Thomas L, Williams DG. 2005. The influence of soil texture and vegetation on soil moisture under rainout shelters in a semi-desert grassland. J Arid Environ 63:324–43.

Eziz A, Yan ZB, Tian D, Han WX, Tang ZY, Fang JY. 2017. Drought effect on plant biomass allocation: a meta-analysis. Ecol Evol 7:11002–10.

Fay PA, Kaufman DM, Nippert JB, Carlisle JD, Harper CW. 2008. Changes in grassland ecosystem function due to extreme rainfall events: implications for responses to climate change. Glob Change Biol 14:1600–8.

Fraser LH, Henry HAL, Carlyle CN, White SR, Beierkuhnlein C, Cahill JF, Casper BB, Cleland E, Collins SL, Dukes JS, Knapp AK, Lind E, Long RJ, Luo YQ, Reich PB, Smith MD, Sternberg M, Turkington R. 2013. Coordinated distributed experiments: an emerging tool for testing global hypotheses in ecology and environmental science. Front Ecol Environ 11:147–55.

Fraser LH, Jentsch A, Sternberg M. 2014. What drives plant species diversity? A global distributed test of the unimodal relationship between herbaceous species richness and plant biomass. J Veg Sci 25:1160–6.

Freppaz M, Celi L, Marchelli M, Zanini E. 2008. Snow removal and its influence on temperature and N dynamics in alpine soils (Vallee d'Aoste, northwest Italy). J Plant Nutr Soil Sci 171:672–80.

Gaul D, Hertel D, Leuschner C. 2008. Effects of experimental soil frost on the fine-root system of mature Norway spruce. J Plant Nutr Soil Sci 171:690–8.

Groffman PM, Driscoll CT, Fahey TJ, Hardy JP, Fitzhugh RD, Tierney GL. 2001. Colder soils in a warmer world: a snow manipulation study in a northern hardwood forest ecosystem. Biogeochemistry 56:135–50.

Harrison F. 2011. Getting started with meta-analysis. Methods Ecol Evol 2:1–10.

Henry GHR, Molau U. 1997. Tundra plants and climate change: the international tundra experiment (ITEX). Glob Change Biol 3:1–9.

Henry HAL. 2007. Soil freeze-thaw cycle experiments: trends, methodological weaknesses and suggested improvements. Soil Biol Biochem 39:977–86.

Henry HAL. 2008. Climate change and soil freezing dynamics: historical trends and projected changes. Clim Change 87:421–34.

Hillebrand H, Cardinale BJ. 2010. A critique for meta-analyses and the productivity–diversity relationship. Ecology 91:2545–9.

Hoover DL, Knapp AK, Smith MD. 2014. Resistance and resilience of a grassland ecosystem to climate extremes. Ecology 95:2646–56.

Huelber K, Gottfried M, Pauli H, Reiter K, Winkler M, Grabherr G. 2006. Phenological responses of snowbed species to snow removal dates in the Central Alps: implications for climate warming. Arct Antarct Alp Res 38:99–103.

IPCC, 2014: Climate Change 2014: Synthesis Report. Contribution of Working Groups I, II and III to the Fifth Assessment Report of the Intergovernmental Panel on Climate Change [Core Writing Team, R.K. Pachauri and L.A. Meyer (eds.)]. IPCC, Geneva, Switzerland.

Iwata Y, Hayashi M, Suzuki S, Hirota T, Hasegawa S. 2010. Effects of snow cover on soil freezing, water movement, and snowmelt infiltration: a paired plot experiment. Water Resour Res. https://doi.org/10.1029/2009WR008070.

Joseph G, Henry HAL. 2008. Soil nitrogen leaching losses in response to freeze-thaw cycles and pulsed warming in a temperate old field. Soil Biol Biochem 40:1947–53.

Knapp AK, Avolio ML, Beier C, Carroll CJW, Collins SL, Dukes JS, Fraser LH, Griffin-Nolan RJ, Hoover DL, Jentsch A, Loik ME, Phillips RP, Post AK, Sala OE, Slette IJ, Yahdjian L, Smith MD. 2017. Pushing precipitation to the extremes in distributed experiments: recommendations for simulating wet and dry years. Glob Change Biol 23:1774–82.

Kong RS, Henry HAL. 2016. Prior exposure to freezing stress enhances the survival and recovery of Poa pratensis exposed to severe drought. Am J Bot 103:1890–6.

Kreyling J, Haei M, Laudon H. 2012a. Absence of snow cover reduces understory plant cover and alters plant community composition in boreal forests. Oecologia 168:577–87.

Kreyling J, Arfin Khan MAS, Sultana F, Babel W, Beierkuhnlein C, Foken T, Walter J, Jentsch A. 2017. Drought effects in climate change manipulation experiments: quantifying the influence of ambient weather conditions and rain-out shelter artifacts. Ecosystems 20:301–15.

Kreyling J, Thiel D, Simmnacher K, Willner E, Jentsch A, Beierkuhnlein C. 2012b. Geographic origin and past climatic experience influence the response to late spring frost in four common grass species in central Europe. Ecography 35:268–75.

Kreyling J, Wiesenberg GLB, Thiel D, Wohlfart C, Huber G, Walter J, Jentsch A, Konnert M, Beierkuhnlein C. 2012c. Cold hardiness of Pinus Nigra Arnold as influenced by geographic origin, warming, and extreme summer drought. Environ Exp Bot 78:99–108.

Kulmatiski A, Beard KH. 2013. Woody plant encroachment facilitated by increased precipitation intensity. Nat Clim Change 3:833–7.

Malyshev AV, Henry HAL. 2012. N uptake and growth responses to sub-lethal freezing in the grass Poa pratensis L. Plant Soil 360:175–85.

Natali SM, Schuur EAG, Rubin RL. 2012. Increased plant productivity in Alaskan tundra as a result of experimental warming of soil and permafrost. J Ecol 100:488–98.

Poorter H, Niklas KJ, Reich PB, Oleksyn J, Poot P, Mommer L. 2012. Biomass allocation to leaves, stems and roots: meta-analyses of interspecific variation and environmental control. New Phytol 193:30–50.

Sheffield J, Wood EF. 2008. Projected changes in drought occurrence under future global warming from multi-model, multi-scenario, IPCC AR4 simulations. Clim Dyn 31:79–105.

Skinner RH, Gustine DL, Sanderson MA. 2004. Growth, water relations, and nutritive value of pasture species mixtures under moisture stress. Crop Sci 44:1361–9.

Svejcar T, Angell R, Miller R. 1999. Fixed location rain shelters for studying precipitation effects on rangelands. J Arid Environ 42:187–93.

Templer PH, Schiller AF, Fuller NW, Socci AM, Campbell JL, Drake JE, Kunz TH. 2012. Impact of a reduced winter snowpack on litter arthropod abundance and diversity in a northern hardwood forest ecosystem. Biol Fertil Soils 48:413–24.

Tierney GL, Fahey TJ, Groffman PM, Hardy JP, Fitzhugh RD, Driscoll CT. 2001. Soil freezing alters fine root dynamics in a northern hardwood forest. Biogeochemistry 56:175–90.

Trenberth KE, Dai AG, van der Schrier G, Jones PD, Barichivich J, Briffa KR, Sheffield J. 2014. Global warming and changes in drought. Nat Clim Change 4:17–22.

Vankoughnett MR, Henry HAL. 2014. Soil freezing and N deposition: transient vs multi-year effects on plant productivity and relative species abundance. New Phytol 202:1277–85.

Venn SE, Morgan JW. 2007. Phytomass and phenology of three alpine snowpatch species across a natural snowmelt gradient. Aust J Bot 55:450–6.

Walter J, Jentsch A, Beierkuhnlein C, Kreyling J. 2013. Ecological stress memory and cross stress tolerance in plants in the face of climate extremes. Environ Exp Bot 94:3–8.

Whittaker RJ. 2010. Meta-analyses and mega-mistakes: calling time on meta-analysis of the species richness-productivity relationship. Ecology 91:2522–33.

Wilcox KR, Shi Z, Gherardi LA, Lemoine NP, Koerner SE, Hoover DL, Bork E, Byrne KM, Cahill J, Collins SL, Evans S, Gilgen AK, Holub P, Jiang L, Knapp AK, LeCain D, Liang J, Garcia-Palacios P, Penuelas J, Pockman WT, Smith MD, Sun S, White SR, Yahdjian L, Zhu K, Luo YQ. 2017. Asymmetric responses of primary productivity to precipitation extremes: a synthesis of grassland precipitation manipulation experiments. Glob Change Biol 23:4376–85.

Wipf S, Rixen C, Mulder CPH. 2006. Advanced snowmelt causes shift towards positive neighbour interactions in a subarctic tundra community. Glob Change Biol 12:1496–506.

Xu MH, Peng F, You QG, Guo J, Tian XF, Xue X, Liu M. 2015. Year-round warming and autumnal clipping lead to downward transport of root biomass, carbon and total nitrogen in soil of an alpine meadow. Environ Exp Bot 109:54–62.

Yahdjian L, Sala OE. 2002. A rainout shelter design for intercepting different amounts of rainfall. Oecologia 133:95–101.
Acknowledgements
The authors thank Angelika Kübert for assistance with data collection.
About this article
Cite this article
Henry, H.A.L., Abedi, M., Alados, C.L. et al. Increased Soil Frost Versus Summer Drought as Drivers of Plant Biomass Responses to Reduced Precipitation: Results from a Globally Coordinated Field Experiment. Ecosystems 21, 1432–1444 (2018). https://doi.org/10.1007/s10021-018-0231-7
Received:

Accepted:

Published:

Issue Date:
Keywords
climate

drought

International Drought Experiment

frost

productivity

rain

snow cover

winter