Abstract
Bromus tectorum can transform ecosystems causing negative impacts on the ecological and economic values of sagebrush steppe of the western USA. Although our knowledge of the drivers of the regional distribution of B. tectorum has improved, we have yet to determine the relative importance of climate and local factors causing B. tectorum abundance and impact. To address this, we sampled 555 sites distributed geographically and ecologically throughout the sagebrush steppe. We recorded the canopy cover of B. tectorum, as well as local substrate and vegetation characteristics. Boosted regression tree modeling revealed that climate strongly limits the transformative ability of B. tectorum to a portion of the sagebrush steppe with dry summers (that is, July precipitation <10 mm and the driest annual quarter associated with a mean temperature >15°C) and low native grass canopy cover. This portion includes the Bonneville, Columbia, Lahontan, and lower Snake River basins. These areas are likely to require extreme efforts to reverse B. tectorum transformation. Our predictions, using future climate conditions, suggest that the transformative ability of B. tectorum may not expand geographically and could remain within the same climatically suitable basins. We found B. tectorum in locally disturbed areas within or adjacent to all of our sample sites, but not necessarily within sagebrush steppe vegetation. Conversion of the sagebrush steppe by B. tectorum, therefore, is more likely to occur outside the confines of its current climatically optimal region because of site-specific disturbances, including invasive species control efforts and sagebrush steppe mismanagement, rather than climate change.
Access options
Buy single article
Instant access to the full article PDF.
USD 39.95
Price excludes VAT (USA)
Tax calculation will be finalised during checkout.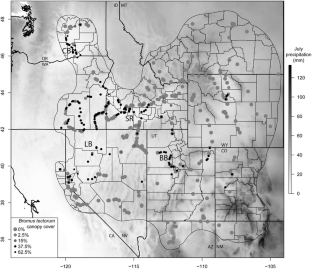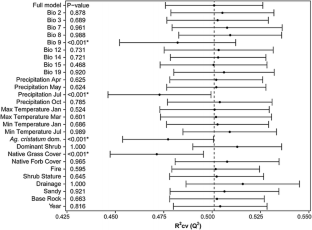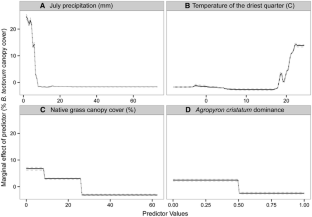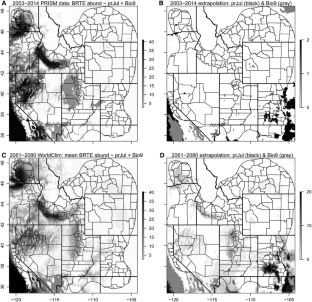 References
Anderson JE, Inouye RS. 2001. Landscape-scale changes in plant species abundance and biodiversity of a sagebrush steppe over 45 years. Ecol Monogr 71:531–56.

Bagchi S, Briske DD, Bestelmeyer BT, Wu XB. 2013. Assessing resilience and state-transition models with historical records of cheatgrass Bromus tectorum invasion in North American sagebrush-steppe. J Appl Ecol 50:1131–41.

Baker WL. 2011. Pre-EuroAmerican and recent fire in sagebrush ecosystems. In: Knick ST, Connelly JW, Eds. Greater Sage-Grouse: Ecology and Conservation of a Landscape Species and its Habitats, Vol. 38Studies in Avian Biology Series, Berkeley: University of California Press. p 185–201.

Balch JK, Bradley BA, D'Antonio CM, Gomez-Dans J. 2013. Introduced annual grass increases regional fire activity across the arid western USA (1980–2009). Glob Change Biol 19:173–83.

Beaumont LJ, Hughes L, Pitman AJ. 2008. Why is the choice of future climate scenarios for species distribution modelling important? Ecol Lett 11:1135–46.

Blank RR, Morgan T, Allen F. 2015. Suppression of annual Bromus tectorum by perennial Agropyron cristatum: roles of soil nitrogen availability and biological soil space. AoB PLANTS 7:plv006. doi:10.1093/aobpla/plv006.

Bradford JB, Lauenroth WK. 2006. Controls over invasion of Bromus tectorum: the importance of climate, soil, disturbance and seed availability. J Veg Sci 17:693–704.

Bradley BA. 2009. Regional analysis of the impacts of climate change on cheatgrass invasion shows potential risk and opportunity. Glob Change Biol 15:196–208.

Bradley BA. 2013. Distribution models of invasive plants over-estimate potential impact. Biol Invasions 15:1417–29.

Bradley BA, Oppenheimer M, Wilcove DS. 2009. Climate change and plant invasions: restoration opportunities ahead? Glob Change Biol 15:1511–21.

Brooks ML, D'Antonio CM, Richardson DM, Grace JB, Keeley JE, DiTomaso JM, Hobbs RJ, Pellant M, Pyke D. 2004. Effects of alien plants on fire regimes. Bioscience 54:677–88.

Brummer TJ, Maxwell BD, Higgs MD, Rew LJ. 2013. Implementing and interpreting local-scale invasive species distribution models. Divers Distrib 19:919–32.

Buisson L, Thuiller W, Casajus N, Lek S, Grenouillet G. 2010. Uncertainty in ensemble forecasting of species distribution. Glob Change Biol 16:1145–57.

Carson R. 1962. Silent spring. New York: Houghton Mifflin Co.

Chambers JC, Roundy BA, Blank RR, Meyer SE, Whittaker A. 2007. What makes Great Basin sagebrush ecosystems invasible by Bromus tectorum? Ecol Monogr 77:117–45.

Chambers JC, Bradley BA, Brown CS, D'Antonio C, Germino MJ, Grace JB, Hardegree SP, Miller RF, Pyke DA. 2014a. Resilience to stress and disturbance, and resistance to Bromus tectorum L. invasion in cold desert shrublands of western North America. Ecosystems 17:360–75.

Chambers JC, Miller RF, Board DI, Pyke DA, Roundy BA, Grace JB, Schupp EW, Tausch RJ. 2014b. Resilience and resistance of sagebrush ecosystems: implications for state and transition models and management treatments. Rangeland Ecol Manag 67:440–54.

Cooper SV, Lesica P, Kudray GM. 2011. Post-fire recovery of wyoming big sagebrush steppe in Central and Southeast Montana. Nat Resour Env Iss 16:Article 2.

Coulloudon B, Eshelman K, Gianola J, Habich N, Hughes L, Johnson C, and others. 1999. Sampling vegetation attributes. Technical Reference 1734-4. Denver, Colorado: Bureau of Land Management (www.blm.gov/nstc/library/pdf/samplveg.pdf).

Cox RD, Anderson VJ. 2004. Increasing native diversity of cheatgrass-dominated rangeland through assisted succession. Rangeland Ecol Manag 57:203–10.

Cronquist A, Holmgren AH, Holmgren NH, Reveal JL, Holmgren PK. 1972. Intermountain Flora, geological and botanical history, plant geography, vascular cryptogams, gymnosperms, glossary, Vol. 1Bronx: New York Botanical Garden Press.

D'Antonio CM, Vitousek PM. 1992. Biological invasions by exotic grasses, the grass/fire cycle, and global change. Ann Rev Ecol Syst 23:63–87.

Daubenmire R. 1959. A canopy-coverage method of vegetational analysis. Northwest Sci 33:43–64.

Davies GM, Bakker JD, Dettweiler-Robinson E, Dunwiddie PW, Hall SA, Downs J, Evans J. 2012. Trajectories of change in sagebrush steppe vegetation communities in relation to multiple wildfires. Ecol Appl 22:1562–77.

Davies KW, Boyd CS, Beck JL, Bates JD, Svejcar TJ, Gregg MA. 2011. Saving the sagebrush sea: an ecosystem conservation plan for big sagebrush plant communities. Biol Conserv 144:2573–84.

Davies KW, Bates JD, Madsen MD, Nafus AM. 2014. Restoration of mountain big sagebrush steppe following prescribed burning to control Western Juniper. Environ Manag 53:1015–22.

Douglas WO. 1961. My wilderness: East to Katahdin. Garden City: Doubleday.

Efron B. 1983. Estimating the error rate of a prediction rule: improvement on cross-validation. J Am Stat Assoc 78:316–31.

Elith J, Leathwick JR, Hastie T. 2008. A working guide to boosted regression trees. J Anim Ecol 77:802–13.

Gunnell KL, Monaco TA, Call CA, Ransom CV. 2010. Seedling interference and niche differentiation between crested wheatgrass and contrasting native Great Basin species. Rangeland Ecol Manag 63:443–9.

Haubensak K, D'Antonio C, Wixon D. 2009. Effects of fire and environmental variables on plant structure and composition in grazed salt desert shrublands of the Great Basin (USA). J Arid Environ 73:643–50.

Hijmans RJ, Cameron SE, Parra JL, Jones PG, Jarvis A. 2005. Very high resolution interpolated climate surfaces for global land areas. Int J Climatol 25:1965–78.

Hijmans RJ, Phillips S, Leathwick J, Elith J. 2015a. dismo: species distribution modeling, version 1.0-12. cran.r-project.org/web/packages/dismo/.

Hijmans RJ, Van Etten J. Mattiuzzi M, Sumner M, Greenberg JA, Lamigueiro OP, and others. 2015b. raster: geographic data analysis and modeling, version 2.3-40. cran.r-project.org/web/packages/raster/.

Holmgren NH, Holmgren PK, Reveal JL, DE Atha, Spellenberg R, Holmgren AH et al. 2012. Intermountain Flora, subclasses Magnoliidae-Caryophyllideae, Vol. 2ABronx: New York Botanical Garden.

Jones TA, Monaco TA. 2009. A role for assisted evolution in designing native plant materials for domesticated landscapes. Front Ecol Environ 7:541–7.

Knapp PA. 1996. Cheatgrass (Bromus tectorum L.) dominance in the Great Basin Desert. Glob Environ Change 6:37–52.

Knick ST. 1999. Requiem for a sagebrush ecosystem. Northwest Sci 73:53–7.

Knutson KC, Pyke DA, Wirth TA, Arkle RS, Pilliod DS, Brooks ML, Chambers JS, Grace JB. 2014. Long-term effects of reseeding after wildfire on vegetation composition in the Great Basin shrub steppe. J Appl Ecol 51:1414–24.

Lavin M. 1983. Floristics of the upper Walker River, California and Nevada. Great Basin Naturalist 43:93–130.

Lavin M, Seibert C. 2011. Great Plains Flora? Plant geography of eastern Montana's lower elevation shrub-grass dominated vegetation. Natural Resources and Environmental Issues: Vol. 16, Article 2 (http://digitalcommons.usu.edu/nrei/vol16/iss1/2).

Lavin M, Brummer TJ, Quire R, Maxwell BD, Rew LJ. 2013a. Physical disturbance shapes vascular plant diversity more profoundly than fire in the sagebrush steppe of southeastern Idaho, USA. Ecol Evol 3:1626–41.

Lavin M, Brummer TJ, Seipel T, Maxwell BD, Rew LJ. 2013b. The Intermountain Flora sets the stage for a community phylogenetic analysis of plant biodiversity in the sagebrush steppe of western North America. Mem N Y Bot Gard 108:63–84.

Leger EA, Espeland EK, Merrill KR, Meyer SE. 2009. Genetic variation and local adaptation at a cheatgrass (Bromus tectorum) invasion edge in western Nevada. Mol Ecol 18:4366–79.

Lesica P. 2012. Manual of montana vascular plants. Fort Worth: BRIT Press.

Mack RN. 2011. Fifty years of 'waging war on cheatgrass': research advances, while meaningful control languishes. In: Richardson DM, Ed. Fifty years of invasion ecology. Oxford: Wiley. p 253–65.

McDonald A, Riha S, DiTommaso A, DeGaetano A. 2009. Climate change and the geography of weed damage: analysis of US maize systems suggests the potential for significant range transformations. Agric Ecosyst Environ 130:131–40.

Mesgaran MB, Cousens RD, Webber BL. 2014. Here be dragons: a tool for quantifying novelty due to covariate range and correlation change when projecting species distribution models. Divers Distrib 20:1147–59.

Mote P, Brekke L, Duffy PB, Maurer E. 2011. Guidelines for constructing climate scenarios. Eos 92:257–64.

Nafus AM, Svejcar TJ, Ganskopp DC, Davies KW. 2015. Abundances of coplanted native bunchgrasses and crested wheatgrass after 13 years. Rangeland Ecol Manag 68:211–14.

Nelson ZJ, Weisberg PJ, Kitchen SG. 2014. Influence of climate and environment on post-fire recovery of mountain big sagebrush. Int J Wildland Fire 23:131–42.

O'Donnell MS, Ignizio DA. 2012. Bioclimatic predictors for supporting ecological applications in the conterminous United States: u.S. Geol Surv Data Ser 691:1–10.

Parker IM, Simberloff D, Lonsdale WM, Goodell K, Wonham M, Kareiva PM, Williamson MH, Von Holle B, Moyle PB, Byers JE, Goldwasser L. 1999. Impact: toward a framework for understanding the ecological effects of invaders. Biol Invasions 1:3–19.

Prevéy JS, Seastedt TR. 2014. Seasonality of precipitation interacts with exotic species to alter composition and phenology of a semi-arid grassland. J Ecol 102:1549–61.

PRISM Climate Group. 2015. Oregon State University. http://prism.oregonstate.edu. Accessed 15 Oct 2015.

Quire R. 2013. The sagebrush steppe of Montana and southeastern Idaho shows evidence of high native plant diversity, stability, and resistance to the detrimental effects of nonnative plant species. M.S. Thesis. Bozeman, Montana: Montana State University.

R Core Team. 2015. R: a language and environment for statistical computing. Vienna, Austria: R Foundation for Statistical Computing. www.R-project.org. Accessed 21 June 2015.

Ratzlaff TD, Anderson JE. 1995. Vegetal recovery following wildfire in seeded and unseeded sagebrush steppe. J Range Manag 46:366–91.

Reheis MC. 1999. Extent of Pleistocene lakes in the western Great Basin. USDI, USGS Miscellaneous Field Studies Map MF-2323.

Reisner MD, Grace JB, Pyke DA, Doescher PS. 2013. Conditions favouring Bromus tectorum dominance of endangered sagebrush steppe ecosystems. J Appl Ecol 50:1039–49.

Ribeiro PJ, Diggle PJ. 2015. geoR: analysis of geostatistical data, version 1.7-5.1. cran.r-project.org/web/packages/geoR/.

Seefeldt SS, McCoy SD. 2003. Measuring plant diversity in the tall threetip sagebrush steppe: influence of previous grazing management practices. Environ Manage 32:234–45.

Seipel TF. 2006. Plant species diversity in the sagebrush steppe of Montana. M.S. Thesis. Bozeman, Montana: Montana State University.

Still SM, Richardson BA. 2015. Projections of contemporary and future climate niche for Wyoming big sagebrush (Artemisia tridentata subsp. wyomingensis): a guide for restoration. Nat Areas J 25:30–43.

Suding KN, Gross KL, Houseman GR. 2004. Alternative states and positive feedbacks in restoration ecology. Trends Ecol Evol 19:46–53.

Taylor K, Brummer T, Rew LJ, Lavin M, Maxwell BD. 2014. Bromus tectorum response to fire varies with climate. Ecosystems 17:960–73.

Tisdale EW, Hironaka M. 1981. The sagebrush-grass region: a review of the ecological literature. Forest, Wildlife and Range Experiment Station, Contribution 209. Moscow: University of Idaho.

Twain M. 1872. Roughing It. Reprinted by the University of California Press, 2011.

Vano JA, Kim JB, Rupp DE, Mote PW. 2015. Selecting climate change scenarios using impact-relevant sensitivities. Geophys Res Lett 42:5516–25.

Welch BL. 2005. Big sagebrush: a sea fragmented into lakes, ponds, and puddles. USDA General Technical Report RMRS-144: 1–210.

Wenger SJ, Olden JD. 2012. Assessing transferability of ecological models: an underappreciated aspect of statistical validation. Methods Ecol Evol 3:260–7.

Young JA, Sparks BA. 2002. Cattle in the cold desert. Reno: University of Nevada Press.

Young JA, Clements CD. 2009. Cheatgrass: fire and forage on the range. Reno: University of Nevada Press.

Zelikova TJ, Hufbauer RA, Reed SC, Wertin T, Fettig C, Belnap J. 2013. Eco-evolutionary responses of Bromus tectorum to climate change: implications for biological invasions. Ecol Evol 3:1374–87.
Acknowledgements
This study gained momentum during 2009–2011 field studies in the Idaho National Laboratory. We are grateful to Roger Blew of Gonzales-Stoller Surveillance, LLC, for facilitating the funding and logistics of that interval of our field studies (GSS-0300-1,100,008). BDM and KTT were supported by NSF-WildFIRE PIRE, OISE 09667472. We also acknowledge Curt Freese, World Wildlife Fund, Randall Scott, Northern Arizona University, Arnold Tiehm, University of Nevada Reno, and Martin Wojciechowski, Arizona State University, for facilitating part of the fieldwork conducted during the course of this study. Antonia Hedrick, Bureau of Land Management, Boise, Idaho, first pointed out to us the dramatic landscape differences between the lower and upper Snake River Plains of southern Idaho. We thank the editors and two anonymous reviewers whose comments and suggestions greatly improved the presentation of this manuscript.
Ethics declarations
Conflict of Interest
The authors declare that they have no conflict of interest.
Additional information
Data relevant to this article posted at http://www.montana.edu/mlavin/data/brtesites.txt.
Author Contributions
Tyler J. Brummer conceived of/designed study; contributed new methods/models; performed research; analyzed data; wrote paper. Kimberley T. Taylor conceived of/designed study; contributed new methods/models; performed research; wrote paper. Jay Rotella conceived of/designed study; contributed new methods/models; analyzed data; wrote paper. Bruce D. Maxwell conceived of/designed study; performed research; wrote paper. Lisa J. Rew conceived of/designed study; performed research; wrote paper. Matt Lavin conceived of/designed study; contributed new methods/models; performed research; analyzed data; wrote paper.
Electronic Supplementary Material
Below is the link to the electronic supplementary material.
About this article
Cite this article
Brummer, T.J., Taylor, K.T., Rotella, J. et al. Drivers of Bromus tectorum Abundance in the Western North American Sagebrush Steppe. Ecosystems 19, 986–1000 (2016). https://doi.org/10.1007/s10021-016-9980-3
Received:

Accepted:

Published:

Issue Date:

DOI: https://doi.org/10.1007/s10021-016-9980-3
Keywords
cheatgrass

climate

disturbance

fire

native grass abundance

sagebrush biome