Abstract
Research into the benefits that ecosystems contribute to human wellbeing has multiplied over the last few years following from the seminal contributions of the international Millennium Ecosystem Assessment. In comparison, the fact that some ecosystem goods and services undermine or harm human wellbeing has been seriously overlooked. These negative impacts have become known as ecosystem disservices. The neglect of ecosystem disservices is problematic because investments into the management or reduction of ecosystem disservices may yield better outcomes for human wellbeing, or at a lower investment, than management of ecosystem services. Additionally, management to optimise specific ecosystem services may simultaneously exacerbate associated disservices. We posit that one reason for the neglect of ecosystem disservices from the discourse and policy debates around ecosystems and human wellbeing is because there is no widely accepted definition or typology of ecosystem disservices. Here, we briefly examine current understandings of the term ecosystem disservices and offer a definition and a working typology to help generate debate, policy and management options around ecosystem disservices. We differentiate ecosystem disservices from natural hazards and social hazards, consider some of their inherent properties and then classify them into six categories. A variety of examples are used to illustrate the different types of, and management strategies to, ecosystem disservices.
Access options
Buy single article
Instant access to the full article PDF.
US$ 39.95
Tax calculation will be finalised during checkout.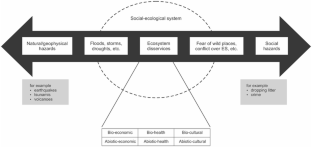 References
Anderson LE. 2011. Ecosystem disservices and poverty. www.inesad.edu.bo. Accessed 16 Sept 2011.

Anon. 2009. Cover essay: the fearsome and the fuzzy. EcoHealth 6:316–17.

Ayres RU, Kneese AV. 1969. Production, consumption and externalities. Am Econ Rev 59:282–97.

Balmford A, Bond W. 2005. Trends in the state of nature and their implications for human well-being. Ecol Lett 8:1218–34.

Banerjee O, Bark R. 2013. Incentives for ecosystem services supply in Australia's Murray-Darling Basin. Int J Water Resour Dev 29:544–56.

Bastian O, Haase D, Grunewald K. 2012. Ecosystem properties, potentials and services: the EPPS conceptual framework and an urban application example. Ecol Indic 21:7–16.

Bostedt G, Ericsson G, Kindberg J. 2008. Contingent values as implicit contracts: estimating minimum legal willingness to pay for conservation of large carnivores in Sweden. Environ Resource Econ 39:189–98.

Boyd J, Banzhaf S. 2007. What are ecosystem services? The need for standardised environmental accounting units. Ecol Econ 63:616–26.

Chan KMA, Satterfield T, Goldstein J. 2012. Rethinking ecosystem services to better address and navigate cultural values. Ecol Econ 74:8–18.

Chapin FSIII, Zavaleta ES, Eviner VT, Naylor RL, Vitousek PM, Reynolds HL, Hooper DU, Lavorel S, SalaI OE, Hobbie SE, Mack MC, Díaz S. 2000. Consequences of changing biodiversity. Nature 105:234–42.

Chrisholm RA. 2010. Trade-offs between ecosystem services: water and carbon in a biodiversity hotspot. Ecol Econ 69:1973–87.

Dale VH, Polasky S. 2007. Measure of the effects of agricultural practices on ecosystem services. Ecol Econ 64:286–96.

Dobbs C, Escobeo FJ, Zipperer WC. 2011. A framework for developing urban forest ecosystem services and goods indicators. Landsc Urban Plan 99:196–206.

Dunn RR. 2010. Global mapping of ecosystem disservices: the unspoken reality that nature sometimes kills us. Biotropica 42:555–7.

Escobedo FJ, Kroeger T, Wagner JE. 2011. Urban forests and pollution mitigation: analysing ecosystem services and disservices. Environ Pollut 159:2078–87.

Fisher B, Turner RK, Morling P. 2009. Defining and classifying ecosystem services for decision making. Ecol Econ 68:643–53.

Gómez-Baggethun E, Barton DN. 2013. Classifying and valuing ecosystem services for urban planning. Ecol Econ 86:235–45.

Gurr GM, Wratten SD, Altieri MA, Eds. 2004. Ecological engineering for pest management: habitat manipulation for arthropods. Collingwood: CSIRO Publishing. 244 pp

Hunter DM. 2010. Credibility of an IPM approach for locust and grasshopper control: the Australian example. J Orthoptera Res 19:133–7.

Kobayashi M, Rollins K, Evans MDR. 2010. Sensitivity of WTP estimates to definition of 'Yes': reinterpreting expressed response intensity. Agric Resour Eco Rev 39:37–55.

Lele S, Springate-Baginski O, Lakerveld R, Deb D, Dash P. 2013. Ecosystem services: origins, contributions, pitfalls and alternatives. Conserv Soc 11:343–58.

Lyytimäki J. 2014. Bad nature: newspaper representations of ecosystem disservices. Urban For Urban Green 13:418–24.

Lyytimäki J. 2015. Ecosystem disservices: embrace the catchword. Ecosyst Servs 12:136.

Lyytimäki J, Petersen LK, Normander B, Bezák P. 2008. Nature as a nuisance? Ecosystem services and disservices to urban lifestyle. Environ Sci 5:161–72.

Lyytimäki J, Sipilä M. 2009. Hopping on one leg: the challenge of ecosystem disservices for urban green management. Urban For Urban Green 8:309–15.

Magor JI, Lecoq M, Hunter DM. 2008. Preventive control and Desert Locust plagues. Crop Protect 27:1527–33.

Malan HL, Appleton CC, Day JA, Dini J. 2009. Wetlands and invertebrate disease hosts: are we asking for trouble? Water SA 35:753–68.

Mathanga DP, Walker ED, Wilson ML, Ali D, Taylor TE, Laufer MK. 2012. Malaria control in Malawi: current status and directions for the future. Acta Trop 121:212–17.

McCauley DJ. 2006. Selling out on nature. Nature 443(7):27–8.

Meehan DT, Werling BP, Landis DL, Gratton C. 2011. Agricultural landscape simplification and insecticide use in Midwestern United States. Proc Natl Acad Sci 108(28):11500–5.

Millennium Ecosystem Assessment. 2005. Ecosystems and human well-being: synthesis. Washington: Island Press.

Ninan KN, Inoue M. 2013. Valuing forest ecosystem services: what we know and what we don't. Ecol Econ 93:137–49.

Power AG. 2010. Ecosystem services and agriculture: tradeoffs and synergies. Philos Trans R Soc B 365:2959–71.

Roy S, Byrne J, Pickering C. 2012. A systematic quantitative review of urban tree benefits, costs and assessment methods across cities in different climatic zones. Urban For Urban Green 11:351–63.

Santos-Martin F, Martin-López B, Garcia-Llorente M, Aguado M, Benayas J, Monte C. 2013. Unraveling the relationships between ecosystems and human wellbeing in Spain. PLOS One, 8 (9), art. no. e73249.

Shapiro J, Báldi A. 2014. Accurate accounting: how to balance ecosystem services and disservices. Ecosyst Serv 7:201–2.

Swain HM, Boughton EH, Bohlen PJ, Lollis LO'G. 2013. Trade-offs among ecosystem services and disservices on a Florida Ranch. Rangelands. doi:10.2111/RANGELANDS-D-13-00053.1.

Taylor M, Rollins K. 2012. The economics of ecologically based invasive plant management on high desert rangelands. Rangelands 34:48–52.

Taylor M, Rollins K, Kobayashi M, Tausch R. 2013. The economics of fuel management: wildfire, invasive plants, and the evolution of sagebrush rangelands in the Western United States. J Environ Manage 126:157–73.

Utzinger J, Tozan Y, Doumani F, Singer BH. 2002. The economic payoffs of integrated malaria control in the Zambian Copperbelt between 1930 and 1950. Trop Med Int Health 7:657–77.

Van Oudenhoven AP, de Groot RS. 2013. Trade-offs and synergies between biodiversity conservation, land use change and ecosystem services. Int J Biodivers Sci Ecosyst Serv Manag 9:87–9.

Villa F, Bagstad KJ, Voigt B, Johnson GW, Athanasiadis IN, Balbi S. 2014. The misconception of ecosystem disservices: how a catchy term may yield the wrong messages for science and society. Ecosyst Serv 10:52–3.

Wallace KJ. 2007. Classification of ecosystem services: problems and solutions. Biol Conserv 139:235–46.

Wenny DG, DeVault TL, Johnson MD, Kelly D, Sekercioglu CH, Tomback DF, Whelan CJ. 2011. The need to quantify ecosystem service provided by birds. Auk 128:1–14.

Zhang W, Ricketts TH, Kremen C, Carney K, Swinton SM. 2007. Ecosystems services and dis-services to agriculture. Ecol Econ 64:253–60.
Acknowledgements
This work was sponsored by the South African Research Chairs Initiative of the Dept of Science and Technology and the National Research Foundation of South Africa. Any opinion, finding, conclusion or recommendation expressed in this material is that of the authors and the NRF does not accept any liability in this regard. We are grateful for comments on an earlier draft of this paper by Patrick O'Farrell and two very probing anonymous reviewers.
Additional information
Author contributions
CMS conceived of the paper and led the discussions and writing of the paper; all others attended the discussion workshop and co-wrote the paper.
About this article
Cite this article
Shackleton, C.M., Ruwanza, S., Sinasson Sanni, G.K. et al. Unpacking Pandora's Box: Understanding and Categorising Ecosystem Disservices for Environmental Management and Human Wellbeing. Ecosystems 19, 587–600 (2016). https://doi.org/10.1007/s10021-015-9952-z
Received:

Accepted:

Published:

Issue Date:
Keywords
definition

ecosystems disservices

management

typology