Abstract
The degree to which tree species will shift in response to climate change is uncertain yet critical to understand for assessing ecosystem vulnerability. We analyze results from recent studies that model potential tree species habitat across the eastern United States during the coming century. Our goals were to quantify and spatially analyze habitat projections and their congruence under multiple climate scenarios and to assess the implications of habitat change for forest vulnerability and adaptation to climate change in and around protected areas. We assessed habitat projections of species habitat extent and forest composition for 35 tree species under climate change from 2000 to 2100 within National Park Service management units in the Appalachian Landscape Conservation Cooperative (ALCC), spanning an approximately 1,500 km latitudinal gradient. Our results show that forest composition and species ranges could change substantially under all greenhouse gas emissions scenarios and that model correspondence was stronger for projections of habitat declines than increases. Model correspondence generally increased at finer spatial scales, but varied by tree species and focal area. In the ALCC, forest composition was projected to change the most in protected area centered ecosystems (PACEs). Northeastern PACEs were projected to be suitable for tree species currently in southeastern PACEs, suggesting that intermediate suitable habitat regions could promote tree species persistence and mitigate the impacts of climate change on eastern forests. These results suggest that climate-specific management of eastern U.S. forest ecosystems will be critical but challenging, requiring integrated assessment and management of PACEs and protected areas as well as higher-resolution monitoring and modeling to inform spatially explicit management decisions within eastern U.S. parks.
Access options
Buy single article
Instant access to the full article PDF.
US$ 39.95
Tax calculation will be finalised during checkout.
Subscribe to journal
Immediate online access to all issues from 2019. Subscription will auto renew annually.
US$ 79
Tax calculation will be finalised during checkout.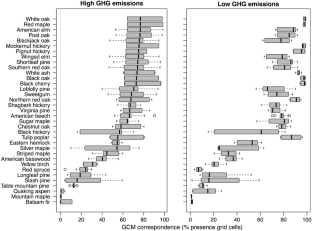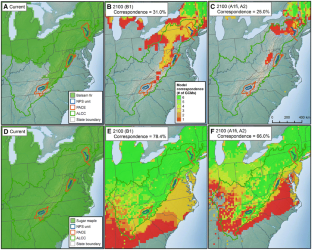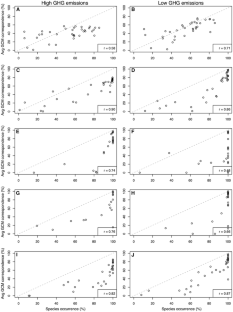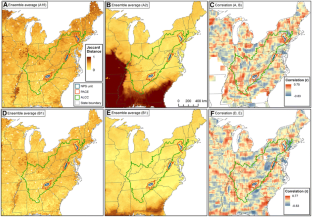 References
Aitken SN, Yeaman S, Holliday JA, Wang T, Curtis-McLane S. 2008. Adaptation, migration or extirpation: climate change outcomes for tree populations. Evol Appl 1(1):95–111.

Allen CD, Macalady AK, Chenchouni H, Bachelet D, McDowell N, Vennetier M, Kitzberger T, Rigling A, Breshears DD, Hogg EH, Gonzalez P, Fensham R, Zhang Z, Castro J, Demidova N, Lim JH, Allard G, Running SW, Semerci A, Cobb N. 2010. A global overview of drought and heat-induced tree mortality reveals emerging climate change risks for forests. For Ecol Manag 259(4):660–84.

Araújo MB, Cabeza M, Thuiller W, Hannah L, Williams PH. 2004. Would climate change drive species out of reserves? An assessment of existing reserve-selection methods. Glob Chang Biol 10(9):1618–26.

Bennett KD. 1997. Evolution and ecology: the pace of life. Cambridge: Cambridge University Press.

Booth TH, Nix HA, Busby JR, Hutchinson MF. 2014. bioclim: the first species distribution modelling package, its early applications and relevance to most current MaxEnt studies. Divers Distrib 20(1):1–9.

Brandt L, He H, Iverson L, Thompson F, Butler P, Handler S, Janowiak M, Swanston C, Albrecht M, Blume-Weaver R, Dijak B, Deizman P, DePuy J, Dinkel G, Fei S, Jones-Farrand T, Leahy M, Matthews S, Nelson P, Oberle B, Perez J, Peters M, Prasad A, Schneiderman JE, Shuey J, Smith AB, Studyvin C, Tirpak J, Walk J, Wang W, Watts L, Weigel D, Westin S. 2014. Central Hardwoods ecosystem vulnerability assessment and synthesis: a report from the Central Hardwoods Climate Change Response Framework project. U.S. Department of Agriculture, Forest Service, Northern Research Station, Gen. Tech. Rep. NRS-124 Newtown Square, PA.

Bréda N, Huc R, Granier A, Dreyer E. 2006. Temperate forest trees and stands under severe drought: a review of ecophysiological responses, adaptation processes and long-term consequences. Ann For Sci 63(6):625–44.

Burns CE, Johnston KM, Schmitz OJ. 2003. Global climate change and mammalian species diversity in US national parks. Proc Natl Acad Sci 100(20):11474–7.

Currie DJ. 2001. Projected effects of climate change on patterns of vertebrate and tree species richness in the conterminous United States. Ecosystems 4(3):216–25.

Davis MB, Shaw RG, Etterson JR. 2005. Evolutionary responses to changing climate. Ecology 86(7):1704–14.

Davis MB, Shaw RG. 2001. Range shifts and adaptive responses to quaternary climate change. Science 292(5517):673–9.

Davis MB, Zabinski C. 1992. Changes in geographical range resulting from greenhouse warming: effects on biodiversity in forests. In: Peters RL, Lovejoy TE, Eds. Global warming and biological diversity. New Haven, CT: Yale University Press. p 297.

Diamond JM. 1975. The island dilemma: lessons of modern biogeographic studies for the design of natural preserves. Biol Conserv 7:129–46.

Elith J, Graham CH, Anderson RP, Dudík M, Ferrier S, Guisan A, Hijmans RJ, Huettmann F, Leathwick JR, Lehmann A, Li J, Lohmann LG, Loiselle BA, Manion G, Moritz C, Nakamura M, Nakazawa Y, Overton JM, Peterson AT, Phillips SJ, Richardson K, Scachetti-Pereira R, Schapire RE, Soberon J, Williams S, Wisz MS, Zimmermann NE. 2006. Novel methods improve prediction of species' distributions from occurrence data. Ecography 29(2):129–51.

Franklin J, Davis FW, Ikegami M, Syphard AD, Flint LE, Flint AL, Hannah L. 2013. Modeling plant species distributions under future climates: how fine scale do climate projections need to be? Glob Chang Biol 19(2):473–83.

Franklin J. 2009. Mapping species distributions: spatial inference and prediction. Cambridge: Cambridge University Press.

Gaston KJ, Jackson SF, Cantú-Salazar L, Cruz-Piñón G. 2008. The ecological performance of protected areas. Annu Rev Ecol Evol Syst 39:93–113.

Glick P, Stein BA, Edelson N, Eds. 2011. Scanning the conservation horizon: a guide to climate change vulnerability assessment. Washington, DC: National Wildlife Federation.

Goetz SJ, Jantz P, Jantz CA. 2009. Connectivity of core habitat in the northeastern United States: Parks and protected areas in a landscape context. Remote Sens Environ 113(7):1421–9.

Handler S, Duveneck MJ, Iverson L, Peters E, Scheller R, Wythers K, Brandt L, Butler P, Janowiak M, Swanston C, Clark-Eagle A, Cohen JG, Corner R, Reich PB, Baker T, Chin S, Clark E, Fehringer D, Fosgitt J, Gries J, Hall K, Hall C, Heyd R, Hoving CL, Ibanez I, Kuhr D, Matthews S, Muladore J, Nadelhoffer K, Neumann D, Peters M, Prasad A, Sands M, Swaty R, Wonch L, Daley J, Davenport M, Emery MR, Johnson G, Johnson L, Neitzel D, Rissman A, Rittenhouse C, Ziel R. 2014. Michigan Forest ecosystem vulnerability assessment and synthesis: a report from the Northwoods Climate Change Response Framework. U.S. Department of Agriculture, Forest Service, Northern Research Station, Gen. Tech. Rep. NRS-129, Newtown Square, PA.

Hannah L, Midgley G, Andelman S, Araújo M, Hughes G, Martinez-Meyer E, Pearson R, Williams P. 2007. Protected area needs in a changing climate. Front Ecol Environ 5(3):131–8.

Hansen AJ, Davis CR, Piekielek N, Gross J, Theobald DM, Goetz S, Melton F, DeFries R. 2011. Delineating the ecosystems containing protected areas for monitoring and management. BioScience 61(5):363–73.

Hansen AJ, Neilson RP, Dale VH, Flather CH, Iverson LR, Currie DJ, Shafer S, Cook R, Bartlein PJ. 2001. Global change in forests: responses of species, communities, and biomes interactions between climate change and land use are projected to cause large shifts in biodiversity. BioScience 51(9):765–79.

Iverson LR, McKenzie D. 2013. Tree-species range shifts in a changing climate: detecting, modeling, assisting. Landsc Ecol 28(5):879–89.

Iverson LR, Prasad AM, Matthews SN, Peters M. 2008a. Estimating potential habitat for 134 eastern US tree species under six climate scenarios. For Ecol Manag 254:390–406.

Iverson L, Prasad A, Matthews S. 2008b. Modeling potential climate change impacts on the trees of the northeastern United States. Mitig Adapt Strateg Glob Chang 13(5–6):487–516.

Iverson LR, Schwartz MW, Prasad AM. 2004. Potential colonization of newly available tree-species habitat under climate change: an analysis for five eastern US species. Landsc Ecol 19(7):787–99.

Jaccard P. 1912. The distribution of the flora in the alpine zone. 1. New Phytol 11(2):37–50.

Jantz P, Goetz S, Laporte N. 2014. Carbon stock corridors to mitigate climate change and promote biodiversity in the tropics. Nat Clim Chang 4(2):138–42.

Koven CD. 2013. Boreal carbon loss due to poleward shift in low-carbon ecosystems. Nat Geosci 6(6):452–6.

Lemieux CJ, Scott DJ. 2005. Climate change, biodiversity conservation and protected area planning in Canada. Canad Geogr 49(4):384–97.

Matthews SN, Iverson LR, Peters MP, Prasad AM, Subburayalu S. 2013. Assessing and comparing risk to climate changes among forested locations: implications for ecosystem services. Landsc Ecol 29:213–18.

Matthews SN, Iverson LR, Prasad AM, Peters MP, Rodewald PG. 2011. Modifying climate change habitat models using tree species-specific assessments of model uncertainty and life history-factors. For Ecol Manag 262(8):1460–72.

Midgley GF, Hannah L, Millar D, Rutherford MC, Powrie LW. 2002. Assessing the vulnerability of species richness to anthropogenic climate change in a biodiversity hotspot. Glob Ecol Biogeogr 11:445–51.

McKenney DW, Pedlar JH, Rood RB, Price D. 2011. Revisiting projected shifts in the climate envelopes of North American trees using updated general circulation models. Glob Chang Biol 17:2720–30.

McKenney DW, Pedlar JH, Lawrence K, Campbell K, Hutchinson MF. 2007. Potential impacts of climate change on the distribution of North American trees. BioScience 57(11):939–48.

McKenney DW, Papadopol P, Campbell KL, Lawrence KM, Hutchinson MF. 2006. Spatial models of Canada- and North America-wide 1971/2000 minimum and maximum temperature, total precipitation and derived bioclimatic variables. Frontline Technical Note 106.

Nakicenovic N, Alcamo J, Davis G, de Vries B, Fenhann J, Gaffin S, Gregory K, Grübler A, Jung TY, Kram T, Lebre La Rovere E, Michaelis L, Mori S, Morita T, Pepper W, Pitcher H, Price L, Riahi K, Roehrl A, Rogner H, Sankovski A, Schlesinger M, Shukla P, Smith S, Swart R, van Rooijen S, Victor N, Dadi Z. 2000. IPCC special report on emissions scenarios. Cambridge: Cambridge University Press.

Nemani R, Hashimoto H, Votava P, Melton F, Wang W, Michaelis A, Mutch L, Milesi C, Hiatt S, White M. 2009. Monitoring and forecasting ecosystem dynamics using the Terrestrial Observation and Prediction System (TOPS). Remote Sens Environ 113(7):1497–509.

Nicotra AB, Atkin OK, Bonser SP, Davidson AM, Finnegan EJ, Mathesius U, Poot P, Purugganan MD, Richards CL, Valladares F, van Kleunen M. 2010. Plant phenotypic plasticity in a changing climate. Trends Plant Sci 15(12):684–92.

Nix HA. 1986. A biogeographic analysis of Australian elapid snakes. Atlas of elapid snakes of Australia: Australian flora and fauna series 7. Canberra: Bureau of Flora and Fauna. p 4.

Parmesan C, Yohe G. 2003. A globally coherent fingerprint of climate change impacts across natural systems. Nature 421(6918):37–42.

Pearson RG. 2006. Climate change and the migration capacity of species. Trends Ecol Evol 21:111–13.

Pearson RG, Dawson TP. 2003. Predicting the impacts of climate change on the distribution of species: are bioclimate envelope models useful? Glob Ecol Biogeogr 12(5):361–71.

Pedlar JH, McKenney DW, Aubin I, Beardmore T, Beaulieu J, Iverson L, O'Neill GA, Winder RS, Ste-Marie C. 2012. Placing forestry in the assisted migration debate. BioScience 62(9):835–42.

Peters MP, Matthews SN, Iverson LR, Prasad AM. 2013. Delineating generalized species boundaries from species distribution data and a species distribution model. International Journal of GIS 28:1547–60.

Peters RL, Myers JP. 1991. Preserving biodiversity in a changing climate. Issues in Science and Technology 8:66–72.

Pimentel D, Wilson C, McCullum C, Huang R, Dwen P, Flack J, Tran Q, Saltman B, Cliff B. 1997. Economic and environmental benefits of biodiversity. BioScience 47(11):747–57.

Potter KM, Hargrove WW, Koch FH. 2010. Predicting climate change extirpation risk for central and southern Appalachian forest tree species. Proceedings from the Conference on Ecology and Management of High-Elevation Forests of the Central and Southern Appalachian Mountains, General Technical Report NRS-P-64, Newton Square, Pennsylvania p 179–89.

Prasad AM, Iverson LR, Liaw A. 2006. Newer classification and regression tree techniques: bagging and random forests for ecological prediction. Ecosystems 9:181–99.

R Core Team. 2013. R: A language and environment for statistical computing. R Foundation for Statistical Computing, Vienna, Austria. http://www.R-project.org/. Accessed 14 Aug 2014.

Schwartz MW. 1993. Modelling effects of habitat fragmentation on the ability of trees to respond to climatic warming. Biodivers Conserv 2:51–61.

Solomon S, Qin D, Manning M, Chen Z, Marquis M, Averyt KB, Tignor M, Miller HL, Eds. 2007. Contribution of Working Group I to the Fourth Assessment Report of the Intergovernmental Panel on Climate Change. Cambridge: Cambridge University Press.

Swanston C, Janowiak M, Iverson L, Parker L, Mladenoff D, Brandt L, Butler P, Pierre MS, Prasad A, Matthews S, Peters M, Higgins D, Dorland A. 2011. Ecosystem vulnerability assessment and synthesis: a report from the Climate Change Response Framework Project in Northern Wisconsin. Gen. Tech. Rep. NRS-82. Newtown Square, PA: United States Department of Agriculture, Forest Service, Northern Research Station.

Thrasher B, Xiong J, Wang W, Melton F, Michaelis A, Nemani R. 2013. Downscaled climate projections suitable for resource management. Eos Trans Am Geophys Union 94(37):321–3.

Williams AP, Allen CD, Macalady AK, Griffin D, Woodhouse CA, Meko DM, Swetnam TW, Rauscher SA, Seager R, Grissino-Mayer HD, Dean JS, Cook ER, Gangodagamage C, Cai M, McDowell NG. 2013. Temperature as a potent driver of regional forest drought stress and tree mortality. Nat Clim Chang 3(3):292–7.

Woodall C, Oswalt CM, Westfall JA, Perry CH, Nelson MD, Finley AO. 2009. An indicator of tree migration in forests of the eastern United States. For Ecol Manag 257:1434–44.

Zhu K, Woodall CW, Clark JS. 2012. Failure to migrate: lack of tree range expansion in response to climate change. Glob Chang Biol 18(3):1042–52.
Acknowledgments
We thank W. Monahan and N. Fisichelli for their helpful comments; Matthew Peters, Stephen Matthews, and Anantha Prasad (U.S. Forest Service, Delaware, OH) for their work in creating and distributing the data represented in Iverson and others (2008a) used in this analysis; Kevin Lawrence, Kathy Campbell, and John Pedlar for their species modeling work in the Plant Hardiness project at Natural Resources Canada, Canadian Forest Service; and the anonymous reviewers for their insights, which greatly improved this manuscript. This work was supported by the National Aeronautics and Space Administration (NASA) Applied Sciences (Ecological Forecasting) program managed by Woody Turner (Grant NNX11AP66G).
Additional information
Author contributions
SGZ: performed research, analyzed data, and wrote manuscript; PJ: designed study, assisted with research and manuscript preparation; TC: assisted with data analysis and manuscript preparation; LI: provided geospatial data, assisted with research and manuscript preparation; DM: provided geospatial data, assisted with research and manuscript preparation; SG: supported analysis and assisted with manuscript preparation.
Electronic supplementary material
Below is the link to the electronic supplementary material.
About this article
Cite this article
Zolkos, S.G., Jantz, P., Cormier, T. et al. Projected Tree Species Redistribution Under Climate Change: Implications for Ecosystem Vulnerability Across Protected Areas in the Eastern United States. Ecosystems 18, 202–220 (2015). https://doi.org/10.1007/s10021-014-9822-0
Received:

Accepted:

Published:

Issue Date:
Keywords
species distribution modeling

species migration

forest management

conservation