Abstract
Elevated levels of inorganic nitrogen (N) deposition and earthworm invasion have the potential to alter N dynamics in eastern North American temperate forests. A regional comparison was conducted across 21 sugar maple (Acer saccharum Marsh) stands in southern Ontario, where forest floor C:N ratios ranged from 17 to 38 showed that, similar to many other studies, rates of potential net mineralization and nitrification increased below a forest floor C:N ratio threshold of approximately 25 and that nitrification rates are positively correlated with foliar N concentration. However, detailed measurements at four representative stands, receiving between 9.8 and 19 kg N ha−1 y−1 in throughfall, showed that foliar N levels were highest at the site with the lowest N deposition. The primary difference amongst these sites was the presence of invasive earthworms. Specifically, sites without earthworms had significantly higher forest floor N with a lower C:N ratio than the sites with earthworms. There was no significant difference in the rate of sugar maple litter decomposition or chemistry amongst the sites assessed after 540 days using fine (2-mm mesh) litter bags, suggesting that differences in forest floor N levels were most likely due to consumption of litter by large earthworm species and that the lower C:N ratio of the forest floor in sites without earthworms is brought about primarily by a much longer residence time. This work supports the conclusions that forest floor N concentration (or C:N ratio) has a very strong control on N dynamics in forests, but shows that the presence of earthworms can have an impact on forest floor C:N ratio and hence N dynamics that is greater than current levels of atmospheric inorganic N deposition in temperate forests of Ontario.
Access options
Buy single article
Instant access to the full article PDF.
USD 39.95
Price excludes VAT (USA)
Tax calculation will be finalised during checkout.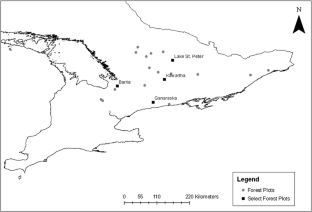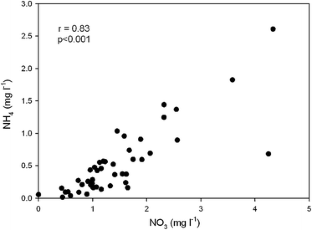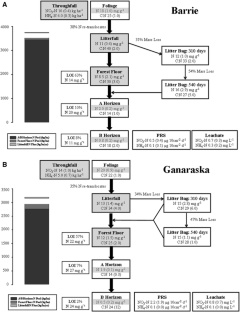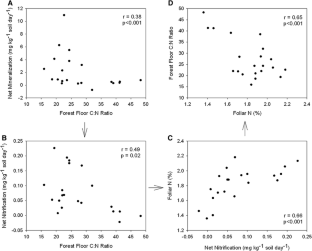 References
Aber JD, Nadelhoffer KJ, Steudler P, Melillo JM. 1989. Nitrogen saturation in northern forest ecosystems. Bioscience 39:378–86.

Aber J, McDowell W, Nadelhoffer K, Magill A, Berntson G, Kamakea M, McNulty S, Currie W, Rustad L, Fernandez I. 1998. Nitrogen saturation in temperate forest ecosystems. Bioscience 48(11):921–34. doi:10.2307/1313296.

Aber JD, Goodale CL, Ollinger SV, Smith M, Magill AH, Martin ME, Hallett RA, Stoddard JL. 2003. Is nitrogen deposition altering the nitrogen status of northeastern forests? Bioscience 53(4):375–89.

Aerts R. 1997. Climate, leaf litter chemistry and leaf litter decomposition in terrestrial ecosystems: a triangular relationship. Oikos 79(3):439–49.

Agren GI, Bosatta E. 1988. Nitrogen saturation of terrestrial ecosystems. Environ Pollut 54:185–97.

Aherne J, Posch M. 2013. Impacts of nitrogen and sulphur deposition on forest ecosystem services in Canada. Curr Opin Environ Sustain 5(1):108–15.

Bobbink R, Hicks K, Galloway J, Spranger T, Alkemade R, Ashmore M, Bustamante M, Cinderby S, Davidson E, Dentener F, Emmett B, Erisman JW, Fenn M, Gilliam F, Nordin A, Padro L, de Vries W. 2010. Global assessment of nitrogen deposition effects on terrestrial plant diversity: a synthesis. Ecol Appl 20:30–59.

Boggs JL, McNulty SG, Gavazzi MJ, Myers JM. 2005. Tree growth, foliar chemistry, and nitrogen cycling across a nitrogen deposition gradient in southern Appalachian deciduous forests. Can J For Res 35(8):1901–13.

Bohlen PJ, Groffman PM, Fahey TJ, Fisk MC, Suárez E, Pelletier DM, Fahey RT. 2004a. Ecosystem consequences of exotic earthworm invasion of north temperate forests. Ecosystems 7:1–12.

Bohlen PJ, Groffman PM, Fahey TJ, Fisk MC. 2004b. Influence of earthworm invasion on redistribution and retention of soil carbon and nitrogen in northern temperate forests. Ecosystems 7:13–29.

Bouche MB. 1977. Strategies lombriciennes. In soil organisms as components of ecosystems. Ecol Bull (Stockholm) 25:122–32.

Burtelow AE, Bohlen PJ, Groffman PM. 1998. Influence of exotic earthworm invasion on soil organic matter, microbial biomass and denitrification potencial in forest soils of the northeastern United States. Appl Soil Ecol 9:197–202.

Cools N, Vesterdal L, De Vos B, Vanguelova E, Hansen K. 2014. Tree species is the major factor explaining C:N ratios in European forest soils. For Ecol Manag 311:3–16.

Costello DM, Lamberti GA. 2009. Biological and physical effects of non-native earthworms on nitrogen cycling in riparian soils. Soil Biol Biochem 41(10):2230–5.

Crossley DA, Hoglund MP. 1962. A litter-bag method for the study of microarthropods inhabiting leaf litter. Ecology 43(3):571–3.

Davis K, McLaughlin D, Fiore L. 2005. Ontario forest biomonitoring network: twenty years of monitoring the health of Ontario's hardwood forest. Waterloo: Parks Research Forum of Ontario. pp 97–104.

De Vries W, Wamelink GWW, van Dobben H, Kros J, Reinds GJ, Mol-Dijkstra JP, Smart SM, Evans CD, Rowe EC, Belyazid S, Sverdrup HU, van Hinsberg A, Posch M, Hettelingh J, Spranger T, Bobbink R. 2010. Use of dynamic soil–vegetation models to assess impacts of nitrogen deposition on plant species composition: an overview. Ecol Appl 20:60–79.

Dise NB, Matzner E, Forsius M. 1998. Evaluation of organic horizon C:N ratio as an indicator of nitrate leaching in conifer forests across Europe. Environ Pollut 102:453–6.

Driscoll CT, Whitall D, Aber J, Boyer E, Castro M, Cronan C, Goodale CL, Groffman P, Hopkinson C, Lambert K, Lawrence G, Ollinger S. 2003. Nitrogen pollution in the northeastern United States: sources, effects, and management options. Bioscience 53:357–74.

Duchesne L, Ouimet R, Camiré C, Houle D. 2001. Seasonal nutrient transfers by foliar resorption, leaching, and litter fall in a northern hardwood forest at Lake Clair Watershed, Quebec, Canada. Can J For Res 31(2):333–44.

Evers AK, Gordon AM, Gray PA, Dunlop WI. 2012. Implications of a potential range expansion of invasive earthworms in Ontario's forested ecosystems: a preliminary vulnerability analysis. Sault Ste Marie, Ontario: Ontario Ministry of Natural Resources. ISBN 978-1-4435-8441-8

Fenn ME, Poth MA, Aber JD, Baron JS, Bormann BT, Johnson DW, Lemly AD, McNulty SG, Ryan DF, Stottlemeyer R. 1998. Nitrogen excess in North American ecosystems: predisposing factors, ecosystem responses and management strategies. Ecol Appl 8(3):706–33.

Frelich LE, Hale CM, Scheu S, Holdsworth AR, Heneghan L, Bohlen PJ, Reich PB. 2006. Earthworm invasion into previously earthworm-free temperate and boreal forests. Biol Invasions 8(6):1235–45.

Gaige E, Dail DB, Hollinger DY, Davidson EA, Fernandez IJ, Sievering H, White A, Halteman W. 2007. Changes in canopy processes following whole-forest canopy nitrogen fertilization of a mature spruce-hemlock forest. Ecosystems 10(7):1133–47.

Gosz JR, Likens GE, Bormann FH. 1976. Organic-matter and nutrient dynamics of forest and forest floor in Hubbard Brook Forest. Oecologia 22(4):305–20. doi:10.1007/BF00345310.

Groffman PM, Bohlen PJ, Fisk MC, Fahey TJ. 2004. Exotic earthworm invasion and microbial biomass in temperate forest soils. Ecosystems 7:45–54.

Gundersen P, Callesen I, de Vries W. 1998. Nitrate leaching in forest ecosystems is related to forest floor C/N ratios. Environ Pollut 102:403–7.

Hale CM, Frelich LE, Reich PB. 2004. Allometric equations for estimation of ash-free dry mass from length measurements for selected European earthworm species (Lumbricidae) in the western Great Lakes region. Am Midl Nat 151:179–85.

Hale CM, Frelich LE, Reich PB. 2005a. Exotic European earthworm invasion dynamics in northern hardwood forests of Minnesota, USA. Ecol Appl 15:848–60.

Hale CM, Frelich LE, Reich PB, Pastor J. 2005b. Effects of European earthworm invasion on soil characteristics in northern hardwood forests of Minnesota, USA. Ecosystems 8(8):911–27.

Hogberg P, Fan HB, Quist M, Binkley D, Tamm CO. 2006. Tree growth and soil acidification in response to 30 years of experimental nitrogen loading on boreal forest. Glob Change Biol 12:489–99.

Holdsworth AR, Frelich LE, Reich PB. 2008. Litter decomposition in earthworm-invaded northern hardwood forests: role of invasion degree and litter chemistry. Ecoscience 15(4):536–44.

Knorr M, Frey SD, Curtis PS. 2005. Nitrogen additions and litter decomposition: a meta-analysis. Ecology 86(12):3252–7.

Kothawala DN, Watmough SA, Futter MN, Zhang L, Dillon PJ. 2011. Stream nitrate responds rapidly to decreasing nitrate deposition. Ecosystems 14(2):274–86.

Kristensen HL, Gundersen P, Callesen I, Reinds GJ. 2004. Throughfall nitrogen deposition has different impacts on soil solution nitrate concentration in European coniferous and deciduous forests. Ecosystems 7(2):180–92.

Lawrence AP, Bowers MA. 2002. A test of the 'hot' mustard extraction method of sampling earthworms. Soil Biol Biochem 34:549–52.

Lovett G, Goodale C. 2011. A new conceptual model of nitrogen saturation based on experimental nitrogen addition to an oak forest. Ecosystems 14(4):615–31.

Lovett GM, Lindberg SE. 1993. Atmospheric deposition and canopy interactions of nitrogen in forests. Can J For Res 23(8):1603–16.

Lovett GM, Weathers KC, Arthur MA. 2002. Control of nitrogen loss from forested watersheds by soil carbon: nitrogen ratio and tree species composition. Ecosystems 5(7):712–18.

Lovett GM, Weathers KC, Arthur MA, Schultz JC. 2004. Nitrogen cycling in a northern hardwood forest: do species matter? Biogeochemistry 67(3):289–308.

McClaugherty CA, Pastor J, Aber JD, Melillo JM. 1985. Forest litter decomposition in relation to soil nitrogen dynamics and litter quality. Ecology 66(1):266–75.

McNulty SG, Aber JD, Boone RD. 1991. Spatial changes in forest floor and foliar chemistry of spruce-fir forests across New England. Biogeochemistry 14(1):13–29.

McNulty SG, Boggs J, Aber JD, Rustad L, Magill A. 2005. Red spruce ecosystem level changes following 14 years of chronic N fertilization. For Ecol Manag 219:279–91.

Melvin AM, Goodale AM. 2013. Tree species and earthworm effects on soil nutrient distribution and turnover in a northeastern United States common garden. Can J For Res 43:180–7. doi:10.1139/cjfr-2012-0187.

Michalzik B, Kalbitz K, Park JH, Solinger S, Matzner E. 2001. Fluxes and concentrations of dissolved organic carbon and nitrogen—a synthesis for temperate forests. Biogeochemistry 52(2):173–205.

Miller DE, Watmough SA. 2009. Air pollution, climate, soil acidity, and indicators of forest health in Ontario's sugar maple forests. Can J For Res 39(11):2065–79.

Reich PB, Oleksyn J, Modrzynski J, Mrozinski P, Hobbie SE, Eissenstat DM, Chorover J, Chadwick OA, Hale CM, Tjoelker MG. 2005. Linking litter calcium, earthworms and soil properties: a common garden test with 14 tree species. Ecol Lett 8(8):811–18.

Reynolds J. 1977. The earthworms (lumbricidae and sparganophilidae) of Ontario. Toronto: Life Sciences Miscellaneous Publications Royal Ontario Museum. pp 1–141.

Rizhiya E, Bertora C, van Vliet PCJ, Kuikman PJ, Faber JH, van Groenigen JW. 2007. Earthworm activity as a determinant for N2O emission from crop residue. Soil Biol Biochem 39:2058–69.

Soil Classification Working Group. 1998. The Canadian system of soil classification. Publication 1646. Ottawa: National Research Council Research Press. p 187.

Tiunov AV, Hale CM, Holdsworth AR, Perel TS. 2006. Invasion patterns of Lumbricidae into the previously earthworm-free areas of northeastern Europe and the western Great Lakes region of North America. Biol Invasions 8:1223–34.

Valckx J, Govers G, Hermy M, Muys B. 2011. Optimizing earthworm sampling in ecosystems. In biology of earthworms (pp. 19-38). Springer, Berlin.

Wallace ZP, Lovett GM, Hart JE, Machona B. 2007. Effects of nitrogen saturation on tree growth and death in a mixed-oak forest. For Ecol Manag 243:210–18.

Watmough SA. 2010. An assessment of the relationship between potential chemical indices of nitrogen saturation and nitrogen deposition in hardwood forests in southern Ontario. Environ Monit Assess 164:9–20.

Watmough SA, Koseva I, Landre A. 2013. A comparison of tension and zero-tension lysimeers and PRS™-probes for measuring soil water chemistry in sandy boreal soils in the Athabasca Oil Sands Region, Canada. Water Air Soil Pollut 224:1663.

Watmough SA, McDonough AM, Raney SM. 2014. Characterizing the influence of highways on springtime NO2 and NH3 concentrations in regional forest monitoring plots. Environ Pollut 190:150–158.

Wironen M, Moore TR. 2006. Exotic earthworm invasion increases soil carbon and nitrogen in an old-growth forest in southern Quebec. Can J For Res 36:845–54. doi:10.1139/X06-016.

Zbieranowski AL, Aherne J. 2011. Long-term trends in atmospheric reactive nitrogen across Canada: 1988–2007. Atmos Environ 45(32):5853–62.

Zbieranowski AL, Aherne J. 2013. Ambient concentrations of atmospheric ammonia, nitrogen dioxide and nitric acid in an intensive agricultural region. Atmos Environ 70:289–99.

Zhang D, Hui D, Luo Y, Zhou G. 2008. Rates of litter decomposition in terrestrial ecosystems: global patterns and controlling factors. J Plant Ecol 1(2):85–93.
Acknowledgments
The authors would like to thank Shanel Raney for assisting in the presentation of the manuscript and Bradley Jennings for the collection of earthworm data. This work was funded by an NSERC grant awarded to SAW, with additional support from Environment Canada and the Ontario Ministry of Environment.
Additional information
Author contributions
Watmough conceived the idea for the paper, obtained the funding, and wrote the manuscript. Meadows performed all the field and lab work and commented on drafts of the manuscript.
About this article
Cite this article
Watmough, S.A., Meadows, M.J. Do Earthworms Have a Greater Influence on Nitrogen Dynamics Than Atmospheric Nitrogen Deposition?. Ecosystems 17, 1257–1270 (2014). https://doi.org/10.1007/s10021-014-9794-0
Received:

Accepted:

Published:

Issue Date:

DOI: https://doi.org/10.1007/s10021-014-9794-0
Keywords