Abstract
Experimental studies have shown that deposition of reactive nitrogen is an important driver of plant community change, however, most of these experiments are of short duration with unrealistic treatments, and conducted in regions with elevated ambient deposition. Studies of spatial gradients of pollution can complement experimental data and indicate whether the potential impacts demonstrated by experiments are actually occurring in the 'real world'. However, targeted surveys exist for only a very few habitats and are not readily comparable. In a coordinated campaign, we determined the species richness and plant community composition of five widespread, semi-natural habitats across Great Britain in sites stratified along gradients of climate and pollution, and related these ecological parameters to major drivers of biodiversity, including climate, pollution deposition, and local edaphic factors. In every habitat, we found reduced species richness and changed species composition associated with higher nitrogen deposition, with remarkable consistency in relative species loss across ecosystem types. Whereas the diversity of mosses, lichens, forbs, and graminoids declines with N deposition in different habitats, the cover of graminoids generally increases. Considered alongside previous experimental studies and survey work, our results provide a compelling argument that nitrogen deposition is a widespread and pervasive threat to terrestrial ecosystems.
Access options
Buy single article
Instant access to the full article PDF.
USD 39.95
Price includes VAT (USA)
Tax calculation will be finalised during checkout.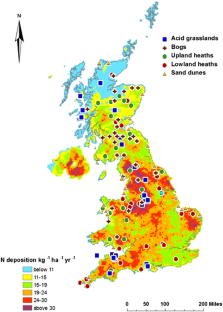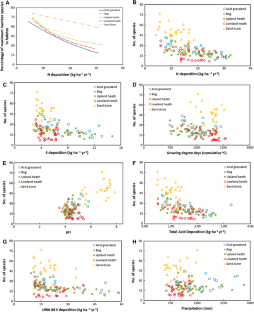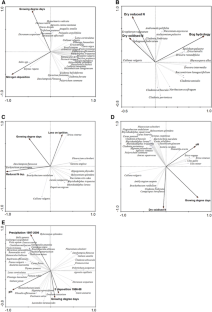 References
Aerts R, Berendse F, De Caluwe H, Schmitz M. 1990. Competition in heathland along an experimental gradient of nutrient availability. Oikos 57:310–8.

Blodau C. 2002. Carbon cycling in peatlands: a review of processes and controls. Environ Rev 10:111–34.

Blois JL et al. 2013. Space can substitute for time in predicting climate-change effects on biodiversity. Proc Natl Acad Sci 110(23):9374–9.

Bobbink R, Hicks K, Galloway J, Spranger T, Alkemade R, Ashmore M, Bustamante M, Cinderby S, Davidson E, Dentener F, Emmett B, Erisman JW, Fenn M, Gilliam F, Nordin A, Pardo L, De Vries W. 2010. Global assessment of nitrogen deposition effects on terrestrial plant diversity: a synthesis. Ecol Appl 20:30–59.

Bowman WD, Cleveland CC, Halada L, Hresko J, Baron JS. 2008. Negative impact of nitrogen deposition on soil buffering capacity. Nat Geosci 1:767–70.

Bubier JL, Moore TR, Bledzki LA. 2007. Effects of nutrient addition on vegetation and carbon cycling in an ombrotrophic bog. Glob Change Biol 13:1168–86.

Buyantuyev A et al. 2012. A space-for-time (SFT) substitution approach to studying historical phenological changes in urban environment. PLoS One 7(12):e51260.

Caporn SJM, Song W, Read DJ, Lee JA. 1995. The effects of repeated N fertilisation on mycorrhizal infection in heather. New Phytol 129:605–9.

Carroll JA, Caporn SJM, Cawley L, Read DJ, Lee JA. 1999. The effect of increased deposition of atmospheric nitrogen on Calluna vulgaris in upland Britain. New Phytol 141:423–31.

Clark CM, Tilman D. 2008. Loss of plant species after chronic low-level nitrogen deposition to prairie grasslands. Nature 451:712–15.

Cunha A, Power SA, Ashmore MR, Green PRS, Haworth BJ, Bobbink R. 2002. Whole ecosystem nitrogen manipulation: an updated review. JNCC: 126.

Daniels SM, Evans MG, Agnew CT, Allott TEH. 2008. Sulphur leaching from headwater catchments in an eroded peatland, South Pennines, UK. Sci Total Environ 407:481–96.

Dise N, Ashmore M, Belyazid S, Bleeker A, Bobbink R, De Vries W, Erisman JW, Spranger T, Stevens CJ, Van den Berg LJL. 2011. Nitrogen as a threat to European terrestrial biodiversity. In: Sutton M, Howard CM, Erisman JW, Billen G, Bleeker A, Grennfelt P, van Grinsman H, Grizzetti B, Eds. The European Nitrogen Assessment. Cambridge: Cambridge University Press.

Duprè C, Stevens CJ, Ranke T, Bleeker A, Peppler-Lisbach C, Gowing DJG, Dise NB, Dorland E, Bobbink R, Diekmann M. 2010. Changes in species richness and composition in European acidic grasslands over the past 70 years: the contribution of cumulative atmospheric nitrogen deposition. Glob Change Biol 16:344–57.

Elkington T, Dayton N, Jackson DL, Strachan IM. 2001. National Vegetation Classification: field guide to mires and heaths. Peterborough: Joint Nature Conservation Committee.

Emmett BA, Boxman D, Bredemeier M, Gundersen P, Kjønaas OJ, Moldan F, Schleppi P, Tietema A, Wright RF. 1998. Predicting the effects of atmospheric nitrogen deposition in conifer stands: evidence from the NITREX Ecosystem-Scale Experiments. Ecosystems 1(4):352–60.

Erisman JW, van Grinsven H, Grizzetti B, Bouraoui F, Powlson D, Sutton MA, Bleeker A, Reis S. 2011. The European nitrogen problem in a global perspective. In: Sutton M, Howard CM, Erisman JW, Billen G, Bleeker A, Grennfelt P, van Grinsman H, Grizzetti B, Eds. The European Nitrogen Assessment. Cambridge: Cambridge University Press.

European Nature Information System, European Environment agency. 2011.

Evans CD, Chadwick T, Norris D, Rowe EC, Heaton THE, Brown P, Battarbee RW. 2014. Persistent surface water acidification in an organic soil-dominated upland region subject to high atmospheric deposition: The North York Moors, UK. Ecol Ind 37:304–16.

Fowler D, Smith R, Muller J, Cape JN, Sutton M, Erisman JW, Fagerli H. 2007. Long term trends in sulphur and nitrogen deposition in Europe and the cause of nonlinearities. In: Brimblecombe P, Hara H, Houle D, Novak M, Eds. Acid rain: deposition to recovery. Springer: Dordrecht.

Fukami T, Wardle DA. 2005. Long-term ecological dynamics: reciprocal insights from natural and anthropogenic gradients. Proc R Soc B 272(1577):2105–15.

Galloway JN, Dentener FJ, Capone DG, Boyer EW, Howarth RW, Seitizinger SP, Asner GP, Cleveland CC, Green PA, Holland EA, Karl DM, Michaels AF, Porter JH, Townsend AR, Vorosmarty CJ. 2004. Nitrogen cycles: past, present and future. Biogeochemistry 70:153–226.

Guerrieri R, Mencuccini M, Sheppard LJ, Saurer M, Perks M, Levy P, Grace J, Sutton MA, Borghetti M. 2011. The legacy of enhanced N and S deposition as revealed by the combined analysis of δ13C, δ18O and δ15N in tree rings. Glob Change Biol 17:1946–62.

Heil GW, Diemont WH. 1983. Raised nutrient levels change heathland into grassland. Vegetatio 53:113–20.

Hill MO, Gauch HG. 1980. Detrended correspondence analysis: an improved ordination technique. Vegetatio 42:47–58.

Jones L, Provins A, Harper-Simmonds L, Holland M, Mills G, Hayes F, Emmett BA, Hall J, Sheppard LJ, Smith R, Sutton M, Hicks K, Ashmore M, Haines-Young R. 2014. A review and application of the evidence for nitrogen impacts on ecosystem services. Ecosyst Services 7:76–88.

Jones MLM, Wallace HL, Norris D, Brittain SA, Haria S, Jones RE, Rhind PM, Reynolds BR, Emmett BA. 2004. Changes in vegetation and soil characteristics in coastal sand dunes along a gradient of atmospheric nitrogen deposition. Plant Biol 6:598–605.

Lee JA. 1998. Unintentional experiments with terrestrial ecosystems: ecological effects of sulphur and nitrogen pollutants. J Ecol 86:1–12.

Leps J, Smilauer P. 2003. Multivariate analysis of ecological data using CANOCO. Cambridge: Cambridge University Press. 260 pp.

Limpens J, Berendse F, Klees H. 2003. N deposition affects N availability in interstitial water, growth of Sphagnum and invasion of vascular plants in bog vegetation. New Phytol 157:339–47.

Maskell LC, Smart SM, Bullock JM, Thompson K, Stevens CJ. 2010. Nitrogen deposition causes widespread loss of species richness in British habitats. Glob Change Biol 16:671–9.

Moore T, Blodau C, Turunen J, Roulet N, Richard PJH. 2005. Patterns of nitrogen and sulfur accumulation and retention in ombrotrophic bogs, eastern Canada. Glob Change Biol 11:356–67.

Phoenix GK, Emmett BA, Britton AJ, Caporn SJM, Dise NB, Helliwell R, Jones L, Leake JR, Leith ID, Sheppard LJ, Sowerby A, Pilkington MG, Rowe EC, Ashmorek MR, Power SA. 2012. Impacts of atmospheric nitrogen deposition: responses of multiple plant and soil parameters across contrasting ecosystems in long-term field experiments. Glob Change Biol 18:1197–215.

Pilkington MG, Caporn SJM, Carroll JA, Cresswell N, Phoenix GK, Lee JA, Emmett BA, Sparks T. 2007. Impacts of burning and increased nitrogen deposition on nitrogen pools and leaching in an upland moor. J Ecol 95:1195–207.

Power SA, Green ER, Barker CG, Bell NB, Ashmore MR. 2006. Ecosystem recovery: heathland response to a reduction in nitrogen deposition. Glob Change Biol 12:1241–52.

Price EAC. 2003. Lowland Grassland and Heathland Habitats. London: Routledge.

R Core Team. 2012. R: a language and environment for statistical computing. R Foundation for Statistical Computing, Vienna, Austria. ISBN 3-900051-07-0. http://www.R-project.org/.

Remke E, Brouwer E, Kooijman A, Blindow I, Roelofs JGM. 2009. Low atmospheric nitrogen enrichment loads leads to grass encroachment in coastal dunes, but only on acid soils. Ecosystems 12:1173–88.

RoTAP. 2012. Review of transboundary air pollution: acidification, eutrophication, ground level ozone and heavy metals in the UK. Contract Report to the Department for Environment, Food and Rural Affairs. Centre for Ecology & Hydrology.

Sala OE, Chapin FS, Armesto JJ, Berlow E, Bloomfield J, Dirzo R, Huber-Sanwald E, Huenneke LF, Jackson RB, Kinzig A, Leemans R, Lodge DM, Mooney HA, Oesterheld M, Poff NL, Sykes MT, Walker BH, Walker M, Wall DH. 2000. Global biodiversity scenarios for the year 2100. Science 287(5459):1770–4.

Sevink S. 1991. Soil development in the coastal dunes and its relation to climate. Landscape Ecol 6:49–56.

Sheppard LJ, Leith ID, Crossley A, Van Dijk N, Fowler D, Sutton MA, Woods C. 2008. Stress responses of Calluna vulgaris to reduced and oxidised N applied under 'real world conditions'. Environ Pollut 154(3):404–13.

Sheppard LJ, Leith ID, Mizunuma T, Cape JN, Crossley A, Leeson S, Sutton MA, Van Dijk N, Fowler D. 2011. Dry deposition of ammonia gas drives species change faster than wet deposition of ammonium ions: evidence from a long-term field manipulation. Glob Change Biol 17:3589–607.

Smith SJ, Pitcher H, Wigley TML. 2001. Global and regional anthropogenic sulfur dioxide emissions. Glob Planet Change 29:99–119.

Southon GE, Field C, Caporn S, Britton A, Power SA. 2013. Nitrogen deposition reduces plant diversity and alters ecosystem functioning: field-scale evidence from a nationwide survey of UK heathlands. PLoS One 8(4):e59031.

Stern DI. 2005. Global sulfur emissions from 1850 to 2000. Chemosphere 58:163–75.

Stevens CJ, Dise NB, Mountford JO, Gowing DJ. 2004. Impact of nitrogen deposition on the species richness of grasslands. Science 303:1876–9.

Stevens CJ, Dise NB, Gowing DJG, Mountford JO. 2006. Loss of forb diversity in relation to nitrogen deposition in the UK: regional trends and potential controls. Glob Change Biol 12:1823–33.

Stevens CJ, Dise NB, Gowing DJG. 2009. Regional trends in soil acidification and exchangeable metal concentrations in relation to acid deposition rates. Environ Pollut 157:313–19.

Stevens CJ, Duprè C, Dorland E, Gaudnik C, Gowing D, Bleeker A, Diekmann M, Alard D, Bobbink R, Fowler D, Corcket E, Mountford JO, Vandvik V, Aarrestad PA, Muller S, Dise NB. 2010. Nitrogen deposition threatens species richness of grasslands across Europe. Environ Pollut 158:2940–5.

Stevens C, Duprè C, Dorland E, Gaudnik C, Bleeker A, Alard D, Dise N, Bobbink R, Fowler D, Corcket E, Mountford JO, Vandvik V, Aarrestad P, Muller S, Diekmann M. 2011. Changes in species composition of European acid grasslands observed along an international gradient of nitrogen deposition. J Veg Sci 22(2):207–15.

ter Braak CJF, Smilauer P. 2004. Canoco Software for Windows 4.53. Biometris Plant Research International, Wageningen, The Netherlands.

Tooke F, Battey NH. 2010. Temperate flowering phenology. J Exp Bot 61(11):2853–62.

Van den Berg LJL, Vergeer P, Rich TCG, Smart SM, Guest DAN, Ashmore MR. 2011. Direct and indirect effects of nitrogen deposition on species composition change in calcareous grasslands. Glob Change Biol 17:1871–83.
Acknowledgments
The survey work and analysis were funded as part of the DEFRA/UKREATE umbrella project. RJP, NBD and SJMC were partially supported by the UK Natural Environment Research Council (NERC) through the European Union FP6 BiodivERsA (ERA-NET) project PEATBOG. The authors wish to thank Jane Hall and Ron Smith of the Centre of Ecology and Hydrology for provision of gridded pollutant data and the UK Met Office for gridded climate data (see below). Finally, the authors are grateful for the large number of people that helped out with the field surveys and the laboratory analysis associated with the project, and the numerous land owners, site managers, rangers and wardens for access permissions during the survey. © Crown Copyright 2009. The UK Climate Projections data (UKCP09) have been made available by the Department for Environment, Food and Rural Affairs (DEFRA) and Department for Energy and Climate Change (DECC) under licence from the Met Office, Newcastle University, University of East Anglia and Proudman Oceanographic Laboratory.
Additional information
Author Contributions
Wrote paper: CDF, NBD, RJP, SJMC; Commented on paper: CJS, GKP, IDL, NBD, RJP, LJ, LJS, RCH, SAP, SJMC; Field data collection: AJB, CDF, CJS, GES, GKP, IDL, LJ, LJS, RCH, SJMC, SL; Data analysis: CDF, RJP; Lab. Analysis: CDF; GES, SH, SL; Study design and conception: All; BAE and SJMC led the Terrestrial Umbrella Programme and Survey Work Package respectively.
Electronic supplementary material
Below is the link to the electronic supplementary material.
About this article
Cite this article
Field, C.D., Dise, N.B., Payne, R.J. et al. The Role of Nitrogen Deposition in Widespread Plant Community Change Across Semi-natural Habitats. Ecosystems 17, 864–877 (2014). https://doi.org/10.1007/s10021-014-9765-5
Received:

Accepted:

Published:

Issue Date:
Keywords
nitrogen

sulphur

climate

pollution impacts