Abstract
Livestock grazing is known to influence carbon (C) storage in vegetation and soil. Yet, for grazing management to be used to optimize C storage, large scale investigations that take into account the typically heterogeneous distribution of grazers and C across the landscape are required. In a landscape-scale grazing experiment in the Scottish uplands, we quantified C stored in swards dominated by the widespread tussock-forming grass species Molinia caerulea. The impact of three sheep stocking treatments ('commercial' 2.7 ewes ha−1 y−1, 'low' 0.9 ewes ha−1 y−1 and no livestock) on plant C stocks was determined at three spatial scales; tussock, sward and landscape, and these data were used to predict long-term changes in soil organic carbon (SOC). We found that tussocks were particularly dense C stores (that is, high C mass per unit area) and that grazing reduced their abundance and thus influenced C stocks held in M. caerulea swards across the landscape; C stocks were 3.83, 5.01 and 6.85 Mg C ha−1 under commercial sheep grazing, low sheep grazing and no grazing, respectively. Measured vegetation C in the three grazing treatments provided annual C inputs to RothC, an organic matter turnover model, to predict changes in SOC over 100 years. RothC predicted SOC to decline under commercial sheep stocking and increase under low sheep grazing and no grazing. Our findings suggest that no sheep and low-intensity sheep grazing are better upland management practices for enhancing plant and soil C sequestration than commercial sheep grazing. This is evaluated in the context of other upland management objectives.
Access options
Buy single article
Instant access to the full article PDF.
US$ 39.95
Tax calculation will be finalised during checkout.
Subscribe to journal
Immediate online access to all issues from 2019. Subscription will auto renew annually.
US$ 79
Tax calculation will be finalised during checkout.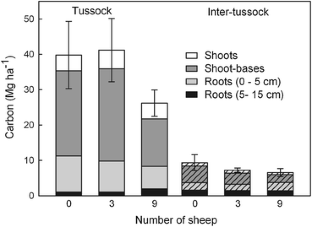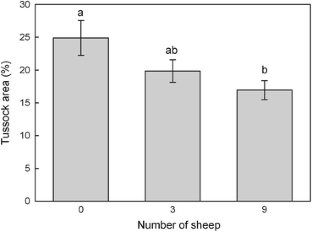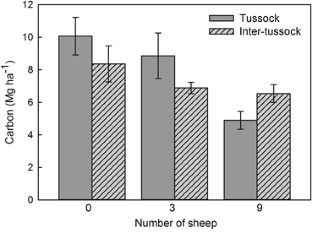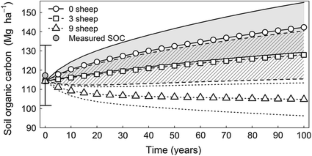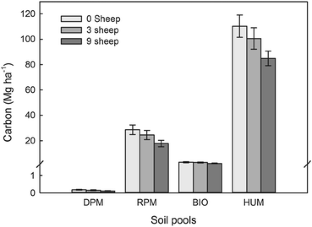 References
Adler PB, Raff DA, Lauenroth WK. 2001. The effect of grazing on the spatial heterogeneity of vegetation. Oecologia 128:465–79.

Aerts R. 1989. Aboveground biomass and nutrient dynamics of Calluna vulgaris and Molinia caerulea in a dry heathland. Oikos 56:31–8.

Aerts R, Bakker C, De Caluwe H. 1992. Root turnover as determinant of the cycling of C, N, and P in a dry heathland ecosystem. Biogeochemistry 15:175–90.

Augustine DJ, Frank DA. 2001. Effects of migratory grazers on spatial heterogeneity of soil nitrogen properties in a grassland ecosystem. Ecology 82:3149–62.

Bakker JP, De Leeuw J, Van Wieren SE. 1984. Micro-patterns in grassland vegetation created and sustained by sheep-grazing. Vegetatio 55:153–61.

Bates DM, Maechler M. 2010. lme 4. Linear mixed-effects models using S4 classes. http://lme4.r-forge.r-project.org/. Accessed 21 March 2013.

Berg G, Esselink P, Groeneweg M, Kiehl K. 1997. Micropatterns in Festuca rubra-dominated salt-marsh vegetation induced by sheep grazing. Plant Ecol 132:1–14.

Billotta GS, Brazier RE, Haygarth PM. 2007. The impacts of grazing animals on the quality of soils, vegetation and surface waters in intensively managed grasslands. Adv Agron 94:237–80.

Bråthen KA, Ims RA, Yoccoz NG, Fauchald P, Tveraa T, Hausner VH. 2007. Induced shift in ecosystem productivity? Extensive scale effects of abundant large herbivores. Ecosystems 10:773–89.

Bunce RGH, Barr CJ. 1988. The extent of land under different management regimes in the uplands and the potential for change. In: Usher MB, Thompson DBA, Eds. Ecological change in the uplands. Oxford: Blackwell Scientific Publications. p 415–26. Special Publication 7 of the British Ecological Society

Burke IC, Lauenroth WK, Vinton MA, Hook PB, Kelly RH, Epstein HE, Aguiar MR, Robles MD, Aguilera MO, Murphy KL, Gill RA. 1999. Plant–soil interactions in temperate grasslands. Biogeochemistry 42:121–43.

Carey PD, Wallis S, Chamberlain PM, Cooper A, Emmett BA, Maskell LC, McCann T, Murphy J, Norton LR, Reynolds B, Scott WA, Simpson IC, Smart SM, Ullyett JM. 2008. Countryside Survey: UK Results from 2007. NERC/Centre for Ecology & Hydrology, 105 pp. (CEH Project Number: C03259).

Cichini K, Schwienbacher E, Marcante S, Seeber GUH, Erschbamer B. 2011. Colonization of experimentally created gaps along alpine successional gradient. Plant Ecol 212:1613–27.

Clifton-Brown J, Breuer J, Jones MB. 2007. Carbon mitigation by the energy crop, Miscanthus. Glob Change Biol 13:2296–307.

Coleman K, Jenkins D. 1999. RothC-26.3. A model for the turnover of carbon in soils. Model description and Windows Users Guide. Harpenden: IACR, Rothamsted.

Conant RT, Paustian K, Elliott ET. 2001. Grassland management and conversion into grassland: effects on soil carbon. Ecol Appl 11:343–55.

Dandy N, Van der Wal R. 2011. Shared appreciation of woodland landscapes by land management professionals and lay people: an exploration through field-base interactive photo-elicitation. Landsc Urban Plan 102:43–53.

Dawson JJC, Smith P. 2007. Carbon losses from soil and its consequences for land-use management. Sci Total Environ 382:165–90.

Deckmyn G, Muys B, Garcia Quijano J, Ceulemans R. 2004. Carbon sequestration following afforestation of agricultural soils: comparing oak/beech forest to short-rotation poplar coppice combining a process and a carbon accounting model. Glob Change Biol 10:1482–91.

Dennis P, Elston D, Evans D, Evans D, Evans S, Gordon I, Grant M, Kunaver A, Marquiss M, Mayes B, McCracken D, Pakeman R, Pearce-Higgins J, Redpath S, Skartveit J, Stephen L, Benton T, Bryant D. 2004. Effects of grazing management on upland bird populations: disentangling habitat structure and arthropod food supply at appropriate spatial scales (GRUB). Edinburgh: Scottish Executive Environment & Rural Affairs Department. pp 1–57.

Dennis P, Skartveit J, McCracken DI, Pakeman RJ, Beaton K, Kunaver A, Evans D. 2008. The effects of livestock grazing on foliar arthropods associated with bird diet in upland grasslands of Scotland. J Appl Ecol 45:279–87.

Derner JD, Briske DD, Boutton TW. 1997. Does grazing mediate soil carbon and nitrogen accumulation beneath C4, perennial grasses along an environmental gradient? Plant Soil 191:147–56.

Dondini M, Hasting SG, Jones MB, Smith P. 2009. The potential of Miscanthus to sequester carbon in soils: comparing field measurements in Carlow, Ireland to model predictions. Glob Change Biol Bioenergy 1:413–25.

Evans DM, Redpath SM, Evans SA, Elston DA, Dennis P. 2005. Livestock grazing affects the egg size of an insectivorous passerine. Biol Lett 1:322–5.

Evans DM, Redpath SM, Elston DA, Evans SA, Mitchell RJ, Dennis P. 2006. To graze or not graze? Sheep, voles, forestry and nature conservation in the British uplands. J Appl Ecol 43:499–505.

Fallon P, Smith P, Coleman K, Marshall S. 2000. How important is inert organic matter for predictive soil carbon modelling using the Rothamsted carbon model? Soil Bio Biochem 32:433–6.

Frank DA, McNaughton SJ, Tracy BF. 1998. The ecology of the Earth's grazing ecosystems: Profound functional similarities exist between the Serengeti and Yellowstone. Bioscience 48:513–21.

Fraser MD, Theobald VJ, Dhanoa MS, Davies OD. 2011. Impact on sward composition and stock performance of grazing Molinia-dominant grassland. Agri Eco Environ 144:102–6.

Frogbrook ZL, Bell J, Bradley RI, Evans C, Lark RM, Reynolds B, Smith P, Towers W. 2009. Quantifying terrestrial carbon stocks: examining the spatial variation in two upland areas in the UK and a comparison to mapped estimates of soil carbon. Soil Use Manag 25:320–32.

Garnett MH, Ineson P, Stevenson AC, Howard DC. 2001. Terrestrial organic carbon storage in a British moorland. Glob Change Biol 7:375–88.

Gillson L. 2004. Evidence of hierarchical patch dynamics in an east African savanna? Landsc Ecol 19:883–94.

Gogo S, Laggoun-Défarge F, Delarue F, Lottier N. 2010. Invasion of a sphagnum-peatland by Betula spp. and Molinia caerulea impacts organic matter biochemistry: implications for carbon and nutrient cycling. Biogeochemistry 106:53–69.

Grant SA, Maxwell TJ. 1988. Hill vegetation and grazing by domesticated herbivores: the biology and definition of management options. In: Usher MB, Thompson DBA, Eds. Ecological change in the uplands. Oxford: Blackwell Scientific Publications. p 201–14. Special Publication no. 7 of the British Ecological Society

Grant SA, Torvell L, Common TG, Sim EM, Small JL. 1996. Controlled grazing studies on Molinia grassland: effects of different seasonal patterns and levels of defoliation on Molinia growth and responses of swards to controlled grazing by cattle. J Appl Ecol 33:1267–80.

Guo L, Fallon P, Coleman K, Zhou B, Li Y, Lin E, Zhang F. 2007. Application of the RothC model to the results of long-term experiments on typical upland soils in northern China. Soil Use Manag 23:63–70.

Guo LB, Gifford RM. 2002. Soil carbon stocks and land use change: a meta-analysis. Glob Change Biol 8:345–60.

Hothorn T, Bretz F, Westfall P. 2008. Simultaneous inference in general parametric models. Biometr J 50:346–63.

Hunter RF. 1962. Hill sheep and their pasture: a study of sheep grazing in South-East Scotland. J Ecol 50:651–80.

Jones C, McConnell CK, Cox P, Fallon P, Jenkinson D, Powlson D. 2005. Global climate change and soil carbon stocks; predictions from two contrasting models for turnover of organic carbon in soil. Glob Change Biol 11:154–66.

Latusek E 1983. The autecology of Molinia caerulea (L.) Moench with particular reference to grazing. Unpublished PhD thesis, Manchester Polytechnic, Manchester, UK.

Littlewood N. 2008. Grazing impacts on moth diversity and abundance on a Scottish upland estate. Insect Conserv Diver 1:151–60.

Liu DL, Chan KY, Conyers MK, Li G, Poile GK. 2011. Simulation of soil organic carbon dynamics under different pasture managements. Geoderma 165:69–77.

Marriott CA, Hudson G, Hamilton D, Neilson R, Boag B, Handley LL, Wishart J, Scrimgeour CM, Robinson D. 1997. Spatial variability of soil total C and N and their stable isotopes in an upland Scottish grassland. Plant Soil 196:151–62.

Martinsen V, Mulder J, Austrheim G, Mysterud A. 2011. Carbon storage in low-alpine grassland soils: effects of different grazing intensities of sheep. Eur J Soil Sci 62:822–33.

McNaughton SJ, Wallace LL, Coughenour MB. 1983. Plant adaptation in an ecosystem context: effects of defoliation, nitrogen, and water on growth of an African C4 Sedge. Ecology 64:307–18.

Medina-Roldán E, Paz-Ferreiro J, Bardgett RD. 2012. Grazing exclusion affects soil and plant communities, but has no impact on soil carbon storage in an upland grassland. Agri Eco Environ 149:118–23.

Milchunas DG, Lauenroth WK, Chapman PL, Kazempour MK. 1989. Effects of grazing, topography, and precipitation on the structure of a semi-arid grassland. Vegetatio 80:11–23.

Milchunas DG, Lauenroth WK. 1993. Quantitative effects of grazing on vegetation and soils over a global range of environments. Ecol Monogr 63:327–66.

Morgan-Davies C, Waterhouse A. 2008. Hill and upland areas: livestock farming changes and stakeholder preferences. Aspects Appl Biol 85:49–56.

Orr HG, Wilby RL, Hedger MM, Brown I. 2008. Climate change in the uplands: a UK perspective on safeguarding regulatory ecosystem services. Clim Res 37:77–98.

Ostle NJ, Levy PE, Evans CD, Smith P. 2009. UK land use and soil carbon sequestration. Land Use Policy 26:274–83.

Piñeiro G, Paruelo JM, Oesterheld M, Jobbágy EG. 2010. Pathways of grazing effects on soil organic carbon and nitrogen. Rangel Ecol Manag 63:109–19.

Pinheiro JC, Bates DM. 2000. Mixed effects models in S and S-PLUS. New York: Springer-Verlag.

Prior GL, Evans DM, Redpath S, Thirgood SJ, Monaghan P. 2011. Birds bias offspring sex ratio in response to livestock grazing. Biol Lett 7:958–60.

R Development Core Team. 2009. R: a language and environment for statistical computing. R Foundation for Statistical Computing, Vienna, Austria. ISBN 3-900051-07-0. http://www.R-project.org.

Reed MS, Bonn A, Slee W, Beharry-Borg N, Birch J, Brown I, Burt TP, Chapman D, Chapman PJ, Clay GD, Cornell SJ, Fraser EDG, Glass JH, Holden J, Hodgson JA, Hubacek K, Irvine B, Jing N, Kirkby MJ, Kunin WE, Moore O, Moseley D, Prell C, Price MF, Quinn CH, Redpath S, Reid C, Staglo S, Stringer LC, Termansen M, Thorpp S, Towers W, Worrall F. 2009. The future of the uplands. Land Use Policy 26:204–16.

Reeder JD, Schuman GE, Morgan JA, Lecain DR. 2004. Response of organic and inorganic carbon and nitrogen to long-term grazing of the shortgrass steppe. Environ Manag 33:485–95.

Rodwell JS. 1991. British plant communities. Mires and heaths, Vol. 2Cambridge: Cambridge University Press.

Rodwell JS. 1992. British plant communities. Grasslands and montane communities, Vol. 3Cambridge: Cambridge University Press.

Sanderson N. 1998. Glen Finglass historic landscape survey. Hythe: Woodland Trust. pp 1–104.

Scottish Agriculture College (SAC). 2008. Rural Policy Centre, Farming's retreat from the hills, Outlook for 2009. p. 1–32.

Smith P, Smith JU, Powlson DS, McGill WB, Arah JRM, Chertov OG, Coleman K, Franko U, Frolking S, Jenkinson DS, Jensen LS, Kelly RH, Klein-Gunnewiek H, Komarov AS, Li C, Molina JAE, Mueller T, Parton WJ, Thornley JHM, Whitmore AP. 1997. A comparison of the performance of nine soil organic matter models using datasets from seven longterm experiments. Geoderma 81:153–225.

Soil Indicators for Scottish Soils (SIFSS). 2013. The James Hutton Institute. http://sifss.hutton.ac.uk/index.php. Accessed 28 June 2013.

Soil Survey of Scotland. 1984. Organisation and methods of the 1:250000 scale soil survey of Scotland. Aberdeen: Macaulay Institute for Soil Research.

Soussana J, Loiseau P, Vuichard N, Ceschia E, Balesdent J, Chevallier T, Arrouays D. 2004. Carbon cycling and sequestration opportunities in temperate grasslands. Soil Use Manag 20:219–30.

Stewart DPC, Metherell AK. 1999. Carbon (13C) uptake and allocation in pasture plants following field pulse-labelling. Plant Soil 210:61–73.

Tanentzap AJ, Coomes DA. 2012. Carbon storage in terrestrial ecosystems: do browsing and grazing herbivores matter? Biol Rev 87:72–94.

Taylor K, Rowland AP, Jones HE. 2001. Molinia caerulea (L.) Moench. J Ecol 89:126–44.

Thompson DBA, MacDonald AJ, Marsden JH, Galbraith CA. 1995. Upland heather moorland in Great Britain: a review of international importance, vegetation change and some objectives for nature conservation. Biol Conserv 71:163–78.

Thornton B. 1991. Effect of nutrition on the short-term response of Molinia caerulea to defoliation. Ann Bot 68:569–76.

UK Meteorological Office. MIDAS Land Surface Stations data (1853–current), [Internet].NCAS British Atmospheric Data Centre, 2006, Date of citation. http://badc.nerc.ac.uk/view/badc.nerc.ac.uk__ATOM__dataent_ukmo-midas. Accessed 26 June 2012.

Vandenberghe C, Prior G, Littlewood NA, Brooker R, Pakeman RJ. 2009. Influence of livestock grazing on meadow pipit foraging behaviour in upland grassland. Basic Appl Ecol 10:662–70.

Van der Wal R, Bonn A, Monteith D, Reed M, Blackstock K, Hanley N, Thompson D, Evans M, Alonso I. 2011. Mountains, moorlands and heaths. p. 105–159, In: The UK National Ecosystem Assessment Technical Report. UK National Ecosystem Assessment, UNEP-WCMC, Cambridge.

Ward SE, Bardgett RD, McNamara NP, Adamson JK, Ostle NJ. 2007. Long-term consequences of grazing and burning on northern peatland carbon dynamics. Ecosystems 10:1069–83.

Wang Y, Guangsheng Z, Bingrui J. 2008. Modeling SOC and NPP responses of meadow steppe to different grazing intensities in Northeast China. Ecol Model 217:72–8.

Welker JM, Fahnestock JT, Povirk KL, Bilbrough CJ, Piper RE. 2004. Alpine grassland CO2 exchange and nitrogen cycling: grazing history effects, Medicine Bow Range, Wyoming, USA. Arc Antarct Alp Res 36:11–20.

Woodin SJ, Van der Wal R, Sommerkorn M, Gornall JL. 2009. Differential allocation of carbon in mosses and grasses governs ecosystem sequestration: a 13C tracer study in the high arctic. New Phytol 184:944–9.

Worrall F, Evans MG, Bonn A, Reed MS, Chapman D, Holden J. 2009. Can carbon offsetting pay for upland ecological restoration? Sci Total Environ 408:26–36.

Zimmermann M, Leifeld J, Schmidt MWI, Smith P, Fuhrer J. 2007. Measured soil organic matter fractions can be related to pools in the RothC model. Eur J Soil Sci 58:658–67.
Acknowledgments
We are grateful to the Woodland Trust for maintenance of and access to the Glen Finglas grazing experiment, Rob Brooker, Debbie Fielding, Gina Prior, Sarah McCormack, Rachel Marshall and Chloe Denerley for their help in the field and Jo Smith for her input and direction in using RothC. This work contributed to the GHG-EU project. We thank Andrew Tanentzap and other anonymous reviewers for providing helpful comments that improved the manuscript. This research was part of the Glen Finglas project (formerly Grazing and Upland Birds (GRUB) funded by the Scottish government (RERAD)). SWS was funded by a BBSRC studentship.
Additional information
Author Contributions
SWS conceived of or designed study, performed research, analysed data, contributed new methods or models, wrote paper. CV conceived of or designed study, performed research, wrote paper. AH contributed new methods or models and wrote paper. DJ conceived of or designed study and wrote paper. RJP conceived of or designed study and wrote paper. RVDW conceived of or designed study and wrote paper. SJW conceived of or designed study and wrote paper.
Electronic supplementary material
Below is the link to the electronic supplementary material.
About this article
Cite this article
Smith, S.W., Vandenberghe, C., Hastings, A. et al. Optimizing Carbon Storage Within a Spatially Heterogeneous Upland Grassland Through Sheep Grazing Management. Ecosystems 17, 418–429 (2014). https://doi.org/10.1007/s10021-013-9731-7
Received:

Accepted:

Published:

Issue Date:
Keywords:
livestock grazing

Molinia caerulea

RothC

soil carbon

spatial heterogeneity

upland