Abstract
Domestic gardens collectively cover substantial areas within cities and play an important role in supporting urban biodiversity and ecosystem functioning. The extent of their contribution to urban biodiversity is ultimately determined by the attitudes, motivations, and practices of their owners. We identified variables characterizing individual householders and their properties that explained variation in perennial plant and avian species richness and plant diversity among 55 gardens in New Zealand. The size of the vegetated area was most important in explaining bird and plant diversity, independent of property size. Also important and positively associated with plant richness were socio-economic status and ability to discriminate between native and exotic species. Median housing age and neighborhood green space were less important. Contrary to expectations, better educated householders who demonstrated pro-environmental orientation (NEP) did not necessarily have gardens with greater plant diversity, however, people with higher NEP scores tended to have gardens with more structurally complex vegetation. Similar variables were important in explaining native and exotic species richness, but higher exotic plant diversity was associated with older people with smaller properties of lower value. Avian species richness increased primarily with vegetated area, but also the areas of beds and hedges. We demonstrate that although householder knowledge is an important determinant of garden biodiversity, vegetated area is most important. Promoting urban garden biodiversity requires that larger vegetated properties be supported and encouraged, and that planners should consider biodiversity when formulating policies concerning garden size, property size, and consents that may result in a progressive increase in the proportion of built over/paved areas.
This is a preview of subscription content, log in to check access.
Access options
Buy single article
Instant access to the full article PDF.
US$ 39.95
Tax calculation will be finalised during checkout.
Subscribe to journal
Immediate online access to all issues from 2019. Subscription will auto renew annually.
US$ 99
Tax calculation will be finalised during checkout.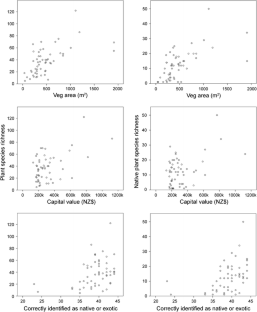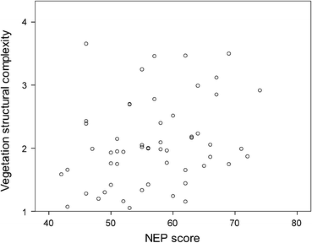 References
Bhatti M, Church A. 2004. Home, the culture of nature and meanings of gardens in late modernity. Housing Stud 19(1):37–51.

Bolitzer B, Netusil NR. 2000. The impact of open spaces on property values in Portland, Oregon. J Environ Manage 59(3):185–93.

Burnham KP, Anderson DR. 1998. Model selection and inference: a practical information–theoretic approach. New York: Springer. p 353.

Clark KR, Gorley RN. 2006. Primer-E Ltd, Plymouth.

Clayton S. 2007. Domesticated nature: motivations for gardening and perceptions of environmental impact. J Environ Psychol 27:215–24.

Daniels GD, Kirkpatrick JB. 2006. Comparing the characteristics of front and back domestic gardens in Hobart, Tamani, Australia. Landsc Urban Plan 78:344–52.

Davies ZG, Fuller RA, Loram A, Irvine KN, Sims V, Gaston KJ. 2009. A national scale inventory of resource provision for biodiversity within domestic gardens. Biol Conserv 142:761–71.

Day T. 1995. Bird species composition and abundance in relation to native plants in urban gardens, Hamilton, New Zealand. Notornis 42:175–86.

Doody BJ, Sullivan JJ, Meurk CD, Stewart GH, Perkins HC. 2010. Urban realities: the contribution of residential gardens to the conservation of urban forest remnants. Biol Conserv 19(5):1385–400.

Dunlap RE, Van Liere KD, Jones RE. 2000. Measuring endorsement of the new ecological paradigm: a revised NEP scale. J Soc Issues 56:425–42. doi:10.1111/0022-4537.00176.

Freeman C, Dickinson KJM, Porter S, van Heezik Y. 2012. "My garden is an expression of me": exploring householders' relationships with their gardens. J Environ Psychol 32:135–43. doi:10.1016/j.jenvp.2012.01.005.

Gaston KJ, Warren PH, Thompson K, Smith RM. 2005. Urban domestic gardens (IV): the extent of the resources and its associated features. Biodiv Conserv 14:3327–49.

Given D, Meurk C. 2000. Biodiversity of the urban environment: the importance of indigenous species and the role urban environments can play in their preservation. In: Stewart GH, Ignatieva ME, Eds. Urban biodiversity and ecology as a basis for holistic planning and design: proceedings of a workshop held at Lincoln University, 28–29 October 2000, Christchurch: Wickliffe Press, p. 22–33.

Goddard MA, Dougill AJ, Benton TG. 2009. Scaling up from gardens: biodiversity conservation in urban environments. Trends Ecol Evol 25(2):90–8.

Grueber CE, Nakagawa S, Laws RJ, Jamieson IG. 2011. Multimodel inference in ecology and evolution: challenges and solutions. J Evolution Biol. doi:10.1111/j.1420-9101.2010.02210.x.

Hall T. 2008. Where have all the gardens gone? Aust Plan 45(1):30–7.

Hall T. 2010. Life and death of the Australian backyard. Collingwood, VIC: CSIRO Publishing.

Head L, Muir P. 2006. Suburban life and the boundaries of nature: resilience and rupture in Australian backyard gardens. T I Brit Geogr 31:505–24.

Head L, Muir P. 2007. Backyard: nature and culture in suburban Australia. Wollongong: Wollongong University Press.

Hope D, Gries C, Zhu W, Fagan WF, Redman CL, Grimm NB, Nelson AL, Martin C, Kinzig A. 2003. Socioeconomics drive urban plant diversity. PNAS 100:8788–92.

Ikin K, Knight E, Lindenmayer DB, Fischer J, Manning AD. 2012. The influence of native versus exotic streetscape vegetation on the spatial distribution of birds in suburbs and reserves. Divers Distrib. doi:10.1111/j.1472-4642-2012.00937.x.

Kendal D, Williams KJH, Williams NSG. 2012. Plant traits link people's plant preferences to the composition of their gardens. Landsc Urban Plan 105:34–42.

Kiesling FM, Manning CM. 2010. How green is your thumb? Environmental gardening identity an ecological gardening practices. J Environ Psychol 30:315–27. doi:10.1016/j.jenvp.2010.02.004.

Kinzig AP, Warren P, Martin C, Hope D, Katti M. 2005. The effects of human socioeconomic status and cultural characteristics on urban patterns of biodiversity. Ecol Soc 10(1):23.

Kirkpatrick JB, Daniels GD, Zagorski T. 2007. Explaining variation in front gardens between suburbs of Hobart, Tasmania, Australia. Landsc Urban Plan 79:314–22.

Kirkpatrick JB, Davison A, Daniels GD. 2012. Resident attitudes towards trees influence the planting and removal of different types of trees in eastern Australian cities. Landsc Urban Plan 107:147–58.

Lerman SB, Warren PS. 2011. The conservation value residential yards: linking birds and people. Ecol Appl 21(4):1327–39.

London Assembly Environment Committee. 2005. Crazy Paving: the environmental importance of London's front gardens. London: Greater London Authority.

London Biodiversity Partnership. 2001. Habitat action plan; Private gardens, London Biodiversity Partnership.

Loram A, Tratalos J, Warren PH, Gaston KJ. 2007. Urban domestic gardens (X): the extent and structure of the resource in five major cities. Landscape Ecol 22:601–15.

Loram A, Thompson K, Warren PH, Gaston KJ. 2008. Urban domestic gardens (XII): the richness and composition of the flora in five UK cities. J Veg Sci 19:321–30.

Loram A, Warren P, Thompson K, Gaston K. 2011. Urban domestic gardens: the effect of human interventions on garden composition. Environ Manage 48:808–24.

Loss SR, Ruiz MO, Brawn JD. 2009. Relationships between avian biodiversity, neighbourhood age, income and environmental characteristics of an urban landscape. Biol Conserv 142:2579–85.

Luck GW, Smallbone LT, O'Brien R. 2009. Socio-economics and vegetation change in urban ecosystems: patterns in space and time. Ecosystems 12:604–20.

Luck GW, Smallbone LT, Sheffield KJ. 2012. Environmental and socio-economic factors related to urban bird communities. Austral Ecol. doi:10.1111/j.1442-9993.2012.02383.x.

Magurran AE. 2004. Measuring biological diversity. Oxford: Blackwell Science Ltd.

Martin CA, Warren PS, Kinzig AP. 2004. Neighborhood socioeconomic status is a useful predictor of perennial landscape vegetation in residential neighborhoods and embedded small parks of Phoenix, AZ. Landsc Urban Plan 69:355–68.

Mason CF. 2006. Avian species richness and numbers in the built environment: can new housing developments be good for birds? Biodivers Conserv 15:2365–78.

Mathieu R, Freeman C, Aryal J. 2007. Mapping private gardens in urban areas using object-oriented techniques and very high resolution satellite imagery. Landsc Urban Plan 81:179–92.

Melles SJ. 2005. Urban bird diversity as an indicator of human social diversity and economic inequality in Vancouver, British Columbia. Urban Habitats 3(1): 25–48. ISSN 1541-7115. http://www.urbanhabitat.org.

Meurk CD, Zvyagna N, Gardner RO, Forrester G, Wilcox M, Hall G, North H, Belliss S, Whaley K, Sykes B, Cooper J, O'Halloran K. 2009. Environmental, social and spatial determinants of urban arboreal character in Auckland, New Zealand. McDonnell MJ, Hahs AK, Breuste JH, Eds. Ecology of Towns and cities: a comparative approach. Cambridge: Cambridge University Press.

Munyenyembe F, Harris J, Hone J, Nix H. 1989. Determinants of bird populations in an urban area. Aust J Ecol 14(4):549–57.

Owen J. 1991. The ecology of a garden: the first fifteen years. Cambridge: Cambridge University Press.

Palomino D, Carrascal LM. 2005. Urban influence on birds at a regional scale: a case study with the avifauna of northern Madrid province. Landsc Urban Plan 77:276–90.

Pauleit S, Ennos R, Golding Y. 2005. Modelling the environmental impacts of urban land use and land cover change: a study in Mersyside, UK. Landsc Urban Plan 71:295–310.

Perry T, Nawaz R. 2008. An investigation into the extent and impacts of hard surfacing of domestic gardens in an area of Leeds, United Kingdom. Landsc Urban Plan 86:1–13.

Power E. 2005. Human–nature relations in suburban gardens. Aust Geogr 36(1):39–53.

Smith RM, Gaston KJ, Warren PH, Thompson K. 2005. Urban domestic gardens (V): relationships between landcover competition, housing and landscape. Landscape Ecol 20:235–53.

Smith RM, Thompson K, Hodgson JG, Warren PH, Gaston KJ. 2006. Urban domestic gardens (IX): composition and richness of the vascular plant flora, and implications for native biodiversity. Biol Conserv 129:312–22.

Sperling CD, Lortie CJ. 2010. The importance of urban backgardens on plant and invertebrate recruitment: a field microcosm experiment. Urban Ecosyst 13:223–35.

Strohbach MW, Haase D, Kabisch N. 2009. Birds and the city: urban biodiversity, land use and socioeconomics. Ecol Soc 14(2):31.

Troy AR, Grove JM, O'Neil-Dunne JPM, Pickett STA, Cadenasso ML. 2007. Predicting opportunities for greening and patterns of vegetation on private urban lands. Environ Manage 40:394–412.

van Heezik Y, Smyth A, Mathieu R. 2008. Diversity of native and exotic birds across and urban gradient in a New Zealand city. Landsc Urban Plan 87:223–32.

van Heezik Y, Dickinson KJM, Freeman C. 2012. Closing the gap: communicating to change gardening practices in support of native biodiversity in urban private gardens. Ecol Soc 17(1):34. doi:10.5751/ES-04712-170134.

Verbeeck K, Van Orshoven J, Hermy M. 2011. Measuring extent, location and change of imperviousness in urban domestic gardens in collective housing projects. Landsc Urban Plan 100:57–66.
Acknowledgements
We thank all those who gave their time to participate in this study. A University of Otago Research Grant provided funding. P. Seddon and two anonymous reviewers improved the manuscript.
Additional information
Author Contributions
YvH: Conceptualized, analyzed and wrote paper; CF conceptualized, wrote and critiqued paper, SP collected data and commented on paper; KJMD conceptualized and commented on paper.
About this article
Cite this article
van Heezik, Y., Freeman, C., Porter, S. et al. Garden Size, Householder Knowledge, and Socio-Economic Status Influence Plant and Bird Diversity at the Scale of Individual Gardens. Ecosystems 16, 1442–1454 (2013). https://doi.org/10.1007/s10021-013-9694-8
Received:

Accepted:

Published:

Issue Date:
Keywords
garden

native

birds

urban ecology

urbanization

householder knowledge