Abstract
Changes in forest composition as a result of forest management, natural disturbances, and climate change may affect the accumulation of soil organic carbon (SOC). We examined the influence of common boreal tree species (trembling aspen, black spruce, and jack pine), either in pure stands or in conifer-broadleaf mixtures, on the amount, distribution, and quality of SOC in two regions of the Canadian boreal biome. Long-term laboratory incubations were used to assess SOC quality by quantifying proportions of fast carbon (C) (that is, proportion of total C released during the first 100 days of incubation) and active C (that is, modeled proportion of total C that can be potentially released). Total amounts of SOC did not differ between stand types, but the effects of stand type on SOC stocks and quality differed with soil depth. Among stand types, aspen stands had the greatest relative proportion of total SOC in deeper mineral layers and the lowest amount of active C in the organic layer. For these reasons, the SOC stock that developed under aspen was more stable than in the other stand types. Although black spruce stands allowed a greater accumulation of SOC in surface layers, these stocks, however, might become more vulnerable to extra losses if environmental conditions are to become more favorable to decomposition in the future. Our work highlights that boreal forest composition influences the stability of SOC stocks and how climate change could alter this large C pool.
Access options
Buy single article
Instant access to the full article PDF.
US$ 39.95
Tax calculation will be finalised during checkout.
Subscribe to journal
Immediate online access to all issues from 2019. Subscription will auto renew annually.
US$ 79
Tax calculation will be finalised during checkout.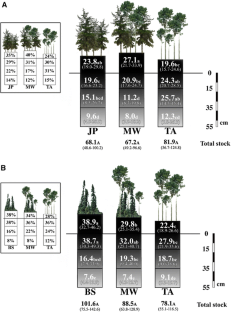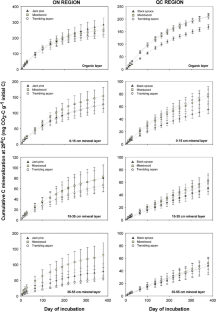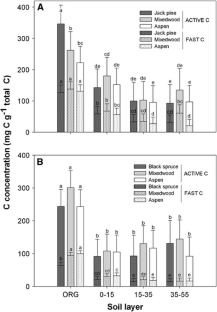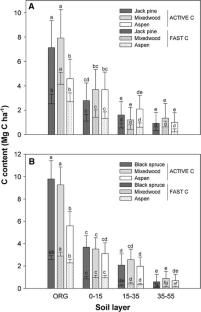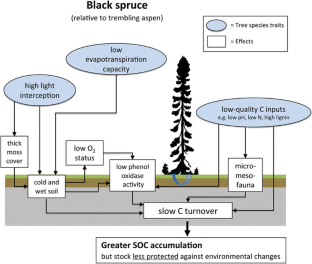 References
Aerts R, Chapin FS. 1999. The mineral nutrition of wild plants revisited: a re-evaluation of processes and patterns. Adv Ecol Res 30:1–67.

Alriksson A, Eriksson HM. 1998. Variations in mineral nutrient and C distribution in the soil and vegetation compartments of five temperate tree species in NE Sweden. For Ecol Manag 108:261–73.

Berg B. 2000. Litter decomposition and organic matter turnover in northern forest soils. For Ecol Manag 133:13–22.

Berg B, Johansson M-B, Ekbohm G, McClaugherty C, Rutigliano F, Santo AVD. 1996. Maximum decomposition limits of forest litter types: a synthesis. Can J Bot 74:659–72.

Berg B, McClaugherty C, De Santo AV, Johnson D. 2001. Humus buildup in boreal forests: effects of litter fall and its N concentration. Can J For Res 31:988–98.

Bergeron Y, Gauthier S, Flannigan M, Kafka V. 2004. Fire regimes at the transition between mixedwood and coniferous boreal forest in northwestern Quebec. Ecology 85:1916–32.

Binkley D. 1995. The influence of tree species on forest soils: processes and patterns. In: Mead DJ, Cornforth IS, Eds. Proceedings of the trees and soils workshop. Special Publication No. 10. Canterbury: Agronomy Society of New Zealand. pp 1–33.

Bisbee KE, Gower ST, Norman JM, Nordheim EV. 2001. Environmental controls on ground cover species composition and productivity in a boreal black spruce forest. Oecologia 129:261–70.

Bond-Lamberty B, Peckham SD, Ahl DE, Gower ST. 2007. Fire as the dominant driver of central Canadian boreal forest carbon balance. Nature 450:89–92.

Bossuyt H, Six J, Hendrix PF. 2005. Protection of soil carbon by microaggregates within earthworm casts. Soil Biol Biochem 37:251–8.

Brassard BW, Chen HYH, Bergeron Y, Paré D. 2011. Differences in fine root productivity between mixed- and single-species stands. Funct Ecol 25:238–46.

Brassard B, Chen HYH, Cavard X, Laganière J, Reich PB, Bergeron Y, Paré D, Yuan Z. 2013. Tree species diversity increases fine root productivity through increased soil volume filling. J Ecol 101:210–19.

Canada's NFI. 2010. Canada's National Forest Inventory: monitoring the sustainability of Canada's Forests. Ottawa, ON: Canadian Council of Forest Ministers. http://nfi.nfis.org.

Carrasco JJ, Neff JC, Harden JW. 2006. Modeling physical and biogeochemical controls over carbon accumulation in a boreal forest soil. J Geophys Res 111:G02004.

Cavard X, Bergeron Y, Chen HYH, Paré D. 2010. Mixed-species effect on tree aboveground carbon pools in the east-central boreal forests. Can J For Res 40:37–47.

Côté L, Brown S, Paré D, Fyles J, Bauhus J. 2000. Dynamics of carbon and nitrogen mineralization in relation to stand type, stand age and soil texture in the boreal mixedwood. Soil Biol Biochem 32:1079–90.

De Deyn GB, Cornelissen JHC, Bardgett RD. 2008. Plant functional traits and soil carbon sequestration in contrasting biomes. Ecol Lett 11:516–31.

Environment Canada. 2010. Canadian climate normals or averages 1971–2000. Fredericton, NB: Environment Canada. http://www.climate.weatheroffice.ec.gc.ca/climate_normals/index_e.html.

Finzi AC, Van Breemen N, Canham CD. 1998. Canopy tree–soil interactions within temperate forests: species effects on soil carbon and nitrogen. Ecol Appl 8:440–6.

Fissore C, Giardina CP, Swanston CW, King GM, Kolka RK. 2009. Variable temperature sensitivity of soil organic carbon in North American forests. Glob Chang Biol 15:2295–310.

Fontaine S, Barot S, Barré P, Bdioui N, Mary B, Rumpel C. 2007. Stability of organic carbon in deep soil layers controlled by fresh carbon supply. Nature 450:277–81.

Giardina CP, Ryan MG, Hubbard RM, Binkley D. 2001. Tree species and soil textural controls on carbon and nitrogen mineralization rates. Soil Sci Soc Am J 65:1272–9.

Gornall JL, Jónsdóttir IS, Woodin SJ, Van der Wal R. 2007. Arctic mosses govern below-ground environment and ecosystem processes. Oecologia 153:931–41.

Gower ST, Hunter A, Campbell J, Vogel J, Veldhuis H, Harden J, Trumbore S, Norman JM, Kucharik CJ. 2000. Nutrient dynamics of the southern and northern BOREAS boreal forests. Ecoscience 7:481–90.

Gregorich EG, Beare MH, McKim UF, Skjemstad JO. 2006. Chemical and biological characteristics of physically uncomplexed organic matter. Soil Sci Soc Am J 70:975–85.

Halpern MT, Whalen JK, Madramootoo CA. 2010. Long-term tillage and residue management influences soil carbon and nitrogen dynamics. Soil Sci Soc Am J 74:1211–7.

Hart SA, Chen HYH. 2006. Understory vegetation dynamics of North American boreal forests. Crit Rev Plant Sci 25:381–97.

Hendershot WH, Lalande H, Duquette M. 2007. Ion exchange and exchangeable cations. In: Carter MR, Gregorich EG, Eds. Soil sampling and methods of analysis. 2nd edn. Boca Raton, FL: CRC Press. p 197–206.

Hobbie SE, Reich PB, Oleksyn J, Ogdahl M, Zytkowiak R, Hale C, Karolewski P. 2006. Tree species effects on decomposition and forest floor dynamics in a common garden. Ecology 87:2288–97.

Ilisson T, Chen HYH. 2009. Response of six boreal tree species to stand replacing fire and clearcutting. Ecosystems 12:820–9.

IPCC. 2007. Climate change 2007: the physical science basis. Contribution of Working Group I to the fourth assessment report of the intergovernmental panel on climate change. Cambridge, UK: Cambridge University Press.

Jandl R, Lindner M, Vesterdal L, Bauwens B, Baritz R, Hagedorn F, Johnson DW, Minkkinen K, Byrne KA. 2007. How strongly can forest management influence soil carbon sequestration? Geoderma 137:253–68.

Jenkinson DS, Poulton PR, Bryant C. 2008. The turnover of organic carbon in subsoils. Part 1. Natural and bomb radiocarbon in soil profiles from the Rothamsted long-term field experiments. Eur J Soil Sci 59:391–9.

Jenny H. 1994. Factors of soil formation. A system of quantitative pedology. New York, NY: Dover Publications.

Jobbagy EG, Jackson RB. 2000. The vertical distribution of soil organic carbon and its relation to climate and vegetation. Ecol Appl 10:423–36.

Kroetsch D, Wang C. 2007. Particle size distribution. In: Carter MR, Gregorich EG, Eds. Soil sampling and methods of analysis. 2nd edn. Boca Raton, FL: CRC Press. p 713–26.

Laganière J, Paré D, Bradley RL. 2009. Linking the abundance of aspen with soil faunal communities and rates of belowground processes within single stands of mixed aspen-black spruce. Appl Soil Ecol 41:19–28.

Laganière J, Paré D, Bradley RL. 2010. How does a tree species influence litter decomposition? Separating the relative contribution of litter quality, litter mixing, and forest floor conditions. Can J For Res 40:465–75.

Laganière J, Angers DA, Paré D, Bergeron Y, Chen HYH. 2011. Black spruce soils accumulate more uncomplexed organic matter than aspen soils. Soil Sci Soc Am J 75:1125–32.

Laganière J, Paré D, Bergeron Y, Chen HYH. 2012. The effect of boreal forest composition on soil respiration is mediated through variations in soil temperature and C quality. Soil Biol Biochem 53:18–27.

Lang SI, Cornelissen JHC, Klahn T, van Logtestijn RSP, Broekman R, Schweikert W, Aerts R. 2009. An experimental comparison of chemical traits and litter decomposition rates in a diverse range of subarctic bryophyte, lichen and vascular plant species. J Ecol 97:886–900.

Légaré S, Paré D, Bergeron Y. 2005. Influence of aspen on forest floor properties in black spruce-dominated stands. Plant Soil 275:207–20.

Lorenz K, Lal R. 2010. Carbon sequestration in forest ecosystems. Dordrecht, The Netherlands: Springer.

Maillard E, Paré D, Munson AD. 2010. Soil carbon stocks and carbon stability in a twenty-year-old temperate plantation. Soil Sci Soc Am J 74:1775–85.

Maynard DG, Curran MP. 2007. Bulk density measurement in forest soils. In: Carter MR, Gregorich EG, Eds. Soil sampling and methods of analysis. 2nd edn. Boca Raton, FL: CRC Press. p 863–9.

Neff JC, Hooper DU. 2002. Vegetation and climate controls on potential CO2, DOC and DON production in northern latitude soils. Glob Chang Biol 8:872–84.

Neff JC, Harden JW, Gleixner G. 2005. Fire effects on soil organic matter content, composition, and nutrients in boreal interior Alaska. Can J For Res 35:2178–87.

Oechel WC, Van Cleve K. 1986. The role of bryophytes in nutrient cycling in the Taiga. In: Van Cleve K, Chapin FS III, Flanagan PW, Viereck LA, Dyrness CT, Eds. Forest ecosystems in the Alaskan taiga. Berlin, Germany: Springer. p 121–37.

Paré D, Boutin R, Larocque GR, Raulier F. 2006. Effect of temperature on soil organic matter decomposition in three forest biomes of eastern Canada. Can J Soil Sci 86:247–56.

Preston CM, Trofymow JA, Canadian Intersite Decomposition Experiment Working Group. 2000. Variability in litter quality and its relationship to litter decay in Canadian forests. Can J Bot 78:1269–87.

Reich PB, Oleksyn J, Modrzynski J, Mrozinski P, Hobbie SE, Eissenstat DM, Chorover J, Chadwick OA, Hale CM, Tjoelker MG. 2005. Linking litter calcium, earthworms and soil properties: a common garden test with 14 tree species. Ecol Lett 8:811–18.

Rumpel C, Kögel-Knabner I. 2011. Deep soil organic matter—a key but poorly understood component of terrestrial C cycle. Plant Soil 338:143–58.

Salomé C, Nunan N, Pouteau V, Lerch TZ, Chenu C. 2010. Carbon dynamics in topsoil and in subsoil may be controlled by different regulatory mechanisms. Glob Chang Biol 16:416–26.

Senici D, Chen HYH, Bergeron Y, Cyr D. 2010. Spatiotemporal variations of fire frequency in central boreal forest. Ecosystems 13:1227–38.

Sinsabaugh RL. 2010. Phenol oxidase, peroxidase and organic matter dynamics of soil. Soil Biol Biochem 42:391–404.

Soil Classification Working Group. 1998. The Canadian system of soil classification. 3rd edn. Ottawa, ON: Agriculture and Agri-Food Canada, Research Branch, Publication No. 1646.

Soja AJ, Tchebakova NM, French NHF, Flannigan MD, Shugart HH, Stocks BJ, Sukhinin AI, Parfenova EI, Chapin FS III, Stackhouse PW Jr. 2007. Climate-induced boreal forest change: predictions versus current observations. Global Planet Change 56:274–96.

Strong WL, La Roi GH. 1983. Root-system morphology of common boreal forest trees in Alberta, Canada. Can J For Res 13:1164–73.

Trofymow JA, Preston CM, Prescott CE. 1995. Litter quality and its potential effect on decay rates of materials from Canadian forests. Water Air Soil Pollut 82:215–26.

Vance ED, Chapin FS. 2001. Substrate limitations to microbial activity in taiga forest floors. Soil Biol Biochem 33:173–88.

Vesterdal L, Schmidt IK, Callesen I, Nilsson LO, Gundersen P. 2008. Carbon and nitrogen in forest floor and mineral soil under six common European tree species. For Ecol Manag 255:35–48.

von Lützow M, Kögel-Knabner I, Ekschmitt K, Matzner E, Guggenberger G, Marschner B, Flessa H. 2006. Stabilization of organic matter in temperate soils: mechanisms and their relevance under different soil conditions—a review. Eur J Soil Sci 57:426–45.

von Lützow M, Kögel-Knabner I, Ekschmitt K, Flessa H, Guggenberger G, Matzner E, Marschner B. 2007. SOM fractionation methods: relevance to functional pools and to stabilization mechanisms. Soil Biol Biochem 39:2183–207.

Wang XL, Klinka K, Chen HYH, de Montigny L. 2002. Root structure of western hemlock and western redcedar in single- and mixed-species stands. Can J For Res 32:997–1004.

Wardle DA. 2002. Communities and ecosystems: linking the aboveground and belowground components. Princeton, NJ: Princeton University Press.

Wardle DA, Zackrisson O, Hörnberg G, Gallet C. 1997. The influence of island area on ecosystem properties. Science 277:1296–9.

Zak DR, Grigal DF, Ohmann LF. 1993. Kinetics of microbial respiration and nitrogen mineralization in Great Lakes forests. Soil Sci Soc Am J 57:1100–6.
Acknowledgments
This study was funded through the Natural Sciences and Engineering Research Council of Canada (SPG281886) and the Fonds Québécois de la Recherche sur la Nature et les Technologies. We acknowledge the support from Produits Forestiers Résolu, Tembec, BIOCAP Canada, the Ontario Ministry of Natural Resources, and the Canadian Forest Service. We are grateful to Luc St-Antoine, Éric Girard, Jessie Parent, Stephen Hart, and Alain Courcelles for their valuable assistance in the field and in the laboratory. We thank Michèle Bernier-Cardou for her statistical assistance and Yan Boulanger for comments on an earlier version of the manuscript.
Additional information
Author Contributions
All authors contributed to the study design. JL performed research and analyzed data, and all authors wrote the paper.
Electronic supplementary material
Below is the link to the electronic supplementary material.
About this article
Cite this article
Laganière, J., Paré, D., Bergeron, Y. et al. Stability of Soil Carbon Stocks Varies with Forest Composition in the Canadian Boreal Biome. Ecosystems 16, 852–865 (2013). https://doi.org/10.1007/s10021-013-9658-z
Received:

Accepted:

Published:

Issue Date:
Keywords
boreal forest

tree species

forest floor

mineral soil

organic matter quality

carbon stability

decomposition