Abstract
In Europe, many contemporary forests are not continuous, but were established on former agricultural land in territories of deserted villages. We aimed to explore whether medieval settlement activities of only 60 years irreversibly changed soil properties and whether these changes were reflected by contemporary forest vegetation. The research was performed in the deserted village of Kří, which existed from 1357 to ca 1420 AD in a current oak forest on sandy soils in the Czech Republic. We identified four former land-use types (building sites, courtyards, the village square, and gardens), where we analyzed soil properties and plant species composition of the forest understory. Higher concentrations of plant-available P, K, Ca, and Mg as well as the total concentrations of organic C and trace elements (As, Cd, Cu, and Zn) were recorded at former building sites with neutral soils, compared to the other former land-use types with acidic soils. The four-times higher species richness at former building sites compared to the former gardens indicate the strong effect of soil pH and nutrient availability on plant species composition, even on the spatial scale of several square metres. Understanding recent patterns in soil properties and biodiversity in Central European forests requires detailed knowledge of former land use over centuries. Analysis of contemporary soil properties together with analysis of vegetation can help to identify former land-use types in deserted villages.
Access options
Buy single article
Instant access to the full article PDF.
USD 39.95
Price excludes VAT (USA)
Tax calculation will be finalised during checkout.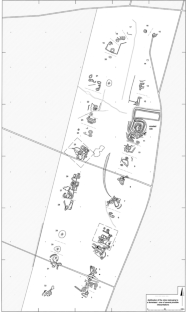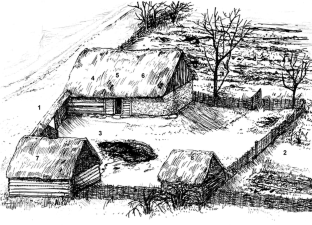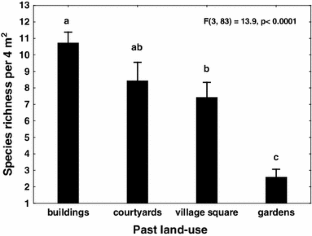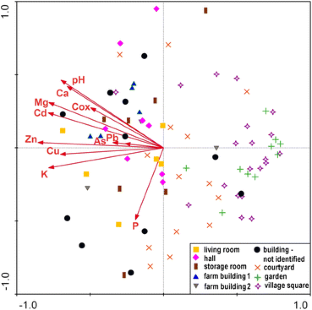 References
Alfonso I, Ed. 2007. The rural history of medieval European societies. Trends and perspectives. The medieval countryside 1. Turnhout, Belgium: Brepols.

AOAC. 1984. Official methods of analysis. 14th edn. Washington, DC, USA: Association of Official Analytical Chemists.

Arens P, Grashof-Bokdam T, van der Sluis T, Smulders MJM. 2005. Clonal diversity and genetic differentiation of Maianthemum bifolium among forest fragments of different age. Plant Ecol 179:169–80.

Baeten L, Verstraeten G, de Frenne P, Vanhellemont M, Wuyts K, Hermy M, Verheyen K. 2011. Former land use affects the nitrogen and phosphorus concentrations and biomass of forest herbs. Plant Ecol 212:901–9.

Bellemare J, Motzkin G, Foster DR. 2002. Legacies of the agricultural past in the forested present: an assessment of historical land-use effects on rich mesic forests. J Biogeo 29:1401–20.

Bernhardt-Römermann M, Römermann C, Pillar VD, Kudernatsch T, Fischer A. 2010. High functional diversity is related to high nitrogen availability in a deciduous forest—evidence from a functional trait approach. Folia Geobot 45:111–24.

Carver M, Klápště J, Eds. 2011. The archaeology of medieval Europe, Vol. 2. Twelfth to sixteenth centuries. Acta Jutlandica, Humanities Series 2011/9. Aarhus University Press, Aarhus, Denmark.

Christie N, Stamper P, Eds. 2012. Medieval rural settlement. Britain and Ireland, AD 800-1600. Windgather Press, Oxford, UK.

Chytrý M, Tichý L, Roleček J. 2003. Local and regional patterns of species richness in Central European vegetation types along the pH/calcium gradient. Folia Geobot 38:429–42.

Chytrý M, Tichý L, Holt J, Botta-Dukát J. 2002. Determination of diagnostic species with statistical fidelity measures. J Veg Sci 13:79–90.

Dambrine E, Dupouey JL, Laut L, Humbert L, Thinon M, Beaufils T, Richard H. 2007. Present forest biodiversity patterns in France related to former Roman agriculture. Ecology 88:1430–9.

Dupouey LJ, Dambrine E, Laffite JD, Moares C. 2002. Irreversible impact of past land use on forest soils and biodiversity. Ecology 83:2978–84.

Dyer C, Jones R. 2010. Deserted villages revisited. Hertfordshire, UK: University of Hertfordshire Press.

Ellenberg H, Weber HE, Dull R, Wirth V, Werner W, Paulissen D. 1991. Zeigerwerte von Pflanzen in Mitteleuropa (indicator values for plant species in Central Europe). Scr Geobot 18:1–248.

Ewald J. 2003. The calcareous riddle: Why are there so many calciphilous species in the Central European flora? Folia Geobot 38:357–66.

Falkengren-Grerub U, Michelsen A, Olsson MO, Quarmby C, Sleep D. 2004. Plant nitrate use in deciduous woodland: the relationship between leaf N, 15N natural abundance of forbs and soil N mineralisation. Soil Biol Biochem 36:1885–91.

Felgenhauer-Schmiedt S. 2009. Archäologie ländlicher Siedlungen des Mittelalters in Niederösterreich (Archaeology of medieval land settlement in Lower Austria). Beiträge zur Mittelarchäologie Österreich 25:69–87.

Gojda M, Hejcman M. 2012. Cropmarks in main field crops enable the identification of a wide spectrum of buried features on archaeological sites in Central Europe. J Archaeol Sci 39:1655–64.

Gojda M, John J, Starková L. 2011. Archaeological remote sensing by means of airborne laser scanning. Interim report upon the first lidar research project in Bohemia. Archeologické rozhledy 63:680–98.

Grime JP. 2001. Plant strategies, vegetation processes and ecosystems properties. 2nd edn. Chichester, UK: Wiley.

Hejcman M, Ondráček J, Smrž Z. 2011. Ancient waste pits with wood ash irreversibly increase crop production in Central Europe. Plant Soil 339:341–50.

Hejcman M, Smrž Z. 2010. Cropmarks in stands of cereals, legumes and winter rape indicate sub-soil archaeological features in the agricultural landscape of Central Europe. Agric Ecosyst Environ 138:348–54.

Hejcman M, Strnad L, Hejcmanová P, Pavlů V. 2012. Response of plant species composition, biomass production and biomass chemical properties to high N, P and K application rates in Dactylis glomerata- and Festuca arundinacea-dominated grassland. Grass Forage Sci 67:488–506.

Hermy M, Verheyen K. 2007. Legacies of the past in the present-day forest biodiversity: a review of past land-use effects on forests plant species composition and diversity. Ecol Res 22:361–71.

Hofmeister J, Hošek J, Modrý M, Roleček J. 2009. The influence of light and nutrient availability on herb layer species richness in oak-dominated forests in central Bohemia. Plant Ecol 205:57–75.

Holliday VT, Gartner WG. 2007. Methods of soil P analysis in archaeology. J Archaeol 34:301–33.

Karlík P, Poschlod P. 2009. History or abiotic filter: which is more important in determining the species composition of calcareous grasslands? Preslia 81:321–40.

Kitsikopoulos H, Ed. 2011. Agrarian Change and Crisis in Europe, 1200–1500. Routledge Research in Medieval Studies. London, UK: Routledge.

Klápště J. 2012. The Czech lands in medieval transformation. Leiden, Netherlands: Brill.

Klápště J, Smetánka Z. 1995. The archaeology of medieval villages in Bohemia and Moravia (Czech Republic). Conference Ruralia 1. Památky Archeol Suppl 3:331–8.

Klápště J, Sommer P, Eds. 2009. Medieval rural settlement in marginal landscapes. Turnhout, Belgium: Brepols.

Klír T. 2008. The settlements and agriculture of the margins in the Later Middle Age and Early New Age. Dissertationes archaeologicae brunenses/pragensesque. Charles University, Prague, The Czech Republic.

Klír T. 2010. Rural settlements in Bohemia in the age of transition (14–16th century): research concept and preliminary report. Medieval Settl Res 25:52–61.

Klír T, Kenzler H. 2008. A comparative study of defunct villages on the basis on phosphate analyses: Schwarzenbach, near Cheb. Archaeol Histor 34:657.

Kubát K, Hrouda L, Chrtek J jun, Kaplan Z, Kirschner J, Štěpánek J. 2002. Klíč ke květeně České republiky (Key to the flora of the Czech Republic). Academia, Prague, The Czech Republic.

Mehlich A. 1984. Mehlich No. 3 soil test extractant: a modification of Mehlich No. 2. Commun Soil Sci Plant Anal 15:1409–16.

Mighall TM, Timberlake S, Foster IDL, Krupp E, Singh S. 2009. Ancient copper and lead pollution records from a raised bog complex in Central Wales, UK. J Archaeol Sci 36:1504–15.

Mondoni A, Probert R, Rossi G, Hay F. 2009. Habitat-related germination behaviour and emergence phenology in the woodland geophyte Anemone ranunculoides L. (Ranunculaceae) from northern Italy. Seed Sci Res 19:137–44.

Nová J, Karlík P. 2010. Vegetation of deserted medieval villages in the Kozel forest district (Pilsen region). Zprávy České Bot Společnosti 45:93–118.

Pärtel M. 2002. Local plant diversity patterns and evolutionary history at the regional scale. Ecology 83:2361–6.

Pokorný P, Boenke N, Chytráček M, Nováková K, Sádlo J, Veselý J, Kuneš P, Jankovská V. 2006. Insight into the environment of a pre-Roman Iron Age hilfort at Vladař, Czech Republic, using a multi-proxy approach. Veg Hist Archaeobot 15:419–33.

Prach K, Beneš J. 2004. Geobotanická indikace v archeologii (Geobotanical indication in archaeology). In: Kuna M, Ed. Nedestruktivní archeologie, Prague, The Czech Republic: Academia, p. 297–306.

Prange W. 1996. Das Kleine Immergrün (Vinca minor L.) in Westdeutschland—eine Kulturreliktpflanze aus römischer Zeit (Lesser periwinkle (Vinca minor L.) in West Germany—the cultural relict plant from Roman times. Schr Naturwiss Ver Schleswig-Holstein 66:71–96.

Řezníčková R. 2007. Variability of the Molinion meadows in Slovakia. Biologia 62:675–83.

Roos CI, Nolan KC. 2012. Phosphates, plowzones, and plazas: a minimally invasive approach to settlement structure of plowed village sites. J Archaeol Sci 39:23–32.

Salisbury RB. 2012. Soilscapes and settlements: remote mapping of activity areas in unexcavated prehistoric farmsteads. Antiquity 86:178–90.

Schreg R. 2009. Archäologische Wüstungsforschung und spätmittelalterliche Landnutzung. Hausbau und Landnutzung des Spätmittelalters in Südwestdeutschland aus archäologischer Sicht (Archaeology of deserted villages and late medieval land use. Late medieval constructions and land use in southwest Germany in view of archaeology) In: Sönke L, Rückert P, Eds. Landnutzung und Landschaftsentwicklung im Südwestdeutschen. Zur Umweltgeschichte im späten Mittelalter und in der frühen Neuzeit, p. 131–63. Stuttgart: W. Kohlhammer Verlag.

Semelová V, Hejcman M, Pavlů V, Vacek S, Podrázský V. 2008. The grass garden in the giant Mts. (Czech Republic): residual effect of long-term fertilisation after 62 years. Agric Ecosyst Environ 123:337–42.

Skálová H, Havlíčková V, Pyšek P. 2012. Seedling traits, plasticity and local differentiation as strategies of invasive species of impatiens in Central Europe. Ann Bot 110:1429–38.

Smetánka Z. 1988. Život středověké vesnice—zaniklá Svídna (Life of medieval village—deserted Svídna). Prague, The Czech Republic: Academia.

Smetánka Z. 1993. A discussion of problems associated with the three-part house in Bohemia and Moravia during the period of the High and Late Middle Ages. In: Mediaevalia Archaeologica Bohemica 1993, Památky archeologické—Supplementum 2, p. 133–8, Archaeological Institute of the Czech Academy of Sciences, Prague, The Czech Republic.

Sokal RR, Rohlf FJ. 2001. Biometry: the principles and practice of statistics in biological research. 7th edn. New York, USA: Freeman.

Spiegelberger T, Hegg O, Matthies D, Hedlund K, Schaffner U. 2006. Long-term effects of short-term perturbation in a subalpine grassland. Ecology 87:1939–44.

ter Braak CJF, Šmilauer P. 2002. CANOCO reference manual and CanoDraw for windows user's guide: software for canonical community ordination (version 4.5). Ithaca, NY, USA: Microcomputer Power.

Tichy L. 2002. JUICE, software for vegetation classification. J Veg Sci 13:451–3.

Verheyen K, Guntenspergen GR, Biesbrouck B, Hermy M. 2003. An integrated analysis of the effects of past land use on forest herb colonisation at the landscape scale. J Ecol 91:731–42.

Vojta J. 2007. Relative importance of historical and natural factors influencing vegetation of secondary forests in abandoned villages. Preslia 79:223–44.

von Oheimb G, Härdtle W, Naumann PS, Westphal C, Assmann T, Meyer H. 2008. Long-term effects of historical heathland farming on soil properties of forest ecosystems. Forest Ecol Manag 255:1984–93.

Wells EC, Terry RE. 2007. Special issue: advances in geoarchaeological approaches to anthrosol chemistry, part I: agriculture—introduction. Geoarchaeology 22:285–90.
Acknowledgments
Michal Hejcman was supported by project GAČR 521/08/1131, Jiří Ondráček by project CIGA 20104208 and Tomáš Klír by project GAČR P405/12/P715. Anonymous reviewers are gratefully acknowledged for their useful comments.
Additional information
Author contributions
M. Hejcman: conceived of or designed study, wrote the paper. P. Karlík: performed research, analyzed data. J. Ondráček: performed research, analyzed data. T. Klír: contributed new methods or models.
About this article
Cite this article
Hejcman, M., Karlík, P., Ondráček, J. et al. Short-Term Medieval Settlement Activities Irreversibly Changed Forest Soils and Vegetation in Central Europe. Ecosystems 16, 652–663 (2013). https://doi.org/10.1007/s10021-013-9638-3
Received:

Accepted:

Published:

Issue Date:

DOI: https://doi.org/10.1007/s10021-013-9638-3
Keywords
calcium and phosphorus

deserted village

landscape archeology

species richness and diversity

trace and macroelements

past land use

recent forests