Abstract
Understanding the interactions between predators and prey is essential for predicting the effects of disturbances to ecosystems. Motorways produce changes in the surrounding biotic and abiotic environment and hence have multiple impacts on wildlife. Some species are known to change their activity patterns in the proximity of motorways but the implications for the structure of food webs are unknown. This study analyzes the activity patterns of both mammalian predators and their prey species near nine motorways in attempt to clarify how motorways affect the mammalian community. Habitat structural variables were also sampled to control the effects of microhabitat on relative prey abundance. Our results revealed different activity patterns of both predators and prey near motorways that are independent of structural differences in microhabitat. Both the red fox and small mammals were found to use the zone close to the motorways more frequently, whereas lagomorphs and mustelids were less active there. These differences suggest that motorways favor the population of the predator that is most tolerant of human activity, the red fox, whose activity could have both direct and indirect effects on that of other members of the predator and prey community. On the one hand, the red fox seems to act as "top predator" and mustelids to follow a "safety match" strategy avoiding the area close to the motorway where fox is more active. On the other hand, abundances of prey species are negatively associated with the activity of their most frequent predators. This study is the first to assess how the proximity to motorways affects the activity of mammals in two levels of the food web and opens the field for research to understand the processes driving the detected patterns. Moreover, such effects at the community scale should be taken into account when evaluating the impacts of motorways on the surrounding ecosystems.
Access options
Buy single article
Instant access to the full article PDF.
USD 39.95
Price excludes VAT (USA)
Tax calculation will be finalised during checkout.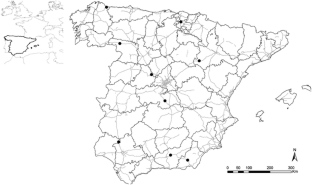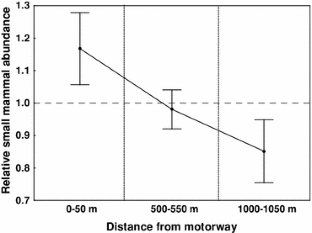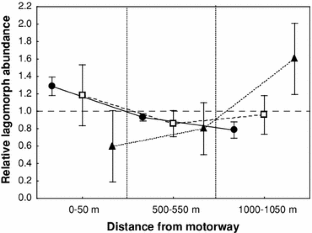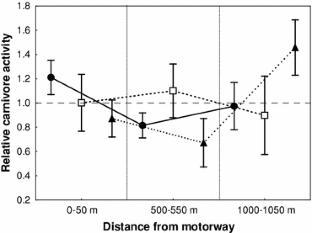 References
Adams LW. 1984. Small mammal use of an interstate highway median strip. J Appl Ecol 21:175–8.

Alkemade R, van Oorschot M, Nellemann L, Bakkenes M, ten Brink B. 2009. GLOBIO3: a framework to investigate options for reducing global terrestrial biodiversity loss. Ecosystems 12:374–90.

Banks PB. 2000. Can foxes regulate rabbit populations? J Wildl Manage 64:401–6.

Barea-Azcón JM, Virgós E, Ballesteros-Duperón E, Moleón M, Chirosa M. 2007. Surveying carnivores at large spatial scales: a comparison of four broad: applied methods. Biodiversity Conserv 16:1213–30.

Barja I, Bárcena F. 2005. Distribución y abundancia del gato montés (Felis silvestris) en el Parque Natural Os Montes do invernadeiro (Galicia, NO de España): factores de habitat implicados y relación con la presencia de zorro y marta. Galemys 17:29–40.

Barrientos R, Virgós E. 2006. Reduction of potential food interference in two sympatric carnivores by sequential use of shared resources. Acta Oecol 30:107–16.

Barrientos R, Bolonio L. 2009. The presence of rabbits adjacent to roads increases polecat road mortality. Biodiversity Conserv 18:405–18.

Bautista LM, García JT, Calamestra RG, Palacín C, Martín CA, Morales MB, Bonal R, Viñuela J. 2004. Effect of weekend road traffic on the use of space by raptors. Conserv Biol 18:726–32.

Becker BJ, Wu M. 2007. The synthesis of regression slopes in meta-analysis. Stat Sci 3:414–29.

Berlow EL, Neutel A, Cohen JE, De Ruiter PC, Ebenman B, Emmerson M, Fox JW, Jansen VA, Jones JI, Kokkoris GD, Logofet DO, Mckane AJ, Montoya JM, Petchey O. 2004. Interaction strengths in food webs: issues and opportunities. J Animal Ecol 73:585–98.

Berger KM, Gese EM, Berger J. 2008. Indirect effects and traditional trophic cascades. A test involving wolves, coyotes and pronghorn. Ecology 89:818–28.

Bissonette JA, Rosa SA. 2009. Road zone effects in small-mammal communities. Ecol Soc 14:27. http://www.ecologyandsociety.org/vol14/iss1/art27/. Accessed 27 Nov 2011.

Bright PW. 2000. Lessons from lean beasts: conservation biology of the mustelids. Mammal Rev 30:217–26.

Carvalho JC, Gomes P. 2004. Feeding resource partitioning among four sympatric carnivores in the Peneda-Gerês National Park (Portugal). J Zool 263:275–83.

Coffin AW. 2007. From roadkill to road ecology: a review of the ecological effects of roads. J Transp Geogr 15:396–406.

Crooks KR, Soule ME. 1999. Mesopredator release and avifaunal extinctions in fragmented systems. Nature 400:563–9.

Delibes-Mateos M, Fernández De Simon J, Villafuerte R, Ferreras P. 2008. Feeding responses of the red fox (Vulpes vulpes) to different wild rabbit (Oryctolagus cuniculus) densities: a regional approach. Eur J Wildl Res 54:71–8.

Dell'Arte GL, Laaksonen T, Norrdahl K, Korpimäki E. 2007. Variation in the diet composition of a generalist predator, the red fox, in relation to season and density of main prey. Acta Oecol 31:276–81.

Doncaster CP, Dickman CR, Macdonald DW. 1990. Feeding ecology of red foxes (Vulpes vulpes) in the city of Oxford, England. J Mammal 7:188–94.

Durant SM. 1998. Competition refuges and coexistence: an example from Serengeti carnivores. J Animal Ecol 67:370–86.

Elmhagen B, Rushton SP. 2007. Trophic control of mesopredators in terrestrial ecosystems: top-down or bottom-up? Ecol Lett 10:197–206.

Fahrig L, Rytwinski T. 2009. Effects of roads on animal abundance: an empirical review and synthesis. Ecol Soc 14(1):21. http://www.ecologyandsociety.org/vol14/iss1/art21/. Accessed 27 Nov 2011.

Fahrmeir L, Tutz G, Eds. 2001. Multivariate statistical modelling based on generalized linear models. Berlin: Springer.

Fedriani JM, Palomares F, Delibes M. 1999. Niche relations among three sympatric Mediterranean carnivores. Oecologia 121:138–48.

Forman RTT. 2000. Estimate of the area affected ecologically by the road system in the United States. Conserv Biol 14:31–5.

Forman RTT, Alexander LE. 1998. Roads and their major ecological effects. Ann Rev Ecol Syst 29:207–31.

Frey SN, Conover MR. 2006. Habitat use by meso-predators in a corridor environment. J Wildl Manage 70:1111–18.

Fuentes-Montemayor E, Cuarón AD, Vázquez-Domínguez E, Benítez-Malvido J, Valenzuela-Galván D, Andresen E. 2009. Living on the edge: roads and edge effects on small mammal populations. J Animal Ecol 78:857–65.

García-Perea R. 2007. Felis silvestris Schreber, 1777. Palomo LJ, Gisbert JC, Blanco JC, Eds. Atlas y libro rojo de los mamíferos terrestres de España. Madrid: Dirección General para la Biodiversidad-SECEM-SECEMU, España. pp. 333–335.

Germain E, Ruette S, Poulle M. 2009. Likeness between the food habits of European wildcats, domestic cats and their hybrids in France. Mammalian Biol 74:412–17.

Glennon MJ, Porter WF, Demers CL. 2002. An alternative field technique for estimating diversity of small mammal populations. J Mammal 83:734–42.

Hobbs RJ, Arico S, Aronson J, Baron S, Bridgewater P, Cramer VA, Epstein PR, Ewel JJ, Klink CA, Lugo AE, Norton D, Ojima D, Richardson DM, Sanderson DW, Valladares F, Vilá M, Zamora R, Zobel M. 2006. Novel ecosystems: theoretical and management aspects of the new ecological world order. Glob Ecol Biogeography 15:1–7.

Holt AR, Davies ZG, Tyler C, Staddon S. 2008. Meta-analysis of the effects of predation on animal prey abundance: evidence from UK vertebrates. PLoS One 3:e2400. doi:10.1371/journal.pone.0002400.

Hunter MD, Price PW. 1992. Playing chutes and ladders: heterogeneity and the relative roles of bottom-up and top-down forces in natural communities. Ecology 73:724–32.

Klar N, Fernández N, Kramer-Schadt S, Herrmann M, Trinzen M, Büttner I, Niemitz C. 2008. Habitat selection models for European wildcat conservation. Biol Conserv 141:308–19.

Klar N, Herrmann M, Kramer-Schadt S. 2009. Effects and mitigation of road impacts on individual movement behavior of wildcats. J Wildl Manage 73:631–8.

Kruskal JN. 1964. Multidimensional scaling by optimizing goodness of fit to a nonmetric hypothesis. Psychometrika 1:1–27.

Letnic M, Crowther MS, Koch F. 2009. Does a top-predator provide an endangered rodent with refuge from an invasive mesopredator? Animal Conserv 12:302–12.

Little S, Harcourt RG, Clevenger AP. 2002. Do wildlife passages act as prey-traps? Biol Conserv 107:135–45.

Lombardi L, Fernández N, Moreno S, Villafuerte R. 2003. Habitat-related differences in Rabbit (Oryctolagus cuniculus) abundance, distribution and activity. J Mammal 84:26–36.

MacKenzie D, Nichols J, Royle J, Pollock K, Bailey L, Hines J. 2006. Occupancy estimation and modeling. Inferring patterns and dynamics of species occurrence. Amsterdam, The Netherlands: Elsevier. 324 pp.

Malo AF, Lozano J, Huertas DL, Virgós E. 2004. A change of diet from rodents to rabbits (Oryctolagus cuniculus). Is the wildcat (Felis silvestris) a specialist predator? J Zool 263:401–7.

May SA, Norton TW. 1996. Influence of fragmentation and disturbance on the potential impact of feral predators on native fauna in Australian forest ecosystems. Wildl Res 23:387–400.

Meunier FD, Corbin J, Verheyden C, Jouventin P. 1999. Effects of landscape type and extensive management on use of motorway roadsides by small mammals. Can J Zool 77:108–17.

Mola I, Jiménez MD, López-Jiménez N, Casado MA, Balaguer L. 2011. Roadside reclamation outside the revegetation season: management options under schedule pressure. Restor Ecol 19:83–92.

Montoya JM, Woodward G, Emmerson MC, Solé RV. 2009. Press perturbations and indirect effects in real food webs. Ecology 90:2426–33.

Pace ML, Cole JJ, Carpenter SR, Kitchell JF. 1999. Trophic cascades revealed in diverse ecosystems. Trends Ecol Evol 14:483–8.

Palomares F, Caro TM. 1999. Interspecific killing among mammalian carnivores. Am Nat 153:492–508.

Pech RP, Sinclair AR, Newsome AE, Catling PC. 1992. Limits to predator regulation of rabbits in Australia: evidence from predator-removal experiments. Oecología 89:102–112.

Peckarsky BL, Abrams PA, Bolnick DI, Dill LM, Grabowski JH, Luttbeg B, Orrock JL, Peacor SD, Preisser EL, Schmitz OJ, Trussell GC. 2008. Revisiting the classics: considering nonconsumptive effects in textbook examples of predator–prey interactions. Ecology 89:2416–25.

Planillo A, Malo JE. 2012. Motorway verges: paradise for prey species? A case study with the European rabbit. Mammalian Biol. doi:10.1016/j.mambio.2012.11.001.

Polis GA, Sears AL, Huxel GR, Strong DR, Maron J. 2000. When is a trophic cascade a trophic cascade? Trends Ecol Evol 15:473–5.

Power ME. 1992. Top-down and bottom-up forces in food webs: do plants have primacy? Ecology 73:733–46.

Rice WR. 1989. Analyzing tables of statistical tests. Evolution 43:223–5.

Ritchie EG, Johnson CN. 2009. Predator interactions, mesopredator release and biodiversity conservation. Ecol Lett 12:982–98.

Roedenbeck IA, Voser P. 2008. Effects of roads on spatial distribution, abundance and mortality of brown hare (Lepus europaeus) in Switzerland. Eur J Wildl Res 54:425–37.

Ruiz-Capillas P, Mata C, Malo JE. 2013. Road verges are refuges for small mammal populations in extensively managed Mediterranean landscapes. Biol Conserv. doi:10.1016/j.bbr.2011.03.031.

Sabino-Marques H, Mira A. 2011. Living on the verge: are roads a more suitable refuge for small mammals than streams in Mediterranean pastureland?. Ecol Res 26:277–87.

Salo P, Nordström M, Thomson RL, Korpimäki E. 2008. Risk induced by a native top predator reduces alien mink movements. J Animal Ecol 77:1092–8.

Sanderson EW, Jaiteh M, Levy MA, Redford K, Wanneboo AV, Woolmer G. 2002. The human footprint and the last of the wild. Bioscience 52:891–904.

Smith-Patten BD, Patten MA. 2008. Diversity, seasonality, and context of mammalian roadkills in the southern Great Plains. Environ Manage 41:844–52.

Tellería JL. 1986. Manual para el censo de vertebrados terrestres. Madrid: Raíces.

Thompson CM, Gese EM. 2007. Food webs and intraguild predation: community interactions of a native mesocarnivore. Ecology 88:334–46.

Todd IA, Tew TE, Macdonald DW. 2000. Arable habitat use by wood mice (Apodemus sylvaticus). 1. Macrohabitat. J Zool (London) 250:299–303.

Torre I, Díaz M, Martínez-Padilla J, Bonal R, Viñuela J, Fargallo JA. 2007. Cattle grazing, raptor abundance and small mammals communities in Mediterranean grasslands. Basic Appl Ecol 8:565–75.

Trombulak SC, Frissell CA. 2000. Review of ecological effects of roads in terrestrial and aquatic communities. Conserv Biol 14:18–30.

Underhill JE, Angold PG. 2000. Effects of roads on wildlife in an intensively modified landscape. Environ Rev 8:21–39.

Van Apeldoorn R, El Daem M, Hawley K, Kozakiewicz M, Merriam G, Nieuwenhuizen W, Wegner J. 1993. Footprints of small mammals. A field method of sampling data for different species. Mammalia 57:407–22.

Virgós E. 2001. Relative value of riparian woodlands in landscapes with different forest cover for medium-sized Iberian carnivores. Biodiversity Conserv 10:1039–49.

Wilson RR, Blankenship TL, Hooten MB, Shivik JA. 2010. Prey mediated avoidance of an intraguild predator by its intraguild prey. Oecologia 164:921–9.

Yanes M, Velasco JM, Suárez F. 1995. Permeability of roads and railways to vertebrates: the importance of culverts. Biol Conserv 71:217–22.
Acknowledgments
This study forms part of the CENIT-OASIS project funded by a consortium of companies supported by the Centro para el Desarrollo Tecnológico e Industrial, CDTI, of the Spanish Ministry of Science and Innovation. The Comunidad de Madrid together with the European Social Fund supports the TEG research group through the REMEDINAL Research Network (S-0505/AMB/0335 and S-2009/AMB/1783). We are indebted to Manuel Villén and Luis García-Linares at the R+D Department of OHL for their support, permission to publish this paper, and particularly, for their commitment with the environmental integration of transport infrastructures. We are very grateful to town councils and landowners who allowed access to their properties for fieldwork, as well as to journal editors and referees for their contribution to the final text.
Additional information
Author Contributions
Pablo Ruiz-Capillas: performed research, analyzed data, wrote the paper; Cristina Mata: designed study, performed research, analyzed data, wrote the paper; Juan E. Malo: conceived study, analyzed data, wrote the paper.
Electronic supplementary material
Below is the link to the electronic supplementary material.
About this article
Cite this article
Ruiz-Capillas, P., Mata, C. & Malo, J.E. Community Response of Mammalian Predators and Their Prey to Motorways: Implications for Predator–Prey Dynamics. Ecosystems 16, 617–626 (2013). https://doi.org/10.1007/s10021-013-9634-7
Received:

Accepted:

Published:

Issue Date:

DOI: https://doi.org/10.1007/s10021-013-9634-7
Keywords
carnivore

food web

lagomorph

predator–prey interactions

road ecology

small mammals