Abstract
Mediterranean semi-arid forest ecosystems are especially sensitive to external forcing. An understanding of the relationship between forest carbon (C) stock, and environmental conditions and forest structure enable prediction of the impacts of climate change on C stocks and help to define management strategies that maximize the value of forests for C mitigation. Based on the national forest inventory of Spain (1997–2008 with 70,912 plots), we estimated the forest C stock and spatial variability in Peninsular Spain and, we determined the extent to which the observed patterns of stand C stock can be explained by structural and species richness, climate and disturbances. Spain has an average stand C stock of 45.1 Mg C/ha. Total C stock in living biomass is 621 Tg C (7.8% of the C stock of European forests). The statistical models show that structural richness, which is driven by past land use and life forest history including age, development stage, management activities, and disturbance regime, is the main predictor of stand tree C stock with larger C stocks in structurally richer stands. Richness of broadleaf species has a positive effect on both conifer and broadleaf forests, whereas richness of conifer species shows no significant or even a negative effect on C stock. Climate variables have mainly an indirect effect through structural richness but a smaller direct predictive ability when all predictors are considered. To achieve a greater standing C stock, our results suggest promoting high structural richness by managing for uneven-aged stands and favoring broadleaf over conifer species.
Access options
Buy single article
Instant access to the full article PDF.
USD 39.95
Price excludes VAT (USA)
Tax calculation will be finalised during checkout.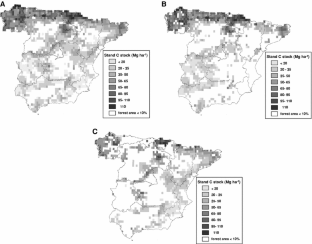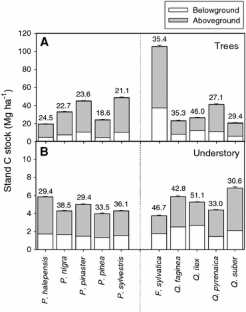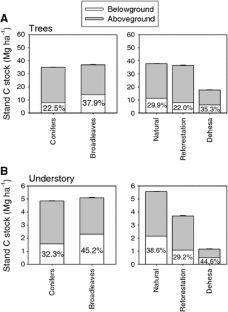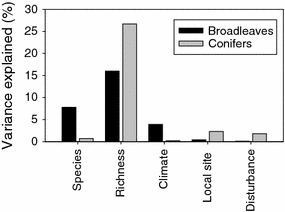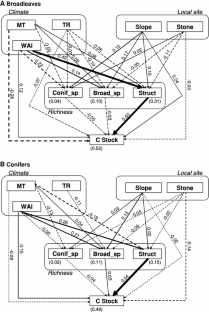 References
Arbuckle JL. 2009. Amos 18 user's guide. Chicago, IL: SPSS Inc.

Baraloto C, Rabaud S, Molto Q, Blanc L, Fortunel C, Hérault B, Dávila N, Mesones I, Rios M, Valderrama E, Fine PVA. 2011. Disentangling stand and environmental correlates of aboveground biomass in Amazonian forests. Glob Change Biol 17:2677–88.

Brown SL, Schroeder P, Kern JS. 1999. Spatial distribution of biomass in forests of the eastern USA. For Ecol Manage 123:81–90.

Canadell JG, Le Quéré C, Raupach MR, Field CB, Buitenhuis ET, Ciais P, Conway TJ, Gillett NP, Houghton RA, Marland G. 2007. Contributions to accelerating atmospheric CO2 growth from economic activity, carbon intensity, and efficiency of natural sinks. Proc Nat Acad Sci 104:18866–70.

Capel Molina JJ. 2000. El Clima de la Península Ibérica. Ariel, Barcelona.

Caspersen JP, Pacala SW. 2001. Successional diversity and forest ecosystem function. Ecol Res 16:895–904.

Clark DB, Palmer MW, Clark DA. 1999. Edaphic factors and the landscape-scale distribution of tropical rain forest trees. Ecology 80:2662–75.

de Castilho CV, Magnusson WE, Nazare R, de Araújo O, Luizao RCC, Luizao FJ, Lima AP, Higuchi N. 2006. Variation in aboveground tree live biomass in a central Amazonian Forest: effects of soil and topography. For Ecol Manage 234:85–96.

Dieter M, Elsasser P. 2002. Carbon stocks and carbon stock changes in the tree biomass of Germany's forests. Forstwissenschaftliches Centralblatt 121:195–210.

Friedlingstein P, Houghton RA, Marland G, Hackler J, Boden TA, Conway TJ, Canadell JG, Raupach MR, Ciais P, Le Quéré C. 2010. Update on CO2 emissions. Nat Geosci 3:811–12.

Goodale CL, Apps MJ, Birdsey RA, Field CB, Heath LS, Houghton RA, Jenkins JC, Kohlmaier GH, Kurz W, Liu S, Nabuurs G-J, Nilsson S, Shvidenko AZ. 2002. Forest carbon sinks in the Northern hemisphere. Ecol Appl 12:891–9.

Goswami BN, Venugopal V, Sengupta D, Madhusoodanan MS, Xavier PK. 2006. Increasing trend of extreme rain events over India in a warming environment. Science 314:1442–5.

Gravel D, Canham CD, Beaudet M, Messier C. 2010. Shade tolerance, canopy gaps and mechanisms of coexistence of forest trees. Oikos 119:475–84.

Hargreaves GH, Samani ZA. 1982. Estimating potential evapotranspiration. J Irrigation Drainage Eng 108:225–30.

Healy C, Gotelli NJ, Potvin C. 2008. Partitioning the effects of biodiversity and environmental heterogeneity for productivity and mortality in a tropical tree plantation. J Ecol 96:903–13.

Hicke JA, Jenkins JC, Ojima DS, Ducey M. 2007. Spatial patterns of forest characteristics in the western United States derived from inventories. Ecol Appl 17:2387–402.

Houghton RA. 2003. Why are estimates of the terrestrial carbon balance so different? Glob Change Biol 9:500–9.

Houghton RA. 2005. Aboveground forest biomass and the global carbon balance. Glob Change Biol 11:945–58.

Houghton RA, Hall F, Goetz SJ. 2009. Importance of biomass in the global carbon cycle. J Geophys Res 114:G00E03.

Huang C-Y, Asner GP, Martin RE, Barger NN, Neff JC. 2009. Multiscale analysis of tree cover and aboveground carbon stocks in pinyon–juniper woodlands. Ecol Appl 19:668–81.

Kahmen A, Perner J, Audorff V, Weisser W, Buchmann N. 2005. Effects of plant diversity, community composition and environmental parameters on productivity in montane European grasslands. Oecologia 142:606–15.

Keddy P. 2005. Putting the plants back into plant ecology: six pragmatic models for understanding and conserving plant diversity. Ann Bot 96:177–89.

Keith H, Mackey BG, Lindenmayer DB. 2009. Reevaluation of forest biomass carbon stocks and lessons from the world's most carbon-dense forests. Proc Natl Acad Sci 106:1635–11640.

Keith H, Mackey G, Berry S, Lindenmayer D, Gibbons P. 2010. Estimating carbon carrying capacity in natural forest ecosystems across heterogeneous landscapes: addressing sources of error. Glob Change Biol 16:2971–89.

Kerkhoff AJ, Martens SN, Shore GA, Milne BT. 2004. Contingent effects of water balance variation on tree cover density in semiarid woodlands. Glob Ecol Biogeogr 13:237–46.

Kueppers LM, Harte J. 2005. Subalpine forest carbon cycling: short- and long-term influence of climate and species. Ecol Appl 15:1984–99.

Lei X, Wang W, Peng C. 2009. Relationships between stand growth and structural diversity in spruce-dominated forests in New Brunswick, Canada. Can J For Res 39:1835–47.

Lexerød NL, Eid T. 2006. An evaluation of different diameter diversity indices based on criteria related to forest management planning. For Ecol Manage 222:17–28.

Linares AM. 2007. Forest planning and traditional knowledge in collective woodlands of Spain: the dehesa system. For Ecol Manage 249:71–9.

MARM. 2007. Anuario de estadística forestal. Mapa Forestal de España (1:50000). Base de datos de la naturaleza. http://www.mma.es/portal/secciones/biodiversidad/montes_politica_forestal/estadisticas_forestal/estructura_forestal_2007.htm#1.

McElhinny C, Gibbons P, Brack C, Bauhus J. 2005. Forest and woodland stand structural complexity: its definition and measurement. For Ecol Manage 218:1–24.

Merino A, Real C, Álvarez-González JG, Rodríguez-Guitián MA. 2007. Forest structure and C stocks in natural Fagus sylvatica forest in southern Europe: the effects of past management. For Ecol Manage 250:206–14.

Montero G, Ruiz-Peinado R, Muñoz M. 2005. Producción de biomasa y fijación de CO2 por los bosques españoles. Monografías del INIA. Serie Forestal nº 13.

Nabuurs GJ, Thürig E, Heidema N, Armolaitis K, Biber P, Cienciala E, Kaufmann E, Mäkipää R, Nilsen P, Petritsch R, Pristova T, Rock J, Schelhaas MJ, Sievanen R, Somogyi Z, Vallet P. 2008. Hotspots of the European forests carbon cycle. For Ecol Manage 256:194–200.

Ninyerola M, Pons X, Roure JM. 2005. Atlas Climático de la Península Ibérica. Cerdanyola del Vallés: Metodología y aplicaciones en bioclimatología y geobotánica. Universidad Autónoma de Barcelona.

Pan Y, Birdsey RA, Fang J, Houghton R, Kauppi PE, Kurz WA, Phillips OL, Shvidenko A, Lewis SL, Canadell JG, Ciais P, Jackson RB, Pacala SW, McGuire AD, Piao S, Rautiainen A, Sitch S, Hayes D. 2011. A large and persistent carbon sink in the world's forests. Science 333:988–93.

Pons X. 2008. MiraMon. Sistema de Información Geográfica y software de Teledetección. Bellaterra: Centre de Recerca Ecològica i Aplicacions Forestals, CREAF.

Raich JW, Russell AE, Kitayama K, Parton WJ, Vitousek PM. 2006. Temperature influences carbon accumulation in moist tropical forests. Ecology 87:76–87.

Raupach MR, Rayner PJ, Barrett DJ, DeFries RS, Heimann M, Ojima DS, Quegan S, Schmullius CC. 2005. Model-data synthesis in terrestrial carbon observation: methods, data requirements and data uncertainty specifications. Glob Change Biol 11:378–97.

Risch AC, Jurgensen MF, Page-Dumroese DS, Wildi O, Schülz M. 2008. Long-term development of above- and below-ground carbon stocks following land-use change in subalpine ecosystems of the Swiss National Park. Can J For Res 38:1590–602.

Sankaran M, Hanan NP, Scholes RJ. 2005. Determinants of woody cover in African savannas. Nature 438:846–9.

Stegen JC, Swenson NG, Enquist BJ, White EP, Phillips OL, Jørgensen PM, Weiser MD, Monteagudo Mendoza A, Núñez Vargas P. 2011. Variation in above-ground forest biomass across broad climatic gradients. Glob Ecol Biogeogr 20:744–54.

Vance-Chalcraft HD, Willig MR, Cox SB, Lugo AE, Scatenaet FN. 2010. Relationship between aboveground biomass and multiple measures of biodiversity in subtropical forest of Puerto Rico. Biotropica 42:290–9.

Vandermeer JH. 1989. The ecology of intercropping. Cambridge: Cambridge University Press.

Vanninen P, Ylitalo H, Sievänen R, Mäkelä A. 1996. Effects of age and site quality of biomass in Scots pine (Pinus sylvestris L.). Trees 10:231–8.

Vilà M, Vayreda J, Comas L, Ibáñez JJ, Mata T, Obón B. 2007. Species richness and wood production: a positive association in Mediterranean forests. Ecol Lett 10:241–50.

Villanueva JA, Ed. 2005. Tercer Inventario Forestal Nacional (1997–2007). Madrid: Ed. Ministerio de Medio Ambiente.

Zhang Y, Duan B, Xian J, Korpelainen H, Li C. 2011. Links between plant diversity, carbon stocks and environmental factors along a successional gradient in a subalpine conifer forest in Southwest China. For Ecol Manage 262:361–9.

Zhao M, Zhou G-S. 2006. Carbon storage of forest vegetation in China and its relationship with climatic factors. Climatic Change 74:175–89.
Acknowledgments
This study was supported by CONSOLIDER INGENIO 2010 CSD2008–0040. Two anonymous referees gave us interesting suggestions on a previous version of the manuscript.
Additional information
Author Contributions
JV, JR and MG conceived the study; JV, JR and MG performed the research; JV and JR analyzed data; JV, MG, JGC and JR wrote the manuscript.
Electronic supplementary material
Below is the link to the electronic supplementary material.
About this article
Cite this article
Vayreda, J., Gracia, M., Canadell, J.G. et al. Spatial Patterns and Predictors of Forest Carbon Stocks in Western Mediterranean. Ecosystems 15, 1258–1270 (2012). https://doi.org/10.1007/s10021-012-9582-7
Received:

Accepted:

Published:

Issue Date:

DOI: https://doi.org/10.1007/s10021-012-9582-7
Keywords