Abstract
Sources of variation among the chemical and spectral properties of tropical forest canopies are poorly understood, yet chemical traits reveal potential ecosystem and phylogenetic controls, and spectral linkages to chemical traits are needed for remote sensing of functional and biological diversity. We analyzed 21 leaf traits in 395 fully sunlit canopies, representing 232 species and multiple growth forms, in a lowland mixed dipterocarp forest of Sarawak, Malaysia. Leaf traits related to light capture and growth (for example, photosynthetic pigments, nutrients) were up to 55% lower, and defense traits (for example, phenols, lignin) were 15–40% higher, in the dominant family Dipterocarpaceae and in its genus Shorea, as compared to all other canopy species. The chemical variation within Dipterocarpaceae and Shorea was equivalent to that of all other canopy species combined, highlighting the role that a single phylogenetic branch can play in creating canopy chemical diversity. Seventeen of 21 traits had more than 50% of their variation explained by taxonomic grouping, and at least 16 traits show a connection to remotely sensed spectroscopic signatures (RMSE < 15%). It is through these chemical-to-spectral linkages that studies of functional and biological diversity interactions become possible at larger spatial scales, thereby improving our understanding of the role of species in tropical forest ecosystem dynamics.
Access options
Buy single article
Instant access to the full article PDF.
US$ 39.95
Tax calculation will be finalised during checkout.
Subscribe to journal
Immediate online access to all issues from 2019. Subscription will auto renew annually.
US$ 79
Tax calculation will be finalised during checkout.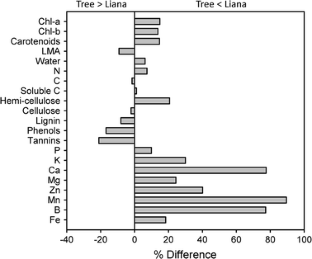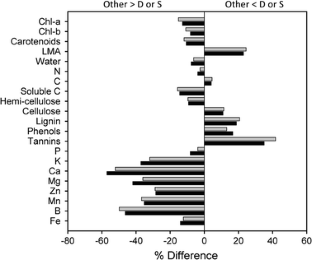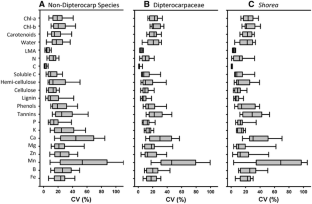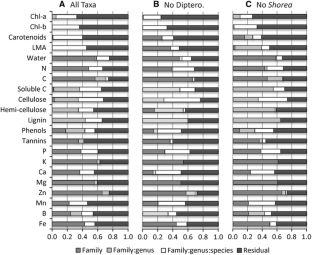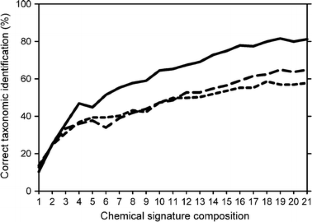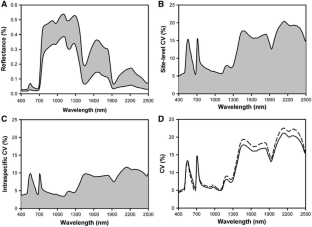 References
Aerts R. 1997. Climate, leaf litter chemistry and leaf litter decomposition in terrestrial ecosystems: a triangular relationship. Oikos 79:439–49.

Ashton P. 2005. Lambir's forest: the world's most dive known tree assemblage? In: Roubik DW, Sakai S, Hamid Karim AA, Eds. Pollination ecology and the rain forest. New York: Springer. pp 191–216.

Ashton PS. 1987. Dipterocarp biology as a window to the understanding of tropical forest structure. Ann Rev Ecol Syst 19:347–70.

Ashton PS, Givnish TJ, Appanah S. 1988. Staggered flowering in the Dipterocarpaceae: New insights into floral induction and the evolution of mast fruiting in the aseasonal tropics. Am Nat 132:44–66.

Asner GP. 2008. Hyperspectral remote sensing of canopy chemistry, physiology and diversity in tropical rainforests. In: Kalacska M, Sanchez-Azofeifa GA, Eds. Hyperspectral remote sensing of tropical and subtropical forests. Boca Raton: Taylor and Francis Group. p 261–96.

Asner GP, Martin RE. 2008. Spectral and chemical analysis of tropical forests: scaling from leaf to canopy levels. Remote Sens Environ 112:3958–70.

Asner GP, Martin RE. 2009. Airborne spectranomics: mapping canopy chemical and taxonomic diversity in tropical forests. Frontiers Ecol Environ 7:269–76.

Asner GP, Martin RE. 2011. Canopy phylogenetic, chemical and spectral assembly in a lowland Amazonian forest. New Phytol 189:999–1012.

Asner GP, Martin RE, Ford AJ, Metcalfe DJ, Liddell MJ. 2009. Leaf chemical and spectral diversity of Australian tropical forests. Ecol Appl 19:236–53.

Asner GP, Martin RE, Knapp DE, Tupayachi R, Anderson C, Carranza L, Martinez P, Houcheime M, Sinca F, Weiss P. 2011a. Spectroscopy of canopy chemicals in humid tropical forests. Remote Sens Environ . doi:10.1016/j.rse.2011.08.020.

Asner GP, Martin RE, Tupayachi R, Emerson R, Martinez P, Sinca F, Powell GVN, Wright SJ, Lugo AE. 2011b. Taxonomy and remote sensing of leaf mass per area (LMA) in humid tropical forests. Ecol Appl 21:85–98.

Asner GP, Scurlock JMO, Hicke JA. 2003. Global synthesis of leaf area index observations: implications for ecological and remote sensing studies. Glob Ecol Biogeogr 12:191–205.

Bondeau A, Kicklighter DW, Kaduk J. 1999. Comparing global models of terrestrial net primary productivity (NPP): importance of vegetation structure on seasonal NPP estimates. Glob Chang Biol 5:35–45.

Boulesteix A-L, Strimmer K. 2006. Partial least squares: a versatile tool for the analysis of high-dimensional genomic data. Br Bioinform 8:32–44.

Breulmann G, Ogino K, Markert B, Leffler US, Herpin U, Weckert V, Konschak R, Kikugawa Y, Ohkubo T. 1999. Comparison of chemical elements in Dipterocarpaceae and Euphorbiaceae from a tropical rain forest in Sarawak, Malaysia. Sci Total Environ 225:231–40.

Breulmann G, Ogino K, Ninomiya I, Ashton PS, La Frankie IV, Leffler US, Weckert V, Lieth H, Konschak R, Markert B. 1998. Chemical characterisation of Dipterocarpaceae by use of chemical fingerprinting —a multielement approach at Sarawak, Malaysia. Sci Total Environ 215:85–100.

Carlson KM, Asner GP, Hughes FR, Ostertag R, Martin RE. 2007. Hyperspectral remote sensing of canopy biodiversity in Hawaiian lowland rainforests. Ecosystems 10:536–49.

Castro-Esau KL, Sanchez-Azofeifa GA, Caelli T. 2004. Discrimination of lianas and trees with leaf-level hyperspectral data. Remote Sens Environ 90:353–72.

Chapin FSIII. 1991. Integrated responses of plants to stress. BioScience 41:29–36.

Chave J, Coomes D, Jansen S, Lewis SL, Swenson NG, Zanne AE. 2009. Towards a worldwide wood economics spectrum. Ecol Lett 12:351–66.

Clark ML, Roberts DA, Clark DB. 2005. Hyperspectral discrimination of tropical rain forest tree species at leaf to crown scales. Remote Sens Environ 96:375–98.

Coley PD, Barone JA. 1996. Herbivory and plant defenses in tropical forests. Ann Rev Ecol Syst 27:305–35.

Condit R, Ashton P, Balslev H, Brokaw N, Bunyavejchewin S, Chuyong G, Co L, Dattaraja HS, Davies S, Esufali S, Ewango CEN, Foster R, Gunatilleke N, Gunatilleke S, Hernandez C, Hubbell S, John R, Kenfack D, Kiratiprayoon S, Hall P, Hart T, Itoh A, LaFrankie JV, Liengola I, Lagunzad D, De Lao SL, Losos E, Magard E, Makana J-R, Manokaran N, Navarrete H, Nur SM, Okhubo T, Perez R, Samper C, Seng LH, Sukumar R, Svenning J-C, Tan S, Thomas D, Thompson J, Vallejo MI, Munoz GV, Valencia R, Yamakura T, Zimmerman JK. 2005. Tropical tree alpha-diversity: results from a worldwide network of large plots. Science 55:565–82.

Curran PJ. 1989. Remote sensing of foliar chemistry. Remote Sens Environ 30:271–8.

Dudt JF, Shure DJ. 1994. The influence of light and nutrients on foliar phenolics and insect herbivory. Ecology 75:86–98.

Evans JR, Seemann JR. 1989. The allocation of protein nitrogen in the photosynthetic apparatus: costs, consequences, and control. In: Briggs WR, Ed. Photosynthesis. New York: Allan R. Liss, Inc. p 183–205.

Feilhauer H, Asner GP, Martin RE, Schmidtlein S. 2010. Brightness-normalized partial least squares regression for hyperspectral data. J Quant Spectrosc Radiat Transf 111:1947–57.

Field C, Mooney HA. 1986. The photosynthesis—nitrogen relationship in wild plants. In: Givnish TJ, Ed. On the economy of plant form and function. Cambridge: Cambridge University Press. p 25–55.

Fine PVA, Mesones I, Coley PD. 2004. Herbivores promote habitat specialization by trees in Amazonian forests. Science 305:663–5.

Fyllas N, Patiño S, Baker T, Nardoto GB, Martinelli L, Quesada C, Paiva R, Schwarz M, Horna V, Mercado L. 2009. Basin-wide variations in foliar properties of Amazonian forest: phylogeny, soils and climate. Biogeosciences 6:2677–708.

Hedin LO. 2004. Global organization of terrestrial plant-nutrient interactions. Proc Natl Acad Sci 101:10849–50.

Jacquemoud S, Verdebout J, Schmuck G, Andreoli G, Hosgood B. 1995. Investigation of leaf biochemistry by statistics. Remote Sens Environ 54:180–8.

Janzen DH. 1970. Herbivores and the number of tree species in tropical forests. Am Nat 104:501–28.

Kenzo T, Ichie T, Watanabe Y, Yoneda R, Ninomiya I, Koike T. 2006. Changes in photosynthesis and leaf characteristics with tree height in five dipterocarp species in a tropical rain forest. Tree Phys 26:865–73.

Kenzo T, Ichie T, Yoneda R, Kitahashi Y, Watanabe Y, Ninomiya I, Koike T. 2004. Interspecific variation of photosynthesis and leaf characteristics in canopy trees of five species of Dipterocarpaceae in a tropical rain forest. Tree Phys 24:1187–92.

Kitajima K, Mulkey SS, Wright SJ. 2005. Variation in crown light utilization characteristics among tropical canopy trees. Ann Bot 95:535–47.

Knox NM, Skidmore AK, Prins HHT, Asner GP, van der Werff HMA, de Boer WF, van der Waal C, de Knegt HJ, Kohi EM, Slotow R, Grant RC. 2011. Dry season mapping of savanna forage quality, using the hyperspectral Carnegie Airborne Observatory sensor. Remote Sens Environ 115:1478–88.

Kokaly RF, Asner GP, Ollinger SV, Martin ME, Wessman CA. 2009. Characterizing canopy biochemistry from imaging spectroscopy and its application to ecosystem studies. Remote Sens Environ 113:S78–91.

Kumagai TO, Saitoh TM, Sato Y, Morooka T, Manfroi OJ, Kuraji K, Suzuki M. 2004. Transpiration, canopy conductance and the decoupling coefficient of a lowland mixed dipterocarp forest in Sarawak, Borneo: dry spell effects. J Hydrol 287:237–51.

Kurokawa H, Nakashizuka T. 2008. Leaf herbivory and decomposability in a Malaysian tropical rain forest. Ecology 89:2645–56.

Kursar TA, Dexter KG, Lokvam J, Pennington RT, Richardson JE, Weber MG, Murakami ET, Drake C, McGregor R, Coley PD. 2009. The evolution of antiherbivore defenses and their contribution to species coexistence in the tropical tree genus Inga. Proc Natl Acad Sci 106:18073–8.

Martin ME, Plourde LC, Ollinger SV, Smith M-L, McNeil BE. 2008. A generalizable method for remote sensing of canopy nitrogen across a wide range of forest ecosystems. Remote Sens Environ 112:3511–19.

McGroddy ME, Daufresne T, Hedin LO. 2004. Scaling of C:N:P stoichiometry in forests worldwide: implications of terrestrial Redfield-type ratios. Ecology 85:2390–401.

Ollinger SV. 2011. Sources of variability in canopy reflectance and the convergent properties of plants. New Phytol 189:375–94.

Paoli GD. 2006. Divergent leaf traits among congeneric tropical trees with contrasting habitat associations in Borneo. J Trop Ecol 22:397–408.

Paoli GD, Curran LM, Zak DR. 2006. Soil nutrients and beta diversity in the Bornean Dipterocarpaceae: evidence for niche partitioning by tropical rain forest trees. J Ecol 94:157–70.

Papeş M, Tupayachi R, Martínez P, Peterson AT, Powell GVN. 2010. Using hyperspectral satellite imagery for regional inventories: a test with tropical emergent trees in the Amazon Basin. J Veg Sci 21:342–54.

Poorter H, Evans JR. 1998. Photosynthetic nitrogen-use efficiency of species that differ inherently in specific leaf area. Oecologia (Berlin) 116:26–37.

Poorter H, Niinemets U, Poorter L, Wright IJ, Villar R. 2009. Causes and consequences of variation in leaf mass per area (LMA): a meta-analysis. New Phytol 182:565–88.

Poorter L, Oberbauer SF, Clark DB. 1995. Leaf optical properties along a vertical gradient in a tropical rain forest canopy in Costa Rica. Am J Bot 82:1257–63.

Putz FE, Chai P. 1987. Ecological Studies of Lianas in Lambir National Park, Sarawak, Malaysia. J Ecol 75:523–31.

Reich PB, Oleskyn J. 2004. Global patterns of plant leaf N and P in relation to temperature and latitude. Proc Natl Acad Sci 101:11001–6.

Reich PB, Walters MB, Ellsworth DS. 1997. From tropics to tundra: global convergence in plant functioning. Proc Natl Acad Sci 94:13730–4.

Sanchez-Azofeifa GA, Castro K, Wright SJ, Gamon J, Kalacska M, Rivard B, Schnitzer SA, Feng JL. 2009. Differences in leaf traits, leaf internal structure, and spectral reflectance between two communities of lianas and trees: implications for remote sensing in tropical environments. Remote Sens Environ 113:2076–88.

Schlesinger WH. 1991. Biogeochemistry, an analysis of global change. San Diego: Academic Press.

Schnitzer SA, Bongers F. 2011. Increasing liana abundance and biomass in tropical forests: emerging patterns and putative mechanisms. Ecol Lett 14:397–406.

Seng Lee H, Tan S, Davies SJ, LaFrankie JV, Ashton PS, Yamakura T, Itoh A, Ohkubo T, Harrison R. 2004. Lambir forest dynamics plot, Sarawak, Malaysia. In: Losos EC, Leigh EG, Eds. Tropical forest diversity and dynamism: findings from a network of large-scale tropical forest plots. Chicago: University of Chicago Press. p 527–39.

Sims DA, Gamon JA. 2002. Relationships between leaf pigment content and spectral reflectance across a wide range of species, leaf structures and developmental stages. Remote Sens Environ 81:337–54.

Skidmore AK, Ferwerda JG, Mutanga O, Van Wieren SE, Peel M, Grant RC, Prins HHT, Balcik FB, Venus V. 2010. Forage quality of savannas—simultaneously mapping foliar protein and polyphenols for trees and grass using hyperspectral imagery. Remote Sens Environ 114:64–72.

Stevens, P.F., 2010. Angiosperm Phylogeny Website.

Townsend AR, Asner GP, Cleveland CC. 2008. The biogeochemical heterogeneity of tropical forests. Trends Ecol Environ 23:424–31.

Ustin SL, Gamon JA. 2010. Remote sensing of plant functional types. New Phytol 186:795–816.

Ustin SL, Gitelson AA, Jacquemoud S, Schaepman M, Asner GP, Gamon JA, Zarco-Tejada P. 2009. Retrieval of foliar information about plant pigment systems from high resolution spectroscopy. Remote Sens Environ 113:S67–77.

Vitousek P. 1982. Nutrient cycling and nutrient use efficiency. Am Nat 119:553–72.

Vitousek PM. 1984. Litterfall, nutrient cycling, and nutrient limitation in tropical forests. Ecology 65:285–98.

Vitousek PM, Sanford RL Jr. 1986. Nutrient cycling in moist tropical forest. Ann Rev Ecol Syst 17:137–67.

Vitousek PM, Walker LR. 1987. Colonization, succession, and resource availability. In: Gray A, Crawley M, Edwards PJ, Eds. Colonization and succession. British Ecological Society Symposium. Oxford: Blackwell Scientific Publications. p 207–23.

Wright IJ, Reich PB, Westoby M, Ackerly DD, Baruch Z, Bongers F, Cavender-Bares J, Chapin T, Cornelissen JHC, Diemer M, Flexas J, Garnier E, Groom PK, Gulias J, Hikosaka K, Lamont BB, Lee T, Lee W, Lusk C, Midgley JJ, Navas ML, Niinemets U, Oleksyn J, Osada N, Poorter H, Poot P, Prior L, Pyankov VI, Roumet C, Thomas SC, Tjoelker MG, Veneklaas EJ, Villar R. 2004. The worldwide leaf economics spectrum. Nature 428:821–7.
Acknowledgements
We thank D. Knapp, F. Sinca, L. Carranza, C. Anderson, M. Houcheime, K. Smith, and A. Enjah, and colleagues from the Forest Department Sarawak, University Malaysia Sarawak, and University Putra Malaysia for assistance with logistics, field work and laboratory analyses. We thank S. Davies and the Center for Tropical Forest Science (CTFS) for programmatic assistance. The Carnegie Spectranomics Project (http://spectranomics.ciw.edu) is supported by the John D. and Catherine T. MacArthur Foundation, and activities in the field campaign were made possible through the development project of the Ministry of Natural Resources and Environment (NRE), Malaysia.
Additional information
Author Contributions
Asner and Martin conceived of or designed study, performed research, analyzed data, and wrote the paper; Bin Suhaili conceived of or designed study and performed research.
Electronic Supplementary Material
Below is the link to the electronic supplementary material.
About this article
Cite this article
Asner, G.P., Martin, R.E. & Suhaili, A.B. Sources of Canopy Chemical and Spectral Diversity in Lowland Bornean Forest. Ecosystems 15, 504–517 (2012). https://doi.org/10.1007/s10021-012-9526-2
Received:

Accepted:

Published:

Issue Date:
Keywords
canopy chemistry

mixed dipterocarp forest

leaf chemistry

Malaysia

remote sensing

Sarawak

spectranomics