Abstract
Although environmental flow assessments and allocations have been practiced in Australia for nearly 20 years, to date they have not effectively incorporated indigenous values. In many cases, even though indigenous people rely substantially on aquatic resources, environmental flows have been assumed to be an acceptable surrogate for the protection of indigenous interests. This paper argues that the need to adapt flow assessments to account for linkages and dependencies between people and rivers is equally applicable to developed world indigenous contexts such as Australia as it is to developing countries where there has been some attempt to address indigenous or subsistence water requirements. We propose three challenges to conventional environmental flow assessments that, if met, will improve the ability of water resource planning to address indigenous interests. The first challenge is to recognize that in an indigenous context a different suite of species may be considered important when compared to those valued by other stakeholders. Although conservation status or rarity may be important, it is common and widespread species that make substantial contributions to indigenous household incomes through customary use. The second challenge is to accommodate a different set of management objectives in environmental flow allocation. Environmental flows will need to meet the requirement of hunting and fishing activities at rates that are socially and economically sustainable. The third and arguably most theoretically challenging task is for environmental flow assessments to take into account indigenous worldviews and the quality of people–place relationships that are significant in indigenous cultures. Meeting these three challenges to environmental flow assessment will assist water management agencies and other practitioners to protect indigenous interests as water allocation decisions are made.
Access options
Buy single article
Instant access to the full article PDF.
USD 39.95
Price includes VAT (USA)
Tax calculation will be finalised during checkout.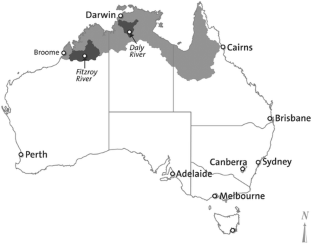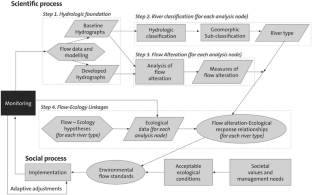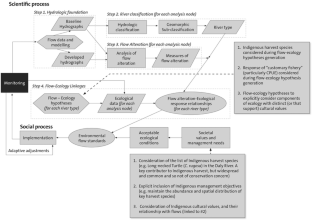 References
Acreman M, Dunbar MJ. 2004. Defining environmental flow requirements—a review. Hydrol Earth Syst Sci 8:861–76.

Allan J, Lovett S. 1997. Managing water for the environment: impediments and challenges. Aust J Environ Manag 4:200–10.

Altman JC. 1987. Hunter-gatherers today: an aboriginal economy in north Australia. Canberra: Australian Institute of Aboriginal Studies.

Altman J, Branchut V. 2008. Freshwater in the Maningrida region's hybrid economy: intercultural contestation over values and property rights. Centre for Aboriginal Economic Policy Research Working Paper No. 46/2008. Canberra: Australian National University.

ANZECC, ARMCANZ. 1996. National principles for the provision of water for ecosystems. Canberra: Sustainable Land and Water Management Committee, Subcommittee on Water Resources.

Arthington AH. 1998. Comparative evaluation of environmental flow assessment techniques: review of holistic methodologies. Canberra: Land and Water Resource Research and Development Corporation.

Arthington AH, Pusey BJ. 2003. Flow restoration and protection in Australian rivers. River Res Appl 19:377–95.

Arthington AH, Rall JL, Kennard MJ, Pusey BJ. 2003. Environmental flow requirements of fish in Lesotho rivers using the DRIFT methodology. River Res Appl 19:641–66.

Arthington AH, Tharme RE, Brizga SO, Pusey BJ, Kennard MJ. 2004. Environmental flow assessment with emphasis on holistic methodologies. In: Welcomme RL, Peter T, Eds. Proceedings of the second international symposium for fisheries: sustaining livelihoods and biodiversity in the New Millennium. Washington: FAO and Mekong River Commission. p 37–65.

Arthington AH, Naiman RJ, McClain ME, Nilsson C. 2010. Preserving the biodiversity and ecological services of rivers: new challenges and research opportunities. Freshw Biol 55:1–16.

Asafu-Adjaye J. 1996. Traditional production activities and resource sustainability: the case of Indigenous societies in Cape York Peninsula, Australia. Int J Soc Econ 23:125–35.

Barber M, Jackson S. 2010. Indigenous values of water in the Pilbara. Unpublished report to Rio Tinto Iron Ore. CSIRO, Darwin.

Barber M, Jackson S. (in press). Indigenous people, water values and resource development pressures in the Pilbara region of north-west Australia. Aust Aborig Stud J.

Barber K, Kennedy E. 2006. Indigenous values and the Ord River. In: Jackson S, Ed. Recognising and protecting Indigenous values in water resource management. Darwin: CSIRO Sustainable Ecosystems.

Berkes F, Berkes MK. 2009. Ecological complexity, fuzzy logic, and holism in indigenous knowledge. Futures 41:6–12.

Boelens R, Doornbos B. 2001. The battlefield of water rights: rule making amidst conflicting normative frameworks in the Ecuadorian Highlands. Hum Organ 60:343–55.

Boelens R, Hoogendam P, Eds. 2001. Water rights and empowerment. Assen, Netherlands: Koninklijke Van Gorcum.

Brizga SO, Arthington AH, Pusey BJ, Kennard MJ, Mackay SJ, Werren GL, Craigie NM, Choy SJ. 2002. Benchmarking, a 'top-down' methodology for assessing environmental flows in Australian rivers. International Conference on Environmental Flows for Rivers. Cape Town (SA): University of Cape Town.

Bue BG, Hilborn R, Link MR. 2008. Optimal harvesting considering biological and economic objectives. Can J Fish Aquat Sci 65:691–700.

Chan TU, Hart BT, Kennard MJ, Pusey BJ, Shenton W, Douglas MM, Valentine E, Patel S. 2011. Bayesian network models for environmental flow decision making in the Daly River, Northern Territory, Australia. River Res Appl. doi:10.1002/rra.1456.

Connell D, Dovers S, Grafton R. 2005. A critical analysis of the National Water Initiative. Aust J Nat Res Law Policy 10:81–107.

Cooper D, Jackson S. 2008. Preliminary study on Indigenous water values and interests in the Katherine region of the Northern Territory. Darwin: CSIRO and North Australian Indigenous Land and Sea Management Alliance.

CSIRO. 2009. Water in northern Australia. Summary of reports to the Australian Government from the CSIRO Northern Australia Sustainable Yields project. Australia: CSIRO.

Department of Water (DoW). 2006. Ord River Water Management Plan. Water Resource Allocation Planning Series. Department of Water, Government of Western Australia.

Dudley N, Baldock D, Nasi R, Stolton S. 2005. Measuring biodiversity and sustainable management in forests and agricultural landscapes. Philos Trans R Soc B 360:457–70.

Erskine WD, Begg GW, Jolly P, Georges A, O'Grady A, Eamus D, Rea N, Dostine P, Townsend S, Padovan A. 2003. Recommended environmental water requirements for the Daly River, Northern Territory, based on ecological, hydrological and biological principles. Darwin (NT): Supervising Scientist.

Erskine WD, Jolly P, Smith I. 2004. Environmental water requirements of the Daly River. Revisions of recommendations of Erskine et al. (2003) based on Daly Region Water Allocation Workshop held in Darwin on 5 May 2004. Northern Territory Government Department of Infrastructure, Planning and Environment, Darwin, NT.

Flanagan C, Laituri M. 2004. Local cultural knowledge and water resource management: the Wind River Indian Reservation. Environ Manag 33(2):262–70.

Gray MC, Altman JC, Halasz N. 2005. The economic value of wild resources to the indigenous community of the Wallis Lakes catchment. Canberra (ACT): Centre for Aboriginal Economic Policy Research, The Australian National University.

Griffiths AD. 2003. Aboriginal hunting and its role in wildlife conservation for northern Australia. Third International Wildlife Management Congress. Christchurch, New Zealand: University of Christshurch.

Henry GW, Lyle JM. 2003. The National Recreational and Indigenous Fishing Survey, Australian Government Department of Agriculture, Fisheries and Forestry, Canberra, ACT.

Hilborn R. 2007. Defining success in fisheries and conflicts in objectives. Mar Policy 31:153–8.

Humphries P. 2007. Historical Indigenous use of aquatic resources in Australia's Murray-Darling Basin, and its implications for river management. Ecol Manag Restor 8:106–13.

Jackson S. 2006. Compartmentalising culture: the articulation and consideration of Indigenous values in water resource management. Aust Geogr 37(1):19–32.

Jackson S. 2008. Recognition of Indigenous interests in Australian water resource management, with particular reference to environmental flow assessment. Geogr Compass 2:874–98.

Jackson S. 2011a. Aboriginal access to water in Australia: opportunities and constraints. In: Grafton Q, Hussey K, Eds. Water resources, planning and management. Cambridge: Cambridge University Press. p 601–27.

Jackson S. 2011b. Indigenous water management in the Murray-Darling Basin: priorities for the next five years. In: Grafton Q, Connell D, Eds. Basin futures: water reform in the Murray-Darling basin. Canberra: ANU E-Press. p 163–78.

Jackson S, Altman J. 2009. Indigenous rights and water policy: perspectives from tropical northern Australia. Aust Indig Law Rev 13:27–48.

Jackson S, Finn M, Woodward E, Featherston P. 2011. Indigenous socio-economic values and river flows. Tropical Rivers and Coastal Knowledge. Darwin: CSIRO.

Jackson S, O'Leary P. 2006. Indigenous interests in tropical rivers: research and management issues: a scoping study for Land & Water Australia's Tropical Rivers Program. Unpublished report prepared for the North Australian Land & Sea Management Alliance, CSIRO, Darwin.

Jackson S, Tan PL, Altman J. 2009. Summary of findings from the National Indigenous Fresh Water Planning Forum: proceedings, outcomes and recommendations. Report for the CSIRO, Griffith University, National Water Commission and the Australian National University.

King J, Brown C. 2006. Environmental flows: striking the balance between development and resource protection. Ecol Soc 11:1–26.

King J, Brown C. 2010. Integrated basin flow assessments: concepts and method development in Africa and South-East Asia. Freshw Biol 55:127–46.

King J, Brown C, Sabet H. 2003. A scenario-based holistic approach to environmental flow assessments for rivers. River Res Appl 19:619–39.

Langton M. 2002. Freshwater. Background briefing papers: indigenous rights to waters. Broome: Lingiari Foundation. pp 43–64.

Langton M. 2006. Earth, wind, fire and water: the social and spiritual construction of water in Aboriginal societies. In: David B, Barker B, McNiven I, Eds. The social archaeology of Australian indigenous landscapes. Canberra: Aboriginal Studies Press. p 139–60.

Lloyd CJ. 1988. Either drought or plenty: water development and management in New South Wales. Australia: NSW Department of Water Resources.

McKay J. 2002. Onshore water project: briefing paper. In: Lingiari Foundation, Ed. Background briefing papers: indigenous rights to waters. Broome: Lingiari Foundation. p 65–70.

North AJ. 1916. The birds of Coolabah and Brewarrina, north-western New South Wales. Rec Aust Mus 11(6):121–62.

Norton B. 2000. Biodiversity and environmental values: in search of a universal earth ethic. Biodivers Conserv 9:1029–44.

NRETAS. 2009. Water Allocation Plan—Tindall Limestone Aquifer, Katherine.

NWI. 2004. Intergovernmental agreement on a national water initiative—between the Commonwealth of Australia and the governments of New South Wales, Victoria, Queensland, South Australia, the Australian Capital Territory and the Northern Territory.

Poff NL, Allan JD, Palmer MA, Hart DD, Richter BD, Arthington AH, Rogers KH, Meyer JL, Stanford JA. 2003. River flows and water wars: emerging science for environmental decision making. Front Ecol Environ 1:298–306.

Poff NL, Richter BD, Arthington AH, Bunn SE, Naiman RJ, Kendy E, Acreman M, Apse C, Bledsoe BP, Freeman MC, Henriksen J, Jacobson RB, Kennen JG, Merritt DM, O'Keefe JH, Olden JD, Rogers K, Tharme RE, Warner A. 2010. The ecological limits of hydrological alteration (ELOHA): a new framework for developing regional environmental flow standards. Freshw Biol 55:147–70.

Richter BD, Baumgartner JV, Wigington R, Braun DP. 1997. How much water does a river need? Freshw Biol 37:231–49.

Schofield NJ, Burt A. 2003. Issues in environmental water allocation—an Australian perspective. Water Sci Technol 48:83–8.

Smakhtin V. 2007. Environmental flows: a call for hydrology. Hydrol Process 21:701–3.

Smith MP. 2009. Finding common ground: how advocacy coalitions succeed in protecting environmental flows. J Am Water Res Assoc 45:1100–15.

Stewardson MJ, Cottingham P. 2002. A demonstration of the flow events method: environmental requirements of the Broken River. Aust J Water Res 5:33–47.

Strang V. 2001. Negotiating the river: cultural tributaries in far north Queensland. In: Bender B, Winer M, Eds. Contested landscapes: movement. Oxford, Berg: Exile and Place. p 69–86.

Tharme RE. 2003. A global perspective on environmental flow assessment: emerging trends in the development and application of environmental flow methodologies for rivers. River Res Appl 19:397–441.

Thomas DS, Twyman C. 2006. Adaptation and equity in resource dependent societies. In: Adger WN, Paavola J, Huq S, Mace MJ, Eds. Fairness in adaptation to climate change. Cambridge (MA): The MIT Press. p 223–8.

Toussaint S, Sullivan P, Yu S. 2005. Water ways in aboriginal Australia: an interconnected analysis. Anthropol Forum 15:61–74.

Townsend CR, Tipa G, Tierney LD, Niyogi DK. 2004. Development of a tool to facilitate participation of Maori in the management of stream and river health. EcoHealth 1:184–95.

van Wyk E, Breen CM, Roux DJ, Rogers KH, Sherwill T, van Wilgen BW. 2006. The ecological reserve: towards a common understanding for river management in South Africa. Water SA 32:403–9.

Weir J. 2010. Murray River country: an ecological dialogue with traditional owners. Canberra: Aboriginal Studies Press.

Yu S. 2000. Ngapa Kunangkul: living water. Report on the Indigenous cultural values of groundwater in the La Grange sub-basin. Perth: Western Australian Water and Rivers Commission.
Acknowledgments
The article is based on research conducted under a large multi-disciplinary research program, the Tropical Rivers and Coastal Knowledge Research Hub (TRaCK). TRaCK receives major funding for its research through the Australian Government's Commonwealth Environment Research Facilities initiative; the Australian Government's Raising National Water Standards Program; Land and Water Australia; the Fisheries Research and Development Corporation and the Queensland Government's Smart State Innovation Fund. The authors would also like to acknowledge the contributions of indigenous traditional owners in the Daly, Katherine and Fitzroy River regions of north Australia. The Northern Land Council and the Kimberley Land Council representing traditional owners from these regions have supported the research described in this paper which was conducted in accordance with ethics approval granted by Charles Darwin University. Constructive input has been provided on various aspects of the research by Jon Altman, Michael Douglas, Brad Pusey, Mark Kennard, Tony Griffiths and Murray Radcliffe. The paper has benefited from comments by Alan Andersen, Michael la Flamme, Frederieke Kroon, Michael Douglas, Michael McClain, Jay O'Keeffe and anonymous reviewers. Any errors and omissions are the responsibility of the authors.
About this article
Cite this article
Finn, M., Jackson, S. Protecting Indigenous Values in Water Management: A Challenge to Conventional Environmental Flow Assessments. Ecosystems 14, 1232–1248 (2011). https://doi.org/10.1007/s10021-011-9476-0
Received:

Accepted:

Published:

Issue Date:
Key words
Environmental flow

Northern Australia

Indigenous

Water

Values

ELOHA