Abstract
Wetlands support physical and ecological functions that result in valuable services to society, including removal of reactive nitrogen (Nr) from surface water and groundwater. We compiled published data from wetland studies worldwide to estimate total Nr removal and to evaluate factors that influence removal rates. Over several orders of magnitude in wetland area and Nr loading rates, there is a positive, near-linear relationship between Nr removal and Nr loading. The linear model (null hypothesis) explains the data better than either a model of declining Nr removal efficiency with increasing Nr loading, or a Michaelis–Menten (saturation) model. We estimate that total Nr removal by major classes of wetlands in the contiguous U.S. is approximately 20–21% of the total anthropogenic load of Nr to the region. Worldwide, Nr removal by wetlands is roughly 17% of anthropogenic Nr inputs. Historical loss of 50% of native wetland area suggests an equivalent loss of Nr removal capacity. Expanded protection and large-scale restoration of wetlands should be considered in strategies to re-balance the global nitrogen cycle and mitigate the negative consequences of excess Nr loading.
Access options
Buy single article
Instant access to the full article PDF.
US$ 39.95
Tax calculation will be finalised during checkout.
Subscribe to journal
Immediate online access to all issues from 2019. Subscription will auto renew annually.
US$ 79
Tax calculation will be finalised during checkout.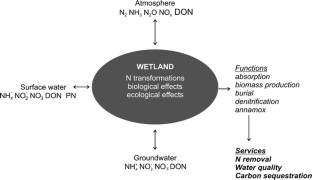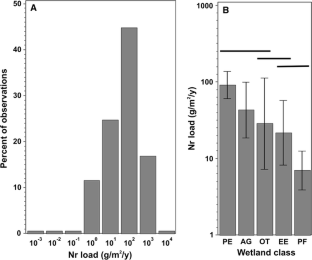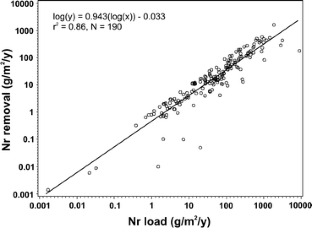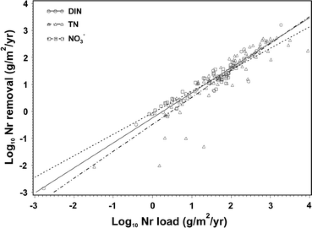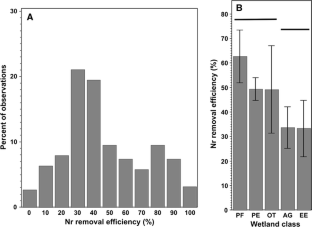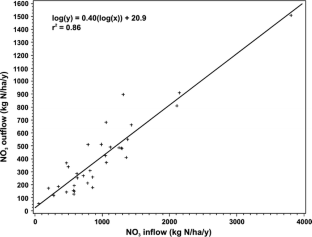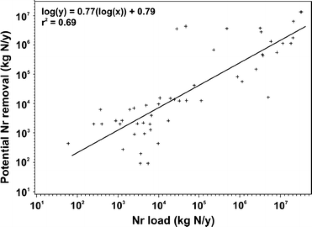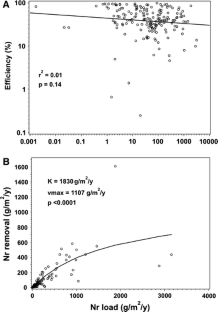 References
Abd Aziz SA, Nedwell DB. 1986. The nitrogen cycle of an East Coast, U.K. saltmarsh: II. Nitrogen fixation, nitrification, denitrification, tidal exchange. Estuar Coast Shelf Sci 22:689–704.

Aber JD, Nadelhoffer KJ, Steudler P, Mellilo J. 1989. Nitrogen saturation in northern forest ecosystems. Bioscience 39:378–86.

Armentano TV, Verhoeven JTA. 1990. Biogeochemical cycles: global. In: Patten BC, Ed. Wetlands and shallow continental water bodies, Vol. 1. The Hague, Netherlands: SPB Academic Publishing. p 281–311.

Axelrad DM, Moore KA, Bender ME. 1976. Nitrogen, phosphorus and carbon flux in Chesapeake Bay marshes. Blacksburg: Virginia Water Resources Research Center, Virginia Polytechnic Institute and State University.

Bedford BL, Walbridge MR, Aldous A. 1999. Patterns in nutrient availability and plant diversity of temperate North American wetlands. Ecology 80:2151–69.

Brin LD, Valiela I, Goehringer D, Howes B. 2010. Nitrogen interception and export by experimental salt marsh plots exposed to chronic nutrient addition. Mar Ecol Prog Ser 400:3–17.

Childers L, Day J. 1990. Marsh-water column interactions in two Louisiana estuaries. II. Nutrient dynamics. Estuaries 13:404–17.

Cowardin LW, Carter V, Golet FC, LaRoe ET. 1979. Classification of wetlands and deepwater habitats of the United States. Washington, DC: U.S. Department of the Interior, Fish and Wildlife Service.

Crumpton WG, Goldsborough LG. 1998. Nitrogen transformation and fate in prairie wetlands. Great Plains Res 8:57–72.

Crumpton WG, Stenback GA, Miller BA, Helmers MJ. 2006. Potential benefits of wetland filters for tile drainage systems: impact on nitrate loads to Mississippi River subbasins. Final project report to U.S. Department of Agriculture Project number: IOW06682, December 2006.

Dahl TE. 2006. Status and trends of wetlands in the conterminous United States 1998 to 2004. Washington, DC: U.S. Department of the Interior; Fish and Wildlife Service. p 112.

DeLaune RD, Feijtel TC, Patrick WH Jr. 1989. Nitrogen flows in Louisiana Gulf Coast salt marsh: spatial considerations. Biogeochemistry 8:25–37.

Dodds WK, Wilson KC, Rehmeier RL, Knight GL, Wiggam S, Falke JA, Dagleish HJ, Bertrand KN. 2008. Comparing ecosystem goods and services provided by restored and native lands. Bioscience 58:837–45.

Dodds WK, Bouska WW, Eitzmann JL, Pilger TJ, Pitts KL, Riley AJ, Schloesser KT, Thornburg DJ. 2009. Eutrophication of U.S. freshwaters: analysis of potential economic damages. Environ Sci Technol 43:12–19.

Galloway JN, Aber JD, Erisman JW, Seitzinger SP, Howarth RW, Cowling EB, Cosby BJ. 2003. The nitrogen cascade. Bioscience 53:341–56.

Galloway JN, Dentener FJ, Capone DG, Boyer EW, Howarth RW, Seitzinger SP, Asner GP, Cleveland CC, Green PA, Holland EA, Karl DN, Michaels AF, Porter JH, Townsend AR, Vörösmarty CJ. 2004. Nitrogen cycles: past, present, and future. Biogeochemistry 70:153–226.

Hagy JD, Boynton WR, Keefe CW, Wood KV. 2004. Hypoxia in Chesapeake Bay, 1950–2001: long-term change in relation to nutrient loading and river flow. Estuaries 27:634–58.

Howard-Williams C. 1985. Cycling and retention of nitrogen and phosphorus in wetlands: a theoretical and applied perspective. Freshw Biol 15:391–431.

Howarth RW, Marino R. 2006. Nitrogen as the limiting nutrient for eutrophication in coastal marine ecosystems: evolving views over three decades. Limnol Oceanogr 51:364–76.

Jing S, Lin Y. 2004. Seasonal effect on ammonia nitrogen removal by constructed wetlands treating polluted river water in southern Taiwan. Environ Pollut 127:291–301.

Keddy PA, Fraser LH, Solomeshch AU, Junk WJ, Campbell DR, Arroyo MTK, Alho CJR. 2009. Wet and wonderful: the world's largest wetlands are conservation priorities. Bioscience 59:39–51.

Koop-Jacobsen K, Giblin AE. 2009. Annamox in tidal marsh sediments: the role of salinity, nitrogen loading, and marsh vegetation. Estuar Coasts 32:238–45.

Mitsch WJ, Day JW. 2006. Restoration of wetlands in the Mississippi–Ohio–Missouri (MOM) river basin: experience and needed research. Ecol Eng 26:55–69.

Mitsch WJ, Day JW, Zhang L, Lane RR. 2005. Nitrate-nitrogen retention in wetlands in the Mississippi River Basin. Ecol Eng 24:267–78.

Morris JT. 1991. Effects of nitrogen loading on wetland ecosystems with particular reference to atmospheric deposition. Annu Rev Ecol Syst 22:257–79.

Mulholland PJ, Helton AM, Poole GC, Hall RO, Hamilton SK, Peterson BJ, Tank JL, Ashkenas LR, Cooper LW, Dahm CN, Dodds WK, Findlay SEG, Gregory SV, Grimm NB, Johnson SL, McDowell WH, Meyer JL, Valett HM, Webster JR, Arango CP, Beaulieu JJ, Bernot MJ, Burgin AJ, Crenshaw CL, Johnson LT, Niederlehner BR, O'Brien JM, Potter JD, Sheibley RW, Sobota DJ, Thomas SM. 2008. Stream denitrification across biomes and its response to anthropogenic nitrate loading. Nature 452:202–6.

Murray B, Jenkins A, Kramer R, Faulkner SP. 2009. Valuing ecosystem services from wetlands restoration in the Mississippi Alluvial Valley. Nicholas Institute, Duke University NI R 09-02. http://nicholas.duke.edu/institute/msvalley.pdf.

O'Brien JM, Dodds WK, Wilson KC, Murlock JN, Eichmiller J. 2007. The saturation of N cycling in Central Plains streams: 15N experiments across a broad gradient of nitrate concentrations. Biogeochemistry 84:31–49.

Pinckney JL, Paerl HW, Tester P, Richardson TL. 2006. The role of nutrient loading and eutrophication in estuarine ecology. Environ Health Perspect 109:699–706.

Poach M, Hunt P, Reddy G, Stone K, Johnson M, Grubbs A. 2004. Swine wastewater treatment by marsh–pond–marsh constructed wetlands under varying nitrogen loads. Ecol Eng 23:165–75.

Richardson CJ, Kadlec JA, Wentz WA, Chamie JPM, Kadlec RH. 1975. Background ecology and the effects of nutrient additions on a central Michigan wetland. Wetlands Ecosystem Research Group, Publ. 4, 52p. NTIS PB-254 336.

Spieles DJ, Mitsch WJ. 2000. The effects of season and hydrologic and chemical loading on nitrate retention in constructed wetlands: a comparison of low and high nutrient riverine systems. Ecol Eng 14:77–91.

Spiers AG. 2001. Wetland inventory: overview at a global scale. In: Finlayson CM, Davidson NC, Stevenson NJ, Eds. Wetland inventory, assessment and monitoring: practical techniques and identification of major issues. Proceedings of Workshop 4, 2nd International Conference on Wetlands and Development. Australian Department of the Environment and Water Resources, Supervising Scientist Report 161. pp 23–30.

STAC. 2005. Final report of the Chesapeake Bay Scientific and Technical Advisory Committee's workshop: understanding "Lag Times" Affecting the Improvement of Water Quality in the Chesapeake Bay. STAC Report 05-001, Chesapeake Research Consortium, Edgewater, Maryland.

Townsend AR, Howarth RW. 2010. Fixing the global nitrogen problem. Sci Am 302:64–71.

Valiela I, Cole ML. 2002. Comparative evidence that salt marshes and mangroves may protect seagrass meadows from land-derived nitrogen loads. Ecosystems 5:92–102.

Valiela I, Teal JM, Sass W. 1973. Nutrient retention in salt marsh plots experimentally fertilized with sewage sludge. Estuar Coast Mar Sci 1:261–9.

Valiela I, Teal JM, Volkmann S, Shafer D, Carpenter EJ. 1978. Nutrient and particulate fluxes in a salt marsh ecosystem: tidal exchanges and inputs by precipitation and groundwater. Limnol Oceanogr 23:798–812.

Woodwell GM, Houghton RA, Hall CAS, Whitney DE, Moll RA, Juers DW. 1979. The flax pond ecosystem study: the annual metabolism and nutrient budgets of a salt marsh. In: Jefferies RL, Davy AJ, Eds. Ecological processes in coastal environments. London: Blackwell. p 491–511.
Acknowledgments
We appreciate the preliminary review by Dan Sobota, and helpful suggestions from anonymous reviewers. The views expressed in this article are those of the authors and do not necessarily reflect the views or policies of the U.S. Environmental Protection Agency. This is contribution 1392 from the Gulf Ecology Division, and a product of EPA's Ecosystem Services Research Program.
Additional information
Author Contributions
SJ conceived the study, performed final data analysis, and wrote much of the paper; JS performed much of the literature review, compiled data, and contributed to preliminary data analysis and writing; JN wrote portions of the manuscript.
Electronic supplementary material
Below is the link to the electronic supplementary material.
About this article
Cite this article
Jordan, S.J., Stoffer, J. & Nestlerode, J.A. Wetlands as Sinks for Reactive Nitrogen at Continental and Global Scales: A Meta-Analysis. Ecosystems 14, 144–155 (2011). https://doi.org/10.1007/s10021-010-9400-z
Received:

Accepted:

Published:

Issue Date:
Key words
nitrogen

reactive nitrogen

wetlands

denitrification

nitrogen removal

nitrogen loading