Abstract
This article reports the results of a study of submarine groundwater discharge (SGD) to coastal waters of Majorca (NW Mediterranean). The overall aim is to evaluate the relevance of SGD of the island and chemically characterize the components that are supplied to the coastal waters through this pathway. Although other discharge areas are identified, we particularly focus on SGD in bays and areas of increased sea water residence time where effects of the discharges are expected to be most notable. Analysis at four selected embayments with different land-use characteristics indicated a link between human activities (mainly agriculture and urban) and compounds arriving to the coast. A pathway for these elements is the diffuse discharge along the shoreline, as suggested by the inverse relationship between salinity and nutrients in nearshore porewaters. A general survey was conducted at 46 sites around the island, and used dissolved radium as a qualitative indicator of SGD. Measurements of nutrients (P and N), pCO2 and TOC were performed to characterize the elements delivered to the coastal environment. Most nearshore samples showed 224Ra enrichment (mean ± SE, 7.0 ± 0.6 dpm 100 l−1) with respect to offshore waters (1.1 ± 0.2 dpm 100 l−1); however, 224Ra measurements along the coast were highly variable (1.0–38.1 dpm 100 l−1). Coastal samples with enhanced radium levels showed elevated pCO2 with respect to atmospheric concentrations, which together with high pCO2 in groundwater (>5,000 ppm) indicates that SGD is an important vector of CO2 to coastal waters. Moreover, a relationship between 224Ra and phytoplankton biomass was established, suggesting an important impact of SGD on coastal productivity. The results presented here provide a first approximation of the SGD effect in the coastal waters of Majorca, and indicate that SGD could be an important source of nutrients and CO2 to the coast, strongly influencing the productivity and biogeochemical cycling of the coastal waters of Majorca.
Access options
Buy single article
Instant access to the full article PDF.
USD 39.95
Price includes VAT (USA)
Tax calculation will be finalised during checkout.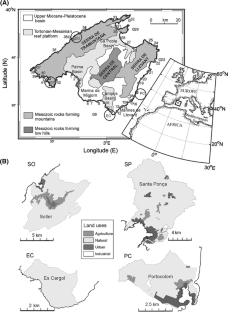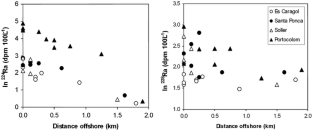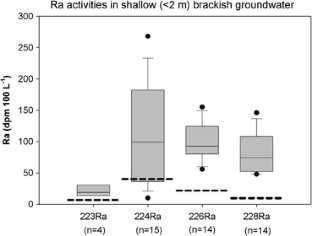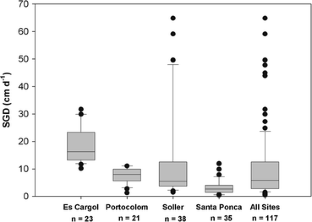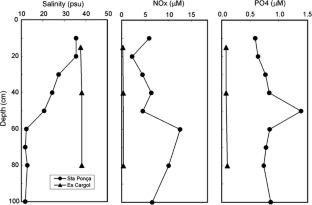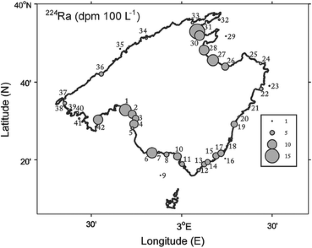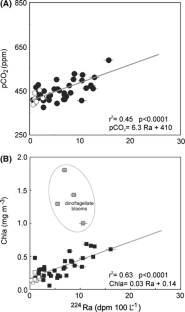 References
Alcoverro T, Romero J, Duarte CM, López NI. 1997. Spatial and temporal variations in nutrient limitation of seagrass Posidonia oceanica growth in the NW Mediterranean. Mar Ecol Prog Ser 146:155–61.

Arenas C, Cabrera L, Ramos E. 2007. Sedimentology of tufa facies and continental microbialites from the Palaeogene of Mallorca Island (Spain). Sediment Geol 197:1–27.

Avril B. 2002. DOC dynamics in the northwestern Mediterranean Sea (DYFAMED site). Deep-Sea Res II 49:2163–82.

Barón A, González C. 1987. Hidrología de la Isla de Mallorca. Servei Hidraúlic. Govern de les Illes Balears. Spain: Palma de Mallorca. 83 pp.

Barón A, González C, Rodríguez-Perea A. 1995. Karst hydrology of Mallorca. Endins 3:45–57.

Barón A. 1999. Hidrología Propuesta del plan hidrológico de las Islas Baleares. Govern de les Illes Balears. Spain: Palma de Mallorca. 273 pp.

Barrón C. 2005. Production and export of dissolved organic carbon in coastal benthic ecosystems. PhD thesis. Univesitat de Les Illes Balears.

Basterretxea G, Garcés E, Jordi A, Angles S, Masó M. 2007. Modulation of nearshore blooms by growth rate and water renewal. Mar Ecol Prog Ser 352:53–65.

Beck AJ, Rapaglia P, Cochran JK, Bokuniewicz HJ. 2007. Radium mass-balance in Jamaica Bay, NY: evidence for a substantial flux of submarine groundwater. Mar Chem 106:419–41.

Berner RA. 1981. Authigenic mineral formation resulting from organic matter decomposition in modern sediments. Fortschritte der Mineralogie 59:117–35.

Borges AV, Delille B, Frankignoulle M. 2005. Budgeting sinks and sources of CO2 in the coastal ocean: diversity of ecosystem counts. Geophys Res Lett 32:L14601.

Borges AV. 2005. Do we have enough pieces of the Jigsaw to integrate CO2 fluxes in the coastal ocean? Estuaries 28:3–27.

Butzer KW. 1962. Coastal geomorphology of Majorca. Ann Assoc Am Geogr 52:191–202.

Cai WJ, Wang YC. 1998. The chemistry, fluxes, and sources of carbon dioxide in the estuarine waters of the Satilla and Altamaha Rivers, Georgia. Limnol Oceanogr 43:657–68.

Cai WJ, Wang YC, Krest J, Moore WS. 2003. The geochemistry of dissolved inorganic carbon in a surficial groundwater aquifer in North Inlet, South Carolina, and the carbon fluxes to the coastal ocean. Geochim Cosmochim Acta 67:631–9.

Candela I, Wallis KJ, Mateos RM. 2008. Non-point pollution of groundwater from agricultural activities in Mediterranean Spain: Balearic Islands case study. Environ Geol 54:587–95.

Capone DG, Bautista MF. 1985. A groundwater source of nitrate in nearshore marine sediments. Nature 313:214–16.

Capone DG, Slater JM. 1990. Interannual patterns of water table height and groundwater derived nitrate in nearshore sediments. Biogeochemistry 10:277–88.

Charette MA, Buesseler KO, Andrews JE. 2001. Utility of radium isotopes for evaluating the input and transport of groundwater-derived nitrogen to a Cape Cod estuary. Limnol Oceanogr 46:465–70.

Charette MA, Splivallo R, Herbold C, Bollinger M, Moore WS. 2003. Salt marsh submarine groundwater discharge as traced by radium isotopes. Mar Chem 84:113–21.

Charette MA, Allen MC. 2006. Precision groundwater sampling in coastal aquifers using a direct push shielded screen well-point system. Groundw Monit Remediat 26:87–93.

Church TM. 1996. An underground route for the water cycle. Nature 380:579–80.

Cole JJ, Prairie YT, Caraco NF, McDowell WH, Tranvik LJ, Striegl RG, Duarte CM, Kortelainen P, Downing JA, Middleburg J, Melack J. 2007. Plumbing the global carbon cycle: integrating inland waters into the terrestrial carbon budget. Ecosystems 10:171–84.

Eptisa. 2008. Propuesta del Plan Hidrológico de la Demarcación de Baleares. Govern de les Illes Balears. Spain: Palma de Mallorca. p 386.

Essex S, Kent M, Newnham R. 2004. Tourism development in Mallorca: is water supply a constraint? J Sustain Tour 12:4–28.

Fornós JJ, Gelabert B, Ginés A, Ginés J, Tuccimei P, Vesica P. 2002. Phreatic overgrowths on speleothems: a useful tool in structural geology in littoral karstic landscapes. The example of eastern Mallorca (Balearic Islands). Geodinamica Acta 15:113–25.

Fourqurean JW, Jones RD, Zieman JC. 1993. Processes influencing water column nutrient characteristics and phosphorus limitation of phytoplankton biomass in Florida Bay, FL, USA: inferences from spatial distributions. Estuar Coast Shelf Sci 36:295–314.

Garcia-Solsona E, Garcia-Orellana J, Masqué P, Dulaiova H. 2008. Uncertainties associated with 223Ra and 224Ra measurements in water via a delayed coincidence counter (RaDeCC). Mar Chem 109:198–219.

Garcia-Solsona E, Garcia-Orellana J, Masqué P, Garcés E, Radakovitch O, Mayer A, Estradé S, Basterretxea G. 2010. An assessment of karstic submarine groundwater and associated nutrient discharge to a Mediterranean coastal area (Balearic Islands, Spain) using radium isotopes. Biogeochemistry 97:211–29.

Gazeau F, Duarte CM, Gattuso JP, Barrón C, Navarro N, Ruíz S, Prairie YT, Calleja M, Delille B, Frankignoulle M, Borges AV. 2005. Whole-system metabolism and CO2 fluxes in a Mediterranean Bay dominated by seagrass beds (Palma Bay, NW Mediterranean). Biogeosciences 2:43–60.

Glover RE. 1959. The pattern of freshwater flow in a coastal aquifer. J Geophys Res 64:457–9.

Gobler CJ, Sañudo-Wilhelmy SA. 2001. Temporal variability of groundwater seepage and brown tide blooms in a Long Island embayment. Mar Ecol Prog Ser 209:19–34.

Gracia F, Clamor B, Jaume J, Fornós JJ, Uriz MJ, Martin D, Gil J, Gracia P, Febrer M, Pons G. 2005. Las cova des Coll (Felanitx, Mallorca): espeleogénesi, geomorofologia, sedimentologia, fauna y conservació. Endins 27:141–86.

Grasshoff K, Ehrrardt M, Kremling K. 1983. Methods of sea water analysis. Germany: Verlag Chemie.

Kelly RP, Moran SB. 2002. Seasonal changes in groundwater input to a well-mixed estuary estimated using radium isotopes and implications for coastal nutrient budgets. Limnol Oceanogr 47:1796–807.

Kent M, Newnham R, Essex S. 2002. Tourism and sustainable water supply in Mallorca: a geographical analysis. Appl Geogr 22:351–74.

La Roche J, Nuzzi R, Waters R, Wyman K, Falkowski PG, Wallace DWR. 1997. Brown tide blooms in Long Island's coastal waters linked interannual variability in groundwater flow. Glob Change Biol 3:397–410.

Lee RD. 1977. A device for measuring seepage flux in lakes and estuaries. Limnol Oceanogr 22:140–7.

Li L, Barry D, Stagnitti F, Parlange JP. 1999. Submarine groundwater discharge and associated chemical input to a coastal sea. Water Resour Res 35:3253–9.

Lopez-Garcia JM. 2002. Reutilización de aguas residuales en el Plá de Sant Jordi (Mallorca). In: Jornadas sobre el presente y futuro del agua subterránea en España y la Directiva Marco Europea. AIH-GE. Zaragoza.

Meybeck M. 1995. Global distribution of lakes. In: Lerman A, Imboden DM, Gat JR, Eds. Physics and chemistry of lakes. Berlin: Springer-Verlag. p 1–35.

Michael HA, Mulligan AE, Harvey CF. 2005. Seasonal oscillations in water exchange between aquifers and the coastal ocean. Nature 436:1145–8.

Montluçon D, Sañudo-Wilhelmy SA. 2001. Influence of net groundwater discharge on the chemical composition of a coastal environment: Flanders Bay, Long Island, New York. Environ Sci Technol 35:480–6.

Moore WS. 1976. Sampling 228Ra in the deep ocean. Deep-Sea Res 23:647–51.

Moore WS. 1996. Large groundwater inputs to coastal waters revealed by Ra-226 enrichments. Nature 380:612–14.

Moore WS, Arnold R. 1996. Measurement of 223Ra and 224Ra in coastal waters using a delayed coincidence counter. J Geophys Res 101:1321–9.

Moore WS. 2000. Determining coastal mixing rates using radium isotopes. Cont Shelf Res 20:1993–2007.

Moore WS. 2003. Sources and fluxes of submarine groundwater discharge delineated by radium isotopes. Biogeochemistry 66:75–93.

Moore WS. 2006. The role of submarine groundwater discharge in coastal biogeochemistry. J Geochem Explor 88:389–93.

Moore WS. 2010. The effect of submarine groundwater discharge on the ocean. Ann Rev Mar Sci 2:345–74.

PU MO. 1990. Unidades hidrogeológicas de la España peninsular e Islas Baleares. Informaciones y estudios nº 52. Madrid: Servicio Geológico.

Nielsen KA, Clemmensen LB, Fornós JJ. 2004. Middle Pleistocene magnetostratigraphy and susceptibility stratigraphy: data from a carbonate aeolian system, Mallorca, Western Mediterranean. Quat Sci Rev 23:1733–56.

Onac PB, Fornós JJ, Ginés A, Ginés J. 2005. Mineralogical reconnaissance of caves from Mallorca Island. Endins 27:131–40.

Parsons TR, Maita Y, Lalli CM. 1984. A manual of chemical and biological methods for seawater analysis. Oxford, UK: Pergamon Press.

Pérez M, Romero J, Duarte CM, Sand-Jensen K. 1991. Phosphorus limitation of Cymodocea nodosa growth. Mar Biol 109:129–33.

Pomar L. 1991. Reef geometries, erosion surfaces and high frequency sea-level changes, upper Miocene Reef Complex, Mallorca, Spain. Sedimentology 38:243–69.

Short FT. 1987. Effects of sediment nutrients on seagrasses: literature review and mesocosm experiment. Aquat Bot 27:41–57.

Slomp CP, Van Cappellen P. 2004. Nutrient inputs to the coastal ocean through submarine groundwater discharge: controls and potential impact. J Hydrol 295:64–86.

Swarzenski PW, Orem WH, McPherson BF, Baskaran M, Wan Y. 2006. Biogeochemical transport in the Loxahatchee River estuary, Florida: the role of submarine groundwater discharge. Mar Chem 101:248–65.

Swarzenski PW, Izbicki JA. 2009. Coastal groundwater dynamics off Santa Barbara, California: Combining geochemical tracers, electromagnetic seepmeters, and electrical resistivity. Estuar Coast Shelf Sci 83:77–89.

Taniguchi M, Burnett WC, Cable JE, Turner JV. 2002. Investigation of submarine groundwater discharge. Hydrol Process 16:2115–29.

Thingstad TF, Zweifel L, Rassoulzadegan F. 1998. P-limitation of both phytoplankton and heterotrophic bacteria in the North West Mediterranean. Limnol Oceanogr 43:88–94.

Vacher HL. 1988. Dupuit-Ghyben-Herzberg analysis of strip island lenses. Bull Geol Soc Am 100:580–91.

Valiela I, Teal JM, Volkmann S, Shafer D, Carpenter EJ. 1978. Nutrient and particulate fluxes in a salt marsh ecosystem: tidal exchanges and inputs by precipitation and groundwater. Limnol Oceanogr 23:798–812.

Valiela I, Teal JM. 1979. The nitrogen budget of a salt marsh ecosystem. Nature 280:652–6.

Valiela I, Costa J, Foreman K, Teal JM, Howes B, Aubrey D. 1990. Transport of ground-borne nutrients from watersheds and their effects on coastal waters. Biodegradation 10:177–97.

Valiela I, Foreman K, LaMontagne M, Hersh D, Costa J, Peckol P, DeMeo-Andreson B, D'Avanzo C, Babione M, Sham CH, Brawley J, Lajtha K. 1992. Couplings of watersheds and coastal waters: sources and consequences of nutrient enrichment in Waquoit Bay, Massachussets. Estuaries 15:443–57.

Van Meir N, Jaeggi D, Herfort M, Loew S, Pezard PA, Lods G. 2007. Characterizing flow zones in a fractured and karstified limestone aquifer through integrated interpretation of geophysical and hydraulic data. Hydrogeol J 15:225–40.

Vesica PL, Tuccimei P, Turi B, Fornós JJ, Ginés A, Ginés J. 2000. Late Pleistocene paleoclimates and sea-level change in the Mediterranean as inferred from stable isotope and U-series studies of overgrowths on speleothems, Mallorca, Spain. Quat Sci Rev 19:865–79.

Vila M, Camp J, Garcés E, Masó M, Delgado M. 2001. High resolution spatio-temporal detection of potentially harmful dinoflagellates in confined waters of the NW Mediterranean. J Plankton Res 23:497–514.

Wanninkhof R. 1992. Relationship between wind speed and gas exchange over the ocean. J Geophys Res 97:7373–82.

Weinstein Y, Less G, Kafri U, Herut B. 2006. Submarine groundwater discharge in the southeastern Mediterranean (Israel). Radioact Environ 8:360–72.

Weiss RF. 1974. Carbon dioxide in water and seawater: the solubility of a non-ideal gas. Mar Chem 2:203–15.

Whitaker FF, Smart PL. 1990. Active circulation of saline ground waters in carbonate platforms: evidence from the Great Bahama Bank. Geology 18:200–2003.

Whitaker FF, Smart PL. 1993. Saline groundwater circulation in carbonate build-ups: an overview and case study from the Bahamas. In: Horbury AD and Robinson AG, Eds. Diagenesis and basin development. American Association of Petroleum Geologists, Studies in Geology, vol 36, p 113–32.

Zektser IS, Loaiciga HA. 1993. Groundwater fluxes in the global hydrologic cycle: past, present, and future. J Hydrol 144:405–27.
Acknowledgements
This work was supported by the Balearic Island Government (Economia. Hisenda i Innovacio; Núm: 8171/2006 and 6014/2007), EDASE (Ref: CGL2008-00047/BTE), and the European Union FP6 Integrated Project THRESHOLDS (project no. IP-003933). Support for the research of Pere Masqué was received through the prize ICREA Academia, funded by the Generalitat de Catalunya. We are most grateful for the helpful comments of two anonymous reviewers.
Additional information
Author contributions
G.B. and A.T.-S. led planning design and execution of the sampling, analyzed the data and wrote the paper. A.B. designed, sampled, and analyzed waters from piezometers. P.M., J.G.-O., and E.G.-S were involved in the sampling, analysis, and interpretation of the isotopic measurements. H.B. and R.C. participated in the field sampling, and led the design and measurements obtained from the seepage meters. C.D. and R.V.-S. provided and processed information on PCO2 and LM-R participated in the analysis of nutrients and in the GIS based analyses. All authors were involved in the writing stage of the manuscript and collaborated on the analysis, interpretation, and discussion of the results.
About this article
Cite this article
Basterretxea, G., Tovar-Sanchez, A., Beck, A.J. et al. Submarine Groundwater Discharge to the Coastal Environment of a Mediterranean Island (Majorca, Spain): Ecosystem and Biogeochemical Significance. Ecosystems 13, 629–643 (2010). https://doi.org/10.1007/s10021-010-9334-5
Received:

Accepted:

Published:

Issue Date:
Keywords
submarine groundwater discharge

nutrients

pCO2

islands

Majorca

Mediterranean