Abstract
Northern boreal forest reserves that display no signs of modern forest exploitation are often regarded as pristine and are frequently used as ecological reference areas for conservation and restoration. However, the long-term effects of human utilization of such forests are rarely investigated. Therefore, using both paleoecological and archaeological methods, we analyzed temporal and spatial gradients of long-term human impact in a large old-growth forest reserve in the far north of Sweden, comparing vegetational changes during the last millennium at three sites with different land use histories. Large parts of the forest displayed no visible signs of past human land use, and in an area with no recognized history of human land use the vegetation composition appears to have been relatively stable throughout the studied period. However, at two locations effects of previous land use could be distinguished extending at least four centuries back in time. Long-term, but low-intensity, human land use, including cultivation, reindeer herding and tree cutting, has clearly generated an open forest structure with altered species composition in the field layer at settlement sites and in the surrounding forest. Our analysis shows that past human land use created a persistent legacy that is still visible in the present forest ecosystem. This study highlights the necessity for ecologists to incorporate a historical approach to discern underlying factors that have caused vegetational changes, including past human activity. It also indicates that the intensity and spatial distribution of human land use within the landscape matrices of any forests should be assessed before using them as ecological references. The nomenclature of vascular plants follows Krok and Almquist (Svensk flora. Fanerogamer och ormbunksväxter, 2001).
Access options
Buy single article
Instant access to the full article PDF.
USD 39.95
Price includes VAT (USA)
Tax calculation will be finalised during checkout.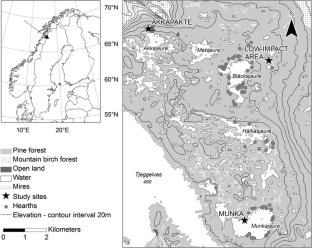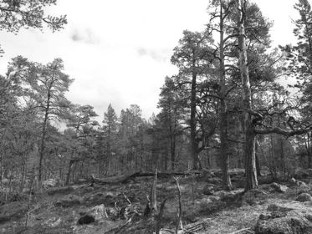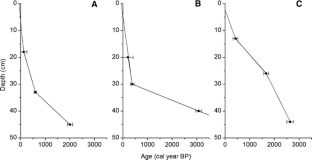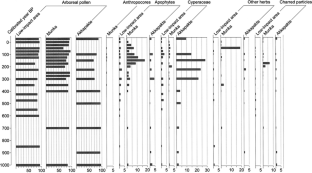 References
Alexandersson H, Eggertsson Karlström C. 2001. Temperaturen och nederbörden i Sverige 1961–1990: Referensnormaler. Norrköping: SMHI. p 71.

Andersen ST. 1969. Interglacial vegetation and soil development. Meddelelser fra Dansk geologisk Forening 19:90–102.

Andersen ST. 1979. Identification of wild grass and cereal pollen. Danmarks Geologiske Undersøgelse, Årbog 1978:69–92.

Aronsson KA. 1994. Pollen evidence of Saami settlement and reindeer herding in the boreal forest of northernmost Sweden—an example of modern pollen rain studies as an aid in the interpretation of marginal human interference from fossil pollen data. Rev Palaeobot Palynol 82:37–45.

Aronsson KÅ. 1991. Forest reindeer herding A.D. 1–1800: an archaeological and palaeoecological study in northern Sweden [PhD thesis]. Umeå: University of Umeå. 125 p.

Barret SW, Arno SF. 1982. Indian fires as an ecological influence in the Northern Rockies. J For 80:647–51.

Behre KE. 1981. The interpretation of anthropogenic indicators in pollen diagrams. Pollen Spores 23:225–45.

Behre KE. 1988. The role of man in European vegetation history. In: Huntley B, Webb TIII, Eds. Handbook of vegetation science. Vol. 7, Vegetation history. Dordrecht: Kluwer Academic Publishers. p 633–72.

Benitez JA, Fisher TR. 2004. Historical land-cover conversion (1665–1820) in the Choptank watershed, eastern United States. Ecosystems 7:219–32.

Bergman I. 1995. Från Döudden till Varghalsen—a study of continuity and change in a hunter-gatherer society in the interior of northern Sweden [PhD thesis]. Umeå: University of Umeå. 245 p.

Bergman I. 2007. Vessels and kettles: socio-economic implications of the cessation of asbestos pottery in Northern Sweden. Arkeologi i Norr 10:1–16.

Bergman I, Påsse T, Olofsson A, Zackrisson O, Hörnberg G, Hellberg E, Bohlin E. 2003. Isostatic land uplift and Mesolithic landscapes: lake-tilting, a key to the discovery of Mesolithic sites in the interior of Northern Sweden. J Archaeol Sci 30:1451–8.

Birks HJB. 1986. Late quaternary biotic changes in terrestrial and lacustrine environments, with particular reference to north-west Europe. In: Berglund BE, Ed. Handbook of Holocene palaeoecology and palaeohydrology. Chichester: Wiley and Sons. p 3–65.

Black BA, Ruffner CM, Abrams MD. 2006. Native American influences on the forest composition of the Allegheny Plateau, Northwest Pennsylvania. Can J For Res 36:1266–75.

Bonnicksen TM. 2000. America's ancient forests: from the ice age to the age of discovery. New York: Wiley. p 608.

Bos JAA, Janssen CR. 1996. Local impact of Palaeolithic man on the environment during the end of the last glacial in the Netherlands. J Archaeol Sci 23:731–9.

Bowman S. 1990. Radiocarbon dating. London: British Museum Publications. p 64.

Bradshaw RHW. 1988. Spatially precise studies of forest dynamics. In: Huntley B, Webb TIII, Eds. Vegetation history. Dordrecht: Kluwer Academic Publishers. p 725–51.

Bradshaw R, Hannon G. 1992. Climatic-change, human influence and disturbance regime in the control of vegetation dynamics within Fiby Forest, Sweden. J Ecol 80:625–32.

Briggs JM, Spielmann KA, Schaafsma H, Kintigh KW, Kruse M, Morehouse K, Schollmeyer K. 2006. Why ecology needs archaeologists and archaeology needs ecologists. Front Ecol Environ 4:180–8.

Burgi M, Turner MG. 2002. Factors and processes shaping land cover and land cover changes along the Wisconsin River. Ecosystems 5:184–201.

Bylund E. 1956. Koloniseringen av Pite lappmark t.o.m. år 1867: the colonization of Pite lappmark until 1867. Uppsala: Almqvist & Wiksell. p 447.

Calcote R. 1995. Pollen source area and pollen productivity: evidence from forest hollows. J Ecol 83:591–602.

Campbell Å. 1948. Från vildmark till bygd: en etnologisk undersökning av nybyggarkulturen i Lappland före industrialismens genombrott. Uppsala: Landsmåls-och folkminnesarkivet. p 272.

Carcaillet C. 1998. A spatially precise study of Holocene fire history, climate and human impact within the Maurienne valley, North French Alps. J Ecol 86:384–96.

Carpelan C, Hicks S. 1995. Ancient Saami in Finnish Lapland and their impact on the forest vegetation. In: Butlin RA, Roberts N, Eds. Ecological relations in historical times: human impact and adaptation. Oxford: Blackwell Science. p 344.

Cronon W. 1983. Changes in the land: Indians, colonists, and the ecology of New England. New York: Hill and Wang. p 241.

Currie WS, Nadelhoffer KJ. 2002. The imprint of land-use history: patterns of carbon and nitrogen in downed woody debris in the Harvard Forest. Ecosystems 5:446–60.

Cyranoski D. 2006. Calls to conserve biodiversity hotspots. Nature 439:774.

Delcourt PA, Delcourt HR. 2004. Prehistoric native Americans and ecological change. Cambridge: Cambridge University Press. p 203.

den Herder M, Kytöviita M-M, Niemelä P. 2003. Growth of reindeer lichens and effects of reindeer grazing on ground cover vegetation in a Scots pine forest and a subarctic heathland in Finnish Lapland. Ecography 26:3–12.

Diamond J. 1982. Man the exterminator. Nature 298:787–9.

Elmore AJ, Mustard JF, Hamburg SP, Manning SJ. 2006. Agricultural legacies in the Great Basin alter vegetation cover, composition, and response to precipitation. Ecosystems 9:1231–41.

Ewel KC. 2001. Natural resource management: the need for interdisciplinary collaboration. Ecosystems 4:716–22.

Foster DR. 1992. Land-use history (1730–1990) and vegetation dynamics in Central New-England, USA. J Ecol 80:753–72.

Foster DR, Zebryk T, Schoonmaker P, Lezberg A. 1992. Postsettlement history of human land-use and vegetation dynamics of a Tsuga-Canadensis (Hemlock) woodlot in Central New-England. J Ecol 80:773–86.

Foster DR, Orwig DA, McLachlan JS. 1996. Ecological and conservation insights from reconstructive studies of temperate old-growth forests. Trends Ecol Evol 11:419–24.

Foster DR, Motzkin G, Slater B. 1998. Land-use history as long-term broad-scale disturbance: regional forest dynamics in central New England. Ecosystems 1:96–119.

Foster DR, Swanson F, Aber J, Burke I, Brokaw N, Tilman D, Knapp A. 2003. The importance of land-use legacies to ecology and conservation. Bioscience 53:77–119.

Fraterrigo JM, Turner MG, Pearson SM. 2006. Previous land use alters plant allocation and growth in forest herbs. J Ecol 94:548–57.

Fredén C. 1994. National atlas of Sweden/Geology. Italy: Almqvist & Wiksell International. p 208.

Fries C, Johansson O, Pettersson B, Simonsson P. 1997. Silvicultural models to maintain and restore natural stand structures in Swedish boreal forests. For Ecol Manag 94:89–103.

Fuller TL, Foster DR, McLachlan TS, Drake N. 1998. Impact of human activity on regional forest composition and dynamics in central New England. Ecosystems 1:76–95.

Gillson L, Willis KJ. 2004. 'As Earth's testimonies tell': wilderness conservation in a changing world. Ecol Lett 7:990–8.

Grimm EC. 1987. CONISS: a Fortran 77 program for stratigraphically constrained cluster analysis by the method of incremental sum of squares. Comput Geosci 13:13–35.

Grimm EC. 1991. TILIA v. 2.0.b.4. Springfield (IL): Illinois State Museum, Research and Collections Center.

Grimm EC. 2004. TILIA GRAPH v. 2.0.2. Springfield (IL): Illinois State Museum, Research and Collections Center.

Hall B, Motzkin G, Foster DR, Syfert M, Burk J. 2002. Three hundred years of forest and land-use change in Massachusetts, USA. J Biogeogr 29:1319–35.

Heiri O, Lotter AF, Lemcke G. 2001. Loss on ignition as a method for estimating organic and carbonate content in sediments: reproducibility and comparability of results. J Paleolimnol 25:101–10.

Hicks S. 1988. The representation of different farming practices in pollen diagrams from northern Finland. In: Birks HH, Birks HJB, Kaland PE, Moe D, Eds. The cultural landscape: past, present and future. Cambridge: Cambridge University Press. p 189–207.

Hicks S. 1993. Pollen evidence of localized impact on the vegetation of northernmost Finland by hunter-gatherers. Vegetat Hist Archaeobot 2:137–44.

Hicks S. 1995. The history of a wilderness area in Finnish Lapland as revealed by pollen analysis. Arctic Centre Publ 7:126–40.

Holt EA, McCune B, Neitlich P. 2008. Grazing and fire impacts on macrolichen communities of the Seward Peninsula, Alaska. U.S.A. Bryol 111:68–83.

Hotchkiss SC, Calcote R, Lynch EA. 2007. Response of vegetation and fire to Little Ice Age climate change: regional continuity and landscape heterogeneity. Landsc Ecol 22:25–41.

Hörnberg G, Zackrisson O, Segerström U, Svensson BW, Ohlson M, Bradshaw R. 1998. Boreal swamp forests: biodiversity "hotspots" in an impoverished forest landscape. Bioscience 48:795–802.

Hörnberg G, Östlund L, Zackrisson O, Bergman I. 1999. The genesis of two Picea-Cladina forests in northern Sweden. J Ecol 87:800–14.

Hörnberg G, Bohlin E, Hellberg E, Bergman I, Zackrisson O, Olofsson A, Wallin JE, Påsse T. 2006. Effects of mesolithic hunter-gatherers on local vegetation in a non-uniform glacio-isostatic land uplift area, northern Sweden. Vegetat Hist Archaeobot 15:13–26.

Iversen J. 1958. The bearing of glacial and interglacial epochs on the formation and extinction of plant taxa. Uppsala Universitets Årsskrift 6:210–15.

Jackson ST, Wong A. 1994. Using forest patchiness to determine pollen source areas of closed canopy pollen assemblages. J Ecol 82:89–99.

Josefsson T, Hellberg E, Östlund L. 2005. Influence of habitat history on the distribution of Usnea longissima in boreal Scandinavia: a methodological case study. Lichenologist 37:555–67.

Jowsey PC. 1966. An improved peat sampler. New Phytol 65:245–8.

Kalis AJ, Merkt J, Wunderlich J. 2003. Environmental changes during the Holocene climatic optimum in central Europe: human impact and natural causes. Quatern Sci Rev 22:33–79.

Karlsson H, Hörnberg G, Hannon G, Nordström EM. 2007. Long-term vegetation changes in the northern Scandinavian forest limit: a human impact-climate synergy? Holocene 17:37–49.

Krok TOBN, Almquist S. 2001. Svensk flora. Fanerogamer och ormbunksväxter. Stockholm: Liber Utbildning. p 586.

Kulling O. 1982. Översikt över södra norrbottenfjällens kaledonberggrund. Stockholm: Liberkartor. p 295.

Laestadius P. 1831. Journal af Petrus Laestadius för första året af hans tjenstgöring såson missionaire i Lappmarken. Stockholm: Haeggström. p 480.

Lähde E, Laiho O, Norokorpi Y. 1999. Diversity-oriented silviculture in the Boreal Zone of Europe. For Ecol Manag 118:223–43.

Lane P. 2006. Oral histories and indigenous archaeology: an Africanist perspective. Comments on Charlotte Damm (2005): archaeology, ethnohistory and oral traditions: approaches to the indigenous past. Norwegian Archaeol Rev 39:70–3.

Liedgren LG, Bergman I, Hörnberg G, Zackrisson O, Hellberg E, Östlund L, DeLuca TH. 2007. Radiocarbon dating of prehistoric hearths in alpine northern Sweden: problems and possibilities. J Archaeol Sci 34:1276–88.

Linder P, Elfving B, Zackrisson O. 1997. Stand structure and successional trends in virgin boreal forest reserves in Sweden. For Ecol Manag 98:17–33.

MacKenzie MD, DeLuca TH, Sala A. 2006. Fire exclusion and nitrogen mineralization in low elevation forests of western Montana. Soil Biol Biochem 38:952–61.

Manseau M, Huot J, Crête M. 1996. Effects of summer grazing by caribou on composition and productivity of vegetation: community and landscape level. J Ecol 84:503–13.

Matiskainen H. 1996. Discrepancies in deglaciation chronology and the appearance of man in Finland. In: Larsson L, Ed. The earliest settlement of Scandinavia and its relationship with neighbouring areas. Stockholm: Almquist & Wiksell International. p 251–62.

McLachlan JS, Foster DR, Menalled F. 2000. Anthropogenic ties to late-successional structure and composition in four New England hemlock stands. Ecology 81:717–33.

Meschke C. 1979. Kulturlandskap i älvdalar 3. Underlagsmaterial för Bostadsdepartementets utredning om överledning för vattenkraftsändamål av vatten från Piteälven och Vindelälven. Kulturlandskap i älvdalar. Stockholm: Riksantikvarieämbetet och Statens historiska museer. p 256.

Mitchell CE, Turner MG, Pearson SM. 2002. Effects of historical land use and forest patch size on myrmecochores and ant communities. Ecol Appl 12:1364–77.

Moore PD, Webb JA, Collinson ME. 1991. Pollen analysis. Oxford: Blackwell Scientific. p 216.

Motta R, Nola P, Piussi P. 2002. Long-term investigations in a strict forest reserve in the eastern Italian Alps: spatio-temporal origin and development in two multi-layered subalpine stands. J Ecol 90:495–507.

Motzkin G, Patterson WAIII, Foster DR. 1999a. A historical perspective on Pitch pine—scrub Oak communities in the Connecticut Valley of Massachusetts. Ecosystems 2:255–73.

Motzkin G, Wilson P, Foster DR, Allen A. 1999b. Vegetation patterns in heterogeneous landscapes: the importance of history and environment. J Veg Sci 10:903–20.

Nilsson M, Klarqvist M, Bohlin E, Possnert G. 2001. Variation in C-14 age of macrofossils and different fractions of minute peat samples dated by AMS. Holocene 11:579–86.

Norton TW. 1996. Conservation of biological diversity in temperate and boreal forest ecosystems. For Ecol Manag 85:1–7.

O'Connell M. 1987. Early cereal-type pollen records from Connemara, western Ireland, and their possible significance. Pollen Spores 29:207–29.

Ohlson M, Korbol A, Okland RH. 2006. The macroscopic charcoal record in forested boreal peatlands in southeast Norway. Holocene 16:731–41.

Östlund L, Ericsson TS, Zackrisson O, Andersson R. 2003. Traces of past Sami forest use: an ecological study of culturally modified trees and earlier land use within a boreal forest reserve. Scand J For Res 18:78–89.

Östlund L, Keane RE, Arno SF, Andersson R. 2005. Culturally scarred trees in the Bob Marshall Wilderness, Montana, USA—interpreting Native American historical forest use in a wilderness area. Nat Area J 25:315–25.

Räsänen S. 2001. Tracing and interpreting fine-scale human impact in northern Fennoscandia with the aid of modern pollen analogues. Vegetat Hist Archaeobot 10:211–18.

Rull V. 2007. The Guayana Highlands: a promised (but threatened) land for ecological and evolutionary science. Biotropica 39:31–4.

Ruong I. 1945. Studier i lapsk kultur i Pite lappmark och angränsande områden. Stockholm: P.A. Norstedt & Söner. p 44.

Russel EWB. 1983. Indian-set fires in the forests of the Northeastern United States. Ecology 64:78–88.

Schulte LA, Mladenoff DJ, Burrows SN, Sickley TA, Nordheim EV. 2005. Spatial controls of Pre-Euro-American wind and fire disturbance in Northern Wisconsin (USA) forest landscapes. Ecosystems 8:73–94.

Segerström U. 1990. The post-glacial history of vegetation and agriculture in the Luleälv river valley. Umeå: Department of Archaeology. p 1–79.

Segerström U, Emanuelsson M. 2002. Extensive forest grazing and hay-making on mires—vegetation changes in south-central Sweden due to land use since Medieval times. Vegetat Hist Archaeobot 11:181–90.

Segerström U, von Stedingk H, Hörnberg G. 2008. Long-term sustainability of a northern boreal decidiuous swamp forest in northern Sweden: succession in the absence of fire. Holocene 18:1113–22.

Sjörs H. 1963. Amphi-Atlantic zonation, Nemoral to Arctic. In: Löve A, Löve D, Eds. North Atlantic biota and their history. Oxford: Pergamon Press. p 109–25.

Sjörs H. 1965. Forest regions. Acta Phytogeogr Suecica 50:48–63.

Sommerseth I. 2004. Fra fangstbasert reindrift til nomadisme i indre Troms. In: Krogh M, Schanche K, Eds. Samisk forhistorie: Rapport fra konferanse i Lakselv 5.-6 september 2002. Varangerbotn: Várjjat Sámi Musea. p 150–61.

Stark S, Wardle DA, Ohtonen R, Helle T, Yeates GW. 2000. The effect of reindeer grazing on decomposition, mineralization and soil biota in a dry oligotrophic Scots pine forest. Oikos 90:301–10.

Stark S, Toumi J, Strömmer R, Helle T. 2003. Non-parallel changes in soil microbal carbon and nitrogen dynamics due to reindeer grazing in northern boreal forests. Ecography 26:51–9.

Storli I. 1993. Sami Viking Age pastoralism—or 'The fur-trade paradigm' reconsidered. Norwegian Archaeol Rev 26:1–20.

Stuiver M, Reimer PJ. 1993. Extended 14C database and revised CALIB 3.2 14C age calibration program. Radiocarbon 35:215–30.

Sugita S. 1994. Pollen representation of vegetation in Quaternary sediments: theory and method in patchy vegetation. J Ecol 82:881–97.

Suominen O, Olofsson J. 2000. Impacts of semi-domesticated reindeer on structure of tundra and forest communities in Fennoscandia: a review. Ann Zool Fenn 37:233–49.

Telford RJ, Heegaard E, Birks HJB. 2004. All age–depth models are wrong: but how badly? Quatern Sci Rev 23:1–5.

Tinner W, Hofstetter S, Zeugin F, Conedera M, Wohlgemuth T, Zimmermann L, Zweifel R. 2006. Long-distance transport of macroscopic charcoal by an intensive crown fire in the Swiss Alps—implications for fire history reconstruction. Holocene 16:287–92.

Tweddle JC, Edwards KJ, Fieller NRJ. 2005. Multivariate statistical and other approaches for the separation of cereal from wild Poaceae pollen using a large Holocene dataset. Vegetat Hist Archaeobot 14:15–30.

Vale TR. 1998. The myth of the humanized landscape: an example from Yosemite National Park. Nat Area J 18:231–6.

van der Wal R. 2006. Do herbivores cause habitat degradation or vegetation state transition? Evidence from the tundra. Oikos 114:177–86.

White MA, Mladenoff DJ. 1994. Old-growth forest landscape transition from pre-European settlement to present. Landsc Ecol 9:191–205.

Willis KJ, Birks HJB. 2006. What is natural? The need for a long-term perspective in biodiversity conservation. Science 314:1261–5.

Väre H. 2001. Mountain birch taxonomy and floristics of mountain birch woodlands. In: Wielgolaski FE, Ed. Nordic mountain birch ecosystems. New York: Partnenon Publishing Group. p 35–46.

Väre H, Ohtonen R, Oksanen J. 1995. Effects of grazing on understory vegetation in dry Pinus sylvestris forests. J Veg Sci 6:523–30.

Väre H, Ohtonen R, Mikkola K. 1996. The effect and the extent of heavy grazing by reindeer in oligotrophic pine heaths in northeastern Fennoscandia. Ecography 19:245–53.

von Post L. 1922. Sveriges Geologiska Undersöknings torvinventering och några av dess hittills vunna resultat. Svenska Mosskulturföreningens tidskrift 36:1–17.

Vorren K-D. 1986. The impact of early agriculture on the vegetation of northern Norway: a discussion of anthropogenic indicators in biostratigraphical data. In: Behre KE, Ed. Anthropogenic indicators in pollen diagrams. Rotterdam: A.A. Balkema. p 1–18.

Zackrisson O, Östlund L, Korhonen O, Bergman I. 2000. The ancient use of Pinus sylvestris L. (Scots pine) inner bark by Sami people in northern Sweden, related to cultural and ecological factors. Vegetat Hist Archaeobot 9:99–109.
Acknowledgements
We wish to thank Ingela Bergman and Lars Liedgren for archaeological field surveys, Anna Berg for laboratory assistance, John Blackwell for linguistic corrections, two anonymous reviewers, Hanna Karlsson and David Wardle for valuable comments on earlier versions of the manuscript, Henning Rankvist for information regarding the Akkapakte settlement and Björn Helamb at Arctic Air for unsurpassed helicopter transportation to the inaccessible study sites. This study was financially supported by FORMAS.
Additional information
TJ performed field data collection, analyzed data, and wrote the main part of the paper. GH and LÖ performed field data collection and analyzed the data. All authors jointly designed the study and contributed to the text.
About this article
Cite this article
Josefsson, T., Hörnberg, G. & Östlund, L. Long-Term Human Impact and Vegetation Changes in a Boreal Forest Reserve: Implications for the Use of Protected Areas as Ecological References. Ecosystems 12, 1017–1036 (2009). https://doi.org/10.1007/s10021-009-9276-y
Received:

Revised:

Accepted:

Published:

Issue Date:
Keywords
forest ecosystem

disturbance

nature reserve

land use

native people

pollen analysis

interdisciplinary studies

forest history