Abstract
Ecological filters and nutrient heterogeneity are important in the function of ecosystems. Herbaceous layers alter forest ecosystems by filtering tree species during early stages of tree reproduction and influencing nutrient cycling. Important aspects about how tree species successfully establish below and extend above this ecological filter are unanswered in forest ecology. We experimentally tested the effects of large ungulate carcasses on the filtering function of herbaceous layers. Even well-utilized carcasses created unexpected disturbances that reduced herbaceous cover, which effectively perforated the herbaceous layer filter that can differentially influence tree reproduction. Carcasses also created lasting biogeochemical "hotspots" in forest soils that may help maintain plant biodiversity by creating resource heterogeneity and shifting competitive relationships. Because the spatial distribution of carcasses is influenced by predators, these data establish an unrecognized link between large carnivores, prey carcasses, and ecosystem processes. This link supports a novel understanding of disturbance by large herbivores in forest ecosystems by demonstrating an important interaction between predator–prey functional traits and tree seedling dynamics on either side of a major ecological filter.
This is a preview of subscription content, log in to check access.
Access options
Buy single article
Instant access to the full article PDF.
US$ 39.95
Price includes VAT for USA
Subscribe to journal
Immediate online access to all issues from 2019. Subscription will auto renew annually.
US$ 99
This is the net price. Taxes to be calculated in checkout.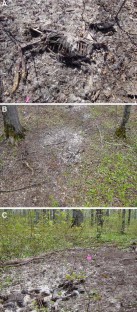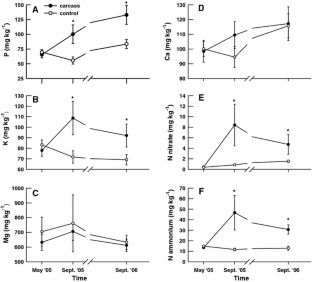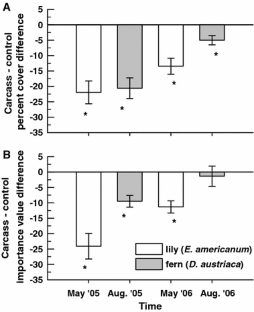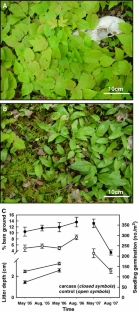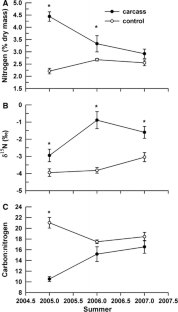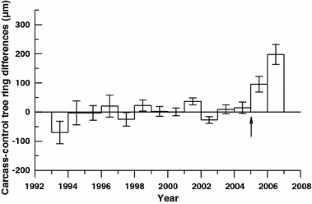 References
Alverson WS, Waller DM, Solheim SL. 1988. Forests too deer: edge effects in northern Wisconsin. Conserv Biol 2:348–58.

Beaty SW. 2003. Habitat heterogeneity and maintenance of species in understory communities. In: Gilliam FS, Roberts MR, Eds. The herbaceous layer in forests of eastern North America. New York: Oxford University Press. p 177–97.

Beckage B, Clark JS. 2003. Seedling survival and growth of three forest tree species: the role of spatial heterogeneity. Ecology 84:1849–61.

Binkley D, Matson P. 1983. Ion exchange resin bag method for assessing forest soil nitrogen availability. Soil Sci Soc Am J 47:1050–2.

Bormann FH, Likens FE. 1979. Pattern and process in a forested ecosystem. New York: Springer-Verlag.

Brown JR. 1998. Recommended chemical soil test procedures for the North Central Region (Research Publication no. 221). Columbia, MO: Missouri Agricultural Experimental Station.

Brewer R, Merritt PG. 1978. Wind throw and tree replacement in a climax beech-maple forest. Oikos 30:149–52.

Carter DO, Yellowlees D, Tibbett M. 2007. Cadaver decomposition in terrestrial ecosystems. Naturwissenschaften 94:12–24.

Catovsky S, Kobe RK, Bazzaz FA. 2002. Nitrogen-induced changes in seedling regeneration and dynamics of mixed conifer-broad-leafed forests. Ecol Appl 12:1611–25.

Chesson P. 2000. Mechanisms of maintenance of species diversity. Annu Rev Ecol Syst 31:343–66.

Christie DA, Armesto JJ. 2003. Regeneration microsites and tree species coexistence in temperate rain forests of Chiloé Island, Chile. J Ecol 91:776–84.

Coomes DA, Allen RB, Bentley WA, Burrows LE, Canham CD, Fagan L, Forsyth DM, Gaxiola-Alcantar A, Parfitt RL, Ruscoe WA, Wardle DA, Wilson DJ, Wright EF. 2005. The hare, the tortoise and the crocodile: the ecology of angiosperm dominance, conifer persistence and fern filtering. J Ecol 93:918–35.

Côte SD, Rooney TP, Tremblay JP, Dussault C, Waller DM. 2004. Ecological impacts of deer overabundance. Ann Rev Ecol Syst 35:113–47.

Danell K, Berteaux D, Brathen KA. 2002. Effect of muskox carcasses on nitrogen concentration in tundra vegetation. Arctic 55:389–92.

Danell K, Bergström R, Duncan PD, Pastor J. 2006. Large herbivore ecology, ecosystem dynamics, and conservation. Cambridge: Cambridge University Press.

Dearden FM, Wardle DA. 2008. The potential for forest canopy litterfall interception by a dense fern understory, and the consequences for litter decomposition. Oikos 117:83–92.

Delagrange S, Messier C, Lechowicz MJ, Dizengremel P. 2004. Physiological, morphological and allocational plasticity in understory deciduous trees: importance of plant size and light availability. Tree Physiol 24:775–84.

Doepker RV, Beyer DE, Donovan M. 1996. Deer population trends in Michigan's Upper Peninsula. Wildlife Division Report 3254, Michigan Department of Natural Resources.

Elvir JA, Wiersma GB, Day ME, Greenwood MS, Fernandez IJ. 2005. Effects of enhanced nitrogen deposition on foliar chemistry and physiological processes of forest trees at the Bear Brook Watershed in Maine. For Ecol Manag 221:207–14.

Frelich LE. 2002. Forest dynamics and disturbance regimes: studies from temperate evergreen-deciduous forests. New York: Cambridge University Press.

Fry B. 2006. Stable isotopes in ecology. New York: Springer.

George LO, Bazzaz FA. 1999a. The fern understory as an ecological filter: emergence and establishment of canopy-tree seedling. Ecology 80:833–45.

George LO, Bazzaz FA. 1999b. The fern understory as an ecological filter: growth and survival of canopy tree seedlings. Ecology 80:846–56.

George LO, Bazzaz FA. 2003. The herbaceaous layer as a filter determining the spatial pattern in forest tree regeneration. In: Gilliam FS, Roberts MR, Eds. The herbaceous layer in forests of eastern North America. New York: Oxford University Press. p 265–82.

Gotelli NJ, Ellison A. 2004. A primer in ecological statistics. Sunderland: Sinauer Associates.

Grubb PJ. 1977. The maintenance of species-richness in plant communities: the importance of the regeneration niche. Biol Rev 52:107–45.

Gilliam FS. 2007. The ecological significance of the herbaceous layer in temperate forest ecosystems. Bioscience 57:845–58.

Gilliam FS, Roberts MR. 2003a. The herbaceous layer in forests of eastern North America. New York: Oxford University Press.

Gilliam FS, Roberts MR. 2003b. Interactions between the herbaceous layer and overstory canopy of eastern forests: a mechanism for linkage. In: Gilliam FS, Roberts MR, Eds. The herbaceous layer in forests of eastern North America. New York: Oxford University Press. p 198–223.

Halls LK. 1984. White-tailed deer: ecology and management. Harrisburg: Stackpole Books.

Harmon ME, Franklin JF. 1989. Tree seedlings on logs in Picea-Tsuga forests of Oregon and Washington. Ecology 70:48–59.

Helfield JM, Naiman RJ. 2006. Keystone interactions: salmon and bear in riparian forests of Alaska. Ecosystems 9:167–80.

Hobbs NT. 2006. Large herbivores as sources of disturbance in ecosystems. In: Gilliam FS, Roberts MR, Eds. The herbaceous layer in forests of eastern North America. New York.: Oxford University Press. p 261–88.

Huntzinger BA. 2006. Sources of variation in wolf kill rates of white-tailed deer during winter in the U.P. Michigan. Thesis (M.S.), School of Forest Resources and Environmental Science, Michigan Technological University.

Kauffman MJ, Varley N, Smith DW, Stahler DR, MacNulty DR, Boyce MS. 2007. Landscape heterogeneity shapes predation in a newly restored predator–prey system. Ecol Lett 10:690–700.

Langenau E. 1996. The winter of 1995/96: a tough one for white-tailed deer. Wildlife Division Report 3252, Michigan Department of Natural Resources.

Lipson D, Näshholm T. 2001. The unexpected versatility of plants: organic nitrogen use and availability in terrestrial ecosystems. Oecologia 128:305–16.

Mech LD. 1977. Wolf-pack buffer zones as prey reservoirs. Science 198:320–1.

Messaoud Y, Houle G. 2006. Spatial patterns of tree seedling establishment and their relationship to environmental variables in a cold-temperate deciduous forest of eastern North America. Plant Ecol 185:319–31.

Michigan Department of Natural Resources. 2008. http://www.michigan.gov/dnr/0,1607,7-153-10363_10856_10905-150249–,00.html.

Muller RN. 2003. Nutrient relations of the herbaceous layer in deciduous forest ecosystems. In: Gilliam FS, Roberts MR, Eds. The herbaceous layer in forests of eastern North America. New York: Oxford University Press. p 15–37.

Muller RN, Bormann FH. 1979. Role of Erythronium americanum Ker. in energy flow and nutrient dynamics of a northern hardwood forest ecosystem. Science 193:1126–8.

Pacala SW, Tilam D. 1994. Limiting similarity in mechanistic and spatial models of plant competition in heterogeneous environments. Am Nat 143:222–57.

Peterson RO. 1977. Wolf ecology and prey relationships on Isle Royale. U.S. National Park Service Scientific Monograph Series 11. Washington, D.C.

Romin LA, Bissonette JA. 1996. Deer-vehicle collisions: status of state monitoring activities and mitigation efforts. Wildl Soc Bull 24:276–83.

Royo AA, Carson WP. 2006. On the formation of dense understory layers in forests worldwide: consequences and implications for forest dynamics, biodiversity, and succession. Can J For Res 36:1345–62.

Schulte LA, Mladenoff DJ, Crow TR, Merrick LC, Cleland DT. 2007. Homogenization of northern U.S. Great Lakes forests due to land use. Landscape Ecol 22:1089–103.

Siccama TG, Bormann FH, Likens GE. 1970. The Hubbard Brook ecosystem study: productivity, nutrients and phytosociology of the herbaceous layer. Ecol Monogr 40:389–402.

Smith CR, Baco AR. 2003. Ecology of whale falls at the deep-sea floor. Oceanogr Marine Biol 41:311–54.

Towne EG. 2000. Prairie vegetation and soil nutrient responses to ungulate carcasses. Oecologia 122:232–9.

Whigham DF. 2004. Ecology of woodland herbs in temperate deciduous forests. Annu Rev Ecol Syst 35:583–9.

Wilmers CC, Stahler DR, Crabtree RL, Smith DW, Getz WM. 2003. Resource dispersion and consumer dominance: scavenging at wolf- and hunter-killed carcasses in Greater Yellowstone, USA. Ecol Lett 6:996–1003.

Yang LH. 2004. Periodical cicadas as resource pulses in North American forests. Science 26:1565–7.

Young TP. 1994. Natural die-offs of large mammals: implications for conservation. Conserv Biol 8:410–18.
Acknowledgements
Special thanks to Dave Stimac, Caitlin Bump, Sam Gardner, Brett Huntzinger, Peter Hurley, Amy Schrank, Brian Henry, and Jim Schmierer. Research was supported by a Biosphere Atmosphere Research & Training fellowship (NSF IGERT grant 9972803) and an NSF (DEB-0424562) grant to R.O.P. and J.A.V. The research described in this paper has also been funded in part by the United States Environmental Protection Agency (EPA) under the Greater Research Opportunities (GRO) Graduate or Undergraduate Program (EPA GRO grant F5F71445 to J.K.B) EPA has not officially endorsed this publication and the views expressed herein may not reflect the views of the EPA. Experiments complied with current USA law.
Additional information
Author Contributions
JKB conceived and designed study, performed research, analyzed data, wrote the paper; CRW conceived and designed study, and wrote the paper; JAV and ROP conceived and designed study; JMS and MDP performed research.
About this article
Cite this article
Bump, J.K., Webster, C.R., Vucetich, J.A. et al. Ungulate Carcasses Perforate Ecological Filters and Create Biogeochemical Hotspots in Forest Herbaceous Layers Allowing Trees a Competitive Advantage. Ecosystems 12, 996–1007 (2009). https://doi.org/10.1007/s10021-009-9274-0
Received:

Revised:

Accepted:

Published:

Issue Date:
Keywords
disturbance

forest ecology

heterogeneity

patch dynamics

regeneration niche

resource pulses

spatial pattern

trophic cascades

forest biodiversity

ecological filter