Abstract
Changes in precipitation and nitrogen (N) deposition can influence ecosystem carbon (C) cycling and budget in terrestrial biomes, with consequent feedbacks to climate change. However, little is known about the main and interactive effects of water and N additions on net ecosystem C exchange (NEE). In a temperate steppe of northern China, a field-manipulated experiment was conducted to evaluate the responses of NEE and its components to improve N and water availability from 2005 to 2008. The results showed that both water and N additions stimulated gross ecosystem productivity (GEP), ecosystem respiration (ER), and NEE. Water addition increased GEP by 17%, ER by 24%, and NEE by 11% during the experimental period, whereas N addition increased GEP by 17%, ER by 16%, and NEE by 19%. The main effects of both water and N additions changed with time, with the strongest water stimulation in the dry year and a diminishing N stimulation over time. When water and N were added in combination, there were non-additive effects of water and N on ecosystem C fluxes, which could be explained by the changes in species composition and the shifts of limiting resources from belowground (water or N) to aboveground (light). The positive water and N additions effects indicate that increasing precipitation and N deposition in the future will favor C sequestration in the temperate steppe. The non-additive effects of water and N on ecosystem C fluxes suggest that multifactor experiments are better able to capture complex interactive processes, thus improving model simulations and projections.
Access options
Buy single article
Instant access to the full article PDF.
USD 39.95
Price excludes VAT (USA)
Tax calculation will be finalised during checkout.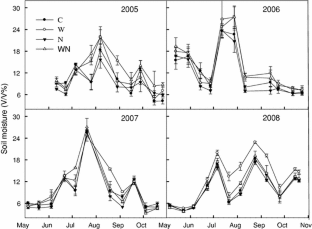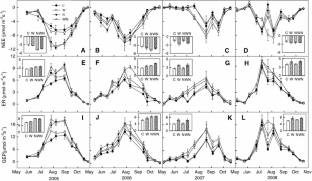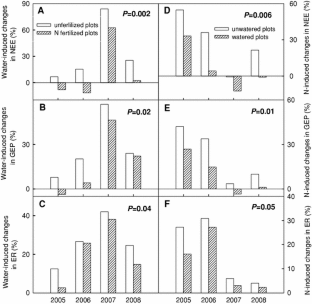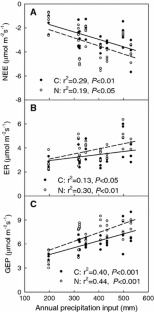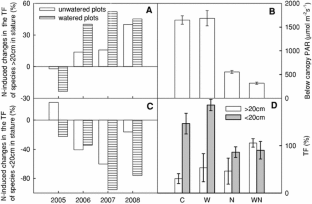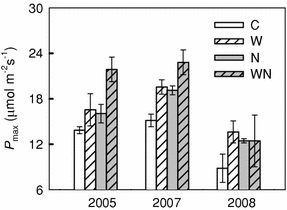 References
Allison SD, Czimczik CI, Treseder KK. 2008. Microbial activity and soil respiration under nitrogen addition in Alaskan boreal forest. Global Change Biol 14:1156–68

Bonham CD. 1989. Measurements for terrestrial vegetation. New York: Wiley Interscience

Bradford MA, Fierer N, Jackson RB, Maddox TR, Reynolds JF. 2008. Nonlinear root-derived carbon sequestration across a gradient of nitrogen and phosphorous deposition in experimental mesocosms. Global Change Biol 14:1113–24

Bragazza L, Freeman C, Jones T, Rydin H, Limpens J, Fenner N, Ellis T, Gerdol R, Hájek M, Hájek T, Iacumin P, Kutnar L, Tahvanainen T, Toberman H. 2006. Atmospheric nitrogen deposition promotes carbon loss from peat bogs. PNAS 103:19386–9

Bubier JL, Moore TR, Bledzki LA. 2007. Effects of nutrient addition on vegetation and carbon cycling in an ombrotrophic bog. Global Change Biol 13:1168–86

Chou WW, Silver WL, Jackson RD, Thompson AW, Allen-Diaz B. 2008. The sensitivity of annual grassland carbon cycling to the quantity and timing of rainfall. Global Change Biol 14:1382–94

Christensen L, Coughenour MB, Ellis JE, Chen ZZ. 2004. Vulnerability of the Asian typical steppe to grazing and climate change. Climatic Change 63:351–68

Elser JJ, Bracken MES, Cleland EE, Gruner DS, Harpole WS, Hillebrand H, Ngai JT, Seabloom EW, Shurin JB, Smith JE. 2007. Global analysis of nitrogen and phosphorus limitation of primary producers in freshwater, marine and terrestrial ecosystems. Ecol Lett 10:1135–42

Flanagan LB, Wever LA, Carlson PJ. 2002. Seasonal and interannual variation in carbon dioxide exchange and carbon balance in a northern temperate grassland. Global Change Biol 8:599–615

Gilmanov T, Soussana JF, Aires L, Allard V, Ammann C, Balzarolo M, Barcza Z, Bernhofer C, Campbell CL, Cernusca A, Cescatti A, Clifton-Brown J, Dirks BOM, Dore S, Eugster W, Fuhrer J, Gimeno C, Gruenwald T, Haszpra L, Hensen A, Ibrom A, Jacobs AFG, Jones MB, Lanigan G, Laurila T, Lohila A, Manca G, Marcolla B, Nagy Z, Pilegaard K, Pinter K, Pio C, Raschi A, Rogiers N, Sanz MJ, Stefani P, Sutton M, Tuba Z, Valentini R, Williams ML, Wohlfahrt G. 2007. Partitioning European grassland net ecosystem CO2 exchange into gross primary productivity and ecosystem respiration using light response function analysis. Agric Ecosyst Environ 121:93–120

Gruber N, Galloway JN. 2008. An earth-system perspective of the global nitrogen cycle. Nature 451:293–6

Harpole WS, Potts DL, Suding KN. 2007. Ecosystem responses to water and nitrogen amendment in a California grassland. Global Change Biol 13:2341–8

Hooper DU, Johnson L. 1999. Nitrogen limitation in dryland ecosystems: responses to geographical and temporal variation in precipitation. Biogeochemistry 46:247–93

Hungate BA, Dukes JS, Shaw MR, Luo Y, Field CB. 2003. Nitrogen and climate change. Science 302: 1512–3

Huxman TE, Snyder K, Tissue D, Leffler AJ, Pockman W, Ogle K, Sandquist D, Potts DL, Schwinning S. 2004a. Precipitation pulses and carbon balance in semiarid and arid ecosystems. Oecologia 141:254–68

Huxman TE, Cable JM, Ignace DD, Eilts AJ, English NB, Weltzin J, Williams DG. 2004b. Response of net ecosystem gas exchange to a simulated precipitation pulse in a semi-arid grassland: the role of native versus non-native grasses and soil texture. Oecologia 141:295–305

IPCC 2007. Climate change 2007: the physical science basis: summary for policymakers. IPCC WGI Fourth Assessment Report

Jaksic V, Kiely G, Albertson J, Oren R, Katul G, Leahy P, Byrne KA. 2006. Net ecosystem exchange of grassland in contrasting wet and dry years. Agr Forest Meteorol 139:323–34

Jones MB, Donnelly A. 2004. Carbon sequestration in temperate grassland ecosystems and the influence of management, climate and elevated CO2. New Phytol 164:423–39

Knapp AK, Fay PA, Blair JM, Collins SL, Smith MD, Carlisle JD, Harper CW, Danner BT, Lett MS, McCarron JK. 2002. Rainfall variability, carbon cycling, and plant species diversity in a mesic grassland. Science 298:2202–5

LeBauer DS, Treseder KK. 2008. Nitrogen limitation of net primary productivity in terrestrial ecosystems is globally distributed. Ecology 89:371–9

Liu W, Zhang Z, Wan S. 2009. Predominant role of water in regulating soil and microbial respiration and their responses to climate change in a semiarid grassland. Global Change Biol 15:184–95

Luo Y, Gerten D, Maire GL, Parton WJ, Weng E, Zhou X, Keough C, Beier C, Ciais P, Cramer W, Dukes JS, Emmett B, Hanson PJ, Knapp A, Linder S, Nepstad D, Rustad L. 2008. Modeled interactive effects of precipitation, temperature, and CO2 on ecosystem carbon and water dynamics in different climatic zones. Glob Change Biol 14:1986–99

Luo Y, Su B, Currie WS et al. 2004. Progressive nitrogen limitation of ecosystem responses to rising atmospheric carbon dioxide. BioScience 54:731–9

Mo J, Zhang W, Zhu W, Gundersen P, Fang Y, Li D, Wang H. 2008. Nitrogen addition reduces soil respiration in a mature tropical forest in southern China. Global Change Biol 14:403–12

Mueller-Dombois D, Ellenberg H. 1974. Aims and methods of vegetation ecology. New York: Wiley

Nadelhoffer KJ, Emmett BA, Gundersen P, Kjønaas OJ, Koopmans CJ, Schleppi P, Tietema A, Wright RF. 1999. Nitrogen deposition makes a minor contribution to carbon sequestration in temperate forests. Nature 398:145–8

Niu S, Wu M, Han Y, Xia J, Li L, Wan S. 2008. Water-mediated responses of ecosystem C fluxes to climatic change in a temperate steppe. New Phytol 177:209–19

Niu S, Wu M, Han Y, Xia J, Zhang Z, Yang H, Wan S. 2009. Nitrogen effects on net ecosystem carbon exchange in a temperate steppe. Glob Change Biol. doi:10.1111/j.1365-2486.2009.01894.x

Patrick L, Cable J, Potts D, Ignace D, Barron-Gafford G, Griffith A, Alpert H, Van Gestel N, Robertson T, Huxman TE, Zak J, Loik ME, Tissue D. 2007. Effects of an increase in summer precipitation on leaf, soil, and ecosystem fluxes of CO2 and H2O in a sotol grassland in Big Bend National Park, Texas. Oecologia 151:704–18

Pepper DA, Del Grosso SJ, McMurtrie RE, Parton WJ. 2005. Simulated carbon sink response of shortgrass steppe, tallgrass prairie and forest ecosystems to rising CO2, temperature and nitrogen input. Global Biogeochem Cy 19:GB1004, doi:10.1029/2004GB002226

Potts DL, Huxman TE, Cable JM, Engligh NB, Ignace DD, Eilts JA, Mason MJ, Weltzin JE, Williams DG. 2006. Antecedent moisture and seasonal precipitation influence the response of canopy-scale carbon and water exchange to rainfall pulses in a semi-arid grassland. New Phytol 170:849–60

Reay DS, Dentener F, Smith P, Grace J, Feely RA. 2008. Global nitrogen deposition and carbon sinks. Nat Geosci 1:430–7

Risch AC, Frank DA. 2007. Effects of increased soil water availability on grassland ecosystem carbon dioxide fluxes. Biogeochemistry 86:91–103

Rocha AV, Potts DL, Goulden ML. 2008. Standing litter as a driver of interannual CO2 exchange variability in a freshwater marsh. J Geophys Res (Biogeosciences) 113. doi:10.1029/2008JG000713

Saarnio S, Jarvio S, Saarinen T, Vasander H, Silvola J. 2003. Minor changes in vegetation and carbon gas balance in a boreal mire under raised CO2 or NH4NO3 supply. Ecosystems 6:46–60

Seagle SW, McNaughton SJ. 1993. Simulated effects of precipitation and nitrogen on Serengeti grassland productivity. Biogeochemistry 22:157–78

Shaver GR, Johnson LC, Cades DH, Murray G, Laundre JA, Rastetter EB, Nadelhoffer NJ, Giblin AE. 1998. Biomass and CO2 flux wet sedge tundras: responses to nutrients, temperature, and light. Ecol Monogr 68:75–97

Smith SD, Monson PK, Anderson JE. 1997. Physilogicical Ecology of North American Desert Plants. New York: Springer-Verlag

Suyker AE, Verma SB, Burba GG. 2003. Interannual variability in net CO2 exchange of a native tallgrass prairie. Global Change Biol 9:255–65

Tilman D, Wedin D. 1991. Oscillations and chaos in the dynamics of a perennial grass, Nature 353: 653–5

Vose JM, Elliott KJ, Johnson DW, Tingey DT, Johnson MG. 1997. Soil respiration response to three years of elevated CO2 and N fertilization in ponderosa pine (Pinus ponderosa Doug. ex Laws.). Plant Soil 190:19–28

Wan S, Norby RJ, Ledford J, Weltzin JF. 2007. Responses of soil respiration to elevated CO2, air warming, and changing soil water availability in a model old-field grassland. Global Change Biol 13:2411–24

Weltzin JF, Loik ME, Schwinning S, Williams DG, Fay P, Haddad B, Harte J, Huxman TE, Knapp AK, Lin G, Pockman WT, Shaw MR, Small EE, Smith MD, Smith SD, Tissue DT, Zak J. 2003. Assessing the response of terrestrial ecosystems to potential changes in precipitation. BioScience 53:941–52

Xia J, Niu S, Wan S. 2009. Response of ecosystem carbon exchange to warming and nitrogen addition during two hydrologically contrasting growing seasons in a temperate steppe. Glob Change Biol 15:1544–56

Xia J, Wan S. 2008. Global response patterns of terrestrial plant species to nitrogen addition. New Phytol 179:428–39

Zavaleta ES, Shaw MR, Chiariello NR, Thomas BD, Cleland EE, Field CB, Mooney HA. 2003. Grassland responses to three years of elevated temperature, CO2, precipitation, and N deposition. Ecol Monogr 73:585–604

Zhou X, Weng E, Luo Y. 2008. Patterns of nonlinearity in ecosystem carbon and water dynamics in response to gradual changes in temperature, CO2, and precipitation: modeling analysis. Ecol Appl 18:453–66
Acknowledgements
This study was conducted as part of a comprehensive research project (Global Change Multi-factor Experiment-Duolun) sponsored by the Institute of Botany, Chinese Academy of Sciences. The authors thank Zhiyou Yuan, Shihuan Song, Wenming Bai, and Xin Li for help in setting up the field facilities, Yi Han, Jianyang Xia, and Zhixiong Li for help in field measurements, and Shiping Chen for providing meteorological data. This study was financially supported by the National Natural Science Foundation of China (30870439, 30821062), Ministry of Science and Technology (2006BAD26B01), Chinese Academy of Sciences (Hundred Talents Program), and State Key Laboratory of Environmental and Vegetation Change.
Additional information
Author Contributions
SN analyzed data and wrote the paper. SN, HY, MW, ZZ, and QL conducted the research. SW, LL, XH, and SN designed the research.
About this article
Cite this article
Niu, S., Yang, H., Zhang, Z. et al. Non-Additive Effects of Water and Nitrogen Addition on Ecosystem Carbon Exchange in a Temperate Steppe. Ecosystems 12, 915–926 (2009). https://doi.org/10.1007/s10021-009-9265-1
Received:

Revised:

Accepted:

Published:

Issue Date:

DOI: https://doi.org/10.1007/s10021-009-9265-1
Keywords