Abstract
Long-term, landscape patterns in inorganic nitrogen (N) availability and N stocks following infrequent, stand-replacing fire are unknown but are important for interpreting the effect of disturbances on ecosystem function. Here, we present results from a replicated chronosequence study in the Greater Yellowstone Ecosystem (Wyoming, USA) directed at measuring inorganic N availability (ion-exchange resin bags) and ecosystem N pools among 77 lodgepole pine stands that varied in age and density. Inorganic N availability ranged from 0.07 to 3.20 μN bag−1 d−1 and nitrate (NO −3 ) was, on average, 65% of total resin-sorbed N. Total ecosystem N stocks (live + detrital + soil) averaged 109.9 ± 3.0 g N m−2 (range = 63.7–185.8 g N m−2). Live N was 14%, detrital N was 29%, and soil N was 57% of total stocks. Soil NO −3 , total ecosystem N, live N, and detrital N generally increased with stand age, but soil N stocks decreased. Models (AICc) to predict soil N availability and N stocks included soil P, soil Ca, bulk density, and pH in addition to age (adj R 2 ranged from 0.18 to 0.53) and density was included only for live N stocks. Patterns of N stocks and N availability with density were strongest for young stands (<20 years) regenerating from extensive fire in 1988; for example, litterfall N stocks increased with density (adj R 2 = 0.86, P < 0.001) but inorganic N availability declined (adj R 2 = 0.47, P < 0.003). Across the complex Yellowstone landscape, we conclude that N stocks and N availability are best predicted by a combination of local soil characteristics in addition to factors that vary at landscape scales (stand density and age). Overall, total ecosystem N stocks were recovered quickly following stand-replacing fire, suggesting that moderate increases in fire frequency will not affect long-term landscape N storage in Greater Yellowstone.
Access options
Buy single article
Instant access to the full article PDF.
USD 39.95
Price includes VAT (USA)
Tax calculation will be finalised during checkout.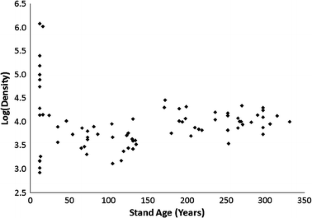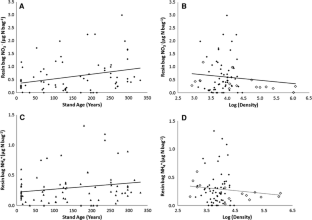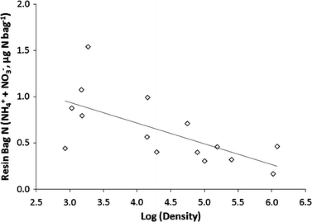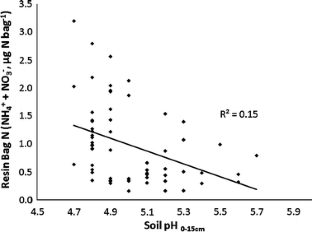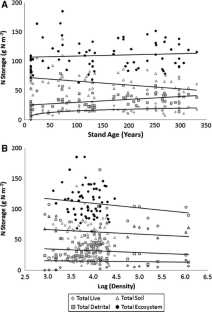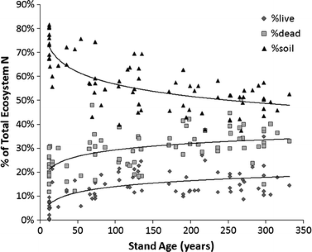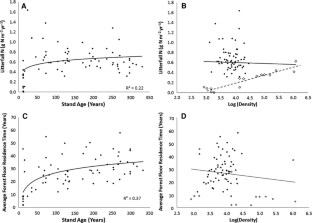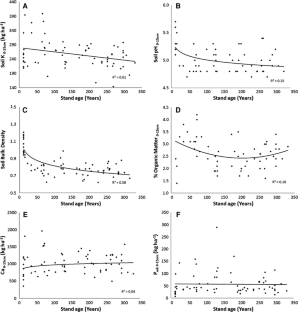 References
Arcano R. 2005. Allometric model development, biomass allocation patterns, and nitrogen use efficiency of lodgepole pine in the Greater Yellowstone Ecosystem. MS Thesis, Department of Botany, University of Wyoming, Laramie, Wyoming

Binkley, D, Matson, PA, 1983. Ion exchange resin bag method for assessing forest soil nitrogen availability. Soil Sci Soc Am J 47: 1050–2.

Binkley, D, Bell, R, Sollins, P, 1992. Comparison of methods for estimating soil nitrogen transformations in adjacent conifer and alder-conifer forests. Can J For Res 22: 858–63.

Bond-Lamberty, B, Gower, ST, Wang, C, Cyr, P, Veldhuis, H, 2006. Nitrogen dynamics of a boreal black spruce wildfire chronosequence. Biogeochemistry 81: 1–16.

Brown JK. 1974. Handbook for inventorying downed woody material. USDA Forest Service General Technical Report INT-16, Odgen Utah, 24p

Carreira, JA, Niell, FX, Lajtha, K, 1994. Soil-Nitrogen Availability and Nitrification in Mediterranean Shrublands of Varying Fire History and Successional Stage. Biogeochemistry 26: 189–209.

Cochran, WG, 1977. Sampling techniques, 3rd Edition. John Wiley & Sons, New York, NY.

DeLuca, TH, MacKenzie, MD, Gundale, MJ, Holben, WE, 2006. Wildfire-produced charcoal directly influences nitrogen cycling in ponderosa pine forests. Soil Sci Soc Am J 70: 448–53.

Douglas, RB, Parker, VT, Cullings, KW, 2005. Belowground ectomycorrhizal community structure of mature lodgepole pine and mixed conifer stands in Yellowstone National Park. For Ecol Manage 208: 303–17.

Fahey, T, 1983. Nutrient dynamics of aboveground detritus in lodgepole pine (Pinus contorta ssp. latifolia) ecosystems, southeastern Wyoming. Ecol Monogr 53: 51–72.

Fahey, T, Knight, DH, 1986. Lodgepole pine ecosystems. Bioscience 36: 610–7.

Fahey, T, Yavitt, JB, Pearson, JA, Knight, DH, 1985. The nitrogen cycle in lodgepole pine forests, southeastern Wyoming. Biogeochemistry 1: 257–75.

Fenn, ME, Poth, MA, Dunn, PH, Barro, SC, 1993. Microbial N and biomass, respiration and N mineralization in soils beneath two chaparral species along a fire-induced age gradient. Soil Biology and Biochemistry 25: 457–66.

Gower, ST, McMurtrie, RE, Murty, D, 1996. Aboveground net primary production decline with stand age: potential causes. Trends Ecol Evol 11: 378–82.

Harden JW, Mack M, Veldhuis H, Gower ST. 2002. Fire dynamics and implications for nitrogen cycling in boreal forests. J Geophys Res Atmos 107: 8223.

Kashian, DM, Tinker, DB, Turner, MG, Scarpace, FL, 2004. Spatial heterogeneity of lodgepole pine sapling densities following the 1988 fires in Yellowstone National Park, Wyoming, U.S.A Can J For Res 34: 2263–76.

Kashian, DM, Turner, MG, Romme, WH, Lorimer, CG, 2005. Variability and convergence in stand structure with forest development on a fire-dominated landscape. Ecology 86: 643–54.

Kashian, DM, Ryan, MG, Romme, WH, Tinker, DB, Turner, MG, 2006. Carbon cycling on landscapes with stand-replacing fire. Bioscience 56: 598–606.

Kashian DM, Romme WH, Ryan MG. (unpublished). Changes in forest carbon stocks along replicated chronosequences in Yellowstone National Park, Wyoming, USA

Knight, DH, 1966. Loss of nitrogen from the forest floor by burning. Forestry Chronicle 42: 149–52.

Levitt EA. 2006. Ecosystem function in heterogeneous landscapes: variation in soil nitrogen availability among post-fire lodgepole pine stands in Yellowstone National Park. MS Thesis, Department of Zoology, University of Wisconsin, Madison, Wisconsin

Litton, CM, Ryan, MG, Knight, DH, 2004. Effects of tree density and stand age on carbon allocation patterns in postfire lodgepole pine. Ecological Applications 14: 460–75.

MacLean, DA, Wein, RW, 1977. Nutrient accumulation for postfire jack pine and hardwood succession patterns in New Brunswick. Can J For Res 7: 562–78.

Marion, GM, Black, CH, 1988. Potentially available nitrogen and phosphorus along a chaparral fire cycle chronosequence. Soil Sci Soc Am J 52: 1155–62.

Miller, SL, McClean, TM, Stanton, NL, Williams, SE, 1998. Mycorrhization, physiognomy, and first-year survivability of conifer seedlings following natural fire in Grand Teton National Park. Can J For Res 28: 115–22.

Murty, D, McMurtrie, RE, Ryan, MG, 1996. Declining forest productivity in aging forest stands: a modeling analysis of alternative hypotheses. Tree Physiol 16: 187–200.

NCR. 1998. Recommended Chemical soil test procedures for the North Central Region. North Central Regional Research Publication No. 221 (Revised). Missouri Agricultural Experiment Station SB 1001

Neff, JC, Chapin III, FS, Vitousek, P, 2003. Breaks in the cycle: dissolved organic nitrogen in terrestrial ecosystems. Front Ecol Environ 4: 205–11.

Ojima, D, Schimel, DS, Parton, WJ, Owensby, CE, 1994. Long- and short-term effects of fire on nitrogen cycling in tallgrass prairie. Biogeochemistry 24: 67–84.

Olsson, U, Binkley, D, Smith, FW, 1997. Nitrogen supply, nitrogen use, and production in an age sequence of lodgepole pine. Forest Science 44: 454–57.

Page-Dumbroese, DS, Jurgensen, MF, 2006. Soil carbon and nitrogen pools in mid- to late-successional forest stands of the northwestern United States: potential impact of fire. Can J For Res 36: 2270–84.

Pearson, JA, Fahey, TA, Knight, DH, 1984. Biomass and leaf area in contrasting lodgepole pine forests. Can J For Res 14: 259–65.

Pearson, JA, Knight, DH, Fahey, TJ, 1987. Biomass and nutrient accumulation during stand development in Wyoming lodgepole pine forests. Ecology 68: 1966–73.

Persson J, Gardestrom P, Nasholm T. 2006. Uptake, metabolism and distribution of organic and inorganic nitrogen sources by Pinus sylvestris. J Exp Bot 57(11): 2651–9.

Pregitzer, KS, Euskirchen, ES, 2004. Carbon cycling and storage in world forests: biome patterns related to forest age. Glob Chang Biol 10: 2052–77.

Raison, RJ, 1979. Modification of the soil environment by vegetation fires, with particular reference to nitrogen transformations: a review. Plant and Soil 51: 73–108.

Raison, RJ, Khanna, PK, Woods, PV, 1985. Mechanisms of element transfer to the atmosphere during vegetation fires. Can J For Res 15: 132–40.

Remsburg, AJ, Turner, MG, 2006. Amount, position, and age of coarse wood influence litter decomposition in postfire Pinus contorta stands. Can J For Res 36: 2112–23.

Romme, WH, 1982. Fire and landscape diversity in subalpine forests of Yellowstone National Park. Ecol Monogr 52: 199–221.

Romme, WH, Despain, DG, 1989. Historical-Perspective on the Yellowstone Fires of 1988. Bioscience 39: 695–9.

Romme, WH, Turner, MG, 1991. Implications of global climate change for biogeographic patterns in the Greater Yellowstone Ecosystem. Conservation Biology 5: 373–86.

Romme, WH, Knight, DH, Yavitt, JB, 1986. Mountain pine beetle outbreaks in the Rocky Mountains: regulators of primary productivity? Am Nat 127: 484–94.

Ryan, MG, Waring, RH, 1992. Maintenance respiration and stand development in a subalpine lodgepole pine forest. Ecology 73: 2100–8.

Sahrawat, KL, 2008. Factors affecting nitrification in soils. Comm Soil Sci Plant Anal 39:1436–46

Schoennagel, T, Waller, DM, Turner, MG, Romme, WH, 2004. The effect of fire interval on post-fire understorey communities in Yellowstone National Park. J Veg Sci 15: 797–806.

Smithwick, EAH, Turner, MG, Mack, MC, Chapin III, FS, 2005. Post-fire soil N cycling in northern conifer forests affected by severe, stand-replacing wildfires. Ecosystems 8: 163–81.

Smithwick, EAH, Harmon, ME, Domingo, JB, 2006. Changing temporal patterns of forest carbon stores and net ecosystem carbon balance: the stand to landscape transformation. Landsc Ecol 22: 77–94.

Smithwick, EAH, Ryan, MG, Kashian, DM, Romme, WH, Tinker, DB, Turner, MG, 2009. Modeling the effects of fire and climate change on carbon and nitrogen storage in lodgepole pine (Pinus contorta) stands. Glob Chang Biol 15: 535–48.

Ste-Marie, C, Paré, D, 1999. Soil, pH and N availability effects on net nitrification in the forest floors of a range of boreal forest stands. Soil Biol Biochem 31: 1579–89.

Tinker, DB, Knight, DH, 2000. Coarse woody debris following fire and logging in Wyoming lodgepole pine forests. Ecosystems 3: 472–83.

Turner, MG, Romme, WH, Gardner, RH, Hargrove, WH, 1997. Effects of fire size and pattern on early succession in Yellowstone National Park. Ecol Monogr 67: 411–33.

Turner, MG, Tinker, DB, Romme, WH, Kashian, DM, Litton, CM, 2004. Landscape patterns of sapling density, leaf area, and aboveground net primary production in postfire lodgepole pine forests, Yellowstone National Park (USA). Ecosystems 7: 751–75.

Turner, MG, Smithwick, EAH, Metzger, KL, Tinker, DB, Romme, WH, 2007. Inorganic nitrogen availability after severe stand-replacing fire in the Greater Yellowstone ecosystem. Proc Natl Acad Sci USA 104: 4782–9.

Vitousek, PM, Reiners, WA, 1975. Ecosystem succession and nutrient retention: a hypothesis. Bioscience 25: 376–81.

Wan, S, Hui, D, Luo, Y, 2001. Fire effects on nitrogen pools and dynamics in terrestrial ecosystems: a meta-analysis. Ecol Appl 11: 1349–65.

Westerling, AL, Hidalgo, HG, Cayan, DR, Swetnam, TW, 2006. Warming and earlier spring increase western U.S. forest wildfire activity. Science 313: 940–3.

Wirth, C, Schulze, E-D, Luhker, B, Grigoriev, S, Siry, M, Hardes, G, Ziegler, W, Backor, M, Bauer, G, Vygodskaya, NN, 2002. Fire and site type effects on the long-term carbon and nitrogen balance in pristine Siberian Scots pine forests. Plant Soil 242: 41–63.

Yermakov, Z, Rothstein, DE, 2006. Changes in soil carbon and nitrogen cycling along a 72-year wildfire chronosequence in Michigan jack pine forests. Oecologia 149: 690–700.
Acknowledgments
This manuscript was greatly improved by the comments of two anonymous reviewers and the subject editor. We would like to thank Dan Tinker and Kelli Belden at the University of Wyoming Soils Analysis Lab for assistance with processing N extracts on the autoanalyzer at the University of Wyoming. We are indebted to the hard-working field crew (Kellen Nelson, Heather Lyons, Therese Tepe, Lance Farman, Lance East, Rick Arcano, Andy Whelan, Deborah Fritts, Lauren Alleman, Caitlin Balch-Burnett, Lisa Huttinger, Kevin Ruzicka, Megan Busick, and Brandon Corcoran), to those who completed the laboratory analyses and preparation (Kellen Nelson, Marc Barker, Chris Herron, Todd Hagadone, Tiann Heit, Kevin Ruzicka, Tiffany Minton, Lauren Alleman, Chris Martin, Ashlee Wallin, Becky Dritz, and Aliy Louie) and to Kellen Nelson for overseeing the CHN analysis at Colorado State University. We also thank Hank Harlow and Rich Viola at the University of Wyoming-National Park Research Center and the Department of Forest, Rangeland, and Watershed Stewardship at Colorado State University for 3 years of logistical support. This study was funded in part by a grant from the US Joint Fire Science Program to M.G. Ryan, M.G. Turner, W.H. Romme, and D.B. Tinker and in part from the Conservation and Environment Program of the Andrew W. Mellon Foundation.
Additional information
Author contributions
EAHS, MGT, and MGR conceived the study; DMK performed field research; EAHS and DMK oversaw laboratory analyses and analyzed data; EAHS wrote the paper.
Electronic supplementary material
Below is the link to the electronic supplementary material.
About this article
Cite this article
Smithwick, E.A.H., Kashian, D.M., Ryan, M.G. et al. Long-Term Nitrogen Storage and Soil Nitrogen Availability in Post-Fire Lodgepole Pine Ecosystems. Ecosystems 12, 792–806 (2009). https://doi.org/10.1007/s10021-009-9257-1
Received:

Revised:

Accepted:

Published:

Issue Date:
Keywords
nitrate

ammonium

chronosequence

succession

density

yellowstone

Pinus contorta