Abstract
A removal experiment was used to examine the restoration potential of a lowland wet forest in Hawaii, a remnant forest type that has been heavily invaded by non-native species and in which there is very little native species regeneration. All non-native woody and herbaceous biomass (approximately 45% of basal area) was removed in four 100-m2 removal plots; plots were followed for a three-year period. Removal plots had a lower leaf area index, higher air temperatures, higher afternoon soil temperatures, and lower relative humidity than control plots. Removal plots had 40% less litterfall mass and similarly reduced nutrient inputs. Leaf litter decomposition rates were much slower in the removal plots, due more to site quality than litter quality. However, soil N and P were not different between treatments. Native species had a distinct suite of leaf traits (greater integrated water use efficiency, lower mass-based leaf nutrient concentrations, and lower specific leaf area). Despite major environmental changes in the removal plots, native species' diameter growth and litterfall productivity were not significantly greater after removal, testifying to the slow response capabilities of native Hawaiian trees. Our results are consistent with the expectation that native species are conservative in regards to resource use and may not strongly respond to canopy removal, at least at the adult stage. Management strategies will have to incorporate the slow growth rate of Hawaiian species and the fact that weeding may be required to suppress expansion and nutrient inputs of introduced species.
Access options
Buy single article
Instant access to the full article PDF.
USD 39.95
Price includes VAT (USA)
Tax calculation will be finalised during checkout.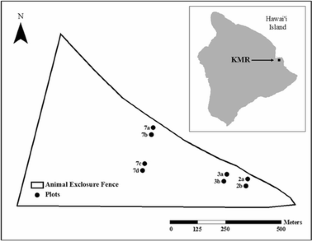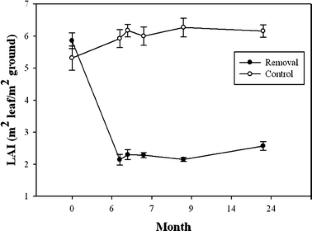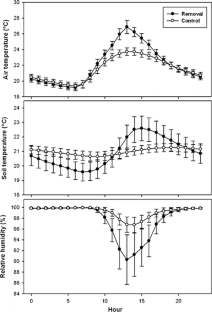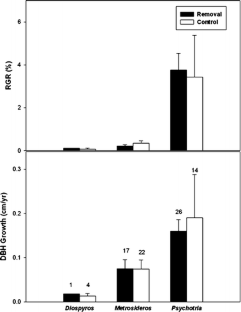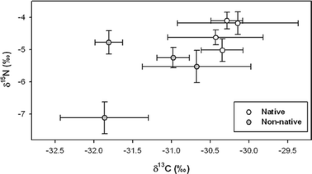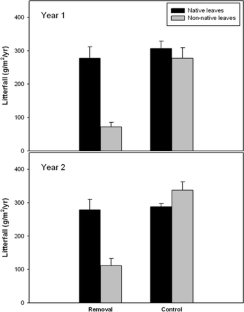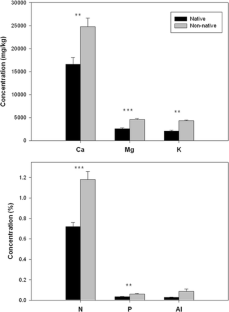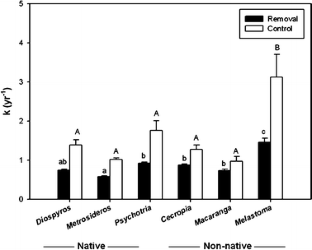 References
Adams M, Grierson P. 2001. Stable isotopes at natural abundance in terrestrial plant ecology and ecophysiology: an update. Plant Biol 3:299-310

Austin AT, Vitousek PM. 2000. Precipitation, decomposition and litter decomposability of Metrosideros polymorpha in native forests on Hawai'i. J Ecol 88:129-38

Baker TR, Swaine MD, Burslem DFRP (2003) Variation in tropical forest growth rates: combined effects of functional group composition and resource availability. Perspect Plant Ecol Evol Syst 6:21–36

Baruch Z, Goldstein G. 1999. Leaf construction cost, nutrient concentration, and net CO2 assimilation of native and invasive species in Hawaii. Oecologia 121:183-92

Burton PJ, Mueller-Dombois D. 1984. Response of Metrosideros polymorpha seedlings to experimental canopy opening. Ecology 65:779-91

Clark DA, Brown S, Kicklighter DW, Chambers JQ, Thomlinson JR, Ni J, Holland EA. 2001. Net primary production in tropical forests: An evaluation and synthesis of existing field data. Ecol Appl 11:371-84

Clarke KR, Gorley RN. 2001. Primer v5: User manual/tutorial. Plymouth, MA: Primer-E Ltd

Cordell S, Goldstein G, Meinzer FC, Vitousek PM. 2001. Regulation of leaf life-span and nutrient-use efficiency of Metrosideros polymorpha trees at two extremes of a long chronosequence in Hawaii. Oecologia 127:198-206

Cordell S, Ostertag R, Rowe B, Sweinhart L, Vasquez-Radonic L, Michaud J, Cole TC, Schulten JR. In press. Seed and seedling dynamics in an invaded Hawaiian lowland wet forest. J Trop Ecol

D'Antonio CM, Chambers JC. 2006. Using ecological theory to manage or restore ecosystems affected by invasive plant species. In: Falk DA, Palmer MA, Zedler JB, Eds., Foundations of restoration ecology. Washington, DC, Island Press, pp. 260-79

D'Antonio CM, Hughes, RF, Mack, M. Hitchcock, D. Vitousek, P. M. 1998. The response of native species to removal of invasive exotic grasses in a seasonally dry Hawaiian woodland. Journal of Vegetation Science 9:699-712

Daehler CC. 2003. Performance comparisons of co-occurring native and alien invasive plants: implications for conservation and restoration. Annu Rev Ecol Syst 34:183-211

Denslow JS. 2003. Weeds in paradise: Thoughts on the invasibility of tropical islands. Ann Mo Bot Gard 90:119-27

Diaz S, Symstad AJ, Chapin FS, III, Wardle DA, Huenneke LF. 2003. Functional diversity revealed by removal experiments. Trends Ecol Evol 18:140-6

Ehrenfeld JG. 2003. Effects of exotic plant invasions on soil nutrient cycling processes. Ecosystems 6:503-23

Gagné W, Cuddihy L. 1999. Vegetation. In: Wagner WL, Herbst DR, Sohmer SH, Eds., Manual of the flowering plants of Hawaii. Honolulu, HI: Bishop Museum, pp. 45-114

Gerrish G, Mueller-Dombois D. 1999. Measuring stem growth rates for determining age and cohort analysis of a tropical evergreen tree. Pac Sci 53:418-29

Gerrish G, Mueller-Dombois D, Bridges KW. 1988. Nutrient limitation and Metrosideros forest dieback in Hawaii USA. Ecology 69:723-7

Harrington RA, Fownes JH, Vitousek PM. 2001. Production and resource use efficiencies in N- and P-limited tropical forests: A comparison of responses to long-term fertilization. Ecosystems 4:646-57

Holmes PM, Cowling RM. 1997. Diversity, composition and guild structure relationships between soil-stored seed banks and mature vegetation in alien plant-invaded South African fynbos shrublands. Plant Ecology 133:107-22

Hughes RF, Denslow JS. 2005. Invasion by a N-2-fixing tree alters function and structure in wet lowland forests of Hawaii. Ecol Appl 15:1615-28

Kilpatrick AM. 2006. Facilitating the evolution of resistance to avian malaria in Hawaiian birds. Biol Conserv 128:475-85

Kueffer C, Klingler G, Zirfass K, Schumacher E, Edwards PJ, Güsewell S. 2008. Invasive trees show only weak potential to impact nutrient dynamics in phosphorus-poor tropical forests in the Seychelles. Funct Ecol 22:359-66

Loh RK, Daehler CC. 2007. Influence of invasive tree kill rates on native and invasive plant establishment in a Hawaiian forest. Restor Ecol 15:199-211

Loh R, Daehler C. 2008. Influence of woody invader control methods and seed availability on native and invasive species establishment in a Hawaiian forest. Biol Invasions 10:805-19

Maron JL, Connors PG. 1996. A native nitrogen-fixing shrub facilitates weed invasion. Oecologia 105:302-12

Ostertag R, Hobbie SE. 1999. Early stages of root and leaf decomposition in Hawaiian forests: effects of nutrient availability. Oecologia 121:564-73

Pattison RR, Goldstein, G., and Ares, A. 1998. Growth, biomass allocation and photosynthesis of invasive and native Hawaiian rainforest species. Oecologia 117:449-59

Perkins RCL. 1903. Vertebrata. In: Sharp D, Ed., Fauna Hawaiiensis. Cambridge, England: The University Press, pp. 365-466

Price J, Gon III SM, Jacobi JD, Matsuwaki D. 2007. Mapping plant species ranges in the Hawaiian Islands: developing a methodology and associated GIS layers. Hawai'i Cooperative Studies Unit Technical Report HCSU-008. University of Hawai'i at Hilo, Hilo, HI

SAS Institute. 1995. JMP introductory guide, version 3.1. Cary, NC: SAS Institute

Scott JM, Mountainspring S, Ramsey FL, Kepler CB. 1986. Forest bird communities of the Hawaiian Islands: their dynamics, ecology, and conservation. Lawrence, KS: Allen Press

Simberloff D. 1995. Why do introduced species appear to devastate islands more than mainland areas? Pac Sci 49:87–97

Simmons MT, Archer SR, Ansley RJ, Teague WR. 2007. Grass effects on tree (Prosopis glandulosa) growth in a temperate savanna. J Arid Environ 69:212-27

Spiegel CS, Hart PJ, Woodworth BL, Tweed EJ, LeBrun JJ. 2006. Distribution and abundance of forest birds in low-altitude habitat on Hawai'i Island: evidence for range expansion of native species. Bird Conserv Int 16:175-85

Sternberg LDSL, Mulkey SS, Wright SJ. 1989. Ecological interpretation of leaf carbon isotope ratios: influence of respired carbon dioxide. Ecology 70:1317-24

Stock WD, Wienand KT, Baker AC. 1995. Impacts of invading N-2-fixing Acacia species on patterns of nutrient cycling in two Cape ecosystems: evidence from soil incubation studies and 15N natural abundance values. Oecologia 101:375-82

Symstad AJ, Tilman D. 2001. Diversity loss, recruitment limitation, and ecosystem functioning: lessons learned from a removal experiment. Oikos 92:424-35

Vitousek PM. 1998. Foliar and litter nutrients, nutrient resorption, and decomposition in Hawaiian Metrosideros polymorpha. Ecosystems 1:401-7

Vitousek PM. 2004. Nutrient cycling and limitation: Hawai'i as a model system. Princeton, NJ: Princeton University Press

Vitousek PM, Denslow JS. 1986. Nitrogen and phosphorus availability in treefall gaps of a lowland tropical forest. J Ecol 74:1167–78

Vitousek PM, Walker LR. 1989. Biological invasion by Myrica faya in Hawai'i: plant demography, nitrogen fixation, and ecosystem effects. Ecol Monogr 59:247-65

Vitousek PM, Turner DR, Parton WJ, Sanford RL. 1994. Litter decomposition on the Mauna Loa environmental matrix, Hawaii: patterns, mechanisms, and models. Ecology 75:418–29

Wagner W, D.R. Herbst, Sohmer S. 1999. Manual of the flowering plants of Hawaii. 2nd ed. Honolulu, HI: Bishop Museum

Wardle DA, Bonner KI, Barker GM, Yeates GW, Nicholson KS, Bardgett RD, Watson RN, Ghani A. 1999. Plant removals in perennial grassland: vegetation dynamics, decomposers, soil biodiversity, and ecosystem properties. Ecol Monogr 69:535-68

Wong CP. 2007. Hawaiian lowland wet forests: impacts of invasive plants on light availability. J Young Invest 16:1-5

Woodworth BL, Atkinson CT, LaPointe DA, Hart PJ, Spiegel CS, Tweed EJ, Henneman C, LeBrun J, Denette T, DeMots R, Kozar KL, Triglia D, Lease D, Gregor A, Smith T, Duffy D. 2005. Host population persistence in the face of introduced vector-borne diseases: Hawaii amakihi and avian malaria. Proc Natl Acad Sci USA 102:1531-6

Yelenik SG, Stock WD, Richardson DM. 2004. Ecosystem level impacts of invasive Acacia saligna in the South African fynbos. Restor Ecol 12:44-51

Zavaleta ES, Hobbs RJ, Mooney HA. 2001. Viewing invasive species removal in a whole-ecosystem context. Trends Ecol Evol 16:454-9

Ziegler AC. 2002. Hawaiian natural history, ecology, and evolution. Honolulu, HI: University of Hawai'i Press

Zimmerman N, R.F. Hughes, S. Cordell, P. Hart, H.K. Chang, D. Perez, R.K. Like, Ostertag R. 2008. Patterns of primary succession of native and introduced plants in lowland wet forests in Eastern Hawaii. Biotropica 40:277–84
Acknowledgments
This research was funded and facilitated through NSF EPSCoR Awards 0237065 and 0554657, NSF REU 0139379, NSF TCUP 0223040, NSF CAREER 0546868, and The Institute of Pacific Islands Forestry. For coordinating student support, we thank K. Gunderson, S. Juvik, D. Kapp, H. E. Perry, C. Perez-Frayne, D. Price, and S. Ziegler-Chong. Access to field sites was provided by the Hawaii Army National Guard Environmental Office (Col. O. Peterson), and C. Thurkins, Major Lindsey, Craig Blaisdell, and Sean Botbyl facilitated this research at Keaukaha Military Reservation. We also thank C. Thurkins for her guidance and hard work and the numerous volunteers who assisted in plot creation. We thank all of those who helped us in the field, including K. Nelson-Kaula, J. Nygaard, K. Pien, B. Rowe, A. Skipper, L. Sweinhart, L. Vasquez-Radonic, and C. Wong. R. Schneider ran nutrient samples at the EPSCoR Analytical Laboratory Facility and L. Canale assisted with map making. D. Benitez and C. Perry provided helpful comments. Any opinions, findings, and conclusions or recommendations expressed in this material are those of the authors and do not necessarily reflect the views of NSF.
Additional information
Author Contributions
The study design was conceived and implemented by the three main authors, R.O., S.C., and J.M. All seven authors were involved in performing the research; two were undergraduate students (K.M.P. and J.H.E.) and two were technician employees (T.C.C. and J.R.S.). R.O. and S.C. analyzed the data in the paper, and R.O., S.C., and J.M. wrote the manuscript.
Electronic supplementary material
Below is the link to the electronic supplementary material.
About this article
Cite this article
Ostertag, R., Cordell, S., Michaud, J. et al. Ecosystem and Restoration Consequences of Invasive Woody Species Removal in Hawaiian Lowland Wet Forest. Ecosystems 12, 503–515 (2009). https://doi.org/10.1007/s10021-009-9239-3
Received:

Revised:

Accepted:

Published:

Issue Date:
Keywords
aboveground biomass

Metrosideros polymorpha

non-native species

nutrient cycling

productivity

resource availability