Abstract
This article examines how alternative rural funding scenarios might influence the pattern of functional land types in mountain areas. The study aims were to explore the use of stakeholders to predict landscape change and to provide a future policy context for other papers in the Carbomont program. EU rural funding policies could have a strong influence on land use and landscapes in mountain areas. At eight sites across Europe, groups of local stakeholders were asked to compare the possible effects of three contrasting funding scenarios over an imagined period of 20 years on (1) the importance of the main land-use sectors; (2) the areas of the main land functional land types; and (3) the management of individual land types. Stakeholders also listed their interests in the area to help define the perspective of the group. The protocols used were ranking and scoring procedures that permitted quantification of changes and of the degree of consensus within the group. The scenarios were (1) continuation of current rural funding (status quo), (2) rapid reduction of farm income support (reduce support), and (3) increasing rural diversification funding (diversification). The eight countries sampled included five established EU members (UK, Germany, Austria, Italy, Spain), two new accession members (Czeck Republic and Slovakia), and Switzerland. There were predicted to be widespread reductions in the importance of the agricultural sector across Europe and increases in the transport, built environment, and tourism sectors. In general, the status quo scenario was perceived to be unsatisfactory in various respects, reduce support was worse, but diversification offered opportunities for conservation and development of mountain communities and land use. Changes in the areas of land types would mainly involve loss of arable and grazing land and increases in scrub, and settlements. Some elements of the landscape such as most forests, mountain tops, and wetlands would, however, be little affected by any of the scenarios.
Access options
Buy single article
Instant access to the full article PDF.
USD 39.95
Price includes VAT (USA)
Tax calculation will be finalised during checkout.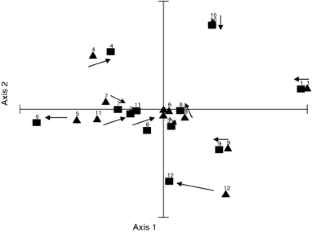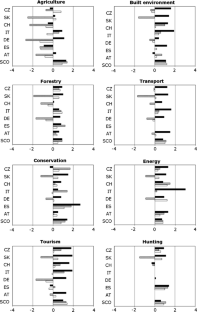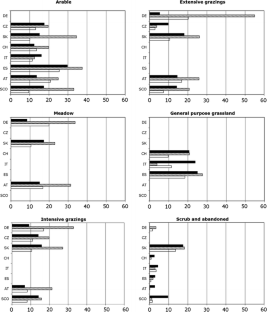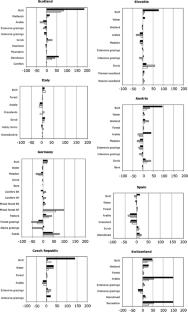 References
Bayfield NG. 2001. Mountain resources and conservation. In: Warren A, French JR (eds) Habitat conservation: managing the physical environment. Chichester: Wiley. pp 7–38

Bayfield NG, Larcher F. 2004. An approach to assessing stakeholders perceptions of rural funding policy scenario impacts on mountain landscapes in Europe. From knowledge of landscapes to landscape action. Proceedings, CEMAGREF Conference, Bordeaux (France), December 2004. Bordeaux: CEMAGREF, p 15

Cernusca A, Bahn M, Berninger F, Tappeiner U, Wohlfahrt G. 2008. Effects of land-use changes on sources, sinks and fluxes of carbon in European mountain grasslands. Ecosystems, this issue

DETR. 2000. DETR appraisal guidance. Multi-criteria analysis. A manual. London: Department of the Environment, Transport and the Regions

European Commission. 2004a. The common agricultural policy explained. Brussels: European Commission, Directorate General for Agriculture

European Commission. 2004b. Enlargement and agriculture. Brussels: European Commission, Directorate General for Agriculture

Fowler D, Battarbee R 2005. Climate change and pollution in the mountains: the nature of change. In: Thompson DBA, Price MF, Galbraith CA (eds) Mountains of Northern Europe. Conservation, Management and Nature. Edinburgh: Scottish Natural Heritage. p 71–88

Messerli B, Ives JD (eds). 1997. Mountains of the world: a global priority. Parthenon, London

Midgeley JL, Shucksmith DM, Birnie RV, Geddes A, Bayfield N, & Elston D. 2005. Rural development policy and community data needs in Scotland. Land Use Policy 22: 163–174

Moss R, Catt DC, Bayfield NG, French DD. 1996. The application of decision theory to sustainable management of an upland Scottish estate. Journal of Applied Statistics 23: 211–229

Pontius GR Jr., Cornell JD, Hall CAS 2001. Modeling the spatial pattern of land-use change with GEOMOD2: application and validation for Costa Rica. Agriculture, Ecosystems and Environment 1775: 1–13

Tappeiner U, Bayfield N 2002. Management of mountainous areas. In: Verbeye WH, (eds). Land Use. Encyclopaedia of Life Support Systems (EOLSS). Eolss Publishers, Oxford. p 1–17

Tappeiner U, Tappeiner G, Hilbert A. Mattanovich, (eds). 2003. The EU Agricultural Policy and the Environment. Evaluation of the Alpine Region. Blackwell Verlag, European Academy, Bozen. Vienna

Tappeiner U, Tasser E, Leitinger G, Cernusca A, Tappeiner G. 2008. Effects of historical and likely future scenarios of land use on above- and belowground vegetation carbon stocks of an Alpine valley. Ecosystems, this issue

Tasser E, Tappeiner U. 2002. The impact of land-use changes in time and space on vegetation distribution in mountain areas. Applied Vegetation Science 5: 173–184
Electronic supplementary material
Below is the link to the electronic supplementary material.
About this article
Cite this article
Bayfield, N., Barancok, P., Furger, M. et al. Stakeholder Perceptions of the Impacts of Rural Funding Scenarios on Mountain Landscapes Across Europe. Ecosystems 11, 1368–1382 (2008). https://doi.org/10.1007/s10021-008-9197-1
Received:

Revised:

Accepted:

Published:

Issue Date:
Keywords
stakeholders

rural funding scenarios

mountains

landscape change

decision modeling

land types

land use

land management

prediction