Abstract
Deadwood is an important component for conserving carbon stock and maintaining species diversity. Scarce information is, at present, available concerning the amount and composition of deadwood in Mediterranean-type ecosystems. In this study, 21 sites were chosen to characterize different forest types among representative managed and unmanaged stands in the Central Apennines (Molise, Italy). Data were collected to assess living tree and deadwood volumes, and the relative abundance of different deadwood components in decay classes. The information gathered was related to human-induced disturbances on a regional scale. There were substantial differences in the deadwood volumes between managed and unmanaged stands, although this was not the case in the living tree volumes. Deadwood volumes were larger in unmanaged than in managed stands. In particular, large amounts of deadwood were found in managed Mediterranean and Anatolian fir forests, probably due to minimal management practices. Dead downed trees were less represented in managed forests as they are normally removed to facilitate logging activities. Logs occurred more frequently in managed stands as logging residues left on site. Most deadwood material belonged to early decay classes. Proportionally larger amounts of deadwood ascribed to class 1 in managed stands correlated with recent cutting activities. The relatively large amounts of deadwood attributed in unmanaged stands to class 3 demonstrate its longer persistence in unmanaged forests. This study represents a first systematic analysis of deadwood occurrence in a typical Mediterranean forest area, and should be useful in defining important objectives for sustainable forest management.
This is a preview of subscription content, log in to check access.
Access options
Buy single article
Instant access to the full article PDF.
US$ 39.95
Price includes VAT for USA
Subscribe to journal
Immediate online access to all issues from 2019. Subscription will auto renew annually.
US$ 99
This is the net price. Taxes to be calculated in checkout.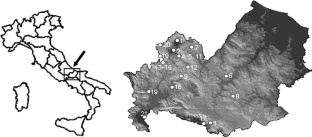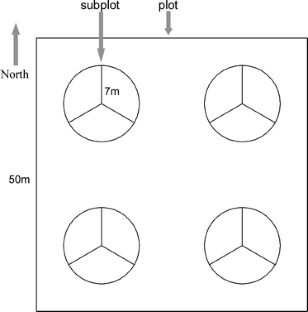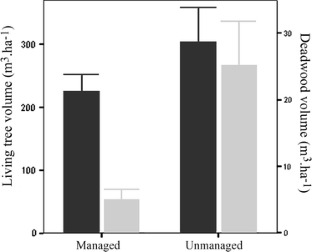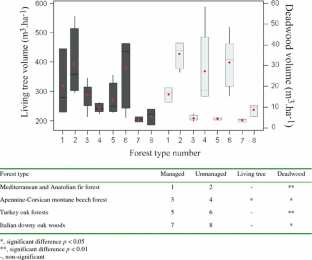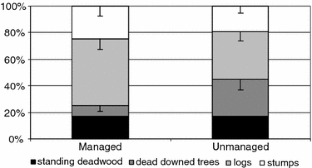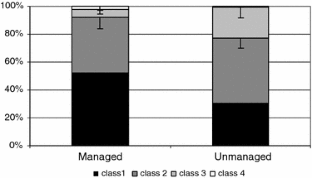 References
Boddy L, Rayner ADM 1983. Ecological roles of Basidiomycetes forming decay communities in attached oak branches. New Phytol 93: 77–88

Bormann FH, Likens GE 1994. Pattern and process in a forested ecosystems. Springer-Verlag, New York, USA, 253 p

Bretz Guby NA, Dobbertin M 1996. Quantitative estimates of coarse woody debris and standing dead trees in selected Swiss forests. Global Ecology and Biogeography Letters 5: 327–341

Christensen M, Hahn K, Mountford EP, Wijdeven SMJ, Manning DB, Standovar T, Odor P, Rozenbergar D. 2003. Study on deadwood in European beech forest reserves. Work package 2 in the Nat-Man project (Nature-based Management of beech in Europe). European Community 5th Framework Programme. URL: http://www.flec.kvl.dk/natman

Ciancio O, Iovino F, Menguzzato G, Mirabella G 1985. L'abete (Abies alba Mill.) in Calabria: possibilità e limiti di diffusione e ridiffusione. Annalli dell'Istituto Sperimentale per la Selvicoltura 16:7–249

Dagnelie P. 1973. Théorie et méthodes statistiques, Volume 1. Gembloux, Belgium: Les Presses Agronomiques De Gembloux A.S.B.L. p 378

Dagnelie P 1975. Théorie et méthodes statistiques, Volume 2. Les Presses Agronomiques De Gembloux, A.S.B.L., Gembloux, Belgium, 463 p

Di Martino P 1988. Silver fir in three forests of Molise. In: Salbitano F (ed.) Human influence on forest ecosystems development in Europe, pp. 335–338. ESF-FERN-CNR, Pitagora Editrice, Bologna, Italy

Elton CS 1966. Dying and deadwood. The patterns of animal communities. John Wiley, New York, USA

European Environment Agency (EEA). 2006. European forest types. Categories and types for sustainable forest management reporting and policy. Technical Report N. 9/2006, EEA, Copenhagen, Denmark

Falinski JB. 1978. Uprooted trees, their distribution and influences in the primeval forest biotope. Vegetatio 38:175–183.

ForestBiota, Forest biodiversity test-phase assessments 2004. ForestBiota. Project proposal under regulation (EC) No 2152/2003 (Forest Focus) for the development of forest biodiversity monitoring (Art. 6(2) monitoring test phase). URL: http://www.forestbiota.org/docs/ProjectProposal04.pdf

Franklin JF, Shugart HH, Harmon ME 1987. Tree death as an ecological process. Bioscience 37: 550–556

Green P, Peterken GF 1997. Variation in the amount of deadwood in the woodlands of the Lower Wye Valley, UK in relation to the intensity of management. Forest Ecology and Management 98: 229–238

Gregoire TG, Valentine HT 2003. Line intersect sampling: ell-shaped transects and multiple intersections. Environmental and Ecological Statistics 10: 263–279

Haapannen A 1965. Bird fauna in the Finnish forests in relations to forest succession. Annales Zoologici Fennici 2: 153–196

Harmon ME 2001. Moving towards a new paradigm for woody detritus management. Ecological Bulletins 49: 269–278

Harmon ME, Franklin JF, Swanson FJ, Sollins P, Gregory SV, Lattin JD, Anderson NH, Cline SP, Aumen NG, Sedell JR, Lienkaemper GW, Cromack K, Cummins KW 1986. Ecology of coarse woody debris in temperate ecosystems. Advances in Ecological Research 15: 133–302

Heilmann-Clausen J 2001. A gradient analysis of communities of macrofungi and slime moulds on decaying beech logs. Mycological Research 105: 575–596

Hennon PE, Shaw III CG, Hansen EM. 1990. Dating decline and mortality of Chamaecyparis nootkatensis in southeast Alaska. Forest Sci 36:502–515.

Hodge SJ, Peterken GF 1998. Deadwood in British forests: priorities and a strategy. Forestry 71: 99–112

Høiland K., Bendiksen E 1997. Biodiversity of wood-inhabiting fungi in a boreal coniferous forest in Sor-Trondelag County, Central Norway. Nordic Journal of Botany 16: 643–659

Humphrey JW, Davey S, Peace AJ, Ferris R, Harding K 2002. Lichens and bryophyte communities of planted and semi-natural forests in Britain: the influence of site type, stand structure and deadwood. Biological Conservation 107: 165–180

Hunter ML 1990. Wildlife, forests, and forestry: principles of managing forests for biological diversity. Englewood Cliffs, N.J., USA

Huston MA. 1996. Models and management implications of coarse woody debris impacts on biodiversity. In: McMinn JW, Crossley DA, Eds. Biodiversity and coarse woody debris in southern forests. U.S. Forest Service Southeastern Experiment Station, Gen. Tech. Rep. SE−94, pp 139–43

Huston MA, Marland G. 2003. Carbon management and biodiversity. J Environ Manage 67:77–86.

Jonsson BG 2000. Availability of coarse woody debris in a boreal old-growth Picea abies forest. Journal of Vegetation Science 11: 51–56

Kirby KJ, Reid CM, Thomas RC, Goldsmith FB 1998. Preliminary estimates of fallen deadwood and standing dead trees in managed and unmanaged forests in Britain. Journal of Applied Ecology 35: 148–155

Kruys N, Jonsson BG 1999. Fine woody debris is important for species richness on logs in managed boreal spruce forests of northern Sweden. Canadian Journal of Forest Research 29: 1295–1299

Larsson TB, Ed. 2001. Biodiversity evaluation tools for European forests. Ecol Bull 50:1–237

Lesica P, McCune B, Cooper SV, Hong WS 1991. Differences in lichen and bryophyte communities between old-growth and managed second-growth forests in the Swan Valley, Montana. Canadian Journal of Botany 69: 1745–1755

Lombardi F, Cherubini P, Lasserre B, Tognetti R, Marchetti M 2008. Tree rings used to assess time-since-death of deadwood of different decay classes in beech and silver fir forests in the Central Apennines (Molise, Italy). Canadian Journal of Forest Research. 38: 821–833

MacCarthy BC, Bailey RR 1993. Distribution and abundance of coarse woody debris in a managed forest landscape of the central Appalachians. Canadian Journal of Forest Research 24: 1317–1329

MAF, Italian Ministry of Agriculture and Forest. 1984. Italian National Forest Inventory (I.F.N.I.). Tavole di cubatura a doppia entrata. I.S.A.F.A. Trento, Italy

Marchetti M, Lombardi F. 2006. Analisi quali-quantitativa del legno morto in soprassuoli non gestiti: il caso di Bosco Pennataro, Alto Molise. L'Italia Forestale e Montana 61:275–302

McComb W, Lindenmayer J 1999. Dying, dead, and down trees. In: Hunter ML (ed.) Maintaining biodiversity in forest ecosystems, pp. 335–372. Cambridge University Press, Cambridge, UK

MCPFE and EfE/PEBLDS. 2004. Ad hoc working group on development of the pan European understanding of the linkage between the ecosystem approach and sustainable forest management. Ministerial Conference on the Protection of Forests in Europe, Liaison Unit, Warsaw, Poland

Mielikäinen K, Hynynen J. 2003. Silvicultural management in maintaining biodiversity and resistance of forests in Europe - boreal zone: case Finland. In: Parviainen J, Ed. Special issue: maintaining forest biodiversity. J Environ Manage 67(1): 47–54

Mikusinski G, Angelstam P 1997. European woodpeckers and anthropogenic habitat change: a review. Vogelwelt 118: 277–283

Ódor P., Standovár T 2001. Richness of bryophyte vegetation in a near-natural and managed beech stands: the effects of management-induced differences in deadwood. Ecological Bulletin 49: 219–229

Pedlar JH, Pearce JL, Venier LA, McKenney D.W 2002. Coarse woody debris in relation to disturbance and forest type in boreal Canada. Forest Ecology and Management 158: 189–194

Peterken GF 1996. Natural woodland – Ecology and conservation in northern temperate regions. Cambridge University press, Cambridge, UK

Raymond LR, Hardy LM 1991. Effects of a clearcut on a population of the mole salamander (Ambystoma talpoideum) in an adjacent unaltered forest. Journal of Herpetology 25: 509–512

Siitonen J 2001. Forest management, coarse woody debris and saproxylic organisms: Fennoscandian boreal forests as an example. Ecological Bulletin 49, 11–42

Siitonen P, Martikainen P, Punttila P, Rauh J 2000. Coarse woody debris and stand characteristics in mature and old-growth boreal mesic forests in southern Finland. Forest Ecology and Management 128: 211–225

Spetich MA, Shifley SR, Parker GR 1999. Regional distribution and dynamics of coarse woody debris in Midwestern old-growth forests. Forest Science 45: 302–313

Sprent P. 1992. Pratique de statistique non paramétriques. © INRA, Paris, France, p 294

Travaglini D, Mason F, Lopresti M, Lombardi F, Marchetti M, Chirici G, Corona P. 2006. Aspects of biological diversity in the CONECOFOR plots. V. Deadwood surveying experiments in alpine and mediterranean forest ecosystems. Annali dell'Istituto Sperimentale per la Selvicoltura. 30:71–86

WWF 2004. Deadwood - Living Forest. The importance of veteran trees and deadwood to biodiversity. WWF World Wide Fund For Nature, Gland, Switzerland
Acknowledgements
We thank Dr. Paolo di Martino (University of Molise) for valuable comments, advice, and discussion on earlier versions of this manuscript and Pierpaolo Iannitelli for his help with the field surveys. We also thank Dr. Silvia Dingwall for language revision.
About this article
Cite this article
Lombardi, F., Lasserre, B., Tognetti, R. et al. Deadwood in Relation to Stand Management and Forest Type in Central Apennines (Molise, Italy). Ecosystems 11, 882 (2008). https://doi.org/10.1007/s10021-008-9167-7
Received:

Revised:

Accepted:

Published:
Keywords
deadwood

decay classes

decomposition

disturbance dynamics

forest structure

Mediterranean ecosystems