Abstract
Secondary forests are becoming increasingly widespread in the tropics, but our understanding of how secondary succession affects carbon (C) cycling and C sequestration in these ecosystems is limited. We used a well-replicated 80-year pasture to forest successional chronosequence and primary forest in Puerto Rico to explore the relationships among litterfall, litter quality, decomposition, and soil C pools. Litterfall rates recovered rapidly during early secondary succession and averaged 10.5 (± 0.1 SE) Mg/ha/y among all sites over a 2-year period. Although forest plant community composition and plant life form dominance changed during succession, litter chemistry as evaluated by sequential C fractions and by 13C-nuclear magnetic resonance spectroscopy did not change significantly with forest age, nor did leaf decomposition rates. Root decomposition was slower than leaves and was fastest in the 60-year-old sites and slowest in the 10- and 30-year-old sites. Common litter and common site experiments suggested that site conditions were more important controls than litter quality in this chronosequence. Bulk soil C content was positively correlated with hydrophobic leaf compounds, suggesting that there is greater soil C accumulation if leaf litter contains more tannins and waxy compounds relative to more labile compounds. Our results suggest that most key C fluxes associated with litter production and decomposition re-establish rapidly—within a decade or two—during tropical secondary succession. Therefore, recovery of leaf litter C cycling processes after pasture use are faster than aboveground woody biomass and species accumulation, indicating that these young secondary forests have the potential to recover litter cycling functions and provide some of the same ecosystem services of primary forests.
Access options
Buy single article
Instant access to the full article PDF.
USD 39.95
Price excludes VAT (USA)
Tax calculation will be finalised during checkout.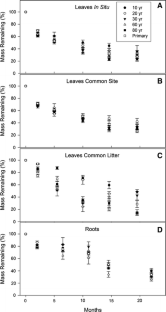 References
Aide TM, Grau HR 2004. Globalization, migration, and Latin American ecosystems. Science 305:1915–6

Aide TM, Zimmerman JK, Pascarella JB, Rivera L, Marcano-Vega H 2000. Forest regeneration in a chronosequence of tropical abandoned pastures: implications for restoration ecology. Restor Ecol 8:328–38

Allen SE, Grimshaw HM, Parkinson JA, Quarmby C 1974. Chemical analysis of ecological materials. Oxford, England: Blackwell Scientific Publications. 565 pp

Almendros G, Tinoco P, Gonzalez-Vila FJ, Ludemann H.-D, Sanz J, Velasco F 2001. 13C-NMR of forest soil lipids. Soil Sci Soc Am J 166:186–96

Asner GP, Townsend AR, Bustamante MMC, Nardoto GB, Olander LO 2004. Pasture degradation in the Central Amazon: linking carbon and nutrient dynamics with remote sensing. Glob Change Biol 10:844–62

Baldock JA, Oades JM, Waters AG, Peng X, Vassallo AM, Wilson MA 1992. Aspects of the chemical structure of soil organic materials as revealed by solid-state carbon-13 NMR spectroscopy. Biogeochemistry 16:1–42

Baldock JA, Preston CM 1995. Chemistry of carbon decomposition processes in forests as revealed by solid-state carbon-13 nuclear magnetic resonance. In: McFee WW, Kelly JM, Eds. Carbon forms and functions in forest soils. Madison, WI: Soil Science Society of America Inc. pp 89–117

Bayala J, Balesdent J, Marol C, Zapata F, Teklehaimanot Z, Ouedraogo SJ 2006. Relative contribution of trees and crops to soil carbon content in a parkland system in Burkina Faso using variations in natural C-13 abundance. Nutr Cycl Agroecosys 76:193–201

Braids OC, Miller RH 1975. Fats, waxes, and resins in soil. In: Gieseking JE, Ed. Soil components. Berlin: Springer. pp 343–68

Brown S, Lugo AE 1990. Tropical secondary forests. J Trop Ecol 6:1–32

Chazdon RL 2003. Tropical forest recovery: legacies of human impact and natural disturbances. Perspect Plant Ecol Evol Syst 6:51–71

Cleveland CC, Reed SC, Townsend AR 2006. Nutrient regulation of organic matter decomposition in a tropical rain forest. Ecology 87:492–503

Coley PD 1983. Herbivory and defensive characteristics of tree species in a lowland forest. Ecol Monogr 53:209–33

Coley PD, Aide TM 1991. Comparison of herbivory and plant defenses in temperate and tropical broad-leaved forests. In: Price PW, Lewinsohn TM, Fernandes G, Benson W, Eds. Plant–animal interactions: evolutionary ecology in tropical and temperate regions. New York, NY: Wiley. pp 25–49

Coley PD, Barone JR 1996. Herbivory and plant defenses in tropical forests. Annu Rev Ecol Syst 27:305–35

Coley PD, Bryant JP, Chapin FS 1985. Resource availability and plant antiherbivore defense. Science 230:895–9

Cornelissen JHC 1996. An experimental comparison of leaf decomposition rates in a wide range of temperate plant species and types. J Ecol 84:573–82

Cuevas E, Brown S, Lugo AE 1991. Above- and belowground organic matter storage and production in a tropical pine plantation and a paired broadleaf secondary forest. Plant Soil 135:257–68

Daly C, Helmer EH, Quiñones M. 2003. Mapping the climate of Puerto Rico, Vieques and Culebra. Int J Climatol 23:1359–81

Denslow JS, Guzman GS 2000. Variation in stand structure, light and seedling abundance across a tropical moist forest chronosequence, Panama. J Veg Sci 11:201–12

Dinel H, Schnitzer M, Mehuys GR 1990. Soil lipids: origin, nature, content, decomposition and effect on soil physical properties. In: Bollag J-M, Stotzky G, Eds. Soil biochemistry, vol 6. New York, NY: Marcel Dekker, Inc. pp 397–422

Dubois M, Gilles KA, Hamilton JK, Rebers PA, Smith F 1956. Colorimetric method for determination of sugars and related substances. Anal Chem 28:350–6

Elmore AJ, Asner GP 2006. Effects of grazing intensity on soil carbon stocks following deforestation of a Hawaiian dry tropical forest. Glob Change Biol 12:1761–72

Epps KY, Comerford NB, Reeves III JB, Cropper WP Jr, Araujo QR 2007. Chemical diversity—highlighting a species richness and ecosystem function disconnect. Oikos 116:1831–40

Ewel JJ 1976. Litterfall and leaf decomposition in a tropical forest succession in eastern Guatemala. J Ecol 64:293–308

Ewel JJ, Whitmore JL 1973. The ecological life zones of Puerto Rico and the U.S. Virgin Islands. USDA Forest Service Research Paper No. ITF-18. Rio Piedras, PR: Institute of Tropical Forestry

Feeny P 1976. Plant apparency and chemical defense. In: Wallace J, Mansell RL, Eds. Biochemical interactions between plants and insects. Recent advances in phytochemistry. New York: Plenum Press. pp 1–40

Feldpausch TR, Rondon MA, Fernande ECM, Riha SJ, Wandelli E 2004. Carbon and nutrient accumulation in secondary forests regenerating on pastures in Central Amazonia. Ecol Appl 14:164–76

Finegan B 1996. Pattern and process in neotropical secondary rain forests: the first 100 years of succession. Trends Ecol Evol 11:119–24

Fisher MJ, Rao IM, Ayarza MA, Lascano CE, Sanz JI, Thomas RJ, Vera RR 1994. Carbon storage by introduced deep-rooted grasses in South African savannas. Nature 371:236–8

Franco PA, Weaver PL, Eggen-McIntosh S 1997. Forest resources of Puerto Rico, 1990. Resource bulletin SRS-22. Asheville, NC: USDA Forest Service, Southern Research Station

Gartner TB, Cardon ZG 2004. Decomposition dynamics in mixed-species leaf litter. Oikos 104:230–46

Gleixner G, Czimczik CJ, Kramer C, Luhker B, Schmidt MWI 2001. Plant compounds and their turnover and stabilization as soil organic matter. In: Schulze MHED, Harrison S, Holland E, Lloyd J, Prentice IC, Schimel D, Eds. Global biogeochemical cycles in the climate system. San Diego, CA: Academic Press. pp 201–15

Grau HR, Aide TM, Zimmerman JK, Thomlinson JR, Helmer E, Zou X 2003. The ecological consequences of socioeconomic and land-use changes in postagriculture Puerto Rico. Bioscience 53:1159–68

Guariguata MR, Chazdon RL, Denslow JS, Dupuy JM, Anderson L 1997. Structure and floristics of secondary and old-growth forest stands in lowland Costa Rica. Plant Ecol 132:107–20

Guariguata MR, Ostertag R 2001. Neotropical secondary forest succession: changes in structural and functional characteristics. For Ecol Manag 148:185–206

Hattenschwiler S, Vitousek PM 2000. The role of polyphenols in terrestrial ecosystem nutrient cycling. Trends Ecol Evol 15:238–43

Hauser S, Gang E, Norgrove L, Birang MA 2005. Decomposition of plant material as an indicator of ecosystem disturbance in tropical land use systems. Geoderma 129:99–108

Helmer EH, Ramos O, Lopez TDM, Quinones M, Diaz W 2002. Mapping the forest type and land cover of Puerto Rico, a component of the Caribbean biodiversity hotspot. Caribb J Sci 38:165–83

Hughes RF, Kauffman JB, Jaramillo VJ 1999. Biomass, carbon and nutrient dynamics of secondary forests in a humid tropical region of Mexico. Ecology 80:1892–907

Hunt HW, Ingham ER, Coleman DC, Elliot ET, Reid CPP 1988. Nitrogen limitation of production and decomposition in prairie, mountain meadow, and pine forest. Ecology 69:1009–16

Johnson JMF, Barbour NW, Weyers SL 2007. Chemical composition of crop biomass impacts its decomposition. Soil Sci Soc Am J 71:155–62

Kalyn AL, Van Rees KCJ 2006. Contribution of fine roots to ecosystem biomass and net primary production in black spruce, aspen, and jack pine forests in Saskatchewan. Agric For Meteorol 140:236–43

Kochy M, Wilson SD 1997. Litter decomposition and nitrogen dynamics in aspen forest and mixed-grass prairie. Ecology 78:732–9

Köegel-Knabner I, Hatcher PG, Zech W 1991. Chemical structural studies of forest soil humic acids aromatic carbon fraction. Soil Sci Soc Am J 55:241–7

Kraus TEC, Dahlgren RA, Zasoski RJ 2003. Tannins in nutrient dynamics of forest ecosystems: a review. Plant Soil 256:41–66

Lawrence D 2005. Regional-scale variation in litter production and seasonality in tropical dry forests of southern Mexico. Biotropica 37:561–70

Lehmann J, da Silva Cravo MS, Zech W 2001. Organic matter stabilization in a Xanthic Ferralsol of the central Amazon as affected by single trees: chemical characterization of density, aggregate, and particle size fractions. Geoderma 99:147–68

Li Y, Xu M, Zou X, Shi P, Zhang Y 2005. Comparing soil organic carbon dynamics in plantation and secondary forest in wet tropics in Puerto Rico. Glob Change Biol 11:239–48

Lichtfouse E, Leblond C, Da Silva M, Behar F 1998a. Occurrence of biomarkers and straight-chain biopolymers in humin: implication for the origin of soil organic matter. Naturwissenschaften 85:497–501

Lichtfouse E, Wehrung P, Albrecht P 1988b. Plant wax n-alkanes trapped in soil humin by noncovalent bonds. Naturwissenschaften 85:449–52

Loranger G, Ponge J-F, Imbert D, Lavelle P 2002. Leaf decomposition in two semi-evergreen tropical forests: influence of litter quality. Biol Fertl Soils 35:247–52

Loya WM, Johnson LC, Nadelhoffer KJ 2004. Seasonal dynamics of leaf-and root-derived C in arctic tundra mesocosms. Soil Biol Biochem 36:655–66

Lugo AE 1992. Comparison of tropical tree plantations with secondary forests of similar age. Ecol Monogr 62:1–41

Lugo-López MA, Beinroth FH, Vick RL, Acevedo G, Vázque MA 1995. Updated taxonomic classification of the soils of Puerto Rico, 1994. Río Piedras, PR: University of Puerto Rico, Mayagüez Campus, College of Agricultural Sciences. Agricultural Experiment Station

Marcano-Vega H, Aide TM, Baez D 2002. Forest regeneration in abandoned coffee plantations and pastures in the Cordillera Central of Puerto Rico. Plant Ecol 161:75–87

Marín-Spiotta E, Ostertag R, Silver WL 2007. Long-term patterns in tropical reforestation: plant community composition and aboveground biomass accumulation. Ecol Appl 17:828–39

Marín-Spiotta E, Swanston CW, Torn MS, Silver WL, Burton SD 2008a. Chemical and mineral control of soil carbon turnover in abandoned tropical pastures. Geoderma 143:49–62

Marín-Spiotta E, Cusack DF, Ostertag R, Silver WL 2008b. Trends in above and belowground carbon with forest regrowth after agricultural abandonment in the Neotropics. In: Myster RW, Ed. Post-agricultural succession in the Neotropics. New York, NY: Springer. pp 22–72

Marín-Spiotta, E, Silver WL, Swanston CW, Ostertag R (in revision) Soil carbon gain and loss during reforestation of tropical pastures. Global Change Biol

Martin PH, Sherman RE, Fahey TJ 2004. Forty years of tropical forest recovery from agriculture: structure and floristics of secondary and old-growth riparian forests in the Dominican Republic. Biotropica 36:297–317

Martius C, Höfer H, Garcia MVB, Römbke J, Förster B, Hanagarth W 2004. Microclimate in agroforestry systems in central Amazonia: does canopy closure matter to soil organisms? Agroforest Syst 60:291–304

McClaugherty CA, Pastor J, Aber JD, Melillo JM 1985. Forest litter decomposition in relation to soil nitrogen dynamics and litter quality. Ecology 66:266–75

Mesquita R, Workman SW, Neely C 1998. Slow litter decomposition in a Cecropia-dominated secondary forest of Central Amazonia. Soil Biol Biochem 30:167–75

Nelson DW, Sommers LE 1996. Total carbon, organic carbon, and organic matter. In: Sparks DR, Ed. Methods of soil analysis. Part 3. Chemical methods. Madison, WI: Soil Science Society of America Book Series. pp 961–1010

Northup RR, Dahlgren RA, McColl JG 1998. Polyphenols as regulators of plant-litter-soil interactions in northern California's pygmy forest: a positive feedback? Biogeochemistry 42:189–220

Ostertag R, Hobbie SE 1999. Early stages of root and leaf decomposition in Hawaiian forests: effects of nutrient availability. Oecologia 121:564–73

Ostertag R, Scatena FN, Silver WL 2003. Forest floor decomposition following hurricane litter inputs in several Puerto Rican forests. Ecosystems 6:261–73

Pascarella JB, Aide TM, Serrano MI, Zimmerman JK 2000. Land-use history and forest regeneration in the Cayey Mountains, Puerto Rico. Ecosystems 3:217–28

Preston CM, Trofymow JA, Canadian Intersite Decomposition Experiment Working Group 2000. Variability in litter quality and its relationship to litter decay in Canadian forests. Can J Bot 78:1269–87

Preston CM, Trofymow JA, Sayer BG, Niu J 1997. 13C nuclear magnetic resonance spectroscopy with cross-polarization and magic-angle spinning investigation of the proximate-analysis fractions used to assess litter quality in decomposition studies. Can J Bot 75:1601–13

Puget P, Drinkwater LE 2001. Short-term dynamics of root- and shoot-derived carbon from a leguminous green manure. Soil Sci Soc Am J 65:771–9

Rasiah V, Florentine SK, Williams BL, Westbrooke ME 2004. The impact of deforestation and pasture abandonment on soil properties in the wet tropics of Australia. Geoderma 120:35–45

Russell AE, Cambardella CA, Ewel JJ, Parkin TB 2004. Species, rotation, and life-form diversity effects on soil carbon in experimental tropical ecosystems. Ecol Appl 14:47–60

Ryan MG, Melillo JM, Ricca A 1990. A comparison of methods for determining proximate carbon fractions of forest litter. Can J For Res 20:166–71

Saldarriaga JG, West DC, Tharp ML, Uhl C 1988. Long-term chronosequence of forest succession in the upper Rio Negro of Colombia and Venezuela. J Ecol 76:938–58

Schweitzer JA, Bailey JK, Hart SC, Whitham TG 2005. Non-additive effects of mixing cottonwood genotypes on litter decomposition and nutrient dynamics. Ecology 86:2834–40

Silver WL, Kueppers LM, Lugo AE, Ostertag R, Matzek V 2004. Carbon sequestration and plant community dynamics following reforestation of tropical pasture. Ecol Appl 14:1115–27

Silver WL, Miya RK 2001. Global patterns in root decomposition: comparisons of climate and litter quality effects. Oecologia 129:407–19

Silver WL, Ostertag R, Lugo AE 2000. The potential for carbon sequestration through reforestation of abandoned tropical agricultural and pasture lands. Restor Ecol 8:1–14

Southeast Regional Climate Center. 2006. Historical climate summaries page. http://www.sercc.com/climateinfo/historical/historical.html. Accessed 2 June 2006

Tucker JM, Brondizio ES, Moran EE 1998. Rates of forest regrowth in eastern Amazonia: a comparison of Altamira and Bragantina Regions, Para State, Brazil. Interciencia 23:64–73

Veldkamp E 1994. Organic carbon turnover in three tropical soils under pasture after deforestation. Soil Sci Soc Am J 58:175–80

Wieder RK, Lang GE 1982. A critique of the analytical methods used in examining decomposition data obtained from litter bags. Ecology 63:1636–42

Xuluc-Tolosa FJ, Vester HFM, Ramirez-Marcial N, Castellanos-Albores J, Lawrence D 2003. Leaf litter decomposition of tree species in three successional phases of tropical dry secondary forest in Campeche, Mexico. For Ecol Manag 174:401–12

Zou X, Zucca CP, Waide RB, McDowell WH 1995. Long-term influence of deforestation on tree species composition and litter dynamics of a tropical rain forest in Puerto Rico. For Ecol Manag 78:147–57
Acknowledgments
This research was supported primarily by NSF grants DEB0129104 to WLS, and in part by BSR-8811902, DEB-9411973, DEB-008538, and DEB-0218039 to the Institute of Tropical Ecosystem Studies, UPR, and USDA-IITF as part of the Long-term Ecological Research Program in the Luquillo Experimental Forest. Additional support was provided by the Forest Service (U.S. Department of Agriculture) and the University of Puerto Rico. This work was done under the California Agricultural Experiment Station project 7069-MS (WLS). EMS was supported by the Department of Energy Global Change Education Program. Support for the Analytical Laboratory at University of Hawaii at Hilo was provided by NSF Award #0237065, Investing in Multidisciplinary University Activities through Hawaii EPSCoR, James Gaines Principal Investigator, and Donald Price, Kenneth Kaneshiro Co-Investigators. Any opinions, findings, and conclusions or recommendations expressed in this material are those of the authors and do not necessarily reflect the views of the National Science Foundation. A portion of the research described in this paper was performed in collaboration with Sarah D. Burton under User Proposal 7200 in the Environmental Molecular Sciences Laboratory, a national scientific user facility sponsored by the DOE BER and located at Pacific Northwest National Laboratory. The following provided invaluable lab and field help: Jaime Enoka, Mario Flores Mangual, Heidy Sierra-Roque, Keiko Publico, Christian Torres, Daniel Keck, Jimmy Chung, Harriet Jung, and Yuchen Cao. We thank Mitch Aide, John Pascarella, and Jess Zimmerman for inviting us to Cayey and the landowners and neighbors for site access. Logistical support and lodging in Puerto Rico was provided by Fred Scatena and Ariel Lugo, U.S. Department of Agriculture (USDA) International Institute of Tropical Forestry (IITF), the Reserva Estuarina de Bahía de Jobos, the Reserva Forestal de Carite, and University of Puerto Rico (UPR)-Cayey. Proximate analyses were provided by Brad Dewey of the University of Minnesota-Duluth and elemental analyses by Randi Schneider at the University of Hawaii at Hilo.
About this article
Cite this article
Ostertag, R., Marín-Spiotta, E., Silver, W.L. et al. Litterfall and Decomposition in Relation to Soil Carbon Pools Along a Secondary Forest Chronosequence in Puerto Rico. Ecosystems 11, 701–714 (2008). https://doi.org/10.1007/s10021-008-9152-1
Received:

Revised:

Accepted:

Published:

Issue Date:

DOI: https://doi.org/10.1007/s10021-008-9152-1
Keywords