Abstract
Agricultural areas are declining in many areas of the world, often because socio-economic and political changes make agriculture less profitable. The transition from centralized to market-oriented economies in Eastern Europe and the former Soviet Union after 1989 represented major economic and political changes, yet the resulting rates and spatial pattern of post-socialist farmland abandonment remain largely unknown. Remote sensing offers unique opportunities to map farmland abandonment, but automated assessments are challenging because phenology and crop types often vary substantially. We developed a change detection method based on support vector machines (SVM) to map farmland abandonment in the border triangle of Poland, Slovakia, and Ukraine in the Carpathians from Landsat TM/ETM+ images from 1986, 1988, and 2000. Our SVM-based approach yielded an accurate change map (overall accuracy = 90.9%; kappa = 0.82), underpinning the potential of SVM to map complex land-use change processes such as farmland abandonment. Farmland abandonment was widespread in the study area (16.1% of the farmland used in socialist times), likely due to decreasing profitability of agriculture after 1989. We also found substantial differences in abandonment among the countries (13.9% in Poland, 20.7% in Slovakia, and 13.3% in Ukraine), and between previously collectivized farmland and farmland that remained private during socialism in Poland. These differences are likely due to differences in socialist land ownership patterns, post-socialist land reform strategies, and rural population density.
Access options
Buy single article
Instant access to the full article PDF.
US$ 39.95
Tax calculation will be finalised during checkout.
Subscribe to journal
Immediate online access to all issues from 2019. Subscription will auto renew annually.
US$ 79
Tax calculation will be finalised during checkout.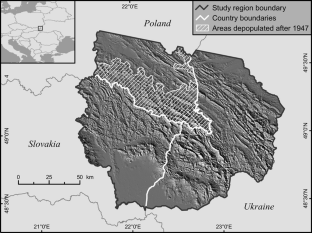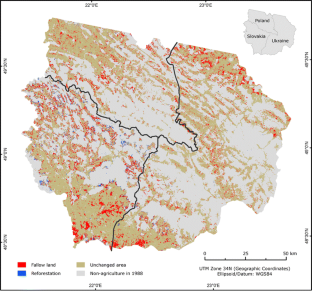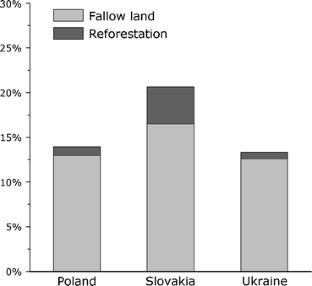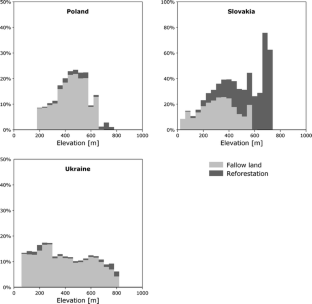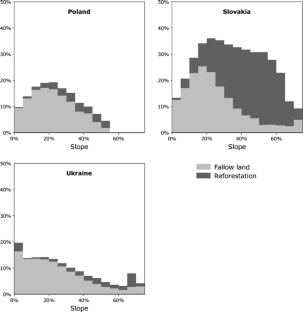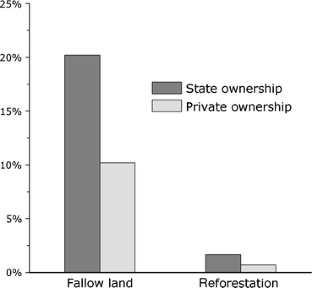 References
Angelstam P, Boresjo-Bronge L, Mikusinski G, Sporrong U, Wastfelt A 2003. Assessing village authenticity with satellite images: a method to identify intact cultural landscapes in Europe. Ambio 32:594–604.

Ash TN, Wegren SK 1998. Land and agricultural reform in Ukraine. In: Wegren SK, Ed. Land reform in the former Soviet Union and eastern Europe. London, New York: Routledge.

Augustyn M 2004. Anthropogenic changes in the environmental parameters of the Bieszczady mountains. Biosphere Conserv 6:43–53.

Baldock D, Beaufoy G, Brouwer F, Godeschalk F 1996. Farming at the margins: abandonment or redeployment of agricultural land in Europe. London: Institute for European and Environmental Policy and Agricultural Economics Research Institute.

Baur B, Cremene C, Groza G, Rakosy L, Schileyko AA, Baur A, Stoll P, Erhardt A 2006. Effects of abandonment of subalpine hay meadows on plant and invertebrate diversity in Transylvania, Romania. Biol Conserv 132:261–73.

Benediktsson JA, Swain PH, Ersoy OK 1990. Neural network approaches versus statistical-methods in classification of multisource remote-sensing data. IEEE Trans Geosci Remote Sens 28:540–52.

Bicik I, Jelecek L, Stepanek V 2001. Land-use changes and their social driving forces in Czechia in the 19th and 20th centuries. Land Use Policy 18:65–73.

Bowen ME, McAlpine CA, House APN, Smith GC 2007. Regrowth forests on abandoned agricultural land: a review of their habitat values for recovering forest fauna. Biol Conserv 140:273–96.

Buksha I, Pasternak V, Romanovsky V. 2003. Forest and forest products country profile Ukraine. UN-ECE/FAO Timber and Forest Discussion Papers. Geneva: UN-ECE/FAO

Burges CJC 1998. A tutorial on support vector machines for pattern recognition. Data Mining Knowl Discov 2:121–67.

Coppin P, Jonckheere I, Nackaerts K, Muys B, Lambin E 2004. Digital change detection methods in ecosystem monitoring: a review. Int J Remote Sens 25:1565–96.

Cremene C, Groza G, Rakosy L, Schileyko AA, Baur A, Erhardt A, Baur B 2005. Alterations of steppe-like grasslands in eastern Europe: a threat to regional biodiversity hotspots. Conserv Biol 19:1606–18.

Csaki C, Lerman Z, Nucifora A, Blaas G 2003. The agricultural sector of Slovakia on the eve of EU accession. Eurasian Geogr Econ 44:305–20.

Denisiuk Z, Stoyko SM 2000. The east Carpathian biosphere reserve (Poland, Slovakia, Ukraine). In: Breymeyer A, Dabrowski P, Eds. Biosphere reserves on borders. Warsaw: UNESCO. pp. 79–93.

DLG 2005. Land abandonment, biodiversity, and the CAP. Utrecht, The Netherlands: Government Service for Land and Water Management of the Netherlands (DLG).

Dolishniy MI Ed. 1988. Ukrainskiye Karpaty. Ekonomika [Ukrainian Carpathians. Economy]. Kiev, Ukraine: Naukova Dumka (In Russian).

EEA. 2007. EEA glossary—reforestation [online]. Available from: http://glossary.eea.europa.eu/EEAGlossary/R/reforestation. Accessed 20th December 2007

Elbakidze M, Angelstam P. 2007. Implementing sustainable forest management in Ukraine's Carpathian mountains: the role of traditional village systems. Forest Ecol Manag 249:28–38.

Filer RK, Hanousek J 2002. Data watch—research data from transition economies. J Econ Perspect 16:225–40.

Foody GM 2002. Status of land cover classification accuracy assessment. Remote Sens Environ 80:185–201.

Foody GM, Mathur A 2004. A relative evaluation of multiclass image classification by support vector machines. IEEE Trans Geosci Remote Sens 42:1335–43.

Foody GM, Mathur A 2006. The use of small training sets containing mixed pixels for accurate hard image classification: training on mixed spectral responses for classification by a SVM. Remote Sens Environ 103:179–89.

Friedl MA, Brodley CE 1997. Decision tree classification of land cover from remotely sensed data. Remote Sens Environ 61:399–409.

Gellrich M, Baur P, Koch B, Zimmermann NE 2007. Agricultural land abandonment and natural forest re-growth in the Swiss mountains: a spatially explicit economic analysis. Agric Ecosyst Environ 118:93–108.

GLP [Global Land Project] 2005. Science plan and implementation strategy. IGBP Report No. 53/IHDP Report No. 19. Stockholm: IGBP

Gorz B, Kurek W 1998. Poland. In: Turnock D, Ed. Privatization in rural eastern Europe. The process of restitution and restructuring. Cheltenham: Edward Elgar. pp. 251–73.

Grau HR, Aide TM, Zimmerman JK, Thomlinson JR 2004. Trends and scenarios of the carbon budget in postagricultural Puerto Rico (1936–2060). Glob Chang Biol 10:1163–79.

Herenchuk KI 1968. Pryroda Ukrayinskykh Karpat [Nature of the Ukrainian Carpathians]. Lviv, Ukraine: Vydavnytstvo Lvivskoho Universytetu (In Ukrainian).

Hill J, Mehl W. 2003. Geo- and radiometric pre-processing of multi- and hyperspectral data for the production of calibrated multi-annual time series. Photogrammetrie-Fernerkundung-Geoinformation (PFG) 2003, 7–14

Huang C, Davis LS, Townshend JRG 2002. An assessment of support vector machines for land cover classification. Int J Remote Sens 23:725–49.

Hunsaker CT, Levine DA 1995. Hierarchical approaches to the study of water quality in rivers. Bioscience 45:193–203.

Ioffe G, Nefedova T, Zaslavsky I 2004. From spatial continuity to fragmentation: the case of Russian farming. Ann Assoc Am Geogr 94:913–43.

Izakovicova Z, Oszlany J 2007. The Vychodne Karpaty, a forgotten landscape. Environmental and cultural values as starting points for sustainable development. In: Pedroli B, van Doorn A, de Blust G, Paracchini ML, Wascher D, Bunce, F, Eds. Europe's living landscapes. Zeist: KNNV Publishing. pp. 277–93.

Janz A, van der Linden S, Waske B, Hostert P. 2007. imageSVM—a user-oriented tool for advanced classification of hyperspectral data using support vector machines. In: Proceedings of the EARSeL SIG Imaging Spectroscopy, Bruges, Belgium

Kozak J, Estreguil C, Troll M 2007. Forest cover changes in the northern Carpathians in the 20th century: a slow transition. J Land Use Sci 2:127–49.

Kuemmerle T, Hostert P, Perzanowski K, Radeloff VC 2006. Cross-border comparison of land cover and landscape pattern in Eastern Europe using a hybrid classification technique. Remote Sens Environ 103:449–64.

Kuemmerle T, Hostert P, Radeloff VC, Perzanowski K, Kruhlov I 2007. Post-socialist forest disturbance in the Carpathian border region of Poland, Slovakia, and Ukraine. Ecol Appl 17:1279–95.

Lambin EF, Geist HJ Eds. 2006. Land use and land cover change. Local processes and global impacts. Berlin, Heidelberg, New York: Springer Verlag.

Lepers E, Lambin EF, Janetos AC, DeFries R, Achard F, Ramankutty N, Scholes RJ 2005. A synthesis of information on rapid land-cover change for the period 1981–2000. Bioscience 55:115–24.

Lerman Z 1999. Land reform and farm restructuring in Ukraine. Probl Post Communism 46:42–55.

Lerman Z, Csaki C, Feder G 2004. Evolving farm structures and land-use patterns in former socialist countries. Q J Int Agric 43:309–35.

MacDonald D, Crabtree JR, Wiesinger G, Dax T, Stamou N, Fleury P, Lazpita JG, Gibon A 2000. Agricultural abandonment in mountain areas of Europe: environmental consequences and policy response. J Environ Manag 59:47–69.

MASR [Ministry of Agriculture of the Slovak Republic]. 2003. Report on Forestry in the Slovak Republik 2003 (Green Report). Ministry of Agriculture of the Slovak Republic, Bratislava, Slovakia

Mathijs E, Swinnen JFM 1998. The economics of agricultural decollectivization in East Central Europe and the former Soviet Union. Econ Dev Cult Change 47:1–26.

McGarigal KMBJ 1994. FRAGSTATS: spatial pattern analysis program for quantifying landscape structure. Corvallis: Program documentation. Oregon State University.

Melgani F, Bruzzone L 2004. Classification of hyperspectral remote-sensing images with support vector machines. IEEE Trans Geosci Remote Sens 48:1778–90.

Müller D, Munroe DK. 2008. Changing rural landscapes in Albania: agricultural abandonment and forest degradation in the transition. Ann Assoc Am Geogr (in press)

Müller D, Sikor T 2006. Effects of postsocialist reforms on land cover and land use in South-eastern Albania. Appl Geogr 26:175–91.

Nijnik M, Van Kooten GC 2000. Forestry in the Ukraine: the Road Ahead? For Policy Econ 1:139–51.

Nikodemus O, Bell S, Grine I, Liepins I 2005. The impact of economic, social and political factors on the landscape structure of the Vidzeme Uplands in Latvia. Landsc Urban Plan 70:57–67.

O'Neill RV, Krummel JR, Gardner RH, Sugihara G, Jackson B, DeAngelis DL, Milne BT, Turner MG, Zygmunt B, Christensen SW, Dale VH, Graham RL 1988. Indices of landscape pattern. Landsc Ecol 1:153–62.

Oetter DR, Cohen WB, Berterretche M, Maiersperger TK, Kennedy RE 2001. Land cover mapping in an agricultural setting using multiseasonal Thematic Mapper data. Remote Sens Environ 76:139–55.

Pal M, Mather PM 2005. Support vector machines for classification in remote sensing. Int J Remote Sens 26:1007–11.

Pal M, Mather PM 2006. Some issues in the classification of DAIS hyperspectral data. Int J Remote Sens 27:2895–916.

Palang H, Printsmann A, Gyuro EK, Urbanc M, Skowronek E, Woloszyn W 2006. The forgotten rural landscapes of Central and Eastern Europe. Landsc Ecol 21:347–57.

Peterson U, Aunap R 1998. Changes in agricultural land use in Estonia in the 1990s detected with multitemporal Landsat MSS imagery. Landsc Urban Plan 41:193–201.

Poyatos R, Latron J, Llorens P 2003. Land use and land cover change after agricultural abandonment—the case of a Mediterranean mountain area (Catalan Pre-Pyrenees). Mt Res Dev 23:362–68.

Ramankutty N, Foley JA, Olejniczak NJ 2002. People on the land: changes in global population and croplands during the 20th century. Ambio 31:251–57.

Rudel TK 1998. Is there a forest transition? Deforestation, reforestation, and development. Rural Sociol 63:533–52.

Rudel TK, Coomes OT, Moran E, Achard F, Angelsen A, Xu JC, Lambin E 2005. Forest transitions: towards a global understanding of land use change. Glob Environ Change 15:23–31.

Seto KC, Liu WG 2003. Comparing ARTMAP neural network with the maximum-likelihood classifier for detecting urban change. Photogramm Eng Remote Sens 69:981–90.

Silver WL, Ostertag R, Lugo AE 2000. The potential for carbon sequestration through reforestation of abandoned tropical agricultural and pasture lands. Restor Ecol 8:394–407.

Slater JA, Garvey G, Johnston C, Haase J, Heady B, Kroenung G, Little J 2006. The SRTM data "finishing" process and products. Photogrammetric Eng Remote Sens 72:237–47.

Song C, Woodcock CE, Seto KC, Lenney MP, Macomber SA 2001. Classification and change detection using Landsat TM data: when and how to correct atmospheric effects? Remote Sens Environ 75:230–44.

SOR [Statistial Office in Rzeszow]. 2002. Population in the Carpathian ecoregion 1998–2000. Rzeszow, Poland: Statistial Office in Rzeszow

Swinnen JFM, Buckwell A, Mathijs E. Eds. 1997. Agricultural privatization, land reform and farm restructuring in central and eastern Europe. Aldershot, UK: Ashgate.

Tasser E, Mader M, Tappeiner U 2003. Effects of land use in alpine grasslands on the probability of landslides. Basic Appl Ecol 4:271–80.

Tasser E, Walde J, Tappeiner U, Teutsch A, Noggler W 2007. Land-use changes and natural reforestation in the eastern Central Alps. Agric Ecosyst Environ 118:115–29.

Trzeciak-Duval A 1999. A decade of transition in central and eastern European agriculture. Eur Rev Agric Econ 26:283–304.

Turner MG, Gardner RH 1991. Quantitative methods in landscape ecology. New York: Springer.

Turnock D 1998. Introduction. In: Turnock, D, Eds. Privatization in rural eastern Europe. The process of restitution and restructuring. Cheltenham: Edward Elgar. pp. 1–48.

Turnock D 2002. Ecoregion-based conservation in the Carpathians and the land-use implications. Land Use Policy 19:47–63.

van Dijk T 2003. Scenarios of central European land fragmentation. Land Use Policy 20:149–58.

Verburg PH, Schulp CJE, Witte N, Veldkamp A 2006. Downscaling of land use change scenarios to assess the dynamics of European landscapes. Agric Ecosyst Environ 114:39–56.

Webster R, Holt S, Avis C. Eds. 2001. The status of the Carpathians. A report developed as a part of the Carpathian ecoregion initiative. Vienna: WWF.

Yeloff D, van Geel B 2007. Abandonment of farmland and vegetation succession following the Eurasian plague pandemic of ad 1347–52. J Biogeogr 34:575–82.

Zarzycki K, Glowacinski Z 1970. Bieszczady. Przyroda Polska. Warsaw: Wiedza Powszechna (in Polish).
Acknowledgments
We would like to thank M. Augustyn for helping in determining the boundary between collectivized and private land in the Polish Bieszczady mountains. Comments by T. Hawbaker, J. Kozak, D. Müller, S. Schmidt, W. Schwanghart, T. Veldkamp, and two anonymous reviewers greatly improved this manuscript. We are also grateful to C. Alcantara, M. Dubinin, and A. Prishchepov for valuable discussions and to A. Janz for assistance in implementing the SVM approach. Support by NASA's Land Cover and Land Use Change (LCLUC) Program is gratefully acknowledged.
About this article
Cite this article
Kuemmerle, T., Hostert, P., Radeloff, V.C. et al. Cross-border Comparison of Post-socialist Farmland Abandonment in the Carpathians. Ecosystems 11, 614 (2008). https://doi.org/10.1007/s10021-008-9146-z
Received:

Revised:

Accepted:

Published:
Keywords
agricultural abandonment

cropland

forest transition

Carpathians

land use and land cover change

land reform

transition economies

change detection

support vector machines (SVM)

remote sensing