Abstract
Herbivory can change the structure and spatial heterogeneity of vegetation. We ask whether all species of grazers in a savanna ecosystem can have this effect or whether megaherbivores (>1000 kg) have a 'special' role that cannot be replicated by other species of grazers. We performed a replicated landscape scale experiment that examined the effects of White Rhino on the grass sward, on other species of grazing mammals and on the movement of fire through the landscape. White Rhino maintained short grass ('lawn') patches in mesic areas (∼750 mm pa) with increases in grass sward height when they were removed. Other species of grazers were unable to maintain short grass communities when White Rhino were removed. In semi-arid areas (∼600 mm pa) other, smaller grazers were able to maintain short grass communities in the absence of White Rhino and sward height did not increase. White Rhino removals affected fire by increasing fuel loads and fuel continuity. This resulted in larger, less patchy fires. We propose that the White Rhino acts as an influential ecosystem engineer, creating and maintaining short grass swards, which alter habitat for other grazers and change the fire regime. These results indicate the existence of context-dependent facilitation between White Rhino and other grazers in mesic, but not in semi-arid, savannas. Such top down effects on the ecosystem may have been much more widespread before the extinction of large grazers in the Pleistocene.
Access options
Buy single article
Instant access to the full article PDF.
USD 39.95
Price excludes VAT (USA)
Tax calculation will be finalised during checkout.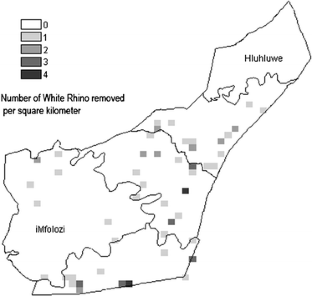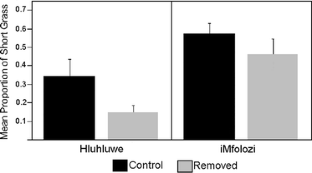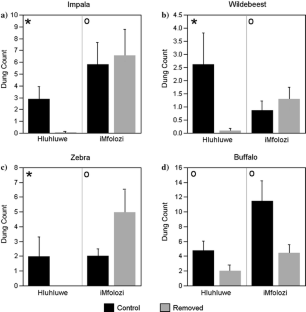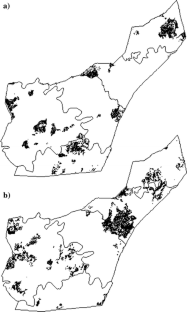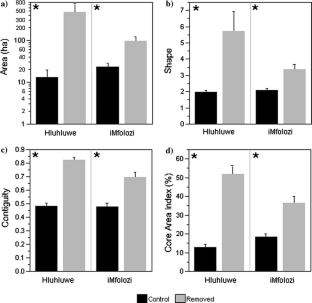 Similar content being viewed by others
References
Anon (2003) A preliminary assessment of the value of Landsat 7 ETM+ data following scan line corrector malfunction. NASA, Eros Data Centre, Sioux Falls

Archibald S, Bond WJ (2004) Grazer movements; spatial and temporal responses to burning in a tall-grass African savanna. Int J Wildland Fire 13:1–9.

Archibald S, Bond WJ, Stock WD, Fairbanks DHK (2005) Shaping the landscape: fire grazer interactions in an African Savanna. Ecol Appl 15:96–9.

Arsenault R, Owen-Smith NR (2002) Facilitation versus competition in grazing herbivore assemblages. Oikos 97:313–8.

Augustine DJ, McNaughton SJ (1998) Ungulate effects on the functional species composition of plant communities: herbivore selectivity and plant tolerance. J Wildl Manage 62:1165–83.

Balfour DA, Howison O (2001) Spatial and temporal variation in a mesic fire regime: responses to variation in annual rainfall. Afr J Range Forage Sci 19:43–51.

Barnes RFW (2001) How reliable are dung counts for estimating Elephant numbers? Afr J Ecol 39:1–9.

Bell RHV (1971) A grazing ecosystem in the Serengeti. Sci Am 224:86–93.

Bond WJ (2001) Keystone species-Hunting the snark? Science 292:63–4.

Bond WJ (2005) Large parts of the world are brown or black: a different view on the 'Green World' hypothesis. J Veg Sci 16:261–6.

Bond WJ, Balfour DA, Smythe K-A (2001) Acacia species turnover in space and time in an African savanna. J Biogeogr 28:117–28.

Bradstock R, Gill A, eds 2002. Flammable Australia: the fire regimes and biodiversity of a continent. Cambridge University Press, p 472

Bransby DI, Tainton NM (1977) The Disc Pasture meter: possible applications in grazing management. Proc Grassl Soc South Afr 12:115–8.

Brook BW, Bowman DMJS (2002) Explaining the Pleistocene megafaunal extinctions; models, chronologies, and assumptions. Proc Natl Acad Sci 99:14624–7.

Brooks PM, Macdonald IAW (1983) The Hluhluwe Umfolozi Reserve: an ecological case history. In: Owen-Smith N, Ed. Management of large mammals in African conservation areas. Pretoria: Haum Educational Publishers. pp 51–77.

Burney DA, Flannery T (2005) Fifty millenia of catastrophic extinctions after human contact. Trends Ecol Evol 20:395–401.

Burney DA, Robinson GS, Burney LP (2003) Sporormiella and the late Holocene extinctions in Madagascar. Proc Natl Acad Sci 100:10800–5.

Choquenot D, Bowman DMJS (1998) Marsupial megafauna, aborigines and the overkill hypothesis: application of predator-prey models to the question of pleistocene extinction in Australia. Global Ecol Biogeogr Lett 7:167–80.

Congalton RG (2001) Accuracy assessment and validation of remotely sensed and other spatial information. Int J Wildland Fire 10:321–8.

Dinerstein E (2003) The return of the unicorns: the natural history and conservation of the greater one-horned Rhinoceros. New York: Columbia University Press.

Eltringham SK. 1970. Changes in the large mammal community of Mweya Peninsula, Rwenzori National Park, Uganda, following removal of Hippopotamus. In: IBP/UNESCO symposium on bioenergetics and tropical ecosystems. Kampala: Makererere University

Flannery T (1994) The future eaters. Sydney: Grove Press, p 432.

Fritz H, Duncan P, Gordon IJ, Illius AW (2002) Megaherbivores influence trophic guilds structure in African ungulate communities. Oecologia 131:620–5.

Fuhlendorf SD, Engle DM (2001) Restoring heterogeneity on rangelands: ecosystem management based on evolutionary grazing patterns. Bioscience 51:625–32.

Fuhlendorf SD, Engle DM (2004) Application of the fire-grazing interaction to restore a shifting mosaic on tallgrass prairie. J Appl Ecol 41:604–14.

Hudak AT, Brockett BH (2004b) Mapping fire scars in a southern African savanna using Landsat imagery. Int J Remote Sens 25:3231–43.

Hurlbert SH (1997) Functional importance vs. keystoneness: reformulating some questions in theoretical biology. Aust J Ecol 22:369–82.

Johnson CN, Prideaux GJ (2004) Extinctions of herbivorous mammals in the late Pleistocene of Australia in relation to their feeding ecology: no evidence for environmental change as a cause of extinction. Austral Ecol 29:553–7.

Jones CG, Lawton JH, Shachak M (1994) Organisms as ecosystem engineers. Oikos 69:373–86.

Krook K, Bond WJ, Hockey PAR (2007) The effect of grassland shifts on the avifauna of a South African savanna. Ostrich 78:271–9.

Laurie WA (1982) Behavioural ecology of the greater one-horned Rhinoceros (Rhinoceros unicornis). J Zool 196:307–41.

Lock JM (1972) The effects of hippopotamus grazing on grasslands. J Ecol 60:445–67.

Martin PS, Wright HE (1967) Pleistocene extinctions: the search for a cause. New Haven: Yale University Press.

McGarigal K, Cushman SA, Neel MC, Ene E. 2002. FRAGSTATS: spatial pattern analysis program for categorical maps. Computer software program produced by the authors at the University of Massachusetts, Amherst. Available at the following web site: www.umass.edu/landeco/research/fragstats/fragstats.html

McLaren BE, Peterson RO (1994) Wolves, Moose and tree rings on Isle Royale. Science 266:1555–8.

McNaughton SJ (1979) Grazing as an optimization process: grass-ungulate relationships in the Serengeti. Am Nat 113:691–703.

McNaughton SJ (1984) Grazing lawns: animals in herds, plant form, and coevolution. Am Nat 124:863–85.

McNaughton SJ (1985) Ecology of a grazing ecosystem: the Serengeti. Ecol Monogr 55:259–94.

Miller GH, Fogel ML, Magee JW, Gagan MK, Clarke SJ, Johnson BJ. 2005. Ecosystem collapase in Pleistocene Australia and a human role in megafaunal extinction. Science 309

Mladenoff DJ, White MA, Pastor J (1993) Comparing spatial pattern in unaltered old-growth and disturbed forest landscapes. Ecol Appl 3:294–306.

Olivier RCD, Laurie WA (1974) Habitat utilization by Hippopotamus in the Mara River. East Afr Wildl J 12:249–71.

Owen-Smith NR (1975) The social ethology of the White Rhinoceros Ceratotherium simum (Burchell1817). Zeitschrift fur Tierpsychol 38:337–84.

Owen-Smith NR (1987) Pleistocene extinctions: the pivotal role of megaherbivores. Paleobiology 13:351–62.

Owen-Smith NR (1988) Megaherbivores. Cambridge: Cambridge University Press. p 384.

Owen-Smith NR (1989) Megafaunal extinctions: the conservation message from 11,000 years B.P. Conserv Biol 3:405–12.

Perrin MR, Brereton-Stiles R (1999) Habitat use and feeding behaviour of the Buffalo and the White Rhinoceros in the Hluhluwe-Umfolozi Game Reserve. S Afr J Wildl Res 29:72–80.

Player IC (1967) Translocation of White Rhinoceros in South Africa. Oryx 9:137–55.

Player IC (1972) The White Rhino saga. Glasgow: Collins. p 284.

Polis GA, Sear ALW, Huxel GR, Strong DR, Maron J (2000) When is a trophic cascade a trophic cascade? Trends Ecol Evol 15:473–5.

Power ME, Tilman D, Estes JA, Menge BA, Bond WJ, Mills SL, Daily G, Castilla JC, Lubchenco J, Paine RT (1996) Challenges in the quest for keystones. Bioscience 46:609–20.

Ripple WJ, Beschta RL (2004) Wolves and the ecology of fear: can predation risk structure ecosystems? Bioscience 54:755–66.

Robinson GS, Burney LP, Burney DA (2005) Landscape paleoecology and megafaunal extinction in southeastern New York state. Ecol Monogr 75:295–315.

Turner MG, Gardner RH, O'Neill RV (2001) Landscape ecology in theory and practice: pattern and process. New York: Springer Verlag.

Van de Koppel J, Prins HHT (1998) The importance of herbivore interactions for the dynamics of african savanna woodlands: an hypothesis. J Trop Ecol 14:566–76.

Vermiere LT, Mitchell RB, Fuhlendorf SD, Gillen RL (2004) Patch burning effects on grazing distribution. J Range Manage 57:248–52.

Verweij R, Verrelst J, Heitkonig IMA, Brunsting AMH (2006) Grazing lawns contribute to the subsistence of medium sized herbivores in dystrophic savannas. Oikos 114:108–16.

Vesey-Fitzgerald DF (1965) The utilization of natural pastures by wild animals in the Kukwa valley, Tanzania. East Afr Wildl J 3:38–49.

Whateley A, Porter RN (1983). The woody vegetation communities of the Hluhluwe-Corridor-Umfolozi game reserve complex. Bothalia 14:745–58.

White AM, Swaisgood RR, Czekala N (2007) Ranging patterns in White Rhinoceros (Ceratotherium simum simum): implications for mating strategies. Anim Behav 74:349–56.
Acknowledgments
We thank Ezemvelo KZN Wildlife for permission to conduct this research and the management and research staff of Hluhluwe iMfolozi game reserve in particular for their help during the Zululand Grass Project (ZLGP) of which this study was a part. Special thanks must go to ZLGP staff and students for their contributions to the project. We also thank Norman Owen-Smith, Claudius van de Vijver and Sally Archibald for their inputs and Lindsey Gillson and Carla Staver for their comments on an earlier version of this article. Andrew Illius provided very helpful comments on several aspects of the study. This study was prompted by a seminal suggestion by Rob Slotow to WJB. Satellite images were provided by the Satellite Applications Centre, CSIR, Pretoria. The ZLGP was funded by both the Mellon foundation and the National Research Foundation of South Africa.
About this article
Cite this article
Waldram, M.S., Bond, W.J. & Stock, W.D. Ecological Engineering by a Mega-Grazer: White Rhino Impacts on a South African Savanna. Ecosystems 11, 101–112 (2008). https://doi.org/10.1007/s10021-007-9109-9
Received:

Revised:

Accepted:

Published:

Issue Date:

DOI: https://doi.org/10.1007/s10021-007-9109-9
Keywords