Abstract
Whether plant invasion increases ecosystem carbon (C) stocks is controversial largely due to the lack of knowledge about differences in ecophysiological properties between invasive and native species. We conducted a field experiment in which we measured ecophysiological properties to explore the response of the ecosystem C stocks to the invasion of Spartina alterniflora (Spartina) in wetlands dominated by native Scirpus mariqueter (Scirpus) and Phragmites australis (Phragmites) in the Yangtze Estuary, China. We measured growing season length, leaf area index (LAI), net photosynthetic rate (Pn), root biomass, net primary production (NPP), litter quality and litter decomposition, plant and soil C and nitrogen (N) stocks in ecosystems dominated by the three species. Our results showed that Spartina had a longer growing season, higher LAI, higher Pn, and greater root biomass than Scirpus and Phragmites. Net primary production (NPP) was 2.16 kg C m−2 y−1 in Spartina ecosystems, which was, on average, 1.44 and 0.47 kg C m−2 y−1 greater than that in Scirpus and Phragmites ecosystems, respectively. The litter decomposition rate, particularly the belowground decomposition rate, was lower for Spartina than Scirpus and Phragmites due to the lower litter quality of Spartina. The ecosystem C stock (20.94 kg m−2) for Spartina was greater than that for Scirpus (17.07 kg m−2), Phragmites (19.51 kg m−2) and the mudflats (15.12 kg m−2). Additionally, Spartina ecosystems had a significantly greater N stock (698.8 g m−2) than Scirpus (597.1 g m−2), Phragmites ecosystems (578.2 g m−2) and the mudflats (375.1 g m−2). Our results suggest that Spartina invasion altered ecophysiological processes, resulted in changes in NPP and litter decomposition, and ultimately led to enhanced ecosystem C and N stocks in the invaded ecosystems in comparison to the ecosystems with native species.
Access options
Buy single article
Instant access to the full article PDF.
USD 39.95
Price excludes VAT (USA)
Tax calculation will be finalised during checkout.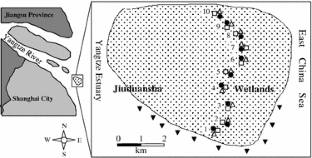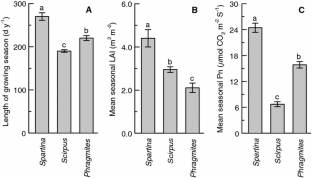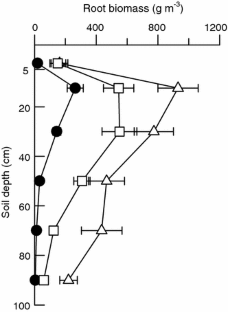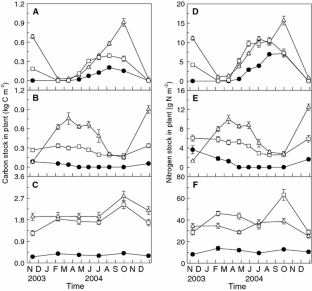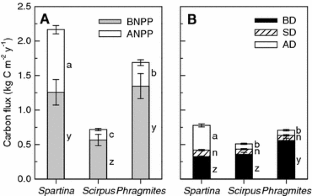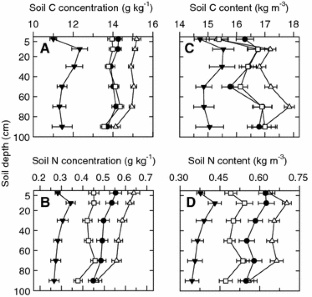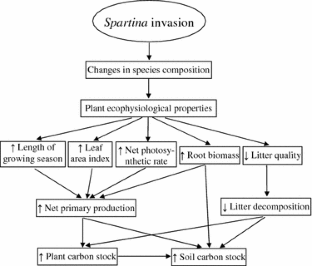 References
Allison SD, Vitousek PM (2004) Rapid nutrient cycling in leaf litter from invasive plants in Hawaii. Oecologia 141:612–19

Baruch G, Goldstein G (1999) Leaf construction cost, nutrient concentration, and net CO2 assimilation of native and invasive species in Hawaii. Oecologia 121:183–92

Berg B, McClaugherty C (2003) Plant litter decomposition, humus formation, carbon sequestration. Springer, New York

Chapin FS II, Matson PA, Mooney HA (2002) Principles of terrestrial ecosystem ecology Springer, New York

Chen JK (2003) Comprehensive surveys on Shanghai Jiuduansha wetland nature reserve, the Yangtze River estuary (in Chinese). Science, Beijing

Chen JY, Li DL, Jin WH (2001) Eco-engineering of Jiuduansha island caused by Pudong International Airport construction (in Chinese). Eng Sci 3:1–8

Cheng XL, Luo YQ, Chen JQ, Lin GH, Chen JK, Li B (2006) Short-term C4 plant Spartina alterniflora invasions change the soil carbon in C-3 plant-dominated tidal wetlands on a growing estuarine Island. Soil Biol Biochem 38:3380–86

Christian JM, Wilson SD (1999) Long-term ecosystem impacts of an introduced grass in the northern Great Plains. Ecology 80:2397–407

Chung CH, Zhuo RZ, Xu GW (2004) Creation of Spartina plantations for reclaiming Dongtai, China, tidal flats and offshore sands. Ecol Eng 23:135–50

Currin CA, Pearl HW (1998) Epiphytic nitrogen fixation associated with standing dead shoots of smooth cordgrass, Spartina alterniflora. Estuaries 21:108–17

Delaune RD, Smith CJ, Patrick WH (1983) Relationship of marsh elevation, redox potential, and sulfide to Spartina alterniflora productivity. Soil Sci Soc Am J 47:930–35

Ehrenfeld JG (2003) Effects of exotic plant invasions on soil nutrient cycling processes. Ecosystems 6:503–23

Ellison AM, Bertness MD, Miller T (1986) Seasonal patterns in the belowground biomass of Spartina alterniflora Gramineae across a tidal gradient. Am J Bot 73:1548–54

Gordon DR (1998) Effects of invasive, non-indigenous plant species on ecosystem processes: lessons from Florida. Ecol Appl 8:975–89

Gratton C, Denno RF (2005) Restoration of arthropod assemblages in a Spartina salt marsh following removal of the invasive plant Phragmites australis. Restor Ecol 13:358–72

Hibbard KA, Archer S, Schimel DS, Valentine DW (2001) Biogeochemical changes accompanying woody plant encroachment in a subtropical savanna. Ecology 82:1999–2011

Huang HM, Zhang LQ, Gao ZG (2005) The vegetation resource at the intertidal zone in Shanghai using remote sensing (in Chinese). Acta Ecol Sin 25:2686–93

Jackson RB, Banner JL, Jobbágy EG, Pockman WT, Wall DH (2002) Ecosystem carbon loss with woody plant invasion of grasslands. Nature 418:623–26

Knops JMH, Tilman D (2000) Dynamics of soil nitrogen and carbon accumulation for 61 years after agricultural abandonment. Ecology 81:88–98

Knops JMH, Bradley KL, Wedin DA (2002) Mechanisms of plant species impacts on ecosystem nitrogen cycling. Ecol Lett 5:454–66

Liao CZ (2007) The effects of invasive alien plants on ecosystem carbon and nitrogen cycles: a case study of Spartina alterniflora invasion in the Yangtze Estuary and a meta-analysis. Ph. D. dissertation, Fudan University, Shanghai, China

Lomnicki A, Bandola E, Jankowska K (1968) Modification of the Wiegert–Evans method for estimation of net primary production. Ecology 49:147–49

Luo YQ, Zhou XH (2006) Soil Respiration and the Environment. Elsevier Academic Press, San Diego

Neira C, Grosholz ED, Levin LA, Blake R (2006) Mechanisms generating modification of benthos following tidal flat invasion by a Spartina hybrid. Ecol Appl 16:1391–404

Nieva FJJ, Castillo JM, Luque CJ, Figueroa ME (2003) Ecophysiology of tidal and non-tidal populations of the invading cordgrass Spartina densiflora: seasonal and diurnal patterns in a Mediterranean climate. Estuar Coast Shelf Sci 57:919–28

O'Connell KEB, Gower ST, Norman JM (2003) Net ecosystem production of two contrasting boreal black spruce forest communities. Ecosystems 6:248–60

Patriquin D, Denike D (1978) In situ acetylene reduction assays on nitrogenase activity associated with the emergent halophyte Spartina alterniflora Loisel, methodological problems. Aquat Bot 4:211–26

Ravit B, Ehrenfeld JG, Haggblom MM (2003) A comparison of sediment microbial communities associated with Phragmites australis and Spartina alterniflora in two brackish wetlands of New Jersey. Estuaries 26:465–74

Reinhart KO, Gurnee J, Tirado R, Callaway RM (2006) Invasion through quantitative effects: intense shade drives native decline and invasive success. Ecol Appl 16:1821–31

Roman CT, Daiber FC (1984) Aboveground and belowground primary production dynamics of two Delaware Bay tidal marshes. B Torrey Bot Club 111:34–41

Schuur EAG, Chadwick OA, Matson PA (2001) Carbon cycling and soil carbon storage in mesic to wet Hawaiian montane forests. Ecology 82:3182–96

Scott NA, Saggar S, McIntosh PD (2001) Biogeochemical impact of Hieracium invasion in New Zealand's grazed tussock grasslands: sustainability implications. Ecol Appl 11:1311–22

Seabloom EW, Williams JW, Slayback D, Stoms DM, Viers JH, Dobson AP (2006) Human impacts, plant invasion, and imperiled, plant species in California. Ecol Appl 16:1338–50

Silver WL, Kueppers LM, Lugo AE, Ostertag R, Matzek V (2004) Carbon sequestration and plant community dynamics following reforestation of tropical pasture. Ecol Appl 14:1115–27

Stock WD, Wienand KT, Baker AC (1995) Impacts of invading N2-fixing Acacia species on patterns of nutrient cycling in two Cape ecosystems: evidence from soil incubation studies and 15N natural abundance values. Oecologia 101:375–82

Tang TG, Zhang WJ (2003) A discussion of ecological engineering benefits of Spartina spp and its ecological invasion (in Chinese). Eng Sci 5:15–20

Valiela I, Teal JM, Persson NY (1976) Production and dynamics of experimentally enriched salt marsh vegetation: belowground biomass. Limnol Oceanogr 21:245–52

Vitousek PM, Mooney HA, Lubchenco J, Melillo JM (1997) Human domination of earth's ecosystems. Science 277:494–99

Wang Q, An SQ, Ma ZJ, Zhao B, Chen JK, Li B (2006) Invasive Spartina alterniflora: biology, ecology and management. Acta Phytotaxon Sin 44:559–88

Wieder RK, Lang GE (1982) A critique of the analytical methods used in examining decomposition data obtained from litter bags. Ecology 63:1636–42

Wilcove DS, Rothstein D, Dubow J, Phillips A, Losos E (1998) Quantifying threats to imperiled species in the United States. Bioscience 48:607–15

Windham L (2001) Comparison of biomass production and decomposition between Phragmites australis (common reed) and Spartina patens (salt hay grass) in brackish tidal marshes of New Jersey, USA. Wetlands 21:179–88

Windham L, Weis JS, Weis P (2003) Uptake and distribution of metals in two dominant salt marsh macrophytes, Spartina alterniflora (cordgrass) and Phragmites australis (common reed). Estuar Coast Shelf Sci 56:63–72

Zhou XH, Liu XZ, Wallace LL, Luo YQ (2007) Photosynthetic and respiratory acclimation to experimental warming for four species in a tallgrass prairie ecosystem. J Integr Plant Biol 49:270–281
Acknowledgments
This work was supported by Foundation of Changjiang Scholar Program to Yiqi Luo, Natural Science Foundation of China (Grant No.: 30670330, 30370235), Ministry of Education of China, (Grant No. 105063), Science and Technology Commission of Shanghai, (Grant No. 04DZ19304) to Bo Li, and Innovative Foundation of graduate student of Fudan University (Grant No.: CQH1322022) to Chengzhang Liao. We thank Xin Xu and Jianbo Hu for their assistance in the fieldwork. We are very grateful to Yi Huang, in Shanghai Yilian Technology Development Limited Corporation for making soil augers for us. We thank two anonymous referees for making numerous improvements to this manuscript.
About this article
Cite this article
Liao, C., Luo, Y., Jiang, L. et al. Invasion of Spartina alterniflora Enhanced Ecosystem Carbon and Nitrogen Stocks in the Yangtze Estuary, China. Ecosystems 10, 1351–1361 (2007). https://doi.org/10.1007/s10021-007-9103-2
Received:

Revised:

Accepted:

Published:

Issue Date:

DOI: https://doi.org/10.1007/s10021-007-9103-2
Keywords