Abstract
Abundant large herbivores can strongly alter vegetation composition, shifting the ecosystem into a lasting state of changed productivity. Previous studies of the effects of abundant reindeer on alpine and arctic vegetation have yielded equivocal results, probably due to differing environmental contexts. To overcome context dependency we devised a large-scale survey in the region of Finnmark, northern Norway, possessing some of the most densely stocked reindeer herds in the world. The effects of reindeer abundance on summer pasture vegetation were assessed by employing a quasi-experimental design, including site fertility as a potential modifier of the reindeer–vegetation interaction. The study design comprised ten pairs of neighboring management districts (encompassing 18,003 km2), where over the two last decades a high-density district on average had reindeer densities more than twice as high and calf weights consistently lower than the low-density district. The abundance of different plant functional groups, ranging from those having facilitating to retarding effects on ecosystem productivity, were quantified by the point intercept method on plots selected according to a hierarchical, stratified random sampling design. Species with strong retarding effects on ecosystem productivity (for example, ericoids) were by far the most abundant. However, we found no consistent effects of reindeer density on their abundance. The most consistent differences between high- and low-density districts were found in plant functional groups with facilitating to neutral effects on ecosystem productivity. In particular, the abundance of N-facilitators, large dicotyledons and grasses were substantially reduced in the high-density districts. However, this reduction was restricted to fertile sites. Thus, reindeer when present at high densities have homogenized the biomass of palatable plants across environmental productivity gradients according to predictions from exploitation ecosystem models. Such reduction of plants with facilitating to neutral effects on ecosystem productivity indicates a reduced state of ecosystem productivity in high-density districts.
Access options
Buy single article
Instant access to the full article PDF.
US$ 39.95
Tax calculation will be finalised during checkout.
Subscribe to journal
Immediate online access to all issues from 2019. Subscription will auto renew annually.
US$ 79
Tax calculation will be finalised during checkout.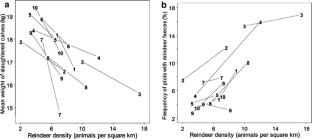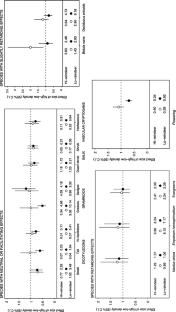 References
Aerts R, Chapin FS. 2000. The mineral nutrition of wild plants revisited: a re-evaluation of processes and patterns. Adv Ecol Res 30:1–67

Anonymous. 2004. Ressursregnskap for reindriftsnæringen. Reindriftsforvaltningen, Alta, Norway

ArcGIS. 2004. ESRI GIS and Mapping Software. Version 8.3.0.

Augustine DJ, McNaughton SJ. 1998. Ungulate effects on the functional species composition of plant communities: herbivore selectivity and plant tolerance. J Wildl Manage 62:1165–83

Batzli GO, White RG, MacLean SF, Pitelka FA, Collier BD. 1980. The herbivore-based trophic system. In Brown J, Miller RG, Tieszen LL, Bunnell FL, Eds. An arctic ecosystem. The coastal tundra at Barrow, Alaska. Dowden: US/IBP Synthesis Series, Hutchinson and Ross, Inc, pp 335–410

Belsky AJ. 1986. Does herbivory benefit plants—a review of the evidence. Am Nat 127:870–92

Bestelmeyer BT, Herrick JE, Brown JR, Trujillo DA, Havstad KM. 2004. Land management in the American Southwest: a state-and-transition approach to ecosystem complexity. Environ Manage 34:38–51

Bråthen KA, González VT, Iversen M, Killengreen ST, Ravolainen VT, Ims RA, Yoccoz NG. 2007. Endozoochory varies with ecological scale and context. Ecography 30:308–20

Bråthen KA, Hagberg O. 2004. More efficient estimation of plant biomass. J Veget Sci 15:653–60

Bråthen KA, Oksanen J. 2001. Reindeer reduce biomass of preferred plant species. J Veget Sci 12:473–80

Caughley G. 1981. What we do not know about the dynamics of large mammals. In Fowler CW, Smith T, Eds Dynamics of large mammal populations. New York: Wiley, pp 361–72

CAVM Team. 2003. Circumpolar Arctic vegetation map. Scale 1:7500000. Conservation of Arctic Flora and Fauna (CAFF) Map no. 1. Anchorage: U.S. Fish and Wildlife Service

Chapin FS, BretHarte MS, Hobbie SE, Zhong HL. 1996. Plant functional types as predictors of transient responses of arctic vegetation to global change. J Veget Sci 7:347–58

Chernov YI, Matveyeva NV. 1997. Arctic ecosystems in Russia. In: Wielgolaski FE (ed). Ecosystems of the World. Amsterdam: Elsevier

Cornelissen JHC, Quested HM, Gwynn-Jones D, Van Logtestijn RSP, De Beus MAH, Kondratchuk A, Callaghan TV, Aerts R. 2004. Leaf digestibility and litter decomposability are related in a wide range of subarctic plant species and types. Funct Ecol 18:779–86

Côté SD, Rooney TP, Tremblay JP, Dussault C, Waller DM. 2004. Ecological impacts of deer overabundance. Annu Rev Ecol Evolut Syst 35:113–47

Crête M, Ouellet JP, Lesage L. 2001. Comparative effects on plants of caribou/reindeer, moose and white-tailed deer herbivory. Arctic 54:407–17

den Herder M, Virtanen R, Roininen H. 2004. Effects of reindeer browsing on tundra willow and its associated insect herbivores. J Appl Ecol 41:870–79

Epstein HE, Beringer J, Gould WA, Lloyd AH, Thompson CD, Chapin FS, Michaelson GJ, Ping CL, Rupp TS, Walker DA. 2004. The nature of spatial transitions in the Arctic. J Biogeogr 31:1917–33

ERDAS. 2003. ERDAS imagine. leica Geosystems. Version 8.7.

Fauchald P, Tveraa T, Yoccoz NG, Ims RA. 2004. En økologisk bærekraftig reindrift. Hva begrenser naturlig produksjon og høsting? 76. NINA Fagrapport, Trondheim. (in Norwegian)

Frank DA, McNaughton SJ. 1990. Above ground biomass estimation with the canopy intercept method—a plant growth form caveat. Oikos 57:57–60

Geological Survey of Norway. 2004. Digital maps of bedrock and surficial deposits in Troms Finnmark. 1:250000

Gordon IJ, Hester AJ, Festa-Bianchet M. 2004. The management of wild large herbivores to meet economic, conservation and environmental objectives. J Appl Ecol 41:1021–31

Graglia E, Julkunen-Tiitto R, Shaver GR, Schmidt IK, Jonasson S, Michelsen A. 2001. Environmental control and intersite variations of phenolics in Betula nana in tundra ecosystems. New Phytol 151:227–36

Güsewell S, Jewell PL, Edwards PJ. 2005. Effects of heterogeneous habitat use by cattle on nutrient availability and litter decomposition in soils of an alpine pasture. Plant Soil 268:135–49

Haapasaari H. 1988. The oligotrophic heath vegetation of northern Fennoscandia and its zonation. Acta Bot Fennica 135:1–219

Hanssen-Bauer I. 1999. Klima i nord de siste 100 år (in Norwegian). Ottar 99:41–8

Hawkes CV, Sullivan JJ. 2001. The impact of herbivory on plants in different resource conditions: a meta-analysis. Ecology 82:2045–58

Hobbie SE. 1996. Temperature and plant species control over litter decomposition in Alaskan tundra. Ecol Monogr 66:503–22

Hobbs NT. 1996. Modification of ecosystems by ungulates. J Wildl Manage 60:695–713

Ims RA, Yoccoz NG, Bråthen KA, Fauchald P, Tveraa T, Hausner V. 2007. Can reindeer overabundance cause a trophic cascade? Ecosystems (in press)

Ims RA, Fuglei E. 2005. Trophic interaction cycles in tundra ecosystems and the impact of climate change. Bioscience 55:311–22

Jefferies RL, Klein DR, Shaver GR. 1994. Vertebrate herbivores and northern plant communities—reciprocal influences and responses. Oikos 71:193–206

Johansen B, Karlsen SR. 2005. Monitoring vegetation changes on Finnmarksvidda, Northern Norway, using Landsat MSS and Landsat TM/ETM plus satellite images. Phytocoenologia 35:969–84

Johansen B, Tømmervik H, Karlsen SR. 1995. Vegetasjons- og beitekartlegging i Finnmark og Nord-Troms. Tromsø: NORUT Informasjonsteknologi AS

Jonasson S. 1983. Nutrient content and dynamics in north Swedish shrub tundra areas. Holarctic Ecol 6:295–304

Jonasson S. 1988. Evaluation of the point intercept method for the estimation of plant biomass. Oikos 52:101–6

Klein DR. 1990. Variation in quality of caribou and reindeer forage plants associated with season, plant part, and phenology. Rangifer Special Issue, pp 123–130

Klein DR. 1999. The role of climate and insularity in establishment and persistence of Rangifer tarandus populations in the high arctic. Ecol Bull 47:96–104

Klein DR, Bay C. 1994. Resource partitioning by mammalian herbivores in the high arctic. Oecologia 97:439–50

Knops JMH, Bradley KL, Wedin DA. 2002. Mechanisms of plant species impacts on ecosystem nitrogen cycling. Ecol Lett 5:454–66

Kruckeberg AR. 2002. Geology and plant life. The effects of landforms and rock types on plants. Seattle: University of Washington Press

Lande R. 1977. Comparing coefficients of variation. Syst Zool 26:214–17

Lid J, Lid DT. 1994. Norsk flora, 6th edn. Gjøvik: Det Norske Samlaget

Manseau M, Huot J, Crête M. 1996. Effects of summer grazing by caribou on composition and productivity of vegetation: community and landscape level. J Ecol 84:503–13

McNaughton SJ, Oesterheld M, Frank DA, Williams KJ. 1989. Ecosystem-level patterns of primary productivity and herbivory in terrestrial habitats. Nature 341:142–4

Moen A. 1999. National Atlas of Norway: vegetation. Hønefoss: Norwegian Mapping Authority

Moen J, Danell Ö. 2003. Reindeer in the Swedish mountains: An assessment of grazing impacts. Ambio 32:397–402

Moore ID, Grayson RB, Landson AR. 1991. Digital terrain modelling: A review of hydrological, geomorphological, and biological applications. Hydrol Process 5:3–30

Muga DA. 1986. A commentary on the historical transformation of the Sami communal mode of production. J Ethnical Stud 14:111–21

Mulder CPH, Jumpponen A, Hogberg P, Huss-Danell K. 2002. How plant diversity and legumes affect nitrogen dynamics in experimental grassland communities. Oecologia 133:412–21

Nilsson MC. 1994. Separation of allelopathy and resource competition by the boreal dwarf shrub Empetrum hermaphroditum Hagerup. Oecologia 98:1–7

Noda T. 2004. Spatial hierarchical approach in community ecology: a way beyond high context-dependency and low predictability in local phenomena. Popul Ecol 46:105–17

Oksanen L. 1990. Predation, herbivory, and plant strategies along gradients of primary productivity. In Grace JB, Tilman D, Eds Perspectives on plant competition. San Diego: Academic Press, pp 445–74

Oksanen L, Fretwell SD, Arruda J, Niemelä P. 1981. Exploitation ecosystems in gradients of primary productivity. Am Nat 118:240–61

Oksanen L, Oksanen T. 2000. The logic and realism of the hypothesis of exploitation ecosystems. Am Nat 155:703–23

Oksanen L, Virtanen R. 1995. Topographic, altitudinal and regional patterns in continental and sub-oceanic heath vegetation of northern Fennoscandia. Acta Bot Fennica 153:1–80

Olofsson J, Hulme PE, Oksanen L, Suominen O. 2004a. Importance of large and small mammalian herbivores for the plant community structure in the forest tundra ecotone. Oikos 106:324–34

Olofsson J, Kitti H, Rautiainen P, Stark S, Oksanen L. 2001. Effects of summer grazing by reindeer on composition of vegetation, productivity and nitrogen cycling. Ecography 24:13–24

Olofsson J, Oksanen L. 2002. Role of litter decomposition for the increased primary production in areas heavily grazed by reindeer: a litterbag experiment. Oikos 96:507–15

Olofsson J, Stark S, Oksanen L. 2004b. Reindeer influence on ecosystem processes in the tundra. Oikos 105:386–96

Ouellet JP, Boutin S, Heard DC. 1994. Responses to simulated grazing and browsing of vegetation available to caribou in the Arctic. Can J Zool 72:1426–35

Pakeman RJ. 2004. Consistency of plant species and trait responses to grazing along a productivity gradient: a multi-site analysis. J Ecol 92:893–905

Pastor J, Cohen Y. 1997. Herbivores, the functional diversity of plants species, and the cycling of nutrients in ecosystems. Theor Popul Biol 51:165–79

Pinheiro J, Bates B, DebRoy S, Sarkar D. 2004. nlme: Linear and nonlinear mixed effects models. R package 3rd edn.

Pinheiro JC, Bates DM. 2000. Mixed-effects models in S and S-Plus. New York: Springer

Post E, Klein DR. 1999. Caribou calf production and seasonal range quality during a population decline. J Wildl Manage 63:335–45

Post ES, Klein DR. 1996. Relationships between graminoid growth form and levels of grazing by caribou (Rangifer tarandus) in Alaska. Oecologia 107:364–72

Quested HM, Cornelissen JHC, Press MC, Callaghan TV, Aerts R, Trosien F, Riemann P, Gwynn-Jones D, Kondratchuk A, Jonasson SE. 2003. Decomposition of sub-arctic plants with differing nitrogen economies: A functional role for hemiparasites. Ecology 84:3209–21

R Development Core Team. 2004. R: A language and environment for statistical computing. Vienna: R Foundation for Statistical Computing http://www.R-project.org

Ritchie ME, Tilman D, Knops JMH. 1998. Herbivore effects on plant and nitrogen dynamics in oak savanna. Ecology 79:165–77

Rosenbaum PR. 1995. Observational studies. New York: Springer

Rubin DB. 2004. Teaching statistical inference for causal effects in experiments and observational studies. J Educ Behav Stat 29:343–67

Semmartin M, Aguiar MR, Distel RA, Moretto AS, Ghersa CM. 2004. Litter quality and nutrient cycling affected by grazing-induced species replacements along a precipitation gradient. Oikos 107:148–60

Senft RL, Coughenour MB, Bailey DW, Rittenhouse LR, Sala OE, Swift DM. 1987. Large herbivore foraging and ecological hierarchies. Bioscience 37:789–99

Shadish WR, Cook TD, Campbell DT. 2002. Experimental and quasi-experimental designs for generalized causal inference. Boston: Houghton Mifflin Company

Simberloff D. 2004. Community ecology: Is it time to move on? Am Nat 163:787–99

Sirotnak JM, Huntly NJ. 2000. Direct and indirect effects of herbivores on nitrogen dynamics: voles in riparian areas. Ecology 81:78–87

Skjenneberg S, Slagsvold L. 1968. Reindriften og dens naturgrunnlag. Oslo: Universitetsforlaget

Skogland T. 1980. Comparative summer feeding strategies of arctic and alpine Rangifer. J Anim Ecol 49:81–98

Skogland T. 1994. Villrein: fra urinnvåner til miljøbarometer. Oslo: Teknologisk Forlag

Spehn EM, Scherer-Lorenzen M, Schmid B, Hector A, Caldeira MC, Dimitrakopoulos PG, Finn JA, Jumpponen A, O'Donnovan G, Pereira JS, Schulze ED, Troumbis AY, Korner C. 2002. The role of legumes as a component of biodiversity in a cross-European study of grassland biomass nitrogen. Oikos 98:205–18

Suding KN, Gross KL, Houseman GR. 2004. Alternative states and positive feedbacks in restoration ecology. Trends Ecol Evolut 19:46–53

Suominen O, Olofsson J. 2000. Impacts of semi-domesticated reindeer on structure of tundra and forest communities in Fennoscandia: a review. Ann Zool Fenn 37:233–49

Tarbuck EJ, Lutgens FK. 1992. The earth. An introduction to physical geology, 4th edn. New York: Macmillan Publishing Company

Tveraa T, Fauchald P, Yoccoz NG, Ims RA, Aanes R, Høgda KA. 2007. What regulate and limit reindeer populations in Norway? Oikos 116:706–15

Tybirk K, Nilsson MC, Michelson A, Kristensen HL, Shevtsova A, Strandberg MT, Johansson M, Nielsen KE, Rils-Nielsen T, Strandberg B, Johnsen I. 2000. Nordic Empetrum dominated ecosystems: Function and susceptibility to environmental changes. Ambio 29:90–7

Tømmervik H, Johansen B, Tombre I, Thannheiser D, Høgda KA, Gaare E, Wielgolaski FE. 2004. Vegetation changes in the Nordic mountain birch forest: The influence of grazing and climate change. Arctic Antarct Alpine Res 36:323–32

van de Koppel J, Rietkerk M, Weissing FJ. 1997. Catastrophic vegetation shifts and soil degradation in terrestrial grazing systems. Trends Ecol Evolut 12:352–56

van der Krift TAJ, Berendse F. 2001. The effect of plant species on soil nitrogen mineralization. J Ecol 89:555–61

van der Wal R. 2006. Do herbivores cause habitat degradation or vegetation state transition? Evidence from the tundra. Oikos 114:177–86

van der Wal R, Brooker RW. 2004. Mosses mediate grazer impacts on grass abundance in arctic ecosystems. Funct Ecol 18:77–86

Virtanen R. 2000. Effects of grazing on above-ground biomass on a mountain snowbed, NW Finland. Oikos 90:295–300

Virtanen R, Eskelinen A, Gaare E. 2003 Long term changes in alpine plant communities in Norway and Finland. In Nagy L, Grabherr G, Körner C, Eds. Alpine biodiversity in Europe. Heidelberg: Springer-Verlag. pp 411–422

Virtanen R, Oksanen L, Razzhivin V. 1999. Topographical and regional patterns of tundra heath vegetation from northern Fennoscandia to the Taimyr peninsula. Acta Bot Fenn 167:29–83

Vitousek P. 1982. Nutrient cycling and nutrient use efficiency. Am Nat 119:553–72

Walker DA, Bockheim JG, Chapin FS, Eugster W, Nelson FE, Ping CL. 2001. Calcium-rich tundra, wildlife, and the "Mammoth Steppe". Quat Sci Rev 20:149–63

Wardle DA, Bardgett RD. 2004. Human-induced changes in large herbivorous mammal density: the consequences for decomposers. Front Ecol Environ 2:145–53

Wardle DA, Bonner KI, Barker GM. 2002. Linkages between plant litter decomposition, litter quality, and vegetation responses to herbivores. Funct Ecol 16:585–95

Wardle DA, Lavelle P. 1997. Linkages between soil biota, plant litter quality and decomposition. In Giller KE, Cadisch G, editors. Driven by nature. Plant litter quality and decomposition. Wallingford: CAB International. pp 107–24

Wardle DA, Nilsson MC, Gallet C, Zackrisson O. 1998. An ecosystem-level perspective of allelopathy. Biol Rev Cambridge Philos Soc 73:305–19

Westoby M, Walker B, Noy-meir I (1989) Opportunistic management for rangelands not at equilibrium. J Range Manage 42:266–74

White RG. 1983. Foraging patterns and their multiplier effects on productivity of northern ungulates. Oikos 40:377–84

White RG, Thomson BR, Skogland T, Person SJ, Russell DE, Holleman DF, Luick JR. 1975. Ecology of caribou at Prudhoe Bay, Alaska. In Brown J, editor. Ecological investigations of the tundra biome in the Prudhoe Bay region, Alaska. Alaska: Biological Papers of the University of Alaska. pp 151–87

White RG, Trudell J. 1980. Habitat preference and forage consumption by reindeer and caribou near Atkasook, Alaska. Arctic Alpine Res 12:511–29

Wiens JA (1989) Spatial scaling in ecology. Funct Ecol 3:385–97

Zeverbergen LW, Thorne CR. 1987. Quantitative analysis of land surface topography. Earth Surf Process Landforms 12:47–56

Zimov SA, Chuprynin VI, Oreshko AP, Chapin FS, Reynolds JF, Chapin MC. 1995. Steppe-tundra transition—a herbivore driven biome shift at the end of the pleistocene. Am Nat 146:765–94

Zobel K, Moora M, Brown VK, Niemela P, Zobel M. 1997. Secondary succession and summer herbivory in a subarctic grassland: community structure and diversity. Ecography 20:595–604
Acknowledgments
We are grateful to Annika Hofgaard, Ingibjörg Svala Jónsdóttir and René van der Wal for discussions, Johan Ingvald Hætta and Anders Aarthun Ims for information about reindeer herding districts, Torstein Engelskjøn for providing a flora database, Bernt Johansen for providing satellite images, Norwegian Coast Guard and Jan Kåre Amundsen for transportation during field work, Sunna Pentha for field assistance, and to Marianne Iversen and Siw Killengreen for leadership during field work. This study, which is a contribution from the "Ecosystem Finnmark" project, was financed by Norwegian Research Council.
About this article
Cite this article
Bråthen, K.A., Ims, R.A., Yoccoz, N.G. et al. Induced Shift in Ecosystem Productivity? Extensive Scale Effects of Abundant Large Herbivores. Ecosystems 10, 773–789 (2007). https://doi.org/10.1007/s10021-007-9058-3
Received:

Accepted:

Published:

Issue Date:
Keywords
Alpine and arctic tundra

plant abundance

flower abundance

functional groups

density-dependence

exploitation ecosystems

ecosystem state

herbivore overabundance

grazing

ungulate management