Abstract
Wastelands are likely to host a significant part of urban floristic diversity but have received limited attention because they are not considered interesting green zones. Here, we explore the potential role of wastelands in maintaining urban biodiversity to help define effective urban management plans. We quantified floristic diversity in 98 wasteland sites of Hauts-de-Seine, one of the most densely populated areas in France, and characterized the environmental parameters and spatial distribution of sites to identify some of the factors that influence plant species composition and to explore the impact of urban environment on the floristic interest of wastelands. Their floristic richness represented 58% of the total richness observed in the whole study area. Site richness depended on site area (the largest sites were the richest) and site age, with a maximum in sites of intermediate age (4–13 years). In the largest sites only (>2,500 m2), the floristic distance among sites was positively correlated with geographic distance, which suggests that migration of species among large sites partly controls local floristic composition. In contrast, the environmental distance among sites was not correlated with floristic distance. Finally, we showed that the presence of collective and individual dwellings within 200 m of a wasteland decreased its floristic rarity, whereas the presence of rivers or ponds increased it. We derive several recommendations to optimize the management of wastelands with respect to conservation of urban biodiversity.
This is a preview of subscription content, log in to check access.
Access options
Buy single article
Instant access to the full article PDF.
US$ 39.95
Price includes VAT for USA
Subscribe to journal
Immediate online access to all issues from 2019. Subscription will auto renew annually.
US$ 99
This is the net price. Taxes to be calculated in checkout.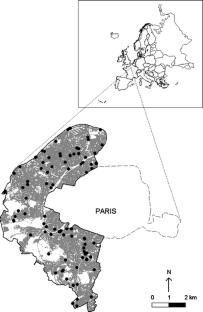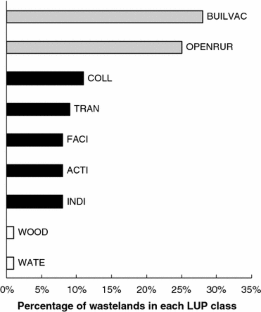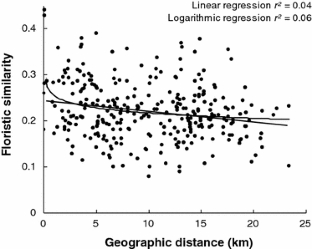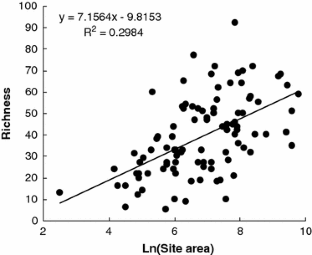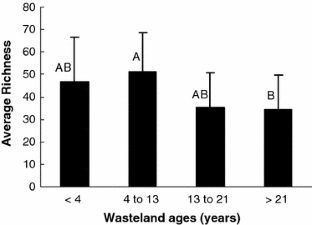 References
Conseil Scientifique Régional du Patrimoine Naturel (CSRPN IdF), Direction Régionale de l'Environnement d'Ile-de-France (DIREN IdF). 2002. Guide méthodologique pour la création de Zone Naturelle d'Intérêt Ecologique, Faunistique et Floristique (ZNIEFF) en Ile-de-France. Direction Régionale de l'Environnement d'Ile-de-France, Cachan

Davis AM, Glick TF. 1978. Urban ecosystems and island biogeography. Environ Conserv 5:299–304

Ellenberg H. 1979. Indicator values of vascular plants in Central Europe. Scr Geobot 9:7–122

Gödde M, Richarz N, Walter B. 1995. Habitat conservation and the development in the city of Düsseldorf, Germany. In: Sukopp H, Numata M, Huber A, Eds. Urban Ecology as the Basis of Urban Planning. The Hague, SPB Academic Publishers p 163–71

Godefroid S, Monbaliu D, Koedam N. 2007. The role of soil and microclimatic variables in the distribution patterns of urban wasteland flora in Brussels. Belgium, Landscape Urban Plan 80:45–55

Grumbine RE. 1990. Viable populations, reserve size, and federal lands management: a critique. Conserv Biol 4: 127–34

Harrison C, Davies G. 2002. Conserving biodiversity that matters: practitioners' perspectives on brownfield development and urban nature conservation in London. J Environ Manage 65:95–108

Herbst H, Herbst V. 2006. The development of an evaluation method using a geographic information system to determine the importance of wasteland sites as urban wildlife areas. Landsc Urban Plan 77:178–195

Horn HS. 1974. The ecology of secondary succession. Annu Rev Ecol Syst 5:25–37

Hurtt GC, Pacala SW. 1995. The consequences of recruitment limitation: reconciling chance, history and competitive differences between plants. J Theor Biol 176:1–12

INSEE. 1999. National Institute for Statistics and Economic Studies. http://www.insee.fr

IAURIF. 2003. Institute for Planning and Development of the Paris Ile-de-France Region. http://www.iaurif.org

Kowarik I.1995. Time lags in biological invasions with regard to the success and failure of alien species. In: Pysek P, Prach K, Rejmànek M, Wade M, Eds. Plant Invasions: General aspects and special problems. SPB Academic publishing, Amsterdam, pp. 15–38

MapInfo, MapInfo corporation 2004. MapInfo professional version 7.8

Maurer U, Peschel T, Schmitz S. 2000. The flora of selected urban land-use types in Berlin and Potsdam with regard to nature conservation in cities. Landsc Urban Plan 46:209–215

McDonnell M., Pickett S., 1990. Ecosystem structure and function along urban-rural gradients: an unexploited opportunity for ecology. Ecology 71: 1232–1237

McNally R. 2002. Multiple regression and inference in ecology and conservation biology: further comments on identifying important predictor variables. Biodivers Conserv 11:1397–1401

Muratet A. 2006. Diversité végétale en milieu urbain. L'exemple des Hauts-de-Seine. PhD-Thesis. University of Paris VI. 121 p

Oksanen J, Kindt R, O'Hara RB. 2005. Vegan: community ecology package. R package version 1.6–9

Peet RK, Glenn-Lewin DC, Wolf JW. 1983. Prediction of man's impact on plant species diversity. In: Holzner W, Werger MJA, Ikusima I, Eds. Man's impact on vegetation. The Hague: Dr W. Junk Publishers, pp. 1–54

Pysek P. 1998. Alien and native species in Central European urban floras: a quantitative comparison. J Biogeogr 25:155–63

R Development Core Team. 2005. R: a language and environment for statistical computing. Vienna: R Foundation for Statistical Computing

Rebele F. 1994. Urban ecology and special features of urban ecosystems. Global Ecol Biogeogr 4:173–187

Rexstad E, Burnham KP. 1991. User's guide for interactive program CAPTURE. Abundance estimation of closed animal populations. Fort Collins: Colorado State University

Richardson DM, Pyšek P, Rejmánek M, Barbour MG, Panetta FD, West CJ. 2000. Naturalization and invasion of alien plants: concepts and definitions. Diversity Distribut 6:93

Sukopp H, Werner P. 1987. Développement de la faune et de la flore en territoire urbain. Strasbourg: Conseil de l'Europe. 61p

Thioulouse J, Chessel D, Doledec S, Olivier J-M. 1997. ADE-4: a multivariate analysis and graphical display software. Stat Comput 7:75–83

Walsh C, MacNally R. 2004. hier.part: Hierarchical Partitioning. Version 1.0.: R package

Whitfield J. 2002. Neutrality versus the niche. Nature 417:480–481

Zerbe S, Maurer U, Schmitz S, Sukopp H. 2003. Biodiversity in Berlin and its potential for nature conservation. Landsc Urban Plan 62:139–148
Acknowledgments
Funding for this research was provided by the Conseil Général des Hauts-de-Seine. We thank Yoann Faivre for his help on the field, Gérard Arnal, Sébastien Filoche and Fabrice Perriat for their help in plant identification and three anonymous reviewers for helpful comments on an earlier version of the manuscript.
Appendix: abbreviations for land use pattern classes (IAURIF 2003)
Appendix: abbreviations for land use pattern classes (IAURIF 2003)
 
Land use patterns
Definitions
Built zones
ACTI
Activities (Warehouses, Offices, Companies)
COLL
Collective dwelling
FACI
Facilities (Education, Health, Administration, Cemeteries, Electricity, Gas, Petroleum)
INDI
Individual dwelling
TRAN
Transport (Railways, Highways, Parking lots)
 
BUILVAC
Building sites and vacant urban
Open zones
OPENRUR
Open urban areas (Parks, Gardens, Sports, Camping, Golf, Hippodrome) and rural (Truck farmings, horticulture, orchards, breeding grounds, grounds and pits)
WATE
Water
WOOD
Woods and forests
About this article
Cite this article
Muratet, A., Machon, N., Jiguet, F. et al. The Role of Urban Structures in the Distribution of Wasteland Flora in the Greater Paris Area, France. Ecosystems 10, 661 (2007). https://doi.org/10.1007/s10021-007-9047-6
Received:

Revised:

Accepted:

Published:
Keywords
Land use pattern

Indigeneity

Hauts-de-Seine

Isolation by distance

Plant diversity

Rarity

Urbanization