Abstract
Extensive fires in recent decades in the Greater Yellowstone Ecosystem (GYE) garnered much attention for causing a significant decrease in the extent of conifer forest cover. Meanwhile, conifer forests in unburned parts of the GYE have continued to increase in extent and density. Conifer cover increase has been well documented by repeat historical photography, but the average rate of increase and the spatial variation remain unquantified. We examined changes in conifer cover across biophysical gradients in the GYE based on stratified random samples from aerial photographs. The percent conifer cover for samples in 1971 and 1999 was quantified to determine the frequency and rate of conifer cover change. A slight majority of samples (56%) showed no change, whereas increases (22%) were balanced by decreases (22%). However, among samples that were not recently burned or logged, or already closed-canopy, nearly 40% increased in conifer cover, at an average annual rate of 0.22%. We quantified significant variability in the frequency and rate of conifer cover increase across gradients of elevation, aspect, vegetation type, and proximity to nearby conifer forest. The most dynamic locations were low density conifer woodlands on northerly aspects at lower elevations, with average annual rates of increase up to 0.51%. This study is significant because it demonstrates that rates of conifer cover increase vary across biophysical gradients, an important consideration for management of dynamic forest ecosystems. Improved understanding of this variability helps us to better understand what factors ultimately cause conifer cover increase. It is also a critical step towards accurate quantification of the magnitude of carbon uptake by conifer cover increase.
Access options
Buy single article
Instant access to the full article PDF.
US$ 39.95
Tax calculation will be finalised during checkout.
Subscribe to journal
Immediate online access to all issues from 2019. Subscription will auto renew annually.
US$ 79
Tax calculation will be finalised during checkout.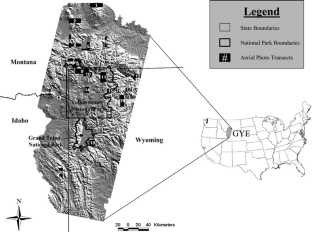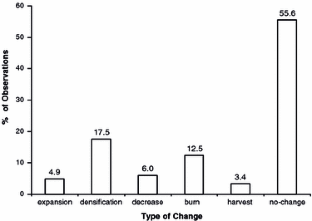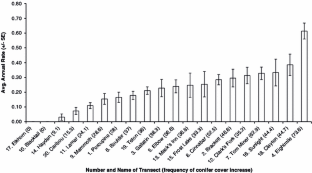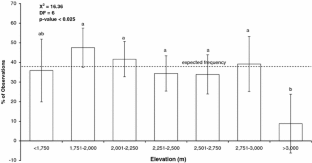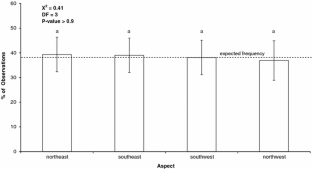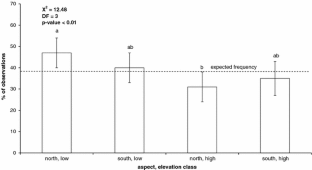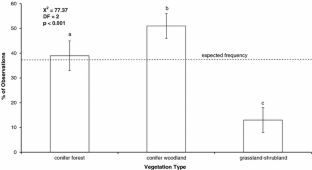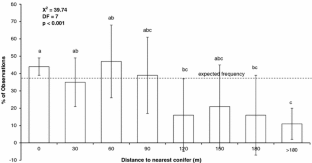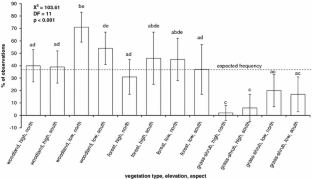 References
Allen CD, Savage M, Falk DA, Suckling KF, Swetnam TW, Schulke T, Stacey PB, Morgan P, Hoffman M, Klingel JT. 2002. Ecological restoration of southwestern ponderosa pine ecosystems: a broad perspective. Ecol Appl 12: 1418–33

Archer S, Schimel DS, Holland EA. 1995. Mechanisms of shrubland expansion−land-use, climate, or CO2 Climatic Change 29: 91–9

Arno SF, Brown JK. 1989. Managing fire in our forests−time for a new initiative. J Forestry 87: 44–6

Arno SF, Gruell GE. 1983. Fire history at the forest–grassland ecotone in southwestern Montana. J Range Manage 36: 332–6

Arno SF, Gruell GE. 1986. Douglas-fir encroachment into mountain grasslands in southwestern Montana. J Range Manage 39: 272–5

Arno SF, Smith HY, Krebs MA. 1997. Old growth ponderosa pine and western larch stand structures: influences of pre-1900 fires and fire exclusion. Research Paper INT-RP-495. USDA Forest Service Intermountain Research Station

Barbour MG, Fernau RF, Benayas JMR, Jurjavcic N, Royce EB. 1998. Tree regeneration following clearcut logging in red fir forests of California. Forest Ecol Manage 104: 101–1

Barrett SW, Arno SF. 1982. Indian fires as an ecological influence in the northern Rockies. J Forestry 80: 647–51

Brown DG. 2003. Landuse and forest cover on private parcels in the Upper Midwest, USA, 1970 to 1990. Landscape Ecol 18: 777–90

Butler DR. 1986. Conifer invasion of subalpine meadows, central Lemhi Mountains, Idaho. Northwest Sci 60: 166–73

Dando LM, Hansen KJ. 1990. Tree invasion into a range environment near Butte, Montana. Great Plains-Rocky Mountain Geograph J 18: 65–76

Daubenmire RF. 1943. Soil temperature versus drought as a factor determining lower altitudinal limits of trees in the Rocky Mountains. Botanical Gazette 105: 1–13

Daubenmire RF. 1968. Soil moisture in relation to vegetation distribution in the mountains of northern Idaho. Ecology 49: 431–8

Despain DG. 1990. Yellowstone Vegetation. Consequences of environment and history in a natural setting. Boulder: Roberts Rinehart. 239p

Gallant AL, Hansen AJ, Councilman JS, Monte DK, Betz DW. 2003. Vegetation dynamics under fire exclusion and logging in a Rocky Mountain watershed: 1856–1996. Ecol Appl 13: 385–403

Graham RL, Turner MG, Dale VH. 1990. How increasing CO2 and climate change affect forests. BioScience 40: 575–87

Gruell GE. 1983. Fire and vegetative trends in the northern Rockies: interpretations from 1871–1982. Gen. Tech. Rep. INT-158. USDA Forest Service Intermountain Forest and Range Exp. Station

Hansen AJ, Rotella JJ, Kraska MPV, Brown D. 2000. Spatial patterns of primary productivity in the Greater Yellowstone Ecosystem. Landscape Ecol 15: 505–22

Hernandez P. 2004. Demographic change in the new west: Exurban development around nature reserves [thesis]. Bozeman (MT): Montana State University. 164p

Houghton RA, Hackler JL, Lawrence KT. 2000. Changes in terrestrial carbon storage in the United States. 2: The role of fire and fire management. Global Ecol Biogeography 9: 145–70

Houston DB. 1973. Wildfires in northern Yellowstone National Park. Ecology 54: 1111–7

Jakubos B, Romme WH. 1993. Invasion of subalpine meadows by lodgepole pine in Yellowstone National Park, Wyoming, USA Artic Alpine Res 25: 382–90

Knapp PA, Soulé PT. 1998. Recent Juniperus occidentalis (Western Juniper) expansion on a protected site in central Oregon. Global Change Biol 4: 347–57

Kullman L, Engelmark O. 1997. Neoglacial climate control of subarctic Picea abies stand dynamics and range limit in northern Sweden. Arctic Alpine Res 29: 315–26

Lawrence RL, Ripple WJ. 2000. Fifteen years of revegetation of Mount St. Helens: a landscape-scale analysis. Ecology 81:2742–52

Littell JS. 2002. Determinants of fire regime variability in lower elevation forests of the northern Greater Yellowstone Ecosystem [thesis]. Bozeman (MT): Montana State University. 122p

Loope LL, Gruell GE. 1973. The ecological role of fire in the Jackson Hole area, northwestern Wyoming. Quart Res 3: 425–43

Mast JN, Veblen TT, Hodgson ME. 1997. Tree invasion within a pine/grassland ecotone: an approach with historic aerial photography and GIS modeling. Forest Ecol Manage 93: 181–94

Meagher M, Houston DB. 1998. Yellowstone and the biology of time: photographs across a century. Norman: University of Oklahoma Press. 287p

Miller EA, Halpern CB. 1998. Effects of environment and grazing disturbance on tree establishment in meadows of the central Cascade Range, Oregon, USA. J Vegetat Sci 9: 265–82

Pacala SW, Hurtt GC, Baker D, Peylin P, Houghton RA, Birdsey RA, Heath L, Sundquist ET, Stallard RF, Ciais P, Moorcroft P, Caspersen JP, Shevliakova E, Moore B, Kohlmaier G, Holland E, Gloor M, Harmon ME, Fan S, Sarmiento JL, Goodale CL, Schimel D, Field CB. 2001. Consistent land- and atmosphere-based U.S carbon sink estimates.Science 292: 2316–20

Parmenter AP, Hansen AJ, Kennedy R, Cohen W, Langner U, Lawrence RL, Maxwell B, Gallant A, Aspinall R. 2003. Land use and land cover change in the Greater Yellowstone ecosystem: 1975–95. Ecol Appl 13: 687–703

Patten DT. 1963. Vegetational pattern in relation to environments in the Madison Range, Montana. Ecol Monogr 33: 397–406

Richardson DM, Bond WJ. 1991. Determinants of plant distribution: evidence from pine invasions. Am Naturalist 137: 639–68

Romme WH. 1982. Fire and landscape diversity in subalpine forests of Yellowstone National Park. Ecol Monogr 52: 199–221

Romme WH, Despain DG. 1989. Historical perspective on the Yellowstone fires of 1988. BioScience 39: 695–9

Romme WH, Turner MG. 1991. Implications of global climate change for biogeographic patterns in the Greater Yellowstone Ecosystem. Conserv Biol 5: 373–86

Rosenstock SS, Van Riper III C. 2001. Breeding bird responses to juniper woodland expansion. J Range Manage 54: 226–32

Rupp TS, Chapin III FS, Starfield AM. 2001. Modeling the influence of topographic barriers on treeline advance at the forest-tundra ecotone in northwestern Alaska. Climatic Change 48: 399–416

Sahin V, Hall MJ. 1996. The effects of afforestation and deforestation on water yields. J Hydrol 178: 293–309

Sindelar BW. 1971. Douglas-fir invasion of Western Montana grasslands [dissertation]. Missoula: University of Montana. 130p

Soulé PT, Knapp PA, Grissino-Mayer HD. 2003. Comparative rates of Western Juniper afforestation in south-central Oregon and the role of anthropogenic disturbance. Professional Geographer 55: 43–55

Steinauer EM., Bragg TB. 1987. Ponderosa pine (Pinus ponderosa) invasion of Nebraska Sandhills prairie. Am Midland Naturalist 118: 358–65

Turner JS, Krannitz PG. 2001. Conifer density increases in semi-desert habitats of British Columbia in the absence of fire. Northwest Science 75: 176–82

Turner MG, Romme WH, Gardiner RH, Hargrove WW. 1997. Effects of fire size and pattern on early succession in Yellowstone National Park. Ecol Monogr 67: 411–33

Turner MG, Romme WH, Tinker DB. 2003. Surprises and lessons from the 1988 Yellowstone fires. Frontiers Ecol Environ 1: 351–8

Zimmerman GT, Neuenschwander LF. 1984. Livestock grazing influences on community structure, fire intensity, and fire frequency within the douglas-fir/ninebark habitat type. J Range Manage 37: 104–10
Acknowledgments
We thank the NASA Land Cover Land Use Change Program for funding this study. We also thank Jeremy Lougee, Nick Lyman, Lew Stringer, and Jason Bruggeman for aerial photo interpretation in support of this study. Special thanks to Monica Turner and her support from NSF for use of aerial photos for Yellowstone National Park. We also thank Lisa Graumlich, Rick Lawrence, Jay Rotella, and three anonymous reviewers for their thoughtful comments on manuscript drafts.
About this article
Cite this article
Powell, S.L., Hansen, A.J. Conifer Cover Increase in the Greater Yellowstone Ecosystem: Frequency, Rates, and Spatial Variation. Ecosystems 10, 204–216 (2007). https://doi.org/10.1007/s10021-007-9023-1
Received:

Accepted:

Published:

Issue Date:
Keywords
Yellowstone

conifer expansion

biophysical factors

forest dynamics

conifer cover

aerial photos.