Abstract
Large herbivores can both positively and negatively affect primary productivity and rates of nutrient cycling in different ecosystems. Positive effects of grazers in grasslands have been attributed to migratory behavior of the dominant ungulate species and soil fertility. We studied the effects of grazers on aboveground net primary productivity (ANPP) and N cycling on central Kenyan rangeland characterized by intense, chronic grazing by a mixed community of cattle and resident native ungulates. Exclosure studies conducted at high and low levels of soil fertility showed that both soil fertility and annual rainfall patterns mediate the effects of grazers on ANPP and N cycling. In a low-rainfall year with short (1 month) growing seasons, grazers reduced aboveground productivity regardless of soil nutrient availability. However, in a high-rainfall year with a 5-month growing season, grazers increased ANPP on nutrient-rich glades and suppressed ANPP on nutrient-poor bushland sites. Concomitant studies of grazer effects on N cycling revealed complex interactions with the seasonal pattern of N-mineralization and inorganic N availability. Grazers increased the size of the inorganic N pool available to plants at the onset of the growing season, particularly in nutrient-rich glades. However, grazers also decreased N mineralization rates at all sites early in the growing season. Measures of N availability via ion-exchange resin bags suggested that the combined effects of grazers on inorganic N pool fluctuations and N-mineralization rates resulted in a net increase in N availability at glade sites and a net decrease in N availability at bushland sites. The net effect of grazers on soil N availability mirrored grazer effects on ANPP in the high-rainfall year. Overall, our results suggest that grazer effects on N dynamics are closely linked to effects on productivity and resilience to drought. Furthermore, even under optimal conditions of high soil fertility and above-average rainfall, grazer promotion of ANPP in this chronically grazed system dominated by resident ungulates was small compared to systems dominated by migratory ungulates.
Access options
Buy single article
Instant access to the full article PDF.
USD 39.95
Price excludes VAT (USA)
Tax calculation will be finalised during checkout.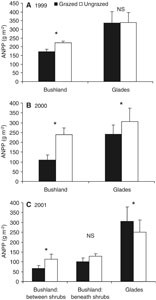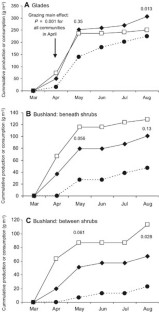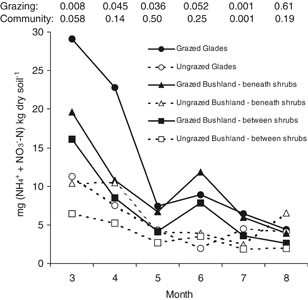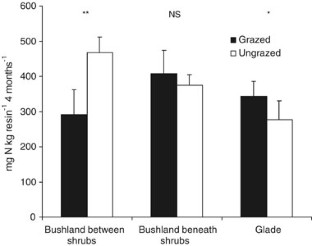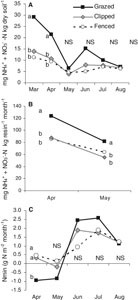 References
Ahn PM, Geiger LC. 1987. Kenya soil survey—soils of Laikipia District. Kabete, Kenya: Ministry of Agriculture, National Agricultural Laboratories

Anderson VJ, Briske DD. 1995. Herbivore-induced species replacement in grasslands: is it driven by herbivory tolerance or avoidance? Ecol Appl 5:1014–24

Archer S. 1995. Herbivore mediation of grass-woody plant interactions. Trop Grassl 29:218–35

Augustine DJ. 2003a. Long-term, livestock-mediated redistribution of nitrogen and phosphorous in an East African savanna. J Appl Ecol 40:137–49

Augustine DJ. 2003b. Spatial heterogeneity in the herbaceous layer of a semi-arid savanna ecosystem. Plant Ecol 167:319–32

Augustine DJ, McNaughton SJ. 1998. Ungulate effects on the functional species composition of plant communities: herbivore selectivity and plant tolerance. J Wildl Manage 62:1165–83

Augustine DJ, McNaughton SJ. 2004. Temporal asynchrony in soil nutrient dynamics and plant growth in a semi-arid savanna ecosystem. Ecosystems 7:829–40

Augustine DJ, McNaughton SJ, Frank DA. 2003. Feedbacks between soil nutrients and large herbivores in a managed savanna ecosystem. Ecol Appl 13:1325–37

Bardgett RD, Wardle DA. 2003. Herbivore-mediated linkages between above-ground and belowground communities. Ecology 84:2258–68

Bazely DR, Jefferies RL. 1985. Goose faeces: a source of nitrogen for plant growth in a grazed salt marsh. J Appl Ecol 22:693–703

Binkley D. 1984. Ion exchange resin bags: factors affecting estimates of nitrogen availability. Soil Sci Soc Am J 48:1181–4

Binkley D, Hart SC. 1989. The components of nitrogen availability assessments in forest soils. In: Advances in Soil Science, Vol 10. Berlin Heidelberg New York: Springer, p 57–112

Biondini ME, Manske L. 1996. Grazing frequency and ecosystem processes in a northern mixed prairie, USA. Ecol Appl 6:239–56

Biondini M, Patton B, Nyren P. 1998. Grazing intensity and ecosystem processes in a northern mixed-grass prairie, USA. Ecol Appl 8:469–79

Blackmore AC, Mentis MT, Scholes RJ. 1990. The origin and extent of nutrient-enriched patches within a nutrient-poor savanna in South Africa. J Biogeogr 17:463–70

Brown JR, Stuth JW. 1993. How herbivory affects grazing tolerant and sensitive grasses in a central Texas grassland: integrating plant response across hierarchical levels. Oikos 67:291–8

Bryant JP. 1987. Feltleaf willow-snowshoe hare interactions: plant carbon/nutrient balance and floodplain succession. Ecology 68:1319–27

Bryant JP, Kuropat P, Cooper S, Frisby K, Owen- Smith N. 1989. Resource availability hypothesis of plant antiherbivore defence tested in a South African savanna ecosystem. Nature 340:227–9

Bryant JP, Provenza FD, Pastor J, Reichardt PB, Clausen TP, du Toit JT. 1991. Interactions between woody plant and browsing mammals mediated by secondary metabolites. Annu Rev Ecol Syst 22:431–46

Cargill SM, Jefferies RL. 1984. The effects of grazing by lesser snow geese on the vegetation of a sub-arctic salt marsh. J Appl Ecol 21:669–86

Chapin FS, McNaughton SJ. 1989. Lack of compensatory growth under phosphorus deficiency in grazing-adapted grasses from the Serengeti Plains. Oecologia 79:551–7

Coley PD, Bryant JP, Chapin FS. 1985. Resource availability and plant antiherbivore defense. Science 230:895–9

Coughenour MB. 1985. Graminoid responses to grazing by large herbivores: adaptations, exaptations, and interacting processes. A Mo Bot Gard 72:852–63

de Mazancourt C, Loreau M, Abbadie L. 1998. Grazing optimization and nutrient cycling: when do herbivores enhance plant production? Ecology 79:2242–52

Ellis JE, Coughenour MB, Swift DM. 1993. Climate variability, ecosystem stability, and the implications for range and livestock development. In: Behnke R, Scoones I, Kerven C, Eds. Range Ecology at Disequilibrium. London: Overseas Development Institute. p 31–41

Ellis JE, Swift DM. 1988. Stability of African pastoral ecosystems: alternate paradigms and implications for development. J Range Manage 41:450–9

Floate MJ. 1981. Effects of grazing by large herbivores on nitrogen cycling in agricultural ecosystems. In: Clark FE, Rosswall T, Eds. Terrestrial nitrogen cycles: processes, ecosystem strategies, and management impacts. Ecological Bulletins-NFR 33, p 585–602

Frank DA, Groffman PM. 1998. Ungulate versus topographic control of soil carbon and nitrogen processes in grasslands of Yellowstone National Park. Ecology 79:2229–41

Frank DA, McNaughton SJ. 1993. Evidence for the promotion of aboveground grassland production by native large herbivores in Yellowstone National Park. Oecologia 96:157–61

Frank DA, Kuns M, Guido D. 2002. Consumer control of grassland plant production. Ecology 83:602–6

Frank DA, McNaughton SJ, Tracy BF. 1998. The ecology of the earth's grazing ecosystems: Comparing the Serengeti and Yellowstone. Bioscience 48:513–21

Fynn R, O'Connor T. 2000. Effect of stocking rate and rainfall on rangeland dynamics and cattle performance in a semi-arid savanna, South Africa. J Appl Ecol 37:491–507

Hamilton EW, Giovannini MS, Moses SJ, Coleman JS, McNaughton SJ. 1998. Biomass and mineral element responses of a Serengeti short grass species to nitrogen supply and defoliation: compensation requires a critial [N]. Oecologia 114: 407–18

Illius A, O'Connor T. 1999. On the relevance of nonequilibrium concepts to arid and semiarid grazing systems. Ecol Appl 9:798–813

Illius A, O'Connor T. 2000. Resource heterogeneity and ungulate population dynamics. Oikos 89:283–94

Keuhl RO. 2000. Design of Experiments: Statistical Principles of Research Design and Analysis. Belmont, CA: Duxbury Press

Knapp AK, Blair JM, Briggs JM, Collins SL, Hartnett DC, Johnson LC, Towne EG. 1999. The keystone role of bison in North American tallgrass prairie. Bioscience 49:39–50

le Houerou HN. 1989. The grazing land ecosystems of the African Sahel. Berlin Heidelberg New York: Springer

McNaughton SJ. 1979. Grazing as an optimization process: grass-ungulate relationships in the Serengeti National Park, Tanzania. Am Nat 113:691–703

McNaughton SJ. 1985. Ecology of a grazing ecosystem: the Serengeti. Ecol Monogr 55:259–94

McNaughton SJ, Milchunas DG, Frank DA. 1996. How can net primary productivity be measured in grazing ecosystems? Ecology 77:974–1996

McNaughton SJ, Banyikwa FF, McNaughton MM. 1997. Promotion of the cycling of diet-enhancing nutrients by African grazers. Science 278:1798–800

Milchunas DG, Sala O, Lauenroth W. 1988. A generalized model of the effects of grazing by large herbivores on grassland community structure. Am Nat 132:87–106

Oba G, Stenseth NC, Lusigi WJ. 2000. New perspectives on sustainable grazing management in arid zones of sub-saharan Africa. Bioscience 50:35–51

O'Connor TG. 1985. A Synthesis of Field Experiments Concerning the Grass Layer in the Savanna Regions of Southern Africa. Pretoria, South Africa: South African National Science Programme

Pastor J, Cohen Y. 1997. Herbivores, the functional diversity of plant species, and the cycling of nutrients in ecosystems. Theor Popul Biol 51:165–79

Pastor J, Dewey B, Naiman RJ, McInnes PF, Cohen Y. 1993. Moose browsing and soil fertility of Isle Royale National Park. Ecology 74:467–80

Penning de Vries FW, Kuel JM, Van Keulen H. 1980. Productivity of Sahelian rangelands in relation the availability of nitrogen and phosphorous from the soil. In: Rosswall T, Ed. Nitrogen Cycling in West African Ecosystems. Stockholm: Royal Swedish Academy of Science, pp. 95–113

Polhill RM (Ed). 1972–1982. Flora of Tropical East Africa, Rotterdam, Netherlands, Part 1 (1972) by WD Clayton, Whitefriars Press, London, UK; Part 2 by WD Clayton, SM Phillips, and SA Renvoize, Whitefriars Press, London, UK; Part 3 (1982) by WD Clayton and SA Renvoize, A.A. Balkema

Young TP, Okello B, Kinyua D, Palmer TM. 1998. KLEE: a long-term, large scale herbivore exclusion experiment in Laikipia, Kenya. Afr J Range and Forage Sci 14: 94–102

Rietkerk M, Van den Bosch F, Van de Koppel J. 1997. Site-specific properties and irreversable vegetation changes in semi-arid grazing system. Oikos 80:241–52

Ritchie ME, Tilman D, Knops JMH. 1998. Herbivore effects on plant and nitrogen dynamics in oak savanna. Ecology 79:165–77

Scholefield D, Lockyer DR, Whitehead DC, Tyson KC. 1991. A model to predict transformations and losses of nitrogen in UK pastures grazed by beef cattle. Plant Soil 132:165–77

Scholes RJ, Walker BH. 1993. An African savanna: synthesis of the Nylsvley study. New York: Cambridge University Press

Schlesinger WH, Reynolds JF, Cunningham GL, Huenneke LF, Jarrell WM, Virginia RM, Whitford GG. 1990. Biological feedbacks in global desertification. Science 247:1043–8

Seagle S, McNaughton S, Ruess R. 1992. Simulated effects of grazing on soil nitrogen and mineralization in contrasting Serengeti grasslands. Ecology 73: 1105–23

Shariff AR. 1993. Net primary productivity and nitrogen dynamics as a function of grazing intensity. PhD Dissertation, North Dakota State University, Fargo, ND

Shariff AR, Biondini ME, Grygiel CE. 1994. Grazing intensity effects on litter decomposition and soil nitrogen mineralization. J Range Manage 47:444–449

Sinclair ARE, Fryxell JM. 1985. The Sahel of Africa: ecology of a disaster. Can J Zool 63:987–94

Singh R, Raghubanshi A, Singh J. 1991. Nitrogen mineralization in dry tropical savanna: effects of burning and grazing. Soil Biol Biochem 23:269–73

Snyman H. 2002. Short-term response of rangeland botanical composition and productivity to fertilization (N and P) in a semi-arid climate of South Africa. J Arid Environ 50:167–83

Stehman SV, Meredith MP. 1995. Practical analysis of factorial experiments in forestry. Can J For Res 25:446–61

Thouless CR, Sakwa J. 1995. Shocking elephants—fences and crop raiders in Laikipia district, Kenya. Biol Conserv 72:99–107

Wegener C, Odasz AM. 1997. Effects of laboratory simulated grazing on biomass of the perennial Arctic grass Dupontia fisheri from Svalbard: evidence of overcompensation. Oikos 79:496–502

Young TP, Partridge N, Macrae A. 1995. Long-term glades in acacia bushland and their edge effects in Laikipia, Kenya. Ecol Appl 5:97–108
Acknowledgements
We especially thank F. Lomojo, J. Ekiru, and D. M. Augustine for their assistance and enthusiasm with all aspects of field data collection, and M. McNaughton for her assistance with soil nutrient analyses. Drs. S. Seagle and D. A. Frank and two anonymous reviewers provided helpful comments on the article. We thank the Office of the President of the Republic of Kenya for permission to conduct this research in Kenya, and N. J. Georgiadis for his assistance with all aspects of the study. Financial support was provided by the National Geographic Society, an NSF pre-doctoral fellowship to DJA, and NSF grants DEB-9813050 and DEB-9903845 to S. J. McNaughton.
About this article
Cite this article
Augustine, D.J., McNaughton, S.J. Interactive Effects of Ungulate Herbivores, Soil Fertility, and Variable Rainfall on Ecosystem Processes in a Semi-arid Savanna. Ecosystems 9, 1242–1256 (2006). https://doi.org/10.1007/s10021-005-0020-y
Received:

Accepted:

Published:

Issue Date:

DOI: https://doi.org/10.1007/s10021-005-0020-y
Keywords
cattle

grazing ecosystems

grassland

impala

inorganic nitrogen

nutrient cycling

nonequilibrium rangelands

phosphorous

wildlife management