Abstract
Predicted changes in climate may affect key soil processes such as respiration and net nitrogen (N) mineralization and thus key ecosystem functions such as carbon (C) storage and nutrient availability. To identify the sensitivity of shrubland soils to predicted climate changes, we have carried out experimental manipulations involving ecosystem warming and prolonged summer drought in ericaceous shrublands across a European climate gradient. We used retractable covers to create artificial nighttime warming and prolonged summer drought to 20-m2 experimental plots. Combining the data from across the environmental gradient with the results from the manipulation experiments provides evidence for strong climate controls on soil respiration, net N mineralization and nitrification, and litter decomposition. Trends of 0%–19% increases of soil respiration in response to warming and decreases of 3%–29% in response to drought were observed. Across the environmental gradient and below soil temperatures of 20°C at a depth of 5–10 cm, a mean Q10 of 4.1 in respiration rates was observed although this varied from 2.4 to 7.0 between sites. Highest Q10 values were observed in Spain and the UK and were therefore not correlated with soil temperature. A trend of increased accumulated surface litter mass loss was observed with experimental warming (2%– 22%) but there was no consistent response to experimental drought. In contrast to soil respiration and decomposition, variability in net N mineralization was best explained by soil moisture rather than temperature. When water was neither limiting or in excess, a Q10 of 1.5 was observed for net N mineralization rates. These data suggest that key soil processes will be differentially affected by predicted changes in rainfall pattern and temperature and the net effect on ecosystem functioning will be difficult to predict without a greater understanding of the controls underlying the sensitivity of soils to climate variables.
Access options
Buy single article
Instant access to the full article PDF.
USD 39.95
Price excludes VAT (USA)
Tax calculation will be finalised during checkout.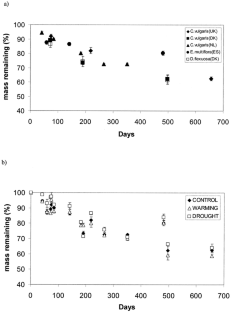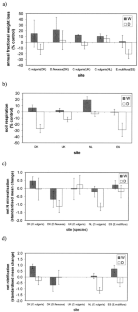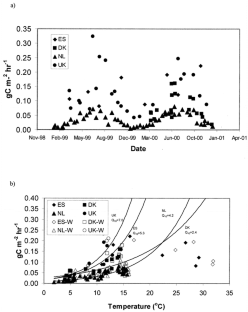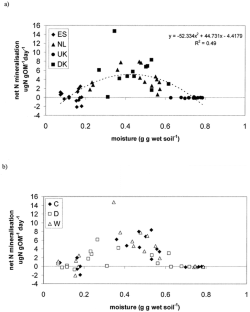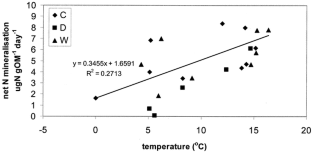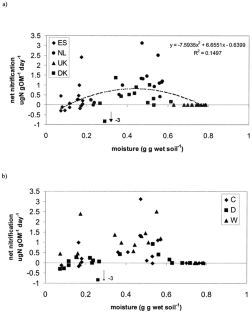 References
R Aerts GW Heil (1993) Heathlands: Patterns and Processes in a Changing Environment Kluwer Academic Publishers Dordrecht

GI Ågren MUF Kirschbaum DW Johnson E Bosatta (1996) Ecosystem physiology—Soil organic matter AI Breymeyer DO Hall JM Melillo GI Ågren (Eds) Global Change: Effects on Coniferous Forests and Grasslands. SCOPE Wiley New York 207–28

AM Arft MD Walker J Gurevitch JM Altalo MS Bret–Harte M Dale M Diemer F Gugerli GHR Henfy MH Jones R Hollister IS Jónsdóttir K Laine E Lévesque GM Marion U Molau P MØlgaard U Nordenhäll V Raszhivin CH Robinson G Starr A Stenström M Stenström Ø Totland L Turner L Walker P Webber JM Welker PA Wookey (1999) ArticleTitleResponse patterns of tundra plant species to experimental warming: a meta-analysis of the International Tundra Experiment Ecol Mongr 69 491–511

C Beier BA Emmett P Gundersen A Tietema J Peñuelas M Estiarte C Gordon A Gorissen L Llorens F Roda D Williams (2004) ArticleTitleNovel approaches to study climate change on terrestrial ecosystems at the field scale: drought and passive nighttime warming Ecosystems 7 xxx–xxx

F Berendse (1990) ArticleTitleOrganic matter accumulation and nitrogen mineralization during secondary succession in heathland ecosystems J Ecol 78 413–27

B Berg G Ekbohm M Johansson C McClaugherty F Rutigliano AV de Santo (1996) ArticleTitleMaximum decomposition limits of forest litter types: a synthesis Can J Bot 74 659–72

RD Boone KJ Nadelhoffer JD Canary JP Kaye (1998) ArticleTitleRoots exert a strong influence on the temperature sensitivity of soil respiration Nature 396 570–2 Occurrence Handle10.1038/25119 Occurrence Handle1:CAS:528:DyaK1cXotVWgt7k%3D

BD Dail EA Davidson J Chorover (2001) ArticleTitleRapid abiotic transformation of nitrate in an acid forest soil Biogeochemistry 54 131–46 Occurrence Handle10.1023/A:1010627431722 Occurrence Handle1:CAS:528:DC%2BD3MXlslWjsLg%3D

EA Davidson E Belk RD Boone (1998) ArticleTitleSoil water content and temperature as independent or confounded factors controlling soil respiration in a temperate hardwood forest Global Change Biol 4 217–27 Occurrence Handle10.1046/j.1365-2486.1998.00128.x

EA Davidson LV Verchot JH Cattanio IL Ackerman JEM Carvalho (2000) ArticleTitleEffects of soil water content on soil respiration in forest and cattle pastures of eastern Amazonia Biogeochemistry 48 53–69 Occurrence Handle10.1023/A:1006204113917 Occurrence Handle1:CAS:528:DC%2BD3cXitVOjsr0%3D

K Fog (1988) ArticleTitleThe effect of added nitrogen on the rate of decomposition of organic matter Biol Rev 63 433–62

CH Gimingham SB Chapman NR Webb (1979) European heathlands RL Specht (Eds) Ecosystems of the World 9A: Heathlands and Related Shrublands Elsevier Amsterdam 365–413

A Gorissen A Tietema NN Joosten M Estiarte J Peñuelas A Sowerby BA Emmett C Beier (2004) ArticleTitleClimate change affects carbon allocation to the soil in shrublands Ecosystems 7 XXX–XXX

P Gundersen BA Emmett OJ Kjonaas CJ Koopmans A Tietema (1998) ArticleTitleImpact of nitrogen deposition on nitrogen cycling in forests: a synthesis of NITREX data For Ecol Manage 101 37–55 Occurrence Handle10.1016/S0378-1127(97)00124-2

P Högberg A Nordgren N Buchmann AFS Taylor A Ekbld MN Högberg G Nyberg M Ottosson–Löfvenius DJ Read (2001) ArticleTitleLarge-scale forest girdling shows that current photosynthesis drives soil respiration Nature 411 789–92 Occurrence Handle10.1038/35081058 Occurrence Handle11459055

JT Houghton Y Ding DJ Griggs M Noguer PJ van der Lindern D Xiaosu (2001) Climate Change 2001: The Scientific Basis Cambridge University Press Cambridge

N Jamieson D Barraclough M Unkovich R Monaghan (1998) ArticleTitleSoil N dynamics in a natural calcareous grassland under a changing climate Biol Fertil Soils 27 267–73 Occurrence Handle10.1023/A:1005658316062 Occurrence Handle1:CAS:528:DC%2BD3MXitlCjtLw%3D

S Jonasson A Michelsen IK Schmidt (1999) ArticleTitleCoupling of nutrient cycling and carbon dynamics in the Arctic, integration of soil microbial and plant processes Appl Soil Ecol 11 135–46 Occurrence Handle10.1016/S0929-1393(98)00145-0

MUF Kirschbaum (1995) ArticleTitleThe temperature dependence of soil organic matter decomposition and the effect of global warming on soil organic carbon storage Soil Biol Biochem 27 753–60 Occurrence Handle10.1016/0038-0717(94)00242-S Occurrence Handle1:CAS:528:DyaK2MXlsF2msrk%3D

MUF Kirschbaum (2000) ArticleTitleWill changes in soil organic carbon act as a positive or negative feedback on global warming Biogeochemistry 48 21–51 Occurrence Handle10.1023/A:1006238902976 Occurrence Handle1:CAS:528:DC%2BD3cXitVOjsrw%3D

HL Kristensen (2001) ArticleTitleHigh immobilization of NH4+ in Danish heath soil related to succession, soil and nutrients: Implications for critical loads of N Water Air Soil Pollut Focus 1 211–30 Occurrence Handle10.1023/A:1011588007257 Occurrence Handle1:CAS:528:DC%2BD3sXhslGjt7g%3D

HI Kristensen K Henriksen (1998) ArticleTitleSoil nitrogen transformations along a successional gradient from Calluna heathland to Quercus forest at intermediate atmospheric nitrogen deposition Appl Soil Ecol 8 95–109 Occurrence Handle10.1016/S0929-1393(97)00062-0

Y Luo S Wan D Hui LL Wallace (2001) ArticleTitleAcclimatization of soil respiration to warming in a tall grass prairie Nature 413 622–4 Occurrence Handle10.1038/35098065 Occurrence Handle1:CAS:528:DC%2BD3MXnslegtL4%3D Occurrence Handle11675783

T Näsholm A Ekbald A Nordin R Giesler M Högberg P Högberg (1998) ArticleTitleBoreal forest plants take up organic nitrogen Nature 392 914–6 Occurrence Handle10.1038/31921 Occurrence Handle1:CAS:528:DyaK1cXjtV2jtLY%3D

WC Oechel GL Vourlitis SJ Hastings RC Zulueta L Hinzman D Kane (2000) ArticleTitleAcclimation of ecosystem CO2 exchange in the Alaskan Arctic in response to decadal climate warming Nature 406 978–981 Occurrence Handle10.1038/35023137 Occurrence Handle1:CAS:528:DC%2BD3cXmtlKqsbg%3D Occurrence Handle10984048

J Peñuelas C Gordon L Llorens T Nielsen A Tietema C Beier P Bruna B Emmett M Estiarte T Gorissen (2004) ArticleTitleNon-intrusive field experiments show different plant responses to warming and drought among sites, seasons and species in a north–south European gradient Ecosystems 7 .

WT Peterjohn JM Melillo PA Steudler KM Newkirk ST Bowles JD Aber (1994) ArticleTitleResponses of trace gas fluxes and N availability to experimentally elevated soil temperatures Ecol Applic 4 617–25

JW Raich A Tufekcioglu (2000) ArticleTitleVegetation and soil respiration: Correlations and controls Biogeochemistry 48 71–90 Occurrence Handle10.1023/A:1006112000616 Occurrence Handle1:CAS:528:DC%2BD3cXitVOjsro%3D

LE Rustad JL Campbell GM Marion RJ Norby MJ Mitchell AE Hartley JHC Cornelissen J Gurevitch (2001) ArticleTitleGCTE-NEWS. A meta-analysis of the response of soil respiration, net N mineralisation, and above-ground plant growth to experimental ecosystem warming Oecologia 126 543–62 Occurrence Handle10.1007/s004420000544

IK Schmidt DL Williams A Tietema P Gundersen C Beier BA Emmett M Estiarte (2004) ArticleTitleSoil solution chemistry and element fluxes in three European heathlands and their responses to warming and drought Ecosystems 7 .

IK Schmidt S Jonasson A Michelsen (1999) ArticleTitleMineralisation and microbial immobilization of N and P in arctic soils in relation to season, temperature and nutrient amendment Appl Soil Ecol 11 147–60 Occurrence Handle10.1016/S0929-1393(98)00147-4

GR Shaver J Canadell FS Chapin III J Gurevitch J Harte G Henry P Ineson S Jonasson J Melillo L Pitelka L Rustad (2000) ArticleTitleGlobal warming and terrestrial ecosystems: a conceptual framework for analysis Bioscience 50 871–82

JHM Thornley MGR Cannell (2001) ArticleTitleSoil carbon storage response to temperature: an hypothesis Ann Bot 87 591–8 Occurrence Handle10.1006/anbo.2001.1372 Occurrence Handle1:CAS:528:DC%2BD3MXislOltb4%3D

MMI Van Vuuren R Aerts F Berendse W De Visser (1992) ArticleTitleNitrogen mineralization in heathland ecosystems dominated by different plant species Biogeochemistry 16 151–66 Occurrence Handle1:CAS:528:DyaK3sXmtF2m

PSJ Verburg N van Breemen (2000) ArticleTitleNitrogen transformations in a forested catchment in southern Norway subjected to elevated temperature and CO2 For Ecol Manage 129 31–9 Occurrence Handle10.1016/S0378-1127(99)00163-2

Wessel, WW, Tietema, A, Beier, C, Emett, BA, Penuelas, J, Riis-Nielsen, T (2004) "A qualitative ecosystem assessment for different shrublands in Western Europe under impact of climate change using the results of the CLIMOOR research project" Ecosystems 7:
Acknowledgements
The project was funded by EU under the projects CLIMOOR (contract No. ENV4-CT97-0694) and VULCAN (contract No. EVK2-CT-2000-00094) and the participating research institutes.
About this article
Cite this article
Emmett, B., Beier, C., Estiarte, M. et al. The Response of Soil Processes to Climate Change: Results from Manipulation Studies of Shrublands Across an Environmental Gradient. Ecosystems 7, 625–637 (2004). https://doi.org/10.1007/s10021-004-0220-x
Received:

Accepted:

Published:

Issue Date:

DOI: https://doi.org/10.1007/s10021-004-0220-x
shrubland

drought

warming

climate change

heathland

N mineralization

decomposition

respiration