Abstract
It has been hypothesized that the high diversity of giant kelp forests is due primarily to the provision of energy and habitat by the giant kelp (Macrocystis pyrifera). In this article, I use a 19-year-long kelp forest-monitoring data set from the Channel Islands National Park (a) to identify associations between subtidal species and forested or deforested habitats, (b) to generate an idealized food web for Southern California giant kelp forests in order to identify the primary conduits of energy flow through the system, and (c) to determine changes in the diversity and complexity of this food web due to localized giant kelp deforestation. A total of 275 common species were observed in the park between 1982 and 2000, of which 36% occurred significantly more often in kelp-forested areas than in deforested areas (that is, sea urchin barrens); 25 species were found exclusively in forested areas. Most of these associations were clearly identified as trophic and/or structural associations with giant kelp itself. The producer level of the food web was diverse, although giant kelp apparently represents the greatest single source of fixed carbon through either direct grazing or the production of phytodetritus. Primary, secondary and tertiary consumer levels were also represented by numerous species, and generalist consumers were common. With deforestation, the source of primary production shifts from primarily kelps to ephemeral microalgae, macroalgae, and phytoplankton. These results support the reliance of giant kelp forest food-web structure and diversity on the presence of the forest itself.
Access options
Buy single article
Instant access to the full article PDF.
USD 39.95
Price includes VAT (USA)
Tax calculation will be finalised during checkout.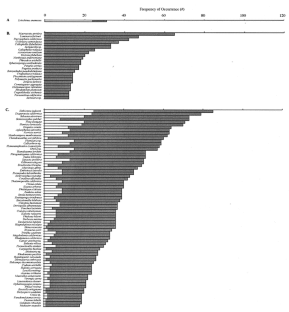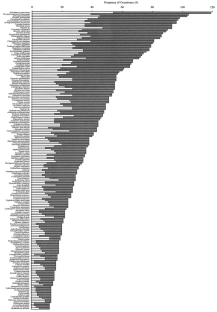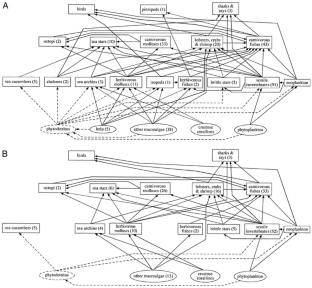 References
1

RF Ambrose (1984) ArticleTitleFood preferences, prey availability and the diet of Octopus bimaculatus. J Exp Mar Biol Ecol 77 29–44 Occurrence Handle10.1016/0022-0981(84)90049-2

2

RF Ambrose SL Swarbrick (1989) ArticleTitleComparison of fish assemblages on artificial and natural reefs off the coast of Southern California. Bull Mar Sci 44 718–33

3

TW Anderson (1994) ArticleTitleRole of macroalgal structure in the distribution and abundance of a temperate reef fish. Mar Ecol Prog Ser 113 279–90

4

TW Anderson (2001) ArticleTitlePredator responses, prey refuges, and density-dependent mortality of a marine fish. Ecology 82 245–57

5

TW Anderson BD Sabado (1995) ArticleTitleCorrespondence between food availability and growth of a planktivorous temperate reef fish. J Exp Mar Biol Ecol 189 65–76 Occurrence Handle10.1016/0022-0981(95)00011-F

6

A Angel FP Ojeda (2001) ArticleTitleStructure and trophic organization of subtidal fish assemblages on the northern Chilean coast: the effect of habitat complexity. Mar Ecol Prog Ser 217 81–91

7

RSK Barnes RN Hughes (1988) An introduction to marine ecology. 2nd ed. Blackwell Oxford 351 p

8

BB Bernstein N Jung (1979) ArticleTitleSelective pressures and co-evolution in a kelp canopy community in Southern California, USA. Ecol Monogr 49 335–55

9

RN Bray AW Ebeling (1975) ArticleTitleFood activity and habitat of three "picker-type" micro-carnivorous fishes in the kelp forests off Santa Barbara, California, USA. Fish Bull 73 815–29

10

MH Carr (1989) ArticleTitleEffects of macroalgal assemblages on the recruitment of temperate zone reef fishes. J Exp Mar Biol Ecol 126 59–76 Occurrence Handle10.1016/0022-0981(89)90124-X

11

JC Castilla (1985) Food webs and functional aspects of the kelp, Macrocystis pyrifera, community in the Beagle Channel, Chile. WR Siegfried PR Condy RM Laws (Eds) Antarctic nutrient cycles and food webs Springer-Verlag Germany 407–14

12

WD Clarke (1971) ArticleTitleMysids of the southern kelp region. Nova Hedwigia 32 369–80

13

RK Cowen (1983) ArticleTitleThe effect of sheephead, Semicossyphus pulcher, predation on red sea-urchin, Strongylocentrotus franciscanus, populations: an experimental analysis. Oecologia (Berl) 58 249–55

14

RK Cowen (1986) ArticleTitleSite-specific differences in the feeding ecology of the California sheephead, Semicossyphus pulcher (Labridae). Environ Biol Fishes 16 193–203

15

JA Coyer (1985) ArticleTitleThe invertebrate assemblage associated with the giant kelp Macrocystis pyrifera at Santa Catalina Island, California, USA: a general description with emphasis on amphipods, copepods, mysids and shrimps. Fish Bull 82 55–66

16

JA Coyer (1987) ArticleTitleThe mollusk assemblage associated with the fronds of giant kelp Macrocystis pyrifera at Santa Catalina Island, California, USA. Bull South Calif Acad Sci 85 129–38

17

Davis GE, Richards DV, Kushner DJ. 1996. Kelp forest monitoring design review. Technical report CHIS-96-01. Ventura (CA): Channel Islands National Park.

18

PK Dayton (1985) ArticleTitleEcology of kelp communities. Annu Rev Ecol Syst 16 215–45 Occurrence Handle10.1146/annurev.es.16.110185.001243

19

PK Dayton MJ Tegner PB Edwards KL Riser (1998) ArticleTitleSliding baselines, ghosts, and reduced expectations in kelp forest communities. Ecol Appl 8 309–22

20

PK Dayton MJ Tegner PB Edwards KL Riser (1999) ArticleTitleTemporal and spatial scales of kelp demography: the role of oceanographic climate. Ecol Monogr 69 219–50

21

PK Dayton MJ Tegner PE Parnell PB Edwards (1992) ArticleTitleTemporal and spatial patterns of disturbance and recovery in a kelp forest community. Ecol Monogr 62 421–45

22

EE DeMartini DA Roberts (1990) ArticleTitleEffects of giant kelp (Macrocystis) on the density and abundance of fishes in a cobble-bottom kelp forest. Bull Mar Sci 46 287–300

23

DO Duggins CA Simenstad JA Estes (1989) ArticleTitleMagnification of secondary production by kelp detritus in coastal marine ecosystems. Science 245 170–3

24

KH Dunton DM Schell (1987) ArticleTitleDependence of consumers on macroalgal (Laminaria solidungula) carbon in an arctic kelp community: δ13C evidence. Mar Biol 93 615–25 Occurrence Handle1:CAS:528:DyaL2sXhtlCjtLY%3D

25

AW Ebeling RJ Larson BS Alevizon (1980) Habitat groups and island–mainland distribution of kelp-bed fishes off Santa Barbara, California. DM Power (Eds) The California Islands: proceedings of a multidisciplinary symposium Santa Barbara Museum of Natural History Santa Barbara (CA) 403–31

26

Edwards MS. 2001. Scale-dependent patterns of community regulation in giant kelp forests [PhD dissertation]. Santa Cruz: University of California. 140 p.

27

JP Ellison C Terry JS Stephens (1979) ArticleTitleFood resource utilization among five species of embiotocids at King Harbor, California, with preliminary estimates of caloric intake. Mar Biol 52 161–9

28

JA Estes (1996) The influence of large, mobile predators in aquatic food webs: examples from sea otters and kelp forests. SPR Greenstreet ML Tasker (Eds) Aquatic predators and their prey Blackwell London 65–72

29

HM Feder CH Turner C Limbaugh (1974) ArticleTitleObservations on fishes associated with kelp beds in Southern California. Calif Dep Fish Game Fish Bull 160 1–144

30

MS Foster AP De Vogelaere JS Oliver JS Pearse C Harrold (1991) Open coast intertidal and shallow subtidal ecosystems of the northeast Pacific. AC Mathieson PH Nienhuis (Eds) Ecosystems of the world: intertidal and littoral ecosystems Elsevier Amsterdam 235–72

31

MS Foster DR Schiel (1985) ArticleTitleThe ecology of giant kelp forests in California: a community profile. US Fish Wildl Serv Biol Rep 85 1–152

32

MS Foster DR Schiel (1988) Kelp communities and sea otters: keystone species or just another brick in the wall? GR VanBlaricom JA Estes (Eds) The community ecology of sea otters Springer-Verlag Berlin 92–115

33

Gerard VA. 1976. Some aspects of material dynamics and energy flow in a kelp forest in Monterey Bay, California [PhD dissertation]. Santa Cruz: University of California. p 173.

34

MH Graham (2002) ArticleTitleProlonged reproductive consequences of short-term biomass loss in seaweeds. Mar Biol 140 901–11 Occurrence Handle10.1007/s00227-001-0761-x

35

MH Graham PK Dayton JM Erlandson (2003) ArticleTitleIce ages and ecological transition on temperate coasts. Trends Ecol Evol 18 33–40 Occurrence Handle10.1016/S0169-5347(02)00006-X

36

MH Graham C Harrold S Lisin K Light JM Watanabe MS Foster (1997) ArticleTitlePopulation dynamics of giant kelp Macrocystis pyrifera along a wave exposure gradient. Mar Ecol Prog Ser 148 269–79

37

C Harrold JS Pearse (1987) ArticleTitleThe ecological role of echinoderms in kelp forests. Echinoderm Stud 2 137–233

38

C Harrold DC Reed (1985) ArticleTitleFood availability, sea urchin grazing, and kelp forest community structure. Ecology 66 1160–9

39

ES Hobson JR. Chess (2001) ArticleTitleInfluence of trophic relations on form and behavior among fishes and benthic invertebrates in some California marine communities. Environ Biol Fishes 60 411–57 Occurrence Handle10.1023/A:1011027312001

40

KA Hobson JF Piatt J Pitocchelli (1994) ArticleTitleUsing stable isotopes to determine seabird trophic relationships. J Anim Ecol 63 786–98

41

SJ Holbrook MH Carr RJ Schmitt JA Coyer (1990) ArticleTitleEffect of giant kelp on local abundance of reef fishes: the importance of ontogenetic resource requirements. Bull Mar Sci 47 104–14

42

GA Jackson (1977) ArticleTitleNutrients and production of giant kelp, Macrocystis pyrifera, off Southern California. Limnol Oceanogr 22 979–95 Occurrence Handle1:CAS:528:DyaE1cXitFeitA%3D%3D

43

GA Jackson (1987) ArticleTitleModeling the growth and harvest yield of the giant kelp Macrocystis pyrifera. Mar Biol 95 611–24

44

LG Jones (1971) ArticleTitleStudies on selected small herbivorous invertebrates inhabiting Macrocystis canopies and holdfasts in Southern California kelp beds. Nova Hedwigia 32 343–67

45

RE Jones (1981) ArticleTitleFood habits of smaller marine mammals from Northern California. Proc Calif Acad Sci 44 409–33

46

S Kaehler EA Pakhmov CD McQuaid (2000) ArticleTitleTrophic structure of the marine food web at the Prince Edward Islands (Southern Ocean) determined by δ13C and δ15N analysis. Mar Ecol Prog Ser 208 13–20

47

DR Laur AW Ebeling (1983) ArticleTitlePredator–prey relationships in surf-perches. Environ Biol Fishes 8 217–29

48

JM Lawrence (1975) ArticleTitleOn the relationships between marine plants and sea urchins. Oceanogr Mar Biol Annu Rev 13 213–86

49

Leet WS, Dewees CM, Klingbeil R, Johnson EJ, editors. 2001. California's living marine resources: a status report. Sacramento: State of California Resources Agency and Fish and Game. 593 p.

50

DL Leighton (1971) ArticleTitleGrazing activities of benthic invertebrates in Southern California kelp beds. Nova Hedwigia 32 421–53

51

KH Mann (1973) ArticleTitleSeaweeds: their productivity and strategy for growth. Science 182 975–81

52

CT Mitchell CH Turner AR Strachan (1969) ArticleTitleObservations on the biology and behavior of the California spiny lobster, Panulirus interruptus (Randall). Calif Fish Game 55 121–31

53

RH Morris DP Abbott EC Haderlie (1980) Intertidal invertebrates of California Stanford University Press Stanford 104 p

54

WJ North (1971) ArticleTitleThe biology of giant kelp beds (Macrocystis) in California: introduction and background. Nova Hedwigia 32 1–68

55

WJ North (1994) Review of Macrocystis biology. I Akatsuka (Eds) Biology of economic algae Academic The Hague 447–527

56

North WJ, Hubbs CL, editors. 1968. Utilization of kelp-bed resources in Southern California. Calif Dep Fish Game Fish Bull 139.

57

WJ North JS Pearse (1970) ArticleTitleSea urchin population explosion in Southern California coastal waters. Science 167 209

58

CP O'Connell (1953) ArticleTitleThe life-history of the cabezon. Calif Fish Game 93 1–76

59

RT Paine (1969) ArticleTitleA note on trophic complexity and community stability. Am Nat 103 91–3 Occurrence Handle10.1086/282586

60

BC Parker (1963) ArticleTitleTranslocation in the giant kelp Macrocystis. Science 140 891–2

61

JK Pinnegar NVC Polunin (2000) ArticleTitleContributions of stable-isotope data to elucidating food webs of Mediterranean rocky littoral fishes. Oecologia (Berl) 122 399–406 Occurrence Handle10.1007/s004420050046

62

JC Quast (1971a) ArticleTitleFish fauna of the rocky inshore zone. Nova Hedwigia 32 481–507

63

JC Quast (1971b) ArticleTitleObservations on the food of the kelp bed fishes. Nova Hedwigia 32 541–79

64

ML Riedman JA Estes (1990) ArticleTitleThe sea otter Enhydra lutris: behavior, ecology and natural history. US Fish Wildl Serv Biol Rep 90 1–126

65

C Robles (1987) ArticleTitlePredator foraging characteristics and prey population structure on a sheltered shore. Ecology 68 1502–14

66

RJ Rosenthal WD Clarke PK Dayton (1974) ArticleTitleEcology and natural history of a stand of giant kelp, Macrocystis pyrifera, off Del Mar, California. Fish Bull 72 670–84

67

E Sala MH Graham (2002) ArticleTitleCommunity-wide distribution of predator–prey interaction strength in kelp forests. Proc Natl Acad Sci USA 99 3678–83

68

RL Schmitt (1982) ArticleTitleConsequences of dissimilar defenses against predation in a subtidal marine community. Ecology 63 1588–601

69

TD Stebbins (1986) ArticleTitleDensity distribution and feeding of the marine snail Norrisia norrisi (Mollusca, Gastropoda) on the kelp Macrocystis pyrifera (Phaeophyta, Laminariales). Bull South Calif Acad Sci 85 69–73

70

RS Steneck MH Graham BJ Bourque D Corbett JM Erlandson JA Estes MJ Tegner (2002) ArticleTitleKelp forest ecosystems: biodiversity, stability, resilience and future. Environ Conserv 29 436–59 Occurrence Handle10.1017/S0376892902000322

71

MJ Tegner PK Dayton (1981) ArticleTitlePopulation structure, recruitment and mortality of two sea urchins (Strongylocentrotus franciscanus and S. purpuratus) in a kelp forest. Mar Ecol Prog Ser 5 255–68

72

MJ Tegner PK Dayton (1987) ArticleTitleEl Niño effects on Southern California kelp forest communities. Adv Ecol Res 17 243–79

73

MJ Tegner LA Levin (1983) ArticleTitleSpiny lobsters and sea urchins: analysis of a predator–prey interaction. J Exp Mar Biol Ecol 73 125–50 Occurrence Handle10.1016/0022-0981(83)90079-5

74

DW Towle JS Pearse (1973) ArticleTitleProduction of the giant kelp, Macrocystis, estimated by in situ incorporation of 14C in polyethylene bags. Limnol Oceanogr 18 155–9 Occurrence Handle1:CAS:528:DyaE3sXhsVGgtLY%3D

75

RL Wakefield SN Murray (1998) ArticleTitleFactors influencing food choice by the seaweed-eating marine snail Norrisia norrisi (Trochidae). Mar Biol 130 631–42 Occurrence Handle10.1007/s002270050285

76

JM Watanabe (1984a) ArticleTitleFood preference, food quality and diets of three herbivorous gastropods (Trochidae: Tegula) in a temperate kelp forest habitat. Oecologia (Berl) 62 47–52

77

JM Watanabe (1984b) ArticleTitleThe influence of recruitment, competition, and benthic predation on spatial distributions of three species of kelp forest gastropods (Trochidae: Tegula). Ecology 65 920–36

78

JM Watanabe C Harrold (1991) ArticleTitleDestructive grazing by sea urchins Strongylocentrotus spp. in a Central California kelp forest: potential roles of recruitment, depth, and predation. Mar Ecol Prog Ser 71 125–41

79

RC Zimmerman JN Kremer (1986) ArticleTitleIn situ growth and chemical composition of the giant kelp, Macrocystis pyrifera: response to temporal changes in ambient nutrient availability. Mar Ecol Prog Ser 27 277–85 Occurrence Handle1:CAS:528:DyaL28Xht12jsrk%3D

80

RC Zimmerman DL Robertson (1985) ArticleTitleEffects of El Niño on local hydrography and growth of the giant kelp, Macrocystis pyrifera, at Santa Catalina Island, California. Limnol Oceanogr 30 1298–302

81

CE Zobell (1971) ArticleTitleDrift seaweeds on San Diego County beaches. Nova Hedwigia 32 269–314
Acknowledgements
I thank D. Kushner of the CINP kelp forest-monitoring program for providing the CINP species lists, and M. Behrens and K. Lafferty for generously providing me with their unpublished identification of CINP forested and deforested sites. Thanks also to M. Behrens, M. Carr, P. Dayton, M. Edwards, J. Estes, L. Ferry-Graham, M. Foster, R. Grosberg, B. Kinlan, J. Pearse, P. Raimondi, K. Riser, E. Sala, J. Stachowicz, M. Tegner, and numerous others for their discussions of the natural history of giant kelp forest organisms. L. Ferry-Graham, M. Foster, B. Santelices and an anonymous reviewer provided critical reviews of this article. A University of California Faculty Fellowship supported this research.
Appendix 1
Appendix 1
About this article
Cite this article
Graham, M. Effects of Local Deforestation on the Diversity and Structure of Southern California Giant Kelp Forest Food Webs . Ecosystems 7, 341–357 (2004). https://doi.org/10.1007/s10021-003-0245-6
Received:

Accepted:

Published:

Issue Date:
Keywords
giant kelp

Macrocystis pyrifera

kelp forests

deforestation

sea urchin barrens

habitat association

food web

foundation species