Abstract
The deposition of anthropogenically fixed nitrogen (N) from the atmosphere onto land and plant surfaces has strong influences on terrestrial ecosystem processes. Although recent research has expanded our understanding of how N deposition affects ecosystems directly, less attention has been directed toward the investigation of how N deposition may affect ecosystems indirectly by modifying interactions among organisms. Empirical evidence suggests that there are several mechanisms by which N deposition may affect interactions between plants and insect herbivores. The most likely mechanisms are deposition-induced shifts in the quality and availability of host plant tissues. We discuss the effects of N deposition on host plant chemistry, production, and phenology, and we review the evidence for the effects of N deposition on insect herbivores at the individual, population, and community levels. In general, N deposition has positive effects on individual insect performance, probably due to deposition-induced improvements in host plant chemistry. These improvements include increased N and decreased carbon-based defensive compound concentrations. The evidence to date suggests that N deposition may also have a positive effect on insect populations. These effects may have considerable ecological, as well as economic consequences if the rates of herbivory on economically important timber species continue to increase. Deposition-induced changes in plant–herbivore relationships may affect community and ecosystem processes. However, we predict that the larger-scale consequences of interactions between N deposition and herbivory will vary based on site-specific factors. In addition, interactions between N deposition and other global-scale changes may lead to nonadditive effects on patterns of herbivory.
This is a preview of subscription content, log in to check access.
Access options
Buy single article
Instant access to the full article PDF.
US$ 39.95
Price includes VAT for USA
Subscribe to journal
Immediate online access to all issues from 2019. Subscription will auto renew annually.
US$ 99
This is the net price. Taxes to be calculated in checkout.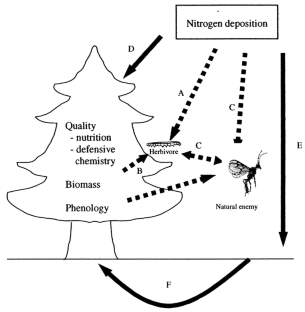 References
1

J Aber W McDowell K Nadelhoffer A Magill G Bernston M Kamakea S McNulty W Currie L Rustad I Fernandez (1998) ArticleTitleNitrogen saturation in temperate forest ecosystems: hypotheses revisited. BioScience 48 921–34

2

R Aerts F Berendse (1988) ArticleTitleThe effect of increased nutrient availability on vegetation dynamics in wet heathlands. Vegetatio 76 63–9

3

AA Agrawal (2000) ArticleTitleBenefits and costs of induced plant defense for Lepidium virginicum (Brassicaceae). Ecology 81 1804–13

4

DN Alstad GF Edmunds Jr LH Weinstein (1982) ArticleTitleEffects of air pollutants on insect populations. Annu Rev Entomol 27 369–84 Occurrence Handle10.1146/annurev.en.27.010182.002101 Occurrence Handle1:CAS:528:DyaL38XmtlOhsQ%3D%3D

5

K Armolaitis (1998) ArticleTitleNitrogen pollution on the local scale in Lithuania: vitality of forest ecosystems. Environ Pollut 102 55–60 Occurrence Handle10.1016/S0269-7491(98)80015-8 Occurrence Handle1:CAS:528:DyaK1MXjvVaqsA%3D%3D

6

CS Awmack SR Leather (2002) ArticleTitleHost plant quality and fecundity in herbivorous insects. Annu Rev Entomol 47 817–44 Occurrence Handle10.1146/annurev.ento.47.091201.145300 Occurrence Handle1:CAS:528:DC%2BD38XnvVWlug%3D%3D Occurrence Handle11729092

7

MP Ayers (1993) Global change, plant defense, and herbivory. PM Kareiva JG Kingsolver RB Huey (Eds) Biotic interactions and global change. Sinauer Sunderland (MA) 75–94

8

MP Ayers MJ Lombardero (2000) ArticleTitleAssessing the consequences of global change for forest disturbance from herbivores and pathogens. Sci Total Environ 262 263–86 Occurrence Handle10.1016/S0048-9697(00)00528-3 Occurrence Handle11087032

9

JS Baron HM Rueth AM Wolfe KR Nydick EJ Allstott JT Minear B Moraska (2000) ArticleTitleEcosystem responses to nitrogen deposition in the Colorado Front Range. Ecosystems 3 352–68 Occurrence Handle10.1007/s100210000032 Occurrence Handle1:CAS:528:DC%2BD3cXmslSgtLc%3D

10

GE Belovsky JB Slade (2000) ArticleTitleInsect herbivory accelerates nutrient cycling and increases plant production. Proc Nat Aca Sci U S A 97 14412–7 Occurrence Handle10.1073/pnas.250483797 Occurrence Handle1:CAS:528:DC%2BD3MXitVCrsw%3D%3D

11

R Bobbink M Hornung JGM Roelofs (1998) ArticleTitleThe effects of air-borne nitrogen pollutants on species diversity in natural and semi-natural European vegetation. J Ecol 86 717–38 Occurrence Handle10.1046/j.1365-2745.1998.8650717.x Occurrence Handle1:CAS:528:DyaK1cXnsVWisb0%3D

12

S Braun W Flückiger (1985) ArticleTitleIncreased population of the aphid Aphis pomi at a motorway. Part 3. The effect of exhaust gases. Environ Pollut (A) 39 183–92 Occurrence Handle10.1016/0143-1471(85)90016-9 Occurrence Handle1:CAS:528:DyaL2MXlsFGntLw%3D

13

DG Brown (1994) ArticleTitleBeetle folivory increases resource availability and alters plant invasion in monocultures of goldenrod. Ecology 75 1673–83

14

AMH Brunsting GW Heil (1985) ArticleTitleThe role of nutrients in the interactions between a herbivorous beetle and some competing plant species in heathlands. Oikos 44 23–36

15

J Bryant FS Chapin III D Klein (1983) ArticleTitleCarbon/nutrient balance of boreal plants in relation to vertebrate herbivory. Oikos 40 357–68 Occurrence Handle1:CAS:528:DyaL3sXltVahsr0%3D

16

AJ Burton KS Pregitzer DD Reed (1991) ArticleTitleLeaf-area and foliar biomass relationships in northern hardwood forests located along an 800 km acid deposition gradient. For Sci 37 1041–59

17

N Cappuccino D Lavertu Y Bergeron J Regniere (1998) ArticleTitleSpruce budworm impact, abundance and parasitism rate in a patchy landscape. Oecologia 114 236–42 Occurrence Handle10.1007/s004420050441

18

ZG Cardon AD Czaja JL Funk PL Vitt (2002) ArticleTitlePeriodic carbon flushing to roots of Quercus rubra saplings affects soil respiration and rhizosphere microbial biomass. Oecologia 133 215–23 Occurrence Handle10.1007/s00442-002-1045-y

19

ZG Cardon BA Hungate CA Cambardella FS Chapin III CB Field EA Holland HA Mooney (2001) ArticleTitleContrasting effects of elevated CO2 on old and new soil carbon pools. Soil Biol Biochem 33 365–73 Occurrence Handle10.1016/S0038-0717(00)00151-6 Occurrence Handle1:CAS:528:DC%2BD3MXhslKlsLw%3D

20

FS Chapin III (1980) ArticleTitleThe mineral nutrition of wild plants. Annu Rev Ecol Syst 11 233–60 Occurrence Handle10.1146/annurev.es.11.110180.001313

21

LM Christenson GM Lovett MJ Mitchell PM Groffman (2002) ArticleTitleThe fate of nitrogen in gypsy moth frass deposited to an oak forest floor. Oecologia 131 444–52 Occurrence Handle10.1007/s00442-002-0887-7

22

KM Clancy RM King (1993) ArticleTitleDefining the western spruce budworm's nutritional niche with response surface methodology. Ecology 74 442–54

23

T Clark (1999) ArticleTitleEvolution and adaptive significance of larval midgut alkalinization in the insect superorder Mecopterida. J Chem Ecol 25 1945–60 Occurrence Handle10.1023/A:1020946203089 Occurrence Handle1:CAS:528:DyaK1MXlsVOhtb8%3D

24

PD Coley (1980) ArticleTitleEffects of leaf age and plant life-history patterns on herbivory. Nature 284 545–6

25

PD Coley JP Bryant FS Chapin I (1985) ArticleTitleResource availability and plant antiherbivore defense. Science 230 895–9

26

D DeHayes P Schaberg G Hawley G Strimbeck (1999) ArticleTitleAcid rain impacts of calcium nutrition and forest health. BioScience 49 789–800

27

RE Dickson JG Isebrands (1991) Leaves as regulators of stress response. HA Mooney WE Winner EJ Pell (Eds) Responses of plants to multiple stresses. Academic Press San Diego 1–34

28

GP Dohmen (1988) ArticleTitleIndirect effects of air pollutants: changes in plant/parasite interactions. Environ Pollu 53 197–207 Occurrence Handle10.1016/0269-7491(88)90034-6 Occurrence Handle1:CAS:528:DyaL1cXls1Ggs7g%3D

29

GPJ Draaijers WPMF Ivens MM Bos W Bleuten (1989) ArticleTitleThe contribution of ammonia emissions from agriculture to the deposition of acidifying and eutrophying compounds onto forests. Environ Pollut 60 55–66 Occurrence Handle10.1016/0269-7491(89)90220-0 Occurrence Handle1:CAS:528:DyaL1MXmtl2htLc%3D Occurrence Handle15092390

30

P Drohan D DeWalle (2002) ArticleTitleDefoliation and atmospheric deposition influences on spring baseflow chemistry in 56 Pennsylvania mixed land-use watersheds. Water Air Soil Pollut 133 31–48 Occurrence Handle10.1023/A:1013096512401 Occurrence Handle1:CAS:528:DC%2BD38Xht1Chsb4%3D

31

A Duquesnay JL Dupouey A Clement E Ulrich F Le Tacon (2000) ArticleTitleSpatial and temporal variability of foliar mineral concentration in beech (Fagus sylvatica) stands in northeastern France. Tree Physiol 20 13–22 Occurrence Handle1:CAS:528:DC%2BD3cXptVehtw%3D%3D Occurrence Handle12651522

32

AB Edfast T Nasholm A Ericsson (1990) ArticleTitleFree amino acid concentrations in needles of Norway spruce and Scots pine trees on different sites in areas with two levels of nitrogen deposition. Can J For Res 20 1132–6 Occurrence Handle1:CAS:528:DyaK3MXit12qsQ%3D%3D

33

MC Erelli MP Ayres GK Eaton (1998) ArticleTitleAltitudinal patterns in host suitability for forest insects. Oecologia 117 133–42 Occurrence Handle10.1007/s004420050641

34

K Eshleman R Morgan J Webb F Deviney J Galloway (1998) ArticleTitleTemporal patterns of nitrogen leakage from mid-Appalachian forested watersheds: role of insect defoliation. Water Resour Res 34 2005–16 Occurrence Handle10.1029/98WR01198 Occurrence Handle1:CAS:528:DyaK1cXlsVKlsr8%3D

35

D Feir R Hale (1983) ArticleTitleGrowth and reproduction of an insect model in controlled mixtures of air pollutants. Int J Environ Studies 20 223–8 Occurrence Handle1:CAS:528:DyaL3sXhslCgtb4%3D

36

ME Fenn MA Poth JD Aber JS Baron BT Bormann DW Johnson AD Lemly SG McNulty DE Ryan R Stottlemyer (1998) ArticleTitleNitrogen excess in North American ecosystems: predisposing factors, ecosystem responses, and management strategies. Ecol Appl 8 706–33

37

ME Fenn MA Poth DW Johnson (1996) ArticleTitleEvidence for nitrogen saturation in the San Bernardino Mountains in southern California. For Ecol Manage 82 211–30 Occurrence Handle10.1016/0378-1127(95)03668-7

38

C Field HA Mooney (1986) The photosynthesis–nitrogen relationship in wild plants. TJ Givnish (Eds) On the economy of plant form and function. (UK) Cambridge University Press Cambridge 25–54

39

W Flückiger S Braun (1998) ArticleTitleNitrogen deposition in Swiss forests and its possible relevance for leaf nutrient status, parasite attacks and soil acidification. Environ Pollut 102(S1) 69–76 Occurrence Handle10.1016/S0269-7491(98)80017-1

40

RE Forkner MD Hunter (2000) ArticleTitleWhat goes up must come down? Nutrient addition and predation pressure on oak herbivores. Ecology 81 1588–600

41

CW Fox KJ Waddell FR Groeters TA Mousseau (1997) ArticleTitleVariation in budbreak phenology affects the distribution of a leafmining beetle (Brachys tessellatus) on turkey oak (Quercus laevis). Ecoscience 4 480–9

42

DJ Futuyma SS Wasserman (1980) ArticleTitleResource concentration and herbivory in oak forests. Science 210 920–2

43

JN Galloway HI Levy PS Kasibhatla (1994) ArticleTitleYear 2020: Consequences of population growth and development on deposition of oxidized nitrogen. Ambio 23 120–3

44

EA Gerson RG Kelsey (1999) ArticleTitlePiperidine alkaloids in nitrogen fertilized Pinus ponderosa. J Chem Ecol 25 2027–39 Occurrence Handle10.1023/A:1021080605332 Occurrence Handle1:CAS:528:DyaK1MXmt1Wisr8%3D

45

M Goverde A Bazin JA Shykoff A Erhardt (1999) ArticleTitleInfluence of leaf chemistry of Lotus corniculatus (Fabaceae) on larval development of Polyommatus icarus (Lepidoptera, Lycaenidae): effects of elevated CO2 and plant genotype. Funct Ecol 13 801–10 Occurrence Handle10.1046/j.1365-2435.1999.00372.x

46

J Grace (1986) ArticleTitleThe influence of gypsy moth on the composition and nutrients content of litter fall in a Pennsylvania oak forest. For Sci 32 855–70

47

J Graveland R van der Wal JH van Balen AJ van Noordwijk (1994) ArticleTitlePoor reproduction in forest passerices from decline of snail abundance on acidified soils. Nature 368 446–8 Occurrence Handle10.1038/368446a0

48

CC Grier DJ Vogt (1990) ArticleTitleEffects of aphid honeydew on soil nitrogen availability and net primary production in an Alnus rubra plantation in western Washington. Oikos 57 114–8

49

NM Haddad J Haarstad D Tilman (2000) ArticleTitleThe effects of long-term nitrogen loading on grassland insect communities. Oecologia 124 73–84 Occurrence Handle10.1007/s004420050026

50

BM Haglund (1980) ArticleTitleProline and valine—cues which stimulate grasshopper herbivory during drought stress? Nature 288 697–8 Occurrence Handle1:CAS:528:DyaL3MXhtFyhsLw%3D

51

FP Hain FH Arthur (1985) ArticleTitleThe role of atmospheric deposition in the latitudinal variation of Fraser fir mortality caused by the Balsam Woolly Adelgid, Adelges piceae (Ratz.) (Hemipt., Adelgidae): a hypothesis. Zeitschr Angew Entomol 99 145–52

52

NG Hairston FE Smith LB Slobodkin (1960) ArticleTitleCommunity structure, population control, and competition. Am Nat 94 421–5 Occurrence Handle10.1086/282146

53

SJ Hall PA Matson (1999) ArticleTitleNitrogen oxide emissions after nitrogen additions in tropical forests. Nature 400 152–5 Occurrence Handle10.1038/22094 Occurrence Handle1:CAS:528:DyaK1MXks1Kitb4%3D

54

S Hättenschwiler C Korner (1996) ArticleTitleEffects of elevated CO2 and increased nitrogen deposition on photosynthesis and growth of understory plants in spruce model ecosystems. Oecologia 106 172–80

55

S Hättenschwiler C Korner (1998) ArticleTitleBiomass allocation and canopy development in spruce model ecosystems under elevated CO2 and increased N deposition. Oecologia 113 104–14 Occurrence Handle10.1007/s004420050358

56

S Hättenschwiler C Schafellner (1999) ArticleTitleOpposing effects of elevated CO2 and N deposition on Lymantria monacha larvae feeding on spruce trees. Oecologia 118 210–7 Occurrence Handle10.1007/s004420050720

57

GW Heil WH Diemont (1983) ArticleTitleRaised nutrient levels change heathland into grassland. Vegetatio 53 113–20

58

K Heliövaara R Väisänen (1990) Changes in population dynamics of pine insects induced by air pollution. AD Watt SR Leather MD Hunter NAC Kidd (Eds) Population dynamics of forest insects. Intercept Andover (UK) 209–18

59

DA Herms WJ Mattson (1992) ArticleTitleThe dilemma of plants: to grow or to defend. Q Rev Biol 67 283–335 Occurrence Handle10.1086/417659

60

WK Hicks ID Leith SJ Woodin D Fowler (2000) ArticleTitleCan the foliar nitrogen concentration of upland vegetation be used for predicting atmospheric nitrogen deposition? Evidence from field surveys. Environ Pollut 107 367–76 Occurrence Handle10.1016/S0269-7491(99)00166-9 Occurrence Handle1:CAS:528:DC%2BD3cXhslOkur8%3D Occurrence Handle15092983

61

L Hogbom P Hogberg (1991) ArticleTitleNitrate nutrition of Deschampsia flexuosa (L) Trin in relation to nitrogen deposition in Sweden. Oecologia 87 488–94

62

EA Holland BH Braswell JF Lamarque A Townsend J Sulzman JF Muller F Dentener G Brasseur H Levy JE and others Penner (1997) ArticleTitleVariations in the predicted spatial distribution of atmospheric nitrogen deposition and their impact on carbon uptake by terrestrial ecosystems. J Geophysi Res (Atmos) 102 15849–66 Occurrence Handle10.1029/96JD03164 Occurrence Handle1:CAS:528:DyaK2sXlsVKiur4%3D

63

D Hollinger (1986) ArticleTitleHerbivory and the cycling of nitrogen and phosphorous in isolated California oak trees. Oecologia 70 291–7

64

RP Hosker SE Lindberg (1982) ArticleTitleReview: atmospheric deposition and plant assimilation of gases and particles. Atmos Environ 16 889–910 Occurrence Handle10.1016/0004-6981(82)90175-5 Occurrence Handle1:CAS:528:DyaL38XktlCiu7o%3D

65

G Houlden S McNeill M Aminu-Kano JNB Bell (1990) ArticleTitleAir pollution and agricultural aphid pests. I. Fumigation experiments with SO2 and NO2. Environ Pollu 67 305–14 Occurrence Handle10.1016/0269-7491(90)90068-N Occurrence Handle1:CAS:528:DyaK3MXns1GqtA%3D%3D

66

G Houlden S McNeill JNB Bell (1991) ArticleTitleAir pollution and agricultural aphid pests. II. Chamber filtration experiments. Environ Pollut 72 45–55 Occurrence Handle10.1016/0269-7491(91)90154-O Occurrence Handle1:CAS:528:DyaK3MXks1Kntb0%3D Occurrence Handle15092113

67

G Huhn H Schulz (1996) ArticleTitleContents of free amino acids in Scots pine needles from field sites with different levels of nitrogen deposition. New Phytol 134 95–101 Occurrence Handle1:CAS:528:DyaK28XmsFSktL8%3D

68

J Hutchens Jr E Benfield (2000) ArticleTitleEffects of forest defoliation by the gypsy moth on detritus processing in southern Appalachian streams. Am Midl Nat 143 397–404

69

RS Inouye D Tilman (1995) ArticleTitleConvergence and divergence of old-field vegetation after 11 yr of nitrogen addition. Ecology 76 1872–87

70

InstitutionalAuthorNameIPCC (2001) Climate change 2001: the scientific basis. Cambridge University Press Cambridge (UK) 944

71

RB Jackson OE Sala CB Field HA Mooney (1994) ArticleTitleCO2 alters water-use carbon gain, and yield for the dominant species in a natural grassland. Oecologia 98 257–62 Occurrence Handle1:STN:280:DC%2BD3MzpvVKhug%3D%3D Occurrence Handle11419983

72

RL Jefferies JL Maron (1997) ArticleTitleThe embarrassment of riches: atmospheric deposition of nitrogen and community and ecosystem processes. Trends Ecol Evol 12 74–8 Occurrence Handle10.1016/S0169-5347(96)20125-9

73

JC Jenkins JD Aber CD Canham (1999) ArticleTitleHemlock woolly adelgid impacts on community structure and N cycling rates in eastern hemlock forests. Can J For Res 29 630–45 Occurrence Handle10.1139/cjfr-29-5-630

74

DS Jenkinson K Goulding DS Powlson (1999) ArticleTitleNitrogen deposition and carbon sequestration. Nature 400 629–30 Occurrence Handle10.1038/23174 Occurrence Handle1:CAS:528:DyaK1MXlsVSgtLo%3D

75

CG Jones SE Hartley (1998) Global change and plant phenolic concentrations: species level predictions using the protein competition model. LJ De Kok I Stulen (Eds) Responses of plant metabolism to air pollution and global change. Backhuys Leiden (The Netherlands) 23–50

76

P Kainulainen H Satka A Mustaniemi JK Holopainen J Oksanen (1993) ArticleTitleConifer aphids in an air-polluted environment. 2. Host plant-quality. Environ Pollut 80 193–200 Occurrence Handle10.1016/0269-7491(93)90147-G Occurrence Handle1:CAS:528:DyaK3sXhvFOju7Y%3D Occurrence Handle15091864

77

K Katzensteiner G Glatzel M Kazda (1992) ArticleTitleNitrogen induced nutritional imbalances—a contributing factor to Norway spruce decline in the Bohemian Forest (Austria). For Ecol Manage 51 29–42 Occurrence Handle10.1016/0378-1127(92)90469-P

78

PE Kauppi K Mielikainen K Kuusela (1992) ArticleTitleBiomass and carbon budget of European forests, 1971 to 1990. Science 256 70–4

79

JE Kerslake SJ Woodin SE Hartley (1998) ArticleTitleEffects of carbon dioxide and nitrogen enrichment on a plant–insect interaction: the quality of Calluna vulgaris as a host for Operophtera brumata. New Phytol 140 43–53 Occurrence Handle10.1046/j.1469-8137.1998.00244.x

80

KK Kinney RL Lindroth SM Jung EV Nordheim (1997) ArticleTitleEffects of CO2 and NO3 – availability on deciduous trees: phytochemistry and insect performance. Ecology 78 215–30

81

J Koricheva S Larsson (1998) ArticleTitleInsect performance on experimentally stressed woody plants: a meta-analysis. Annu Rev Entomol 43 195–216 Occurrence Handle10.1146/annurev.ento.43.1.195 Occurrence Handle1:CAS:528:DyaK1cXktlWrsg%3D%3D Occurrence Handle15012389

82

SC Krause KF Raffa (1996) ArticleTitleDefoliation tolerance affects the spatial and temporal distributions of larch sawfly and natural enemy populations. Ecol Entomol 21 259–69 Occurrence Handle10.1046/j.1365-2311.1996.00004.x

83

M Kytö P Niemelä S Larsson (1996) ArticleTitleInsects on trees: population and individual response to fertilization. Oikos 75 148–59

84

W Landolt I Pfenninger (1997) ArticleTitleThe effect of elevated CO2 and soil type on non-structural carbohydrates in beech leaves and Norway spruce needles growing in model ecosystems. Acta Oecol 18 351–9

85

J Landsberg MS Smith (1992) ArticleTitleA functional scheme for predicting the outbreak potential of herbivorous insects under global atmospheric change. Aust J Bot 40 565–77

86

Latty EF, Canham CD, Marks PL (2003) Beech bark disease in northern hardwood forests: the importance of nitrogen cycling and forest history for disease severity. Can J For Res. 33: 257–268

87

JA Lee SJM Caporn (1998) ArticleTitleEcological effects of atmospheric reactive nitrogen deposition on semi-natural terrestrial ecosystems. New Phytol 139 127–34 Occurrence Handle10.1046/j.1469-8137.1998.00165.x Occurrence Handle1:CAS:528:DyaK1cXkt1ensrw%3D

88

ID Leith WK Hicks D Fowler SJ Woodin (1999) ArticleTitleDifferential responses of UK upland plants to nitrogen deposition. New Phytol 141 277–89 Occurrence Handle10.1046/j.1469-8137.1999.00333.x

89

M Lerdau (1996) ArticleTitleInsects and ecosystem function. Trends Ecol Evol 11 151 Occurrence Handle10.1016/0169-5347(96)30007-4

90

M Lerdau L Slobodkin (2002) ArticleTitleTrace gas emissions and species-dependent ecosystem services. Trends Ecol Evol 17 309–12 Occurrence Handle10.1016/S0169-5347(02)02535-1

91

Lewis G. 1998. Response of stream chemistry to forest insect defoliation on the Allegheny High Plateau, Pennsylvania [dissertation]. Ithaca (NY): Cornell University

92

GE Likens CT Driscoll DC Buso (1996) ArticleTitleLong-term effects of acid rain: response and recovery of a forest ecosystem. Science 272 244–6 Occurrence Handle1:CAS:528:DyaK28Xit1Kqs7g%3D

93

PL Lorio (1986) ArticleTitleGrowth–differentiation balance—a basis for understanding southern pine beetle–tree interactions. For Ecol Manage 14 259–73 Occurrence Handle10.1016/0378-1127(86)90172-6

94

G Lovett L Christenson P Groffman C Jones J Hart M Mitchell (2002) ArticleTitleInsect defoliation and nitrogen cycling in forests. BioScience 52 335–41

95

GM Lovett (1994) ArticleTitleAtmospheric deposition of nutrients and pollutants in North America: an ecological perspective. Ecol Appl 4 629–50

96

YQ Luo JF Reynolds (1999) ArticleTitleValidity of extrapolating field CO2 experiments to predict carbon sequestration in natural ecosystems. Ecology 80 1568–83

97

AH Magill JD Aber GM Berntson WH McDowell KJ Nadelhoffer JM Melillo P Steudler (2000) ArticleTitleLong-term nitrogen additions and nitrogen saturation in two temperate forests. Ecosystems 3 238–53 Occurrence Handle10.1007/s100210000023

98

AH Magill JD Aber JJ Hendricks RD Bowden JM Melillo PA Steudler (1997) ArticleTitleBiogeochemical response of forest ecosystems to simulated chronic nitrogen deposition. Ecol Appl 7 402–15

99

AH Magill MR Downs KJ Nadelhoffer RA Hallett JD Aber (1996) ArticleTitleForest ecosystem response to four years of chronic nitrate and sulfate additions at Bear Brooks Watershed, Maine, USA. For Ecol Manage 84 29–37 Occurrence Handle10.1016/0378-1127(96)03775-9

100

RR Mason BE Wickman RC Beckwith HG Paul (1992) ArticleTitleThinning and nitrogen fertilization in a grand fir stand infested with western spruce budworm. Part I. Insect response. For Sci 38 235–51

101

Mason RR, Wickman BE, Paul HG, Torgersen TR. 1998. A pilot experiment of forest fertilization during an outbreak of the western spruce budworm in northeastern Oregon. USDA Forest Service Pacific Northwest Research Station Research Paper. P 1–+

102

GJ Masters S McNeill (1996) ArticleTitleEvidence that plant varieties respond differently to NO2 pollution as indicated by resistance to insect herbivores. Environ Pollut 91 351–4 Occurrence Handle10.1016/0269-7491(95)00055-0 Occurrence Handle1:CAS:528:DyaK28XhtFagu7s%3D Occurrence Handle15091428

103

PA Matson WH McDowell AR Townsend PM Vitousek (1999) ArticleTitleThe globalization of N deposition: ecosystem consequences in tropical environments. Biogeochemistry 46 67–83 Occurrence Handle10.1023/A:1006152112852 Occurrence Handle1:CAS:528:DyaK1MXlslSmu7c%3D

104

WJ Mattson (1980) ArticleTitleHerbivory in relation to plant nitrogen content. Annu Rev Ecol Syst 11 119–61 Occurrence Handle10.1146/annurev.es.11.110180.001003

105

WJ Mattson ND Addy (1975) ArticleTitlePhytophagous insects as regulators of forest primary production. Science 190 515–22

106

WJ Mattson RA Haack (1987) ArticleTitleThe role of drought in outbreaks of plant-eating insects. BioScience 37 110–18

107

WJ Mattson JM Scriber (1987) Nutritional ecology of insect folivores of woody plants: nitrogen, water, fiber, and mineral considerations. F Slansky Jr JG Rodriguez (Eds) Nutritional ecology of insects, mites, spiders, and related invertebrates. Wiley New York 105–46

108

S McNeill JB Whittaker (1990) Air pollution and tree-dwelling aphids. AD Watt SR Leather MD Hunter NAC Kidd (Eds) Population dynamics of forest insects. Intercept Andover (UK) 195–208

109

GA Meyer (2000) ArticleTitleInteractive effects of soil fertility and herbivory on Brassica nigra. Oikos 88 433–41

110

LG Moraal (1996) ArticleTitleBionomics of Haematoloma dorsatum (Hom, Cercopidae) in relation to needle damage in pine forests. Anz Schädli Pflanz Umwelt 69 114–8

111

MD Morecroft EK Sellers JA Lee (1994) ArticleTitleAn experimental investigation into the effects of atmospheric deposition on two semi-natural grasslands. J Ecol 82 475–83 Occurrence Handle1:CAS:528:DyaK2cXmt12kur8%3D

112

N Morimoto O Imura T Kiura (1998) ArticleTitlePotential effects of global warming on the occurrence of Japanese pest insects. Appl Entomol Zool 33 147–55

113

PA Morrow VC Lamarche (1978) ArticleTitleTree ring evidence for chronic insect suppression of productivity in subalpine Eucalyptus. Science 201 1244–6

114

J Muthukrishnan S Selvan (1993) ArticleTitleFertilization affects leaf consumption and utilization by Porthesia scintillans Walker (Lepidoptera, Lymantriidae). Ann Entomol Soc Am 86 173–8

115

KJ Nadelhoffer BA Emmett P Gunderson OJ Kjønass CJ Koopmans P Schleppi A Tietema RF Wright (1999) ArticleTitleNitrogen deposition makes a minor contribution to carbon sequestration in temperate forests. Nature 398 145–8 Occurrence Handle10.1038/18205 Occurrence Handle1:CAS:528:DyaK1MXhvFKis7Y%3D

116

S Neuvonen K Saikkonen E Haukioja (1990) ArticleTitleSimulated acid rain reduces the susceptibility of the European pine sawfly (Neodiprion sertifer) to its nuclear polyhedrosis virus. Oecologia 83 209–12

117

RJ Norby MF Cotrufo P Ineson EG O'Neill JG Canadell (2001) ArticleTitleElevated CO2, litter chemistry, and decomposition: a synthesis. Oecologia 127 153–65 Occurrence Handle10.1007/s004420000615

118

A Nordin T Nasholm L Ericson (1998) ArticleTitleEffects of simulated N deposition on understorey vegetation of a boreal coniferous forest. Funct Ecol 12 691–9 Occurrence Handle10.1046/j.1365-2435.1998.00240.x

119

SV Ollinger JD Aber GM Lovett SE Millham RG Lathrop JM Ellis (1993) ArticleTitleA spatial model of atmospheric deposition for the northeastern U.S. Ecol Appl 3 459–72

120

AMB Påhlsson (1992) ArticleTitleInfluence of nitrogen fertilization on minerals, carbohydrates, amino acids and phenolic compounds in beech (Fagus sylvatica L.) leaves. Tree Physiol 10 93–100 Occurrence Handle14969878

121

TD Paine RA Redak JT Trumble (1993) ArticleTitleImpact of acidic deposition on Encelia farinosa Gray (Compositae: Asteraceae) and feeding preferences of Trirhabda geminata Horn (Coleoptera: Chrysomelidae). J Chem Ecol 19 97–105 Occurrence Handle1:CAS:528:DyaK3sXhsVWgtbo%3D

122

P Palokangas S Neuvonena S Haapala (1995) ArticleTitleThe effects of simulated acid rain on growth and susceptibility to predation of Phratora polaris (Col., Chrysomelidae). Environ Pollut 89 67–71 Occurrence Handle10.1016/0269-7491(94)00043-D

123

D Parry JR Spence WJA Volney (1998) ArticleTitleBudbreak phenology and natural enemies mediate survival of first-instar forest tent caterpillar (Lepidoptera: Lasiocampidae). Environ Entomol 27 1368–74

124

KA Parsons AA de la Cruz (1980) ArticleTitleEnergy flow and grazing behavior of conocephaline grasshoppers in a Juncus roemerianus marsh. Ecology 61 1045–50

125

Peltonen M, Liebhold AM, Bjørnstad ON, Williams DW (2002) Spatial synchrony in forest insect outbreaks: roles of regional stochasticity and dispersal. Ecology. 83: 3120–3129

126

K Percy C Awmack R Lindroth M Kubiske B Kopper J Isebrands K Pregitzer G Hendrey R Dickson D and others Zak (2002) ArticleTitleAltered performance of forest pests under atmospheres enriched by CO2 and O3. Nature 420 403–7 Occurrence Handle10.1038/nature01028 Occurrence Handle1:CAS:528:DC%2BD38Xpt1ynu74%3D Occurrence Handle12459738

127

M Perezsoba PHB Devisser (1994) ArticleTitleNitrogen metabolism of Douglas fir and Scots pine as affected by optimal nutrition and water supply under conditions of relatively high atmospheric nitrogen deposition. Trees Struct Funct 9 19–25

128

M Pietila P Lahdesmaki P Pietilainen A Ferm J Hytonen A Patila (1991) ArticleTitleHigh nitrogen deposition causes changes in amino acid concentrations and protein spectra in needles of the Scots pine (Pinus sylvestris). Environ Pollut 72 103–15 Occurrence Handle10.1016/0269-7491(91)90061-Z Occurrence Handle1:CAS:528:DyaK3MXltlGjtL4%3D Occurrence Handle15092106

129

CER Pitcairn D Fowler J Grace (1995) ArticleTitleDeposition of fixed atmospheric nitrogen and foliar nitrogen content of bryophytes and Calluna vulgaris (L.) Hull. Environ Pollut 88 193–205 Occurrence Handle10.1016/0269-7491(95)91444-P Occurrence Handle1:CAS:528:DyaK2MXjvFKls78%3D Occurrence Handle15091560

130

CER Pitcairn ID Leith LJ Sheppard MA Sutton D Fowler RC Munro S Tang D Wilson (1998) ArticleTitleThe relationship between nitrogen deposition, species composition and foliar nitrogen concentrations in woodland flora in the vicinity of livestock farms. Environ Pollut 102(S1) 41–8 Occurrence Handle10.1016/S0269-7491(98)80013-4

131

KL Ponder J Pritchard R Harrington JS Bale (2000) ArticleTitleDifficulties in location and acceptance of phloem sap combined with reduced concentration of phloem amino acids explain lowered performance of the aphid Rhopalosiphum padi on nitrogen deficient barley (Hordeum vulgare) seedlings. Entomol Exp Appl 97 203–10

132

H Poorter R Villar (1997) The fate of acquired carbon in plants: chemical composition and construction costs. FA Bazzaz J Grace (Eds) Plant resource allocation. Academic Press San Diego 39–72

133

SA Power MR Ashmore DA Cousins LJ Sheppard (1998) ArticleTitleEffects of nitrogen addition on the stress sensitivity of Calluna vulgaris. New Phytol 138 663–73 Occurrence Handle10.1046/j.1469-8137.1998.00160.x Occurrence Handle1:CAS:528:DyaK1cXjvVagurk%3D

134

PW Price BJ Rathcke DA Gentry (1974) ArticleTitleLead in terrestrial arthropods: evidence for biological concentration. Environ Entomol 3 370–2 Occurrence Handle1:CAS:528:DyaE2cXlslGhu78%3D

135

AH Prins JJM Berdowski MJ Latuhihin (1991) ArticleTitleEffect of NH4-fertilization on the maintenance of a Calluna vulgaris vegetation. Acta Bot Neerl 40 269–79 Occurrence Handle1:CAS:528:DyaK38XitlCltLo%3D

136

SM Rainey KJ Nadelhoffer WL Silver MR Downs (1999) ArticleTitleEffects of chronic nitrogen additions on understory species in a red pine plantation. Ecol Appl 9 949–57

137

MV Rao S Khujneri PS Dubey DM Kumawat (1993) ArticleTitleResponse of eight tropical plants to enhanced ammonia deposition under field conditions prevalent with SO2 and NH3. Water Air Soil Pollut 71 331–45 Occurrence Handle1:CAS:528:DyaK2cXhslajtrw%3D

138

D Raubenheimer (1992) ArticleTitleTannic-acid, protein, and digestible carbohydrate—dietary imbalance and nutritional compensation in locusts. Ecology 73 1012–27 Occurrence Handle1:CAS:528:DyaK38XkvV2gs7c%3D

139

DJ Raynal JD Joslin FC Thornton M Schaedle GS Henderson (1990) ArticleTitleSensitivity of tree seedlings to aluminum. III. Red spruce and loblolly pine. J Environ Qual 19 180–7 Occurrence Handle1:CAS:528:DyaK3cXktVWlsL8%3D

140

PB Reich DS Ellsworth MB Walters JM Vose C Gresham JC Volin WD Bowman (1999) ArticleTitleGenerality of leaf trait relationships: a test across six biomes. Ecology 80 1955–69

141

H Rennenberg K Kreutzer H Papen P Weber (1998) ArticleTitleConsequences of high loads of nitrogen for spruce (Picea abies) and beech (Fagus sylvatica) forests. New Phytol 139 71–86 Occurrence Handle10.1046/j.1469-8137.1998.00181.x Occurrence Handle1:CAS:528:DyaK1cXkt1egu7k%3D

142

B Reynolds M Hunter DA Crossley Jr (2000) ArticleTitleEffects of canopy herbivory on nutrient cycling in a northern hardwood forest in western North Carolina. Selbyana 21 74–8

143

LS Risley DA Crossley (1993) ArticleTitleContribution of herbivore-caused greenfall to litterfall nitrogen flux in several southern Appalachian forested watersheds. Am Midl Nat 129 67–74

144

ME Ritchie D Tilman JMH Knops (1998) ArticleTitleHerbivore effects on plant and nitrogen dynamics in oak savanna. Ecology 79 165–77

145

JA Rosenheim LR Wilhoit CA Armer (1993) ArticleTitleInfluence of intraguild predation among generalist insect predators on the suppression of an herbivore population. Oecologia 96 439–49

146

GA Rosenthal DH Janzen (1979) Herbivores: their interactions with secondary plant metabolites. Academic Press New York .

147

ML Rosenzweig (1971) ArticleTitleParadox of enrichment: destabilization of exploitation ecosystems in ecological time. Science 171 385–7 Occurrence Handle1:STN:280:CS6D28nmslU%3D Occurrence Handle5538935

148

KT Saikkonen S Neuvonen (1993) ArticleTitleEffects of larval age and prolonged simulated acid rain on the susceptibility of European pine sawfly to virus infection. Oecologia 95 134–9

149

K Saikkonen S Neuvonen P Kainulainen (1995) ArticleTitleOviposition and larval performance of European pine sawfly in relation to irrigation, simulated acid rain and resin acid concentration in Scots pine. Oikos 74 273–82

150

M Salim RC Saxena (1992) ArticleTitleIron, silica, and aluminum stresses and varietal resistance in rice—effects on whitebacked planthopper. Crop Sci 32 212–9 Occurrence Handle1:CAS:528:DyaK38XhvFeiu78%3D

151

J Sandstrom J Pettersson (1994) ArticleTitleAmino acid composition of phloem sap and the relation to intraspecific variation in pea aphid (Acyrthosiphon pisum) performance. J Insect Physiol 40 947–55 Occurrence Handle10.1016/0022-1910(94)90133-3 Occurrence Handle1:CAS:528:DyaK2MXit1CrurY%3D

152

DW Schindler SE Bayley (1993) ArticleTitleThe biosphere as an increasing sink for atmospheric carbon—estimates from increased nitrogen deposition. Global Biogeochem Cycles 7 717–33 Occurrence Handle1:CAS:528:DyaK2cXhslWksb0%3D

153

R Scholes D Hall (1996) The carbon budget of tropical savannas, woodlands and grasslands. A Breymeyer D Hall J Melillo G Agren (Eds) Global change: effects on coniferous forests and grassland; vol 56. Wiley Chichester (UK) 69–100

154

TD Schowalter TE Sabin SG Stafford JM Sexton (1991) ArticleTitlePhytophage effects on primary production, nutrient turnover, and litter decomposition of young Douglas-fir in western Oregon. For Ecol Manage 42 229–43 Occurrence Handle10.1016/0378-1127(91)90027-S

155

E-D Schulze (1989) ArticleTitleAir pollution and forest decline in a spruce (Picea abies) forest. Science 244 776–83 Occurrence Handle1:CAS:528:DyaL1MXkt1Oru74%3D

156

JM Scriber F Slansky Jr (1981) ArticleTitleThe nutritional ecology of immature insects. Annu Revi Entomol 26 183–211 Occurrence Handle10.1146/annurev.en.26.010181.001151

157

TR Seastedt DA Crossley WW Hargrove (1983) ArticleTitleThe effects of low level consumption by canopy arthropods on the growth and nutrient dynamics of black locust and red maple trees in the southern Appalachians. Ecology 64 1040–8

158

WC Shortle KT Smith (1988) ArticleTitleAluminum-induced calcium deficiency syndrome in declining red spruce. Science 1988 1017–8

159

E Siemann (1998) ArticleTitleExperimental test of effects of plant productivity and diversity on grassland arthropod diversity. Ecology 79 2057–70

160

Z Sierpinski (1971) ArticleTitleSecondary noxious insects of pine in stands growing on areas with industrial air pollution containing nitrogen compounds. Sylwan 115 11–8

161

F Slansky P Feeny (1977) ArticleTitleStabilization of rate of nitrogen accumulation by larvae of cabbage butterfly on wild and cultivated food plants. Ecol Monogr 47 209–28

162

B Stadler B Michalzik T Muller (1998) ArticleTitleLinking aphid ecology with nutrient fluxes in a coniferous forest. Ecology 79 1514–25

163

AJM Stams IJL Schipholt (1990) ArticleTitleNitrate accumulation in leaves of vegetation of a forested ecosystem receiving high amounts of atmospheric ammonium sulfate. Plant Soil 125 143–5 Occurrence Handle1:CAS:528:DyaK3cXltlWitLw%3D

164

SY Strauss (1987) ArticleTitleDirect and indirect effects of host-plant fertilization on an insect community. Ecology 68 1670–8

165

J Suomela S Neuvonen S Ossipova V Ossipov K Pihlaja (1998) ArticleTitleA long-term study of the effects of simulated acid rain on birch leaf phenolics. Chemosphere 36 639–44 Occurrence Handle10.1016/S0045-6535(97)10100-X Occurrence Handle1:CAS:528:DyaK1cXnslKrsw%3D%3D

166

WT Swank JB Waide DA J Crossley RL Todd (1981) ArticleTitleInsect defoliation enhances nitrate export from forest ecosystem. Oecologia 51 297–9

167

Throop HL. 2002. Linking nitrogen deposition and herbivory: implications for insects, plants, and ecosystems [dissertation]. Stony Brook (NY): State University of New York. 226 p

168

A Tiedemann M Furniss (1985) ArticleTitleSoil and litter nutrient responses to looper defoliation of curlleaf mountain mahogany. For Sci 31 382–8

169

AR Townsend BH Braswell EA Holland JE Penner (1996) ArticleTitleSpatial and temporal patterns in terrestrial carbon storage due to deposition of fossil fuel nitrogen. Ecol Appl 6 806–14

170

L Van der Eerden W De Vries H Van Dobben (1998) ArticleTitleEffects of ammonia deposition on forests in the Netherlands. Atmos Environ 32 525–32 Occurrence Handle10.1016/S1352-2310(97)00009-5 Occurrence Handle1:CAS:528:DyaK1cXhvVOnt78%3D

171

LJ Van der Eerden TA Dueck JJM Berdowski H Greven HF Van Dobben (1991) ArticleTitleInfluence of NH3 and (NH4)2SO4 on heathland vegetation. Acta Bot Neerl 40 281–97 Occurrence Handle1:CAS:528:DyaK38Xhs1yjsr4%3D

172

EL Viskari S Kossi JK Holopainen (2000) ArticleTitleNorway spruce and spruce shoot aphid as indicators of traffic pollution. Environ Pollut 107 305–14 Occurrence Handle10.1016/S0269-7491(99)00179-7 Occurrence Handle1:CAS:528:DC%2BD3cXhslOktbo%3D Occurrence Handle15092976

173

ME Visser LJM Holleman (2001) ArticleTitleWarmer springs disrupt the synchrony of oak and winter moth phenology. Proc R Soc London [B] 268 289–94 Occurrence Handle10.1098/rspb.2000.1363 Occurrence Handle1:STN:280:DC%2BD3Mzjslynsg%3D%3D

174

PM Vitousek JA Aber RW Howarth GE Likens PA Matson DW Schindler WH Schlesinger DG Tilman (1997) ArticleTitleHuman alteration of the global nitrogen cycle: sources and consequences. Ecol Appl 73 737–50

175

PM Vitousek RW Howarth (1991) ArticleTitleNitrogen limitation on land and in the sea: how can it occur? Biogeochemistry 13 87–115

176

DA Wait CG Jones JS Coleman (1998) ArticleTitleEffects of nitrogen fertilization on leaf chemistry and beetle feeding are mediated by leaf development. Oikos 82 502–14

177

I Wäreborn (1992) ArticleTitleChanges in the land mollusc fauna and soil chemistry in an inland district in southern Sweden. Ecography 15 62–9

178

GL Waring NS Cobb (1992) The impact of plant stress, on herbivore population dynamics. EA Bernays (Eds) Insect–plant interactions; vol 4 CRC Press Boca Raton (FL) 167–226

179

PG Waterman S Mole (1989) Extrinsic factors influencing production of secondary metabolites in plants. EA Bernays (Eds) Insect–plant interactions; vol I CRC Press Boca Raton (FL) 107–34

180

KC Weathers GE Likens (1997) ArticleTitleClouds in southern Chile: an important source of nitrogen to nitrogen-limited ecosystems? Environ Sci Technol 32 210–3

181

J Webb B Cosby F Deviney K Eshleman J Galloway (1995) ArticleTitleChange in the acid–base status of an Appalachian mountain catchment following forest defoliation by the gypsy moth. Water Air Soil Pollut 85 535–40 Occurrence Handle1:CAS:528:DyaK28XhvVGksbk%3D

182

TCR White (1984) ArticleTitleThe abundance of invertebrate herbivores in relation to the availability of nitrogen in stressed food plants. Oecologia 63 90–105

183

TCR White (1993) The inadequate environment: nitrogen and the abundance of animals. Springer-Verlag New York 425

184

AB Whytemare RL Edmonds JD Aber K Lajtha (1997) ArticleTitleInfluence of excess nitrogen deposition on a white spruce (Picea glauca) stand in southern Alaska. Biogeochemistry 38 173–87 Occurrence Handle10.1023/A:1005727411677 Occurrence Handle1:CAS:528:DyaK2sXkvFeis78%3D

185

EJ Wilson RA Skeffington (1994) ArticleTitleThe effects of excess nitrogen deposition on young Norway spruce trees. 2. The vegetation. Environ Pollut 86 153–60 Occurrence Handle10.1016/0269-7491(94)90186-4 Occurrence Handle1:STN:280:DC%2BD2c7psFyktw%3D%3D Occurrence Handle15091632

186

M Wink (1992) The role of quinolizidine alkaloids in plant-insect interactions. EA Bernays (Eds) Plant–insect interactions; vol 4 CRC Press Boca Raton (FL) 131–66

187

HA Woods (1999) ArticleTitlePatterns and mechanisms of growth of fifth-instar Manduca sexta caterpillars following exposure to low- or high-protein food during early instars. Physiol Biochem Zool 72 445–54 Occurrence Handle10.1086/316678 Occurrence Handle1:STN:280:DyaK1MzntF2itA%3D%3D Occurrence Handle10438682

188

K Yamamura K Kiritani (1998) ArticleTitleA simple method to estimate the potential increase in the number of generations under global warming in temperate zones. Appl Entomol Zool 33 289–98
Acknowledgements
The manuscript benefited from the insightful comments of G. Bharathan, D. Futuyma, J. Gurevitch, E. Holland, L. Hyatt, M. Litvak, T. Schowalter, and two anonymous reviewers.
About this article
Cite this article
Throop, H., Lerdau, M. Effects of Nitrogen Deposition on Insect Herbivory: Implications for Community and Ecosystem Processes . Ecosystems 7, 109–133 (2004). https://doi.org/10.1007/s10021-003-0225-x
Received:

Accepted:

Published:

Issue Date:
Keywords
acid deposition

herbivory

global change

nitrogen deposition

plant–insect interactions

pollution