Abstract
An ecological threshold is the point at which there is an abrupt change in an ecosystem quality, property or phenomenon, or where small changes in an environmental driver produce large responses in the ecosystem. Analysis of thresholds is complicated by nonlinear dynamics and by multiple factor controls that operate at diverse spatial and temporal scales. These complexities have challenged the use and utility of threshold concepts in environmental management despite great concern about preventing dramatic state changes in valued ecosystems, the need for determining critical pollutant loads and the ubiquity of other threshold-based environmental problems. In this paper we define the scope of the thresholds concept in ecological science and discuss methods for identifying and investigating thresholds using a variety of examples from terrestrial and aquatic environments, at ecosystem, landscape and regional scales. We end with a discussion of key research needs in this area.
Access options
Buy single article
Instant access to the full article PDF.
US$ 39.95
Tax calculation will be finalised during checkout.
Subscribe to journal
Immediate online access to all issues from 2019. Subscription will auto renew annually.
US$ 79
Tax calculation will be finalised during checkout.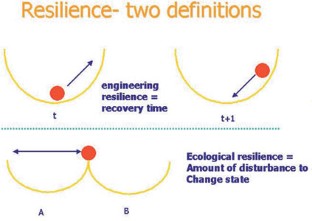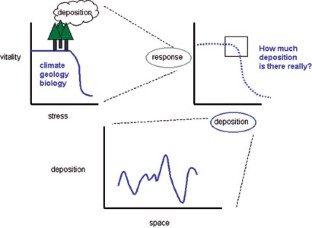 References
Alcamo J, Leemans R, Kreileman E. 1998. Global change scenarios of the 21st century. Results from the IMAGE 2.1. Oxford Pergamon and Amsterdam: Elsevier Science

Allan JD. 2004. Landscapes and riverscapes: the influence of land use on stream ecosystems. Annu Rev Ecol Syst 35:257–284

Andren H. 1994. Effects of habitat fragmentation on birds and mammals in landscapes with different proportions of suitable habitat. Oikos 71:355–66

Baron JS, Rueth HM, Wolfe AM, Nydick KR, Allstott EJ, Minear JT, Moraska B. 2000a. Ecosystem responses to nitrogen deposition in the colorado front range. Ecosystems 3:352–68

Baron JS, Hartman M, Band LE, Lammers R. 2000b. Sensitivity of a high elevation Rocky Mountain watershed to altered climate and CO2. Water Resour Res 36:89–99

Beisner BE, Haydon DT, Cuddington K. 2003. Alternative stable states in ecology. Front Ecol Environ 1:376–82

Bissonette JA, ed. 1997. Wildlife and landscape ecology. Berlin, Heidelberg, New York: Springer

Bledsoe BP, Watson CC. 2001. Effects of urbanization on channel instability. J Am Water Resour Assoc 37:255–70

Bormann FH, Likens GE. 1979. Pattern and process in a forested ecosystem. Berlin, Heidelberg, New York: Springer

Bowers MA, Matter SF. 1997. Landscape ecology of mammals: relationships between density and patch size. J Mammal 78:999–1013

Brown JH, Valone TJ, Curtin CG. 1997. Reorganization of an arid ecosystem in response to recent climate change. Proc Natl Acad Sci 94:9729–33

Brown JR, Herrick J, Price D. 1999. Managing low-output agroecosystems sustainably: the importance of ecological thresholds. Can J For Res 29:1112–9

Carpenter SR, Ludwig D, Brock WA. 1999. Management of eutrophication for lakes subject to potentially irreversible change. Ecol Appl 9:751–71

Carpenter SR, Turner M. 2000. Opening the black boxes: ecosystem science and economic valuation. Ecosystems 3:1–3

Carpenter SR. 2002. Ecological futures: building an ecology of the long now. Ecology 83:2069–83

Clark JS, Carpenter S, Barber M, Collins S, Dobson A, Foley JA, Lodge DM, Pascual M, Pielke R Jr, Pizer W, Pringle C, Reid WV, Rose KA, Sala O, Schlesinger WH, Wall DH, Wear D. 2001. Ecological forecasts: an emerging imperative. Science 293:657–60

Connell JH, Sousa WP. 1983. On the evidence needed to judge ecological stability or persistence. Am Nat 121:789–824

Daily GC, Ehrlich PR, Goulder LH, Lubchenco J, Matson PA, Mooney HA, Schneider SH, Woodwell GM, Tilman D. 1997. Ecosystem services: benefits supplied to human societies by natural ecosystems. Issues Ecol 2:1–16

Dent CL, Cumming GS, Carpenter SR. 2002. Multiple states in river and lake ecosystems. Phil Trans R Soc B 357:635–45

Driscoll CT, Lawrence GB, Bulger AJ, Butler TJ, Cronan CS, Eager C, Lambert KF, Likens GE, Stoddard JL, Weathers KC. 2001. Acidic deposition in the Northeastern US: sources and inputs, ecosystem effects and management strategies. BioScience 51:180–98

Dublin HT, Sinclair ARE, McGlade J. 1990. Elephants and fire as causes of multiple stable states in the Serengeti-Mara woodlands. J Anim Ecol 59:1147–64

Elmqvist T, Folke C, Nyström M, Peterson G, Bengtsson J, Walker B, Norberg J. 2003. Response diversity, ecosystem change, and resilience. Front Ecol Environ 1:488–94

Emmett BA, Reynolds B. 2003. The role of models in addressing critical N loading to ecosystems. In: Canham CD, Cole JJ, Lauenroth WK, Eds. Models in ecosystem science. Princeton (NJ): Princeton University Press. p. 308–326

Fath BD, Cabezas H, Pawlowski CW. 2003. Regime changes in ecological systems: an information theory approach. J Theor Biol 222:5170–530

Foley JA, Coe MT, Scheffer M, Wang GL. 2003. Regime shifts in the Sahara and Sahel: interactions between ecological and climatic systems in Northern Africa. Ecosystems 6:524–39

Gardner RH, Milne BT, Turner MG, O'Neill RV. 1987. Neutral models for the analysis of broad-scale landscape patterns. Landscape Ecol 1:19–28

Graf WL. 2003. Dam removal research: status and prospects. The John Heinz Center for Science, Economics and the Environment, Washington. p 151

Gunderson LH. 2000. Ecological resilience-theory to practice. Annu Rev Ecol Syst 31:421–39

Gunderson L, Holling C, eds. 2002. Panarchy: understanding transformations in human and natural systems. Washington (DC): Island Press

Hardesty J, Adams J, Gordon D, Provencher L. 2000. Simulating management with models. Conserv Biol Pract 1:26–31

Harrison S. 1997. Persistent, localized outbreaks in the western tussock moth Orgyia vetusta: the roles of resource quality, predation and poor dispersal. Ecol Entomol 22:158–66

Hartvigsen G, Kinzig A, Peterson G. 1998. The use and analysis of complex adaptive systems in ecosystem science. Ecosystems 1:427–30

Henson SM, Costantino RF, Desharnais RA, Cushing JM, Dennis B. 2002. Basins of attraction: population dynamics with two stable four-cycles. Oikos 98:17–24

Holling CS. 1973. Resilience and stability of ecological systems. Annu Rev Ecol Syst 4:1–23

Holling CS, ed. 1978. Adaptive environmental assessment and management. London: Wiley

Holling CS. 1996. Surprise for science, resilience for ecosystems, and incentives for people. Ecol Appl 6:733–5

Karr JR, Chu EW. 2000. Sustaining living rivers. Hydrobiologia 422/423:1–14

Klein RD. 1979. Urbanization and stream water quality impairment. Water Resour Bull 15:948–63

Krummel JR, Gardner RH, Sugihara G, O'Neill RV, Coleman PR. 1987. Landscape patterns in a disturbed environment. Oikos 48:321–4

Landers DH, Eilers JM, Brakke DF, Overton WS, Kellar PE, Silverstein ME, Schonbrod RD, Crowe RE, Linthurst RA, Omernik JM, Teague SA, Meier EP. 1987. Characteristics of lakes in the western US. Population description and physio-chemical relationships, vol. 1. Washington (DC): US EPA. 425 p

Leemans R. 1999. Modeling for species and habitats: new opportunities for problem solving. Sci Total Environ 240:51–73

Leopold LB, Wolman MG, Miller JP. 1964. Fluvial processes in geomorphology. San Francisco: WH Freeman & Sons

Likens GE, Driscoll CT, Buso DC. 1996. Long-term effects of acid rain: response and recovery of a forest ecosystem. Science 272:244–6

Lindenmayer DB, Cunningham RB, Pope ML, Donnelly CF. 1999. The response of arboreal marsupials to landscape context: a large-scale fragmentation study. Ecol Appl 9:594–611

Ludwig D, Walker B, Holling CS. 1997. Sustainability, stability, and resilience. Conserv Ecol 1(7):7. URL: http://www.consecol.org/vol1/iss1/art7

Ludwig JA, Wiens JA, Tongway DJ. 2000. A scaling rule for landscape patches and how it applies to conserving soil resources in savannas. Ecosystems 3:84–97

Lundberg J, Moberg F. 2003. Mobile link organisms and ecosystem functioning: implications for ecosystem resilience and management. Ecosystems 6:87–98

May RM. 1977. Thresholds and breakpoints in ecosystems with a multiplicity of stable states. Nature 269:471–7

Millennium Ecosystem Assessment. 2003. Ecosystems and human well-being. Washington (DC): Island Press

Montaña C, 1992. The colonization of bare areas in two-phase mosaics of an arid ecosystem. J Ecol 80:315–27

Morley SA, Karr JR. 2002. Assessing and restoring the health of urban streams in the Puget Sound basin. Conserv Biol 16:1498–509

NRC (National Research Council). 2000. Clean coastal waters: understanding and reducing the effects of nutrient pollution. Washington (DC): National Academy Press

Nydick KR. 2002. Mountain lake responses to elevated nitrogen deposition. PhD dissertation, Colorado State University, Fort Collins, Colorado

Paerl HW, Bales JD, Ausley LW, Buzzelli CP, Crowder LB, Eby LA, Fear JM, Go M, Peierls BL, Richardson TL, Ramus JS. 2001. Ecosystem impacts of three sequential hurricanes (Dennis, Floyd, and Irene) on the US's largest lagoonal estuary, Pamlico Sound, NC. Proc Natl Acad Sci USA 98(10):5655–60

Paerl HW, Dyble J, Twomey L, Pinckney JL, Nelson J, Kerkhof L. 2002. Characterizing man-made and natural modifications of microbial diversity and activity in coastal ecosystems. Antonie van Leeuwenhoek 81:487–507

Paerl HW, Valdes LM, Pinckney JL, Piehler MF, Dyble J, Moisander PH. 2003. Phytoplankton photopigments as Indicators of Estuarine and Coastal Eutrophication. BioScience 53(10):953–64

Parker G, Klingeman PC, McLean DG. 1982. Bedload and size distribution in paved gravel-bed streams. J Hydr Eng Div – ASCE 108:544–71

Paul MJ, Meyer JL. 2001. Streams in the urban landscape. Ann Rev Ecol Syst 32:333–65

Peterson G, Allen CR, Holling CS. 1998. Ecological resilience, biodiversity and scale. Ecosystems 1:6–18

Peterson GD. 1999. Contagious disturbance and ecological resilience. Dissertation, University of Florida, Gainesville, Florida

Peterson GD. 2002. Forest dynamics in the Southeastern United States: managing multiple stable states. In: Gunderson LH, Pritchard L Jr, eds. Resilience and the behavior of large-scale ecosystems. Washington (DC): Island Press. p 227–46

Rebertus AJ, Williamson GB, Moser EB. 1989. Longleaf pine pyrogenicity and turkey oak mortality in Florida xeric sandhills. Ecology 70:60–70

Redman CL, Kinzig AP. 2003. Resilience of past landscapes: resilience theory, society, and the Longue Duree. Conserv Ecol 7:14

Rogers K, Biggs H. 1999. Integrating indicators, endpoints and value systems in strategic management of the rivers of the Kruger National Park. Freshw Biol 41:439–51

Rueth HM, Baron JS. 2002. Differences in Englemann spruce forest biogeochemistry east and west of the Continental Divide in Colorado, USA. Ecosystems 5:45–57

Scheffer M, Carpenter S, Foley JA, Folke C, Walker B. 2001. Catastrophic shifts in ecosystems. Nature 413:591–6

Scheffer M, Carpenter SR. 2003. Catastrophic regime shifts in ecosystems: linking theory to observation. Trends Ecol Evol 18:648–56

Scott ML, Friedman JM, Auble GT. 1996. Fluvial process and the establishment of bottomland trees. Geomorphology 14:327–39

Smith VH. 1998. Cultural eutrophication of inland, estuarine, and coastal waters. In: Pace ML, Groffman PM, Eds. Successes, limitations and frontiers in ecosystem science. Berlin Heidelberg New York: Springer. p 7–49

Stauffer D. 1985. Introduction to percolation theory. London: Taylor and Francis

Stauffer D, Aharony A. 1992. Introduction to percolation theory, 2nd ed. London: Taylor and Francis

Steele JH. 1998. Regime shifts in marine ecosystems. Ecol Appl 8(Suppl):S33–6

Turner MG, Gardner RH, Dale VH, O'Neill RV. 1989. Predicting the spread of disturbance across heterogeneous landscapes. Oikos 55:121–9

Turner MG, Romme WH. 1994. Landscape dynamics in crown fire ecosystems. Landscape Ecol 9:59–77

Turner MG, Gardner RH, O'Neill RV. 2001. Landscape ecology in theory and practice: pattern and process. Berlin, Heidelberg, New York: Springer

Walker B, Meyers JA. 2004. Thresholds in ecolgoical and social-ecological systems: a developing database. Ecol Soc 9(2):3 [online] URL: http://www.ecologyandsociety.org/vol9/iss2/art3

Walters CJ. 1986. Adaptive management of renewable resources. New York: McGraw Hill

Weathers KC, Lovett GM, Likens GE, Lathrop R. 2000. The effect landscape features on deposition to Hunter Mountain, Catskill Mountains, New York. Ecol Appl 10:528–40

Williams MW, Tonnessen KA. 2000. Critical loads for inorganic nitrogen deposition in the Colorado Front Range, USA. Ecol Appl 10:1648–65

With KA, King AW. 1997. The use and misuse of neutral landscape models in ecology. Oikos 97:219–29

Wolfe AP, Baron JS, Cornett RJ. 2001. Unprecedented changes in alpine ecosystems related to anthropogenic nitrogen deposition. J Paleolimnol 25:1–7

Zimov SA, Chuprynin VI, Oreshko AP, Chapin FS, Reynolds JF, Chapin MC. 1995. Steppe-tundra transition: a herbivore-driven biome shift at the end of the Pleistocene. Am Nat 146:765–94
ACKNOWLEDGEMENTS
The conference that lead to this paper was supported by the US EPA National Center for Environmental Research (NCER) through its Science to Achieve Results (STAR) program. The paper was derived from conference presentations by Jill Baron, Peter Groffman, Lance Gunderson, Hans Paerl, Garry Peterson, LeRoy Poff, Jim Reynolds, Monica Turner and Kathleen Weathers.
About this article
Cite this article
Groffman, P.M., Baron, J.S., Blett, T. et al. Ecological Thresholds: The Key to Successful Environmental Management or an Important Concept with No Practical Application?. Ecosystems 9, 1–13 (2006). https://doi.org/10.1007/s10021-003-0142-z
Received:

Accepted:

Published:

Issue Date:
Keywords
thresholds

multiple stable states

critical loads

panarchy

ecological surprises

ecological modeling