Abstract
This paper presents an analysis of the impact of the indoor classroom environment on students' learning efficiency. The research is based on a classroom smart monitoring and a questionnaire about the students' assessment of the comfort conditions and learning efficiency. Multisensor devices are used to measure the indoor temperature, relative humidity, and CO2 concentration at the students' desks. Data analysis concerned an investigation of the spatial and temporal variation of the comfort parameters and their correlation with students' assessment of comfort conditions and learning efficiency. The results show a significant spatial variation in the indoor comfort conditions, particularly for temperature and CO2 concentration. The indoor temperature could exceed by up to 5 °C, the temperature threshold limits value in France's public buildings. At the beginning of the class, the learning efficiency correlates well with the students' assessment of comfort conditions. At the end of the class, the results show a weak correlation with both recorded comfort parameters and the students' assessment of the indoor conditions. The results indicate a decrease in learning efficiency during the class. However, students do not mainly attribute this decrease to the degradation in indoor conditions.
Access options
Buy single article
Instant access to the full article PDF.
USD 39.95
Price includes VAT (USA)
Tax calculation will be finalised during checkout.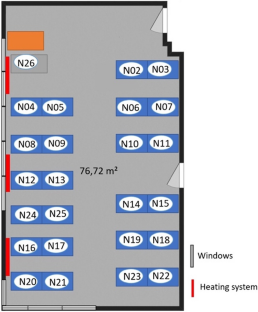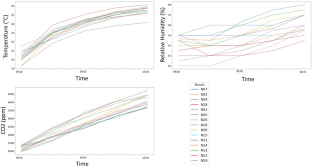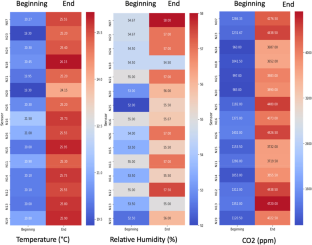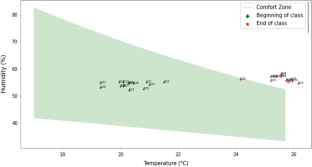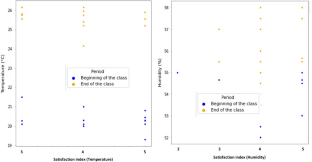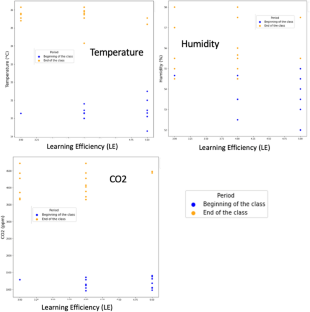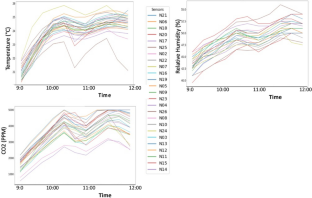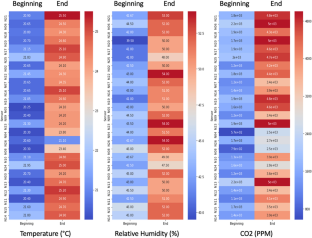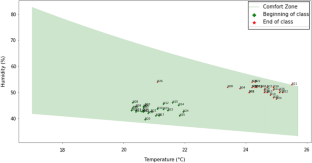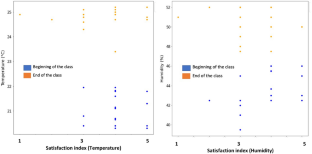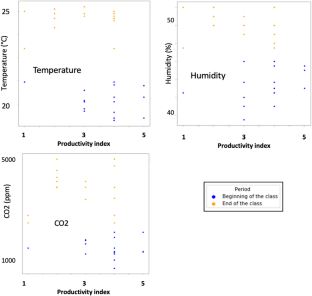 References
Bajc T, Banjac M, Todorovic M, Stevanovic Z (2019) Experimental and statistical survey on local thermal comfort impact on working productivity loss in university classrooms. Therm Sci 23:379–392. https://doi.org/10.2298/TSCI170920160B

Belaïd F, Joumni H (2020) Behavioral attitudes towards energy saving: empirical evidence from France. Energy Policy 140(2020):111406. https://doi.org/10.1016/j.enpol.2020.111406

Belaïda F, Roubaudb D, Galariotisc E (2019) Features of residential energy consumption: evidence from France using an innovative multilevel modeling approach. Energy Policy 125:277–285. https://doi.org/10.1016/j.enpol.2018.11.007

Bluyssen PM, Zhang D, Kurvers S, Overtoom M, Ortiz-Sanchez M (2018) Self-reported health and comfort of school children in 54 classrooms of 21 Dutch school buildings. Build Environ 138:106–123. https://doi.org/10.1016/j.buildenv.2018.04.032

Cui W, Cao G, Park JH, Ouyang Q, Zhu Y (2013) Influence of indoor air temperature on human thermal comfort, motivation, and performance. Build Environ 68:114–122. https://doi.org/10.1016/j.buildenv.2013.06.012

Curi TMRD, Conti D, Vercellino RD, Massari JM, De Moura DJ, De Souza ZM, Montanari R (2017) Positioning of sensors for control of ventilation systems in broiler houses: a case study. Sci Agric 74(2):101–109. https://doi.org/10.1590/1678-992X-2015-0369

Givoni B (1969) Man, climate and architecture. Editor Elsevier Science Ltd, Amsterdam (ISBN-10: 0444200398)

Haddad S, Synnefa A, Ångel Padilla Marcos M, Paolini R, Delrue S, Prasad D, Santamouris M (2021) On the potential of demand-controlled ventilation system to enhance indoor air quality and thermal condition in Australian school classrooms. Energy Build 238:110838. https://doi.org/10.1016/j.enbuild.2021.110838

Pistore L, Pittana I, Cappelletti F, Romagnoni P, Gasparella A (2020) Analysis of subjective responses for the evaluation of the indoor environmental quality of an educational building. Sci Technol Built Environ 26:195–209. https://doi.org/10.1080/23744731.2019.1649460

Ricciardi P, Buratti C (2018) Environmental quality of university classrooms: subjective and objective evaluation of the thermal, acoustic, and lighting comfort conditions. Build Environ 127:23–36. https://doi.org/10.1016/j.buildenv.2017.10.030

Tariku F, Ying Simpson W (2014) Temperature and humidity distributions in a mid-rise residential building suite. In: 14th Canadian conference on building science and technology, 2014, pp 419–428. http://obec.on.ca/sites/default/uploads/files/members/CCBST-Oct-2014/A6-2-a.pdf

Yildiz Y, Kocyigit M (2019) Evaluation of indoor environmental conditions in university classrooms. Proc Inst Civ Eng Energy 172:148–161. https://doi.org/10.1680/jener.19.00020

Zhong L, Yuan J, Fleck B (2019) Indoor environmental quality evaluation of lecture classrooms in an institutional building in a cold climate. Sustainability 11:6591. https://doi.org/10.3390/su11236591
Additional information
Publisher's Note
Springer Nature remains neutral with regard to jurisdictional claims in published maps and institutional affiliations.
About this article
Cite this article
Lagsaiar, L., Shahrour, I., Aljer, A. et al. Use of smart monitoring and users' feedback for to investigate the impact of the indoor environment on learning efficiency. Environ Econ Policy Stud (2021). https://doi.org/10.1007/s10018-021-00329-3
Received:

Accepted:

Published:
Keywords
Smart monitoring

Comfort

Energy

Behavior

Social

Learning efficiency

Assessment