Abstract
Being one of the primary soft-voluntary environmental policy instruments, ISO 14001 has been studied from a number of diverse perspectives and disciplines. Nevertheless, it is only few assessments that have attempted to shed light on variations in the diffusion ISO 14001 certification among countries in terms of national factors and macroeconomic conditions that may stimulate relevant implementation patterns. We employ a 1999–2017 annual time-series that yields a panel dataset of 33 countries, out of which 27 are OECD countries, complemented by the BRIICS. Applying the appropriate static and dynamic econometric specifications, the EKC hypothesis is not rejected in all the cases in static and dynamic specifications. Our turning points are in all cases within the sample ranging from $20,812 to $52,023.
Access options
Buy single article
Instant access to the full article PDF.
USD 39.95
Price includes VAT (USA)
Tax calculation will be finalised during checkout.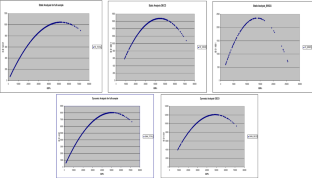 References
Akaike H (1974) A new look at the statistical model identification. IEEE Trans Autom Control AC 19:716–723

Albuquerque P, Bronnenberg BJ, Corbett CJ (2007) A spatiotemporal analysis of the global diffusion of ISO 9000 and ISO 14000 certification. Manage Sci 53(3):451–468

Arellano M, Bond S (1991) Some tests of specification for panel data: Monte Carlo evidence and an application to employment equations. Rev Econ Stud 58:277–297

Arimura T, Hibiki A, Katayama H (2008) Is a voluntary approach an effective environmental policy instrument?—a case of environmental management systems. J Environ Econom Manage 55(3):281–295

Baltagi BH, Pesaran H (2007) Heterogeneity and cross section dependence in panel data models: theory and applications. J Appl Econ 22:229–232

Bansal P, Bogner WC (2002) Deciding on ISO 14001: economics, institutions, and context. Long Range Plan 35(3):269–290

Bansal P, Hunter T (2003) Strategic explanations for the early adoption of ISO 14001. J Bus Ethics 46(3):289–299

Basak GK, Das S (2018) Understanding cross-sectional dependence in panel data. SSRN online. Available at.

Bollen KA, Brand JE (2011) A general panel model with random and fixed effects: a structural equations approach. Soc Forces 89(1):1–34

Borsky S, Blanco E (2014) Setting one voluntary standard in a heterogeneous Europe: EMAS, corruption and stringency of environmental regulations (No. 2014–29). Working papers in economics and statistics

Botcheva L, Martin LL (2001) Institutional effects on state behavior: convergence and divergence. Int Stud Quart 45:1–26

Boys KA, Grant JH (2010) ISO 14000 standards: voluntary environmental governance as a trade facilitation strategy? Agricultural and applied economics association, AAEA, CAES, WAEA joint annual meeting, Denver, Colorado, July 25–27

Camarero M, Gómez E, Tamarit C (2011) Evidence of the Euro effect on trade estimating gravity equations with panel cointegration techniques. Accessible on: http://www.revecap.com/encuentros/trabajos/c/pdf/005.pdf

Campbell H (2005) The rise and rise of EurepGAP: European (Re) invention of colonial food relations? Int J Sociol Agric Food 13(2):6–19

Daddi T, Magistrelli M, Frey M, Iraldo F (2011) Do environmental management systems improve environmental performance? Empirical evidence from Italian companies. Environ Dev Sustain 13:845–862

Daddi T, Testa F, Iraldo F, Frey M (2014) Removing and simplifying administrative costs and burdens for EMAS and ISO 14001 certified organizations: evidences from Italy. Environ Eng Manag J 13:689–698

Daddi T, Frey M, De Giacomo MR et al (2015) Macro-economic and development indexes and ISO14001 certificates: a cross national analysis. J Clean Prod 108:1239–1248. https://doi.org/10.1016/j.jclepro.2015.06.091

Danis WM, Chiaburu DS, Lyles MA (2010) The impact of managerial networking intensity and market-based strategies on firm growth during institutional upheaval: a study of small and medium-sized enterprises in a transition economy. J Int Bus Stud 41(2):287–307

De Oliveira OJ, Serra JR, Salgado MH (2010) Does ISO 14001 work in Brazil? J Clean Prod 18:1797–1806

Delmas M (2001) Stakeholders and competitive advantage: the case of ISO 14001. Prod Oper Manage 10(3):343–358

Delmas MA, Montes-Sancho MJ (2011) An institutional perspective on the diffusion of international management system standards: the case of the environmental management standard ISO 14001. Bus Ethics Q 21(01):103–132

Delmas MA, Pekovic S (2013) Environmental standards and labour productivity: understanding the mechanisms that sustain sustainability. J Organ Behav 34:230–252

Di Noia AE, Nicoletti M (2016) ISO certification: benefits, costs and expectations for organization. Stud Oecon Posnan 4(10):94–109

dos Santos CMG, de Oliveira A (2019) ISO 14001 and international trade. Indep J Manage Prod 10(1):22–40

Driscoll JC, Kraay AC (1998) Consistent covariance matrix estimation with spatially dependent panel data. Rev Econ Stat 80:549–560

Fisher RA (1932) Inverse probability and the use of likelihood. Math Proc Cambridge Philos Soc 28:257–261

Franceschini F, Galetto M, Giannı G (2004) A new forecasting model for the diffusion of ISO 9000 standard certifications in European countries. Int J Qual Reliab Manage 21(1):32–50

Frees EW (1995) Assessing cross-sectional correlation in panel data. J Econ 69(2):393–414

Freitas IMB, Iizuka M (2012) Openness to international markets and the diffusion of standards compliance in Latin America. A multi-level analysis. Res Policy 41(1):201–215

Fuentelsaz L, Garrido E, Maicas JP (2015) Incumbents, technological change and institutions: how the value of complementary resources varies across markets. Strateg Manag J 36(12):1778–1801

Fura B, Wang Q (2017) The level of socioeconomic development of EU countries and the state of ISO 14001 certification. Qual Quant 51(1):103–119

Hofstede G (1980) Culture's consequences: international differences in world-related values. Sage Publications, Beverly Hills, CA

Halkos G (2003) Environmental Kuznets Curve for sulfur: evidence using GMM estimation and random coefficient panel data models. Environ Dev Econ 8(4):581–601

Halkos G (2011a) Economy - environment relationship: the case of sulphur emissions. MPRA paper, 45480

Halkos G (2011b) Environment and economic development: determinants of an EKC hypothesis. MPRA paper, 33262

Halkos G (2012) Environmental pollution and economic development: explaining the existence of an environmental Kuznets curve. J Appl Econ Sci 6(18):148–159

Halkos G (2013) Exploring the economy–environment relationship in the case of sulphur emissions. J Environ Plan Manage 56(2):159–217

Halkos G, Nomikos S (2021) Corporate social responsibility: trends in global reporting initiative standards. Econ Anal Policy 69:106–117

Hausman JA (1978) Specification tests in econometrics. Econometrica 46:1251–1271

Haunschild PR, Miner AS (1997) Modes of interorganizational imitation: the effects of outcome salience and uncertainty. Adm Sci Q 4(2):472–500

He W, Liu C, Lu J, Cao J (2015) Impacts of ISO 14001 adoption on firm performance: evidence from China. China Econ Rev 32:43–56

Henson S, Humphrey J (2010) Understanding the complexities of private standards in global agri-food chains as they impact developing countries. J Dev Stud 46:1628–1646

Heras I, Arana G (2010) Alternative models for environmental management in SMEs: the case of Ekoscan vs. ISO 14001. J Clean Prod 18:726–735

Heras-Saizarbitoria I, Boiral O (2013) ISO 9001 and ISO 14001: towards a research agenda on management system standards. Int J Manage Rev 15(1):47–65

Heras-Saizarbitoria I, Arana G, Boiral O (2015) Exploring the dissemination of environmental certifications in high and low polluting industries. J Clean Prod 89:50–56

Heras-Saizarbitoria, I., O. Boiral, E. Allur (2018) Three Decades of Dissemination of ISO 9001 and Two of ISO 14001: Looking Back and Ahead" In ISO 9001, ISO 14001, and new management standards. I Naki Heras-Saizarbitoria (Eds.). Springer, Cham. pp 1–15

Hikichi SE, Salgado EG, Beijo LA (2017) Characterization of dissemination of ISO 14001 in Countries and economic sectors in the Americas. J Environ Plan Manage 60(9):1554–1574

Iatridis K, Kesidou E (2016) What drives substantive versus symbolic implementation of ISO 14001 in a time of economic crisis? Insights from Greek manufacturing companies. J Bus Ethics 148(4):1–19

Jänicke M, Weidner H (1997) National environmental policies: a comparative study of capacity building. Springer, Berlin

King AA, Lenox MJ, Terlaak A (2005) The strategic use of decentralized institutions: exploring certification with the ISO 14001 management standard. Acad Manag J 48:1091–1106

Larsen B, Häversjö T (2001) Management by standards—real benefits from fashion. Scand J Manag 17:457–480

Liu J, Yuan C, Hafeez M, Li X (2020) ISO 14001 certification in developing countries: motivations from trade and environment. J Environ Plan Manage 63(7):1241–1265

Lira S, Marcel J, Salgado EG, Beijo LA (2019) ARIMA models as an alternative to predict the diffusion of the ISO 14001 standard in Europe. J Environ Plan Manag 1–12: https://doi.org/10.1080/09640568.2019.577721

Llach J, Marimon F, Bernardo M (2011) ISO 9001 diffusion analysis according to activity sectors. Ind Manag Data Syst 111:298–316. https://doi.org/10.1108/02635571111115191

Llach J, Marimon F, del Mar Alonso-Almeida M (2015) Social Accountability 8000 standard certification: analysis of worldwide diffusion. J Cleaner Prod 93:288–298

Maertens M, Swinnen JF (2009) Trade, standards, and poverty: evidence from Senegal. World Dev 37(1):161–178

Marimon F, Casadesus M, Heras IS (2006) ISO 9000 and ISO 14000 standards: an international diffusion model. Int J Oper Prod Manag 26(2):141–165. https://doi.org/10.1108/01443570610641648

Marimon F, Llach J, Bernardo M (2011) Comparative analysis of diffusion of the ISO 14001 standard by sector of activity. J Clean Prod 19(15):1734–1744

Martin LL, Simmons BA (1998) Theories and empirical studies of international institutions. Int Organ 52(4):729–757

Mendel PJ (2001) International standardization and global governance: the spread of quality and environmental management standards. In: Hoffman A, Ventresca M (eds) Organizations, policy, and the natural environment: institutional and strategic perspectives. Stanford University Press, UK

Miller AT, Kim AB (2012) Defining economic freedom. In: Miller AT, Holmes KR, Feulner EJ (eds) Index of economic freedom. The Heritage Foundation & Wall Street Journal, Washington, pp 13–20

Millo G (2018) Private returns to R&D in the presence of spillovers, revisited. J Appl Econ 34(1):155–159

Minten B, Randrianarison L, Swinnen JFM (2009) Global retail chains and poor farmers: evidence from Madagascar. World Dev 37:1728–1741

Moon S, DeLeon P (2005) The patterns of institutional interaction and ISO 14001 adoptions. Comp Technol Transf Soc 3:35–57

Nakamura M, Takahashi T, Vertinsky I (2001) Why Japanese firms choose to certify: a study of managerial responses to environmental issues. J Environ Econ Manage 42(1):23–52

Neumayer E, Perkins R (2004) What explains the uneven take-up of ISO 14001 at the global level?—a panel-data analysis. Environ Plan A 36(5):823–839

Neumayer E, Perkins R (2005) Uneven geographies of organizational practice: explaining the cross-national transfer and diffusion of ISO 9000. Econ Geogr 81(3):237–259

Nishitani K (2009) An empirical study of the initial adoption of ISO 14001 in Japanese manufacturing firms. Ecol Econ 68(3):669–679

Orcos R, Pérez-Aradros B, Blind K (2018) Why does the diffusion of environmental management standards differ across countries? The role of formal and informal institutions in the adoption of ISO 14001. J World Bus 53(6):850–861

Ozusaglam S, Robin S, Wong CY (2017) Early and late adopters of ISO 14001-type standards: revisiting the role of firm characteristics and capabilities. J Technol Transf 1:1–28

Pauly L, Reich S (1997) National structures and multinational corporate behaviors. Int Organ 51(1):1–30

Pedroni P (1999) Critical values for cointegrating tests in heterogeneous panel with multiple refressors. Oxford Bull Econ Stat 9:653–678

Pedroni P (2000) Fully modified OLS for heterogeneous cointegrated panels, nonstationary panels, panel cointegration and dynamic panels 8: 93–130

Pedroni PL (2004) Panel cointegration: asymptotic and finite sample properties of pooled time series tests with an application to the purchasing power parity hypothesis. Econ Theory 1:597–625

Peng MW (2003) Institutional transitions and strategic choices. Acad Manag Rev 28(2):275–296

Peng MW, Wang DY, Jiang Y (2008) An institution-based view of international business strategy: a focus on emerging economies. J Int Bus Stud 39(5):920–936

Pesaran MH (2004) General diagnostic tests for cross section dependance in panels. IZA discussion papers, No. 1240

Ponte S (2008) Greener than thou: the political economy of fish ecolabeling and its local manifestations in South Africa. World Dev 36:159–175

Porter ME (1990) The competitive advantage of nations. Free Press, New York

Potoski M, Prakash A (2004) Regulatory convergence in nongovernmental regimes? Cross-national variation in ISO 14001 adoption. J Polit 66(3):885–905

Potoski M, Prakash A (2013) Do voluntary programs reduce pollution? examining ISO 14001's effectiveness across countries. Policy Stud J 41:273–294

Prakash A, Potoski M (2006a) New dependencies: FDI and the cross-country diffusion of ISO 14001 management systems. Annual conference on institutional mechanisms for industry self-regulation, February 24–25, Dartmouth College

Prakash A, Potoski M (2006b) Racing to the bottom? Globalization, environmental governance, and ISO 14001. Am J Polit Sci 50(2):347–361

Prakash A, Potoski M (2007) Investing up: FDI and the cross-country diffusion of ISO 14001 management systems. Int Stud Quart 51(3):723–744

Reardon T, Codron J-M, Busch L, Bingen J, Harris C (2001) Global change in agrifood grades and standards: agribusiness strategic responses in developing countries. Int Food Agribus Manage Rev 2:421–435

Sampaio P, Saraiva P, Guimarães Rodrigues A (2011) ISO 9001 certification forecasting models. Int J Qual Reliab Manag 28:5–26

Sarafidis V, Wansbeek T (2012) Cross-sectional dependence in panel data analysis. Econ Rev 31(5):483–531

Schandl H, Hatfield-Dodds S, Wiedmann T, Geschke A, Cai Y, West J, Newth D, Baynes T, Lenzen M, Owen A (2016) Decoupling global environmental pressure and economic growth: scenarios for energy use, materials use and carbon emissions. J Clean Prod 132:45–56

Schwarz G (1978) Estimating the dimension of a model. Ann Stat 6:461–464

Sethi P, Elango B (1999) The influence of ''country of origin'' on multinational corporation strategy: a conceptual framework. J Int Manag 5(4):285–298

Stephan FF (1934) Sampling errors and interpretations of social data ordered in time and space. J Am Stat Assoc 29:165–166

Stokey NL (1998) Are there limits to growth? Int Econ Rev 39:1–31

Testa F, Rizzi F, Daddi T, Gusmerotti NM, Frey M, Iraldo F (2014) EMAS and ISO 14001: the differences in effectively improving environmental performance. J Clean Prod 68:165–173

Tews K, Busch PO, Jörgens H (2003) The diffusion of new environmental policy instruments. Eur J Polit Res 42(4):569–600

Tews K (2005) The diffusion of environmental policy innovations: cornerstones of an analytical framework. Eur Environ 15(2):63–79

To WM, Lee PKC (2014) Diffusion of ISO 14001 environmental management system: global, regional and country-level analyses. J Clean Prod 66:489–498

Torres-Reyna O (2007) Panel data analysis fixed and random effects using stata (v. 4.2). Princeton University

UNIDO (2012) ISO 9001—its relevance and impact in Asian developing economies. UNIDO, Vienna

Vandergeest P (2007) Certification and communities: alternatives for regulating the environmental and social impacts of Shrimp Farming. World Dev 35:1152–1171

Vastag G (2004) Revisiting ISO 14000 diffusion: a new "look" at the drivers of certification. Prod Oper Manage 13(3):260–267

Welch EW, Mori Y, Aoyagi-Usui M (2002) Voluntary adoption of ISO 14001 in Japan: mechanisms, stages and effects. Bus Strat Environ 11(1):43–62

Westerlund J (2007) Testing for error correction in panel data. Oxford Bull Econ Stat 9:709–748

Wiedmann TO, Schandl H, Lenzen M, Moran D, Suh S, West J, Kanemoto K (2015) The material footprint of nations. Proc Natl Acad Sci 112(20):6271–6276

Wu SY, Chu PY, Liu TY (2007) Determinants of a firm's ISO 14001 certification: an empirical study of Taiwan. Pac Econ Rev 12(4):467–487

Zhang W, Wang W, Wang S (2014) Environmental performance evaluation of implementing EMS (ISO 14001) in the coating industry: case study of a Shanghai coating firm. J Clean Prod 64:205–217
Acknowledgements
We would like to thank the Co-Editor Professor Shunsuke Managi and the reviewers for their helpful and constructive comments and recommendations. Any remaining errors are solely the authors' responsibility.
Additional information
Publisher's Note
Springer Nature remains neutral with regard to jurisdictional claims in published maps and institutional affiliations.
About this article
Cite this article
Halkos, G., Nomikos, S. & Skouloudis, A. Revisiting ISO 14001 diffusion among national terrains: panel data evidence from OECD countries and the BRIICS. Environ Econ Policy Stud 23, 781–803 (2021). https://doi.org/10.1007/s10018-021-00301-1
Received:

Accepted:

Published:

Issue Date:
Keywords
ISO 14001

Environmental management systems

Certification

Diffusion patterns

Panel data

Time-series analysis