Abstract
Streets are an essential element of cities, and their design has a profound impact on their functionality to the movement of people and their well-being. This paper investigates preferences for and economic values of several street design characteristics, encompassing greenspaces (ground vegetation, trees, flowers), and walking and cycling infrastructure. A discrete choice experiment on a single case study street in Taipei, Taiwan, has revealed positive preferences for ground vegetation (and a willingness to pay—WTP—between $2.8 and $4 per year for a 1% increase in coverage), separated cycling infrastructure (with a WTP between $60 and $100 for cycleways separated from traffic), pedestrian access to road islands (WTP of $55), and the (reduced) amount of space dedicated to motor vehicles (WTP of $29 to avoid any increase). Flowers were also deemed important, but a mixed picture was obtained with respect to preference for street trees. The analysis is exploratory, on a relatively small sample of street users, but contributes to the literature on the importance of urban vegetation and walking and cycling infrastructure when designing streets and be used to draw lessons for other similarly dense urban areas in the country and wider region.
Access options
Buy single article
Instant access to the full article PDF.
USD 39.95
Price excludes VAT (USA)
Tax calculation will be finalised during checkout.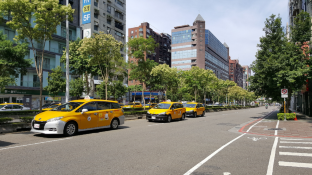 Notes
Twenty-one respondents were eliminated from the initial dataset. These included those who missed some choice cards, and those who did not want to reveal any socio-economic characteristics. Other inconsistencies were also used as an additional indicator of not properly engaging with the survey. Respondents who stated a very low level of certainty in all their choice cards were also eliminated. Low certainly in few choice cards was considered reasonable given the complexity of the experiment.
References
Aldred R, Elliott B, Woodcock J, Goodman A (2017) Cycling provision separated from motor traffic: a systematic review exploring whether stated preferences vary by gender and age. Transport Rev 37:29–55. https://doi.org/10.1080/01441647.2016.1200156

Belcher RN, Chisholm RA (2018) Tropical vegetation and residential property value: a hedonic pricing analysis in Singapore. Ecol Econ 149:149–159. https://doi.org/10.1016/j.ecolecon.2018.03.012

Bliemer MCJ, Rose JM (2011) Experimental design influences on stated choice outputs: an empirical study in air travel choice. Transport Res Part A Policy Pract 45:63–79. https://doi.org/10.1016/j.tra.2010.09.003

Bonthoux S, Chollet S, Balat I et al (2019) Improving nature experience in cities: what are people's preferences for vegetated streets? J Environ Manag 230:335–344. https://doi.org/10.1016/j.jenvman.2018.09.056

Brander LM, Koetse MJ (2011) The value of urban open space: meta-analyses of contingent valuation and hedonic pricing results. J Environ Manag 92:2763–2773. https://doi.org/10.1016/j.jenvman.2011.06.019

Buehler R, Dill J (2016) Bikeway networks: a review of effects on cycling. Transport Rev 36:9–27. https://doi.org/10.1080/01441647.2015.1069908

Cantillo T, Vargas A, Cantillo V, Ramos J (2019) What determines university student's willingness to pay for bikeways? Transportation. https://doi.org/10.1007/s11116-019-10014-w

Carlino GA, Saiz A (2020) Beautiful city: leisure amenities and urban growth. J Region Sci. https://doi.org/10.1111/jors.12438

Carmona M (2019) Place value: place quality and its impact on health, social, economic and environmental outcomes. J Urban Design 24:1–48. https://doi.org/10.1080/13574809.2018.1472523

Carmona M, Gabrieli T, Hickman R et al (2018) Street appeal: the value of street improvements. Progress Plan 126:1–51. https://doi.org/10.1016/j.progress.2017.09.001

CEIC (2020) Taiwan Exchange Rate against USD [1983–2020] [Data & Charts]. https://www.ceicdata.com/en/indicator/taiwan/exchange-rate-against-usd. Accessed 25 May 2020

Chang SKJ, Chen H-Y, Chen H-C (2019) Mobility as a service policy planning, deployments and trials in Taiwan. IATSS Res 43:210–218. https://doi.org/10.1016/j.iatssr.2019.11.007

Chen P-Y, Tan P-H, Chou CC-K et al (2019) Impacts of holiday characteristics and number of vacation days on "holiday effect" in Taipei: implications on ozone control strategies. Atmos Environ 202:357–369. https://doi.org/10.1016/j.atmosenv.2019.01.029

Chen WY, Hua J (2015) Citizens' distrust of government and their protest responses in a contingent valuation study of urban heritage trees in Guangzhou, China. J Environ Manag 155:40–48. https://doi.org/10.1016/j.jenvman.2015.03.002

Chiang C-C, Chiou S-T, Liao Y-M, Liou YM (2019) The perceived neighborhood environment is associated with health-enhancing physical activity among adults: a cross-sectional survey of 13 townships in Taiwan. BMC Public Health 19:524. https://doi.org/10.1186/s12889-019-6848-4

Chiang Y-C, Li D (2019) Metric or topological proximity? The associations among proximity to parks, the frequency of residents' visits to parks, and perceived stress. Urban Forest Urban Green 38:205–214. https://doi.org/10.1016/j.ufug.2018.12.011

Chidambara (2019) Walking the first/last mile to/from transit: placemaking a key determinant. Urban Planning 4:183–195. https://doi.org/10.17645/up.v4i2.2017

Choi J, Kim S, Min D et al (2016) Human-centered designs, characteristics of urban streets, and pedestrian perceptions. J Adv Transport 50:120–137. https://doi.org/10.1002/atr.1323

Copenhagenize Design Co (2019) www.copenhagenizeindex.eu. In: The most bicycle-friendly cities of 2019. https://www.copenhagenizeindex.eu/. Accessed 27 Jun 2019

Creutzig F, Javaid A, Soomauroo Z et al (2020) Fair street space allocation: ethical principles and empirical insights. Transport Rev. https://doi.org/10.1080/01441647.2020.1762795

Dare AM, Ayinde IA, Shittu AM (2015) Urban trees forest management in Abeokuta Metropolis, Ogun State. Nigeria. Manag Environ Qual Int J 20:20. https://doi.org/10.1108/MEQ-06-2014-0094

DOT (2018) Length and area of roads in Taipei City—by width. Taipei City Government-Department for Transportation

DOT (2020a) Number of bus runs and carried passengers on exclusive bus lanes of Taipei City. Taipei City Government-Department for Transportation

DOT (2020b) Number of motor vehicles. Taipei City Government-Department for Transportation

Fan P, Lee Y-C, Ouyang Z, Huang S-L (2019) Compact and green urban development—towards a framework to assess urban development for a high-density metropolis. Environ Res Lett 14:115006. https://doi.org/10.1088/1748-9326/ab4635

Frank LD, Hong A, Ngo VD (2019) Causal evaluation of urban greenway retrofit: a longitudinal study on physical activity and sedentary behavior. Prev Med 123:109–116. https://doi.org/10.1016/j.ypmed.2019.01.011

Giergiczny M, Kronenberg J (2014) From valuation to governance: using choice experiment to value street trees. Ambio 43:492–501. https://doi.org/10.1007/s13280-014-0516-9

Greene WH (2012) NLogit Version 5.0 Reference Guide. Econometric Software, Inc., Plainview

Hensher DA (2010) Hypothetical bias, choice experiments and willingness to pay. Transport Res Part B Methodol 44:735–752

Hensher DA, Greene WH (2003) The mixed logit: the state of practice. Transportation 30:133–176

Hensher DA, Rose JM, Greene WH (2015) Applied choice analysis, 2nd edn. Cambridge University Press, Cambridge

Hess S, Train K (2017) Correlation and scale in mixed logit models. J Choice Modell 23:1–8. https://doi.org/10.1016/j.jocm.2017.03.001

Hong S-K, Kim J-M, Jo H-K, Lee S-W (2018) Monetary valuation of urban forest attributes in highly developed urban environments: an experimental study using a conjoint choice model. Sustainability 10:2461. https://doi.org/10.3390/su10072461

Kim D-H, Ahn B-I, Kim E-G (2016) Metropolitan residents' preferences and willingness to pay for a life zone forest for mitigating heat island effects during summer season in Korea. Sustainability (Switzerland). https://doi.org/10.3390/su8111155

Kondo MC, Morrison C, Guerra E et al (2018) Where do bike lanes work best? A Bayesian spatial model of bicycle lanes and bicycle crashes. Saf Sci 103:225–233. https://doi.org/10.1016/j.ssci.2017.12.002

Koo J-C, Park MS, Youn Y-C (2013) Preferences of urban dwellers on urban forest recreational services in South Korea. Urban Forest Urban Green 12:200–210. https://doi.org/10.1016/j.ufug.2013.02.005

Krinsky I, Robb AL (1986) On approximating the statistical properties of elasticities. Rev Econ Stat 68:715–719. https://doi.org/10.2307/1924536

Lagbas AJ (2019) Social valuation of regulating and cultural ecosystem services of Arroceros Forest Park: a man-made forest in the city of Manila, Philippines. J Urban Manag 8:159–177. https://doi.org/10.1016/j.jum.2018.09.002

Laird J, Page M, Shen S (2013) The value of dedicated cyclist and pedestrian infrastructure on rural roads. Transp Policy 29:86–96. https://doi.org/10.1016/j.tranpol.2013.04.004

Lanz B, Provins A (2013) Valuing local environmental amenity with discrete choice experiments: spatial scope sensitivity and heterogeneous marginal utility of income. Environ Resour Econ 56:105–130. https://doi.org/10.1007/s10640-013-9648-9

Li Z, Wang W, Liu P et al (2012) Investigating bicyclists' perception of comfort on physically separated bicycle paths in Nanjing, China. Transp Res Rec 2317:76–84. https://doi.org/10.3141/2317-10

Liebelt V, Bartke S, Schwarz N (2019) Urban green spaces and housing prices: an alternative perspective. Sustainability 11:3707. https://doi.org/10.3390/su11133707

Lin J-J, Yang S-H (2019) Proximity to metro stations and commercial gentrification. Transp Policy 77:79–89. https://doi.org/10.1016/j.tranpol.2019.03.003

Lo AY, Jim CY (2015) Protest response and willingness to pay for culturally significant urban trees: implications for contingent valuation method. Ecol Econ 114:58–66. https://doi.org/10.1016/j.ecolecon.2015.03.012

Luckey KS, Marshall WE, Durso C, Atkinson-Palombo C (2018) Residential preferences, transit accessibility and social equity: insights from the Denver region. J Urban Int Res Placemak Urban Sustain 11:149–174. https://doi.org/10.1080/17549175.2017.1422531

Mabon L, Shih W (2018) Mapping the socio-political landscape of heat mitigation through urban greenspaces: the case of Taipei Metropolis. Environ Urban. https://doi.org/10.1177/0956247818767318

Mabon L, Shih W-Y (2018) What might 'just green enough' urban development mean in the context of climate change adaptation? The case of urban greenspace planning in Taipei Metropolis. Taiwan World Dev 107:224–238. https://doi.org/10.1016/j.worlddev.2018.02.035

Marqués R, Hernández-Herrador V, Calvo-Salazar M, García-Cebrián JA (2015) How infrastructure can promote cycling in cities: lessons from Seville. Res Transport Econ 53:31–44. https://doi.org/10.1016/j.retrec.2015.10.017

McFadden D (2001) Economic choices. Am Econ Rev 91:351–378

McFadden D, Train K (2000) Mixed MNL models for discrete response. J Appl Econom 15:447–470

Mead NV (2016) Return of the Bicycle Kingdom? How pavement cycling is transforming Taipei. The Guardian, UK

Mehaffy MW, Haas T, Elmlund P (2019) Public space in the new urban agenda: research into implementation. Urban Plan 4:134–137. https://doi.org/10.17645/up.v4i2.2293

Mouratidis K (2018) Rethinking how built environments influence subjective well-being: a new conceptual framework. J Urban Int Res Placemak Urban Sustain 11:24–40. https://doi.org/10.1080/17549175.2017.1310749

Mueller N, Rojas-Rueda D, Salmon M et al (2018) Health impact assessment of cycling network expansions in European cities. Prev Med 109:62–70. https://doi.org/10.1016/j.ypmed.2017.12.011

Ng W-Y, Chau C-K, Powell G, Leung T-M (2015) Preferences for street configuration and street tree planting in urban Hong Kong. Urban Forest Urban Green 14:30–38. https://doi.org/10.1016/j.ufug.2014.11.002

Perino G, Andrews B, Kontoleon A, Bateman I (2014) The value of urban green space in Britain: a methodological framework for spatially referenced benefit transfer. Environ Resour Econ 57:251–272. https://doi.org/10.1007/s10640-013-9665-8

Ritchie H, Roser M (2019) Urbanization. Our world in data

Salmond JA, Tadaki M, Vardoulakis S et al (2016) Health and climate related ecosystem services provided by street trees in the urban environment. Environ Health 15:S36. https://doi.org/10.1186/s12940-016-0103-6

Shackleton CM, Blair A, De Lacy P et al (2018) How important is green infrastructure in small and medium-sized towns? Lessons from South Africa. Landsc Urban Plan 180:273–281. https://doi.org/10.1016/j.landurbplan.2016.12.007

Shih W (2017a) The cooling effect of green infrastructure on surrounding built environments in a sub-tropical climate: a case study in Taipei metropolis. Landsc Res 42:558–573. https://doi.org/10.1080/01426397.2016.1235684

Shih W (2017) Greenspace patterns and the mitigation of land surface temperature in Taipei metropolis. Habitat Int 60:69–80. https://doi.org/10.1016/j.habitatint.2016.12.006

Shr Y-H, Ready R, Orland B, Echols S (2019) How do visual representations influence survey responses? Evidence from a choice experiment on landscape attributes of green infrastructure. Ecol Econ 156:375–386. https://doi.org/10.1016/j.ecolecon.2018.10.015

Skov-Petersen H, Jacobsen JB, Vedel SE et al (2017) Effects of upgrading to cycle highways—An analysis of demand induction, use patterns and satisfaction before and after. J Transp Geogr 64:203–210. https://doi.org/10.1016/j.jtrangeo.2017.09.011

Soto JR, Escobedo FJ, Khachatryan H, Adams DC (2018) Consumer demand for urban forest ecosystem services and disservices: examining trade-offs using choice experiments and best-worst scaling. Ecosyst Serv 29:31–39. https://doi.org/10.1016/j.ecoser.2017.11.009

Taipei City Government (2018) Department of Civil Affairs. In: Department of Civil Affairs-Population Statistics. https://english.ca.gov.taipei/News.aspx?n=0ED6677AC39FBAF0&sms=6639445BA893E706. Accessed 25 May 2020

Taiwan Government (2012) 2010 population and housing census. https://census.dgbas.gov.tw/PHC2010/english/rehome.htm. Accessed 25 May 2020

Tinch R, Beaumont N, Sunderland T et al (2019) Economic valuation of ecosystem goods and services: a review for decision makers. J Environ Econ Policy. https://doi.org/10.1080/21606544.2019.1623083

Wang X, Yao J, Yu S et al (2018) Street trees in a Chinese forest city: structure. Benefits Costs Sustain 10:674. https://doi.org/10.3390/su10030674

Wang Y-C, Lin J-C, Liu W-Y et al (2016) Investigation of visitors' motivation, satisfaction and cognition on urban forest parks in Taiwan. J Forest Res 21:261–270. https://doi.org/10.1007/s10310-016-0543-4

Webb J, Briggs M, Wilson C (2018) Breaking automotive modal lock-in: a choice modelling study of Jakarta commuters. Environ Econ Policy Stud 20:47–68. https://doi.org/10.1007/s10018-017-0181-x

Weber F, Kowarik I, Säumel I (2014) A walk on the wild side: perceptions of roadside vegetation beyond trees. Urban Forest Urban Green 13:205–212. https://doi.org/10.1016/j.ufug.2013.10.010

Yamaguchi T, Kawakami S (2007) A study on contingent valuation of transport accessibility improvement. Stud Region Sci 37:979–994. https://doi.org/10.2457/srs.37.979

Yannes CD, Lownes NE, Garrick NW, Johnston RJ (2010) Operationalizing place making in a choice experiment context. Transp Res Rec 2144:121–129. https://doi.org/10.3141/2144-14

Zhang Y, Thomas T, Brussel M, van Maarseveen M (2017) Exploring the impact of built environment factors on the use of public bikes at bike stations: case study in Zhongshan, China. J Transp Geogr 58:59–70. https://doi.org/10.1016/j.jtrangeo.2016.11.014
Acknowledgements
This work was carried while the first author was a Master's student at CEDEP, SOAS. The corresponding author is an academic tutor (consultant) in environmental economics in the same centre. The authors wish to thank the Wye College Agricola Club for the grant that helped carry out the survey. The authors would also like to thank the two anonymous reviewers for their very useful comments.
Additional information
Publisher's Note
Springer Nature remains neutral with regard to jurisdictional claims in published maps and institutional affiliations.
Appendices
Appendix
Choice card attributes and levels' key (this information was shown to respondents prior to the questionnaire)
2.1

Ground cover

The composition of floor cover, excluding tarred road surface, measured in terms of percent paved vs. percent grass or foliage.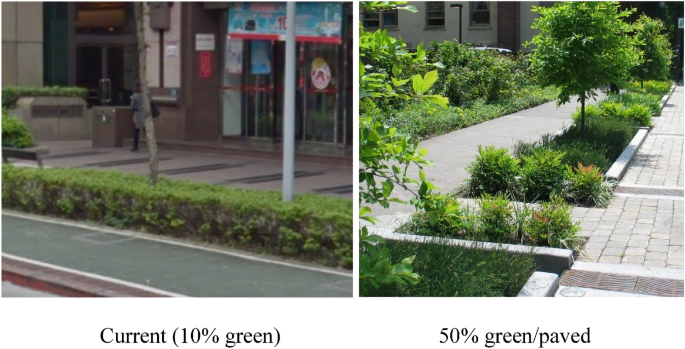 2.2

Tree canopy cover

The amount of tree cover over the road as seen from above, measured as a rough percentage of total surface area.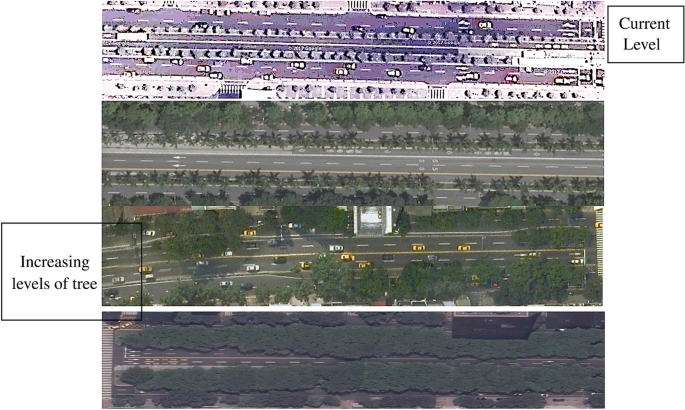 2.3

Cycling infrastructure

About this article
Cite this article
Botes, C.M., Zanni, A.M. Trees, ground vegetation, sidewalks, cycleways: users' preferences and economic values for different elements of an urban street—a case study in Taipei. Environ Econ Policy Stud 23, 145–171 (2021). https://doi.org/10.1007/s10018-020-00284-5
Received:

Accepted:

Published:

Issue Date:

DOI: https://doi.org/10.1007/s10018-020-00284-5
Keywords
Urban greenspaces

Sidewalks

Cycleways

Economic value

Willingness to pay