Abstract
This study investigates people's behavioral responses to air pollution information in China. We find that elevated air pollution levels are positively associated with higher online searches for anti-PM2.5 masks and air filters. A 10 µg/m3 increase in PM2.5 is associated with a 3.6–8.4% increase of mobile queries for anti-PM2.5 masks, and 1.1–4.7% for air filters. Using a regression discontinuity design, we find that a haze alert issued when PM2.5 concentration exceeds 250 µg/m3 would double online queries for anti-PM2.5 masks and air filters. Online searches are also positively correlated with online sales. One day of severe pollution would induce a cost of 0.2 million USD on online expenditure on anti-PM2.5 masks. Some suggestive evidence shows that people in richer and polluted cities tend to search more for anti-PM2.5 masks and air filters than those in poorer and cleaner cities.
This is a preview of subscription content, log in to check access.
Access options
Buy single article
Instant access to the full article PDF.
US$ 39.95
Tax calculation will be finalised during checkout.
Subscribe to journal
Immediate online access to all issues from 2019. Subscription will auto renew annually.
US$ 99
Tax calculation will be finalised during checkout.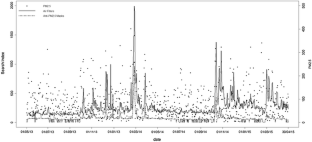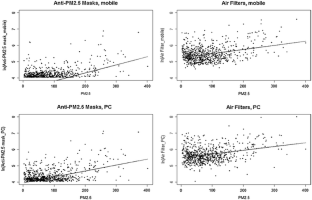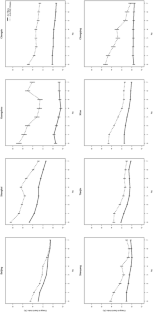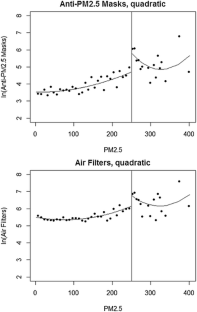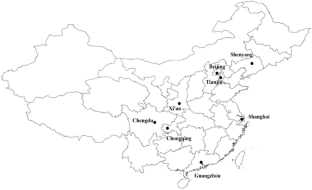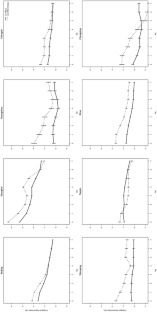 Notes
1.

35th Report of China Internet Development Statistics, China Internet Network Information Center, 2015.

2.

3.

There is no information on spatial differentiation of online searches within each city. Check http://index.baidu.com for more details.

4.

If we assume that the government can forecast the air pollution levels in 1–3 days with high accuracy, we can compare the number of official haze alerts that were actually issued with the number of haze alerts that should be alerted. We find that the Beijing government might have missed nine blue alerts and one yellow alert during 2014, and has generally lowered down the levels of all the red and orange alerts based on actual data.

5.

The significantly negative coefficients for air filters in Guangzhou and Chongqing indicate that people may tend to search less for air filters and search more for PM2.5 masks in southern cities. Considering the magnitude to be relatively small, this does not mask our major conclusion.

6.

We are concerned that the leap at the threshold in Fig. 5 is mainly driven by a few points above the threshold, so we check the data and find that these points are from two severe episodes in February and October 2014 when orange alerts were issued (note that red alerts were supposed to be issued at this level of air pollution, but the first official red alert in history was not issued until December 8, 2015). We then extend the period to January 17, 2016 in the RDD. The results are robust, with the effect of alert on searches for anti-PM2.5 mask increasing while decreasing for air filter.

7.

Ctrip is the largest online platform and agency for travel in China.
References
Askitas N, Zimmermann KF (2009) Google econometrics and unemployment forecasting. Appl Econ Q 55(2):107–120

Avery RJ (1996) Determinants of search for nondurable goods: an empirical assessment of the economics of information theory. J Consum Aff 30(2):390–420

Bartik TJ (1988) Evaluating the benefits of non-marginal reductions in pollution using information on defensive expenditures. J Environ Econ Manag 15(1):111–127

Bharadwaj P, Gibson M, Zivin JG, Neilson C (2017) Gray matters: fetal pollution exposure and human capital formation. J Assoc Environ Resour Econ 4(2):505–542

Bickerstaff K, Walker G (2001) Public understandings of air pollution: the 'localisation'of environmental risk. Global Environ Change 11(2):133–145

Bresnahan BW, Dickie M, Gerking S (1997) Averting behavior and urban air pollution. Land Econ 73(3):340–357

Burnett RT, Pope CA, Ezzati M, Olives et al (2014) An integrated risk function for estimating the global burden of disease attributable to ambient fine particulate matter exposure. Environ Health Perspect 122:397–403

Calonico S, Cattaneo MD, Titiunik R (2014) Robust nonparametric confidence intervals for regression-discontinuity designs. Econometrica 82(6):2295–2326

Chang T, Graff Zivin J, Gross T, Neidell M (2016) Particulate pollution and the productivity of pear packers. Am Econ J Econ Policy 8(3):141–169

Chay KY, Greenstone M (2003) The impact of air pollution on infant mortality: evidence from geographic variation in pollution shocks induced by a recession. Q J Econ 118(3):1121–1167

Chen Y, Jin GZ, Kumar N, Shi G (2012) Gaming in air pollution data? Lessons from China. BE J Econ Anal Policy 12(3):1–43

Chen Y, Ebenstein A, Greenstone M, Li H (2013) Evidence on the impact of sustained exposure to air pollution on life expectancy from China's Huai River policy. Proc Natl Acad Sci USA 110(32):12936–12941

Choi H, Varian H (2012) Predicting the present with Google trends. Econ Rec 88(s1):2–9

Courant PN, Porter RC (1981) Averting expenditure and the cost of pollution. J Environ Econ Manag 8(4):321–329

Currie J, Neidell M (2005) Air pollution and infant health: what can we learn from California's recent experience? Q J Econ 120(3):1003–1030

Currie J, Walker R (2011) Traffic congestion and infant health: evidence from E-ZPass. Am Econ J Appl Econ 3(1):65–90

Currie J, Neidell M, Schmieder JF (2009) Air pollution and infant health: lessons from New Jersey. J Health Econ 28(3):688–703

Currie J, Zivin JG, Mullins J, Neidell M (2014) What do we know about short-and long-term effects of early-life exposure to pollution? Annu Rev Resour Econ 6(1):217–247

Cutter WB, Neidell M (2009) Voluntary information programs and environmental regulation: evidence from 'spare the air'. J Environ Econ Manag 58(3):253–265

Dominici F, McDermott A, Hastie TJ (2004) Improved semiparametric time series models of air pollution and mortality. J Am Stat Assoc 99(468):938–948

Dowling GR (1986) Perceived risk: the concept and its measurement. Psychol Mark (1986–1998) 3(3):193

Ebenstein A, Fan M, Greenstone M, He G, Yin P, Zhou M (2015) Growth, pollution, and life expectancy: China from 1991–2012. Am Econ Rev 105(5):226–231

Ebenstein A, Fan M, Greenstone M, He G, Zhou M (2017) New evidence on the impact of sustained exposure to air pollution on life expectancy from China's Huai River Policy. Proc Natl Acad Sci. doi:10.1073/pnas.1616784114

Ghanem D, Zhang J (2014) 'Effortless perfection': do Chinese cities manipulate air pollution data? J Environ Econ Manag 68(2):203–225

Ginsberg J, Mohebbi MH, Patel RS, Brammer L, Smolinski MS, Brilliant L (2009) Detecting influenza epidemics using search engine query data. Nature 457(7232):1012–1014

Guzmán G (2011) Internet search behavior as an economic forecasting tool: the case of inflation expectations. J Econ Soc Meas 36(3):119–167. doi:10.3233/JEM-2011-0342

He G, Fan M, Zhou M (2016) The effect of air pollution on mortality in China: evidence from the 2008 Beijing Olympic Games. J Environ Econ Manag 79:18–39

Imbens G, Kalyanaraman K (2012) Optimal bandwidth choice for the regression discontinuity estimator. Rev Econ Stud 79(3):933–959

Ito K, Zhang S (2016) Willingness to pay for clean air: evidence from air purifier markets in China (no. W22367). National Bureau of Economic Research

Jun SH, Vogt CA, MacKay KJ (2007) Relationships between travel information search and travel product purchase in pretrip contexts. J Travel Res 45(3):266–274

Kholodilin KA, Podstawski M, Siliverstovs B (2010) Do Google searches help in nowcasting private consumption? A real-time evidence for the US. In: KOF Swiss Economic Institute working paper, no. 256

Kuruzovich J, Viswanathan S, Agarwal R, Gosain S, Weitzman S (2008) Marketspace or marketplace? Online information search and channel outcomes in auto retailing. Inf Syst Res 19(2):182–201

Lee DS, Lemieux T (2010) Regression discontinuity designs in economics. J Econ Lit 48(2):281–355

Li Z, Folmer H, Xue J (2014) To what extent does air pollution affect happiness? The case of the Jinchuan mining area, China. Ecol Econ 99:88–99

Li Z, Folmer H, Xue J (2016) Perception of air pollution in the Jinchuan mining area, China: a structural equation modeling approach. Int J Environ Res Public Health 13(7):735

Ludwig J, Miller DL (2007) Does head start improve children's life chances? Evidence from a regression discontinuity design. Q J Econ 122(1):159–208

Mansfield C, Corey C (2003) Task 4: analysis of survey data on ozone alert days. US Environmental Protection Agency, Washington

Mansfield C, Johnson FR, Van Houtven G (2006) The missing piece: valuing averting behavior for children's ozone exposures. Resour Energy Econ 28(3):215–228

Moretti E, Neidell M (2011) Pollution, health, and avoidance behavior evidence from the ports of Los Angeles. J Hum Resour 46(1):154–175

Neidell M (2006) Public information and avoidance behavior: do people respond to smog alerts? In: Technical report, Center for Integrating Statistical and Environmental Science, no. 24

Neidell M (2009) Information, avoidance behavior, and health the effect of ozone on asthma hospitalizations. J Hum Resour 44(2):450–478

Neidell M (2010) Air quality warnings and outdoor activities: evidence from Southern California using a regression discontinuity design. J Epidemiol Commun Health 64(10):921–926

Noonan DS (2014) Smoggy with a chance of altruism: the effects of ozone alerts on outdoor recreation and driving in Atlanta. Policy Stud J 42(1):122–145

Peng RD, Dominici F, Louis TA (2006) Model choice in time series studies of air pollution and mortality. J R Stat Soc Ser A (Stat Soc) 169(2):179–203

Pope CA III, Burnett RT, Turner MC, Cohen A, Krewski D, Jerrett M, Gapstur SM, Thun MJ (2011) Lung cancer and cardiovascular disease mortality associated with ambient air pollution and cigarette smoke: shape of the exposure–response relationships. Environ Health Perspect 119(11):1616–1621

Pope CA III, Cropper M, Coggins J, Cohen A (2015) Health benefits of air pollution abatement policy: role of the shape of the concentration–response function. J Air Waste Manag Assoc 65(5):516–522

Qin Y, Zhu H (2017) Run away?. J Popul Econ, Air pollution and emigration interests in China. doi:10.1007/s00148-017-0653-0

Ratchford BT, Talukdar D, Lee MS (2001) A model of consumer choice of the internet as an information source. Int J Electron Commer 5(3):7–21. doi:10.1080/10864415.2001.11044217

Saberian S, Heyes A, Rivers N (2017) Alerts work! Air quality warnings and cycling. Res Energy Econ 49:165–185

Schlenker W, Walker WR (2015) Airports, air pollution, and contemporaneous health. Rev Econ Stud 83(2):768–809

Shim S, Eastlick MA, Lotz SL, Warrington P (2001) An online prepurchase intentions model: the role of intention to search. J Retail 77(3):397–416

Shimshack JP, Ward MB, Beatty TK (2007) Mercury advisories: information, education, and fish consumption. J Environ Econ Manag 53(2):158–179

Smith GP (2012) Google internet search activity and volatility prediction in the market for foreign currency. Financ Res Lett 9(2):103–110

Stigler GJ (1961) The economics of information. J Political Econ 69(3):213–225

Sun C, Kahn ME, Zheng S (2017) Self-protection investment exacerbates air pollution exposure inequality in urban China. Ecol Econ 131:468–474

Welch E, Gu X, Kramer L (2005) The effects of ozone action day public advisories on train ridership in Chicago. Transp Res Part D Transp Environ 10(6):445–458

Wu L, Brynjolfsson E (2015) The future of prediction: how Google searches foreshadow housing prices and sales. In: Goldfarb A, Greenstein SM, Tucker CE (eds) Economic analysis of the digital economy. University of Chicago Press, Chicago, pp 89–118

Yuan Q, Nsoesie EO, Lv B, Peng G, Chunara R, Brownstein JS (2013) Monitoring influenza epidemics in China with search query from Baidu. PLoS One 8(5)

Zhang J, Mu Q (2017) Air pollution and defensive expenditures: evidence from particulate-filtering facemasks. J Environ Econ Manag. doi:10.1016/j.jeem.2017.07.006

Zhang W, Shen D, Zhang Y, Xiong X (2013) Open source information, investor attention, and asset pricing. Econ Model 33:613–619

Zhang X, Zhang X, Chen X (2017) Valuing air quality using happiness data: the case of China. Ecol Econ 137:29–36

Zhou M, He G, Fan M, Wang Z, Liu Y, Ma J, Ma Z (2015) Smog episodes, fine particulate pollution and mortality in China. Environ Res 136:396–404

Zivin JG, Neidell M (2009) Days of haze: environmental information disclosure and intertemporal avoidance behavior. J Environ Econ Manag 58(2):119–128

Zivin JG, Neidell M (2012) The impact of pollution on worker productivity. Am Econ Rev 102(7):3652–3673

Zivin JG, Neidell M (2013) Environment, health, and human capital. J Econ Lit 51(3):689–730

Zivin JG, Neidell M, Schlenker W (2011) Water quality violations and avoidance behavior: evidence from bottled water consumption. Am Econ Rev 101(3):448–453
Acknowledgements
This research was supported by the Hong Kong PhD Fellowship Scheme (PF13-10374) from the Research Grants Council of Hong Kong. The authors would like to thank Cong Sun for sharing the sales data. The authors also appreciate the very useful comments and suggestions of the four anonymous reviewers.
Ethics declarations
Conflict of interest
The authors declare that they have no conflict of interest.
Appendix
Appendix
See Tables 8, 9, 10, 11, 12, 13, 14 and 15; Figs. 5 and 6.
About this article
Cite this article
Liu, T., He, G. & Lau, A. Avoidance behavior against air pollution: evidence from online search indices for anti-PM2.5 masks and air filters in Chinese cities. Environ Econ Policy Stud 20, 325–363 (2018). https://doi.org/10.1007/s10018-017-0196-3
Received:

Accepted:

Published:

Issue Date:
Keywords
Avoidance behavior

Air pollution

Haze alert

Online search

PM2.5
JEL Classification