Abstract
By adopting the Paris Agreement on climate change, the world community has agreed on global goals for climate policy. However, by relying on voluntary contributions and respecting "national circumstances", it does not ensure efficient and equitable country policies. To derive guidelines for a fair burden sharing between countries, the paper applies welfare theory and combines it with the general equity principles. The procedure selects those "national circumstances" which are suitable for internationally acceptable policies. The concept is then compared to policies formulated by purely selfish countries. A convergence process closing the gap between country contributions and the optimum international climate policy is developed. It is argued that equity-based signals can be a forceful means supporting this process.
Access options
Buy single article
Instant access to the full article PDF.
USD 39.95
Price excludes VAT (USA)
Tax calculation will be finalised during checkout.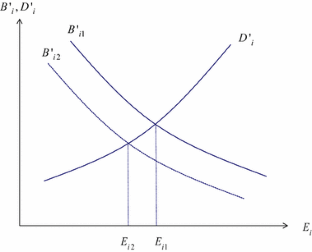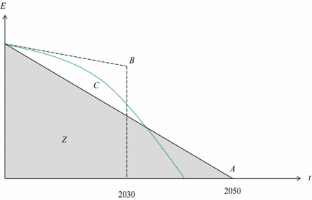 Notes
While it is widely believed that energy taxes have a regressive impact and mostly hurt the poor, the contributions in Sterner (2011) show that fuel taxation is a progressive policy particularly in low income countries.

Bretschger and Valente (2011) derive the macreconomic impact of climate change in a dynamic setting.

See also Pierce (1988) for a general evaluation of equity in the sustainability debate.

The Kyoto protocol was not able to solve the coordination problem, major emittors were even not included in the agreement at all.

See the preamble paragraph 3, saying: "In pursuit of the objective of the Convention, and being guided by its principles, including the principle of equity and common but differentiated responsibilities and respective capabilities, in the light of different national circumstances", and in Article 4, paragraph 1 stating: "To achieve the long-term temperature goal set out in Article 2, parties aim to reach global peaking of greenhouse gas emissions as soon as possible, recognizing that peaking will take longer for developing country Parties, and to undertake rapid reductions, thereafter, in accordance with the best available science, so as to achieve a balance between anthropogenic emissions by sources and removals by sinks of greenhouse gases in the second half of this century, on the basis of equity, and in the context of sustainable development and efforts to eradicate poverty" (UNFCCC 2015).

Concrete numbers can, e.g., be taken from Meinshausen et al. (2009). It is known that Cramton et al. (2015), Stiglitz (2015), and Weitzman (2014) have argued, it would be easier to negotiate a uniform carbon prices, but negotiating countries will always consider how each instrument affects their carbon emission potential for the future; Gollier and Tirole (2015) state that either a carbon tax or a global cap would constitute a formidable achievement.

When a global carbon market is established or taken as a reference point, carbon has a uniform price, so that the value of a country carbon budget can be assessed like with any other asset. Then, the country carbon budget can be analyzed like any other component of household wealth.

As an example, it has been calculated that the realisation of all the intrended contributions of the countries to global climate policy will cause a major downward shift of prices of green technologies which will benefit the whole world economy.

It might sound paradox to reward a carbon efficient country with a higher carbon budget, but the budget is the only means for compensation available in this approach. On the permit market, the budget can be sold, if unused, so that it becomes equal to any form of compensation.

In the case of unequal weights of the parameters equity status and carbon budgets can still be calculated, see the ETH climate calculator at http://www.ccalc.ethz.ch.

Fossil fuels are subsidized in many oil-rich economies, while political resistance against raising fuel prices in the other countries is proof of high consumer rents of fossil use at the expense of the environment.
References
Anthoff D, Tol R (2010) On international equity weights and national decision making on climate change. J Environ Econ Manag 60:14–20

BASIC (2011) Equitable access to sustainable development: contribution to the body of scientific knowledge. Technical report, BASIC expert group, Bejing, Brasilia, Cape Town and Mumbai

Bode S (2004) Equal emissions per capita over time-a proposal to combine responsibility and equity of rights for post-2012 GHG emission entitlement allocation. Eur Environ 14(5):300–316

Bretschger L (2015) Greening Economy. Graying Society, CER-ETH Press, ETH Zurich

Bretschger L (2013) Climate policy and equity principles: fair burden sharing in a dynamic world. Environ Dev Econ 18:517–536

Bretschger L, Mollet JC (2015) Prices vs. equity in international climate policy: a broad perspective, CER-ETH Working Paper Series 15/211, ETH Zurich

Bretschger L, Valente S (2011) Climate change and uneven development. Scand J Econ 113(4):825–845

Cazorla M, Toman, M (2000) International equity and climate change policy, Climate Issue Brief No. 27, Resources for the Future, Washington, DC

Cramton P, Ockenfels A, Stoft S (2015) An international carbon-price commitment promotes cooperation. Econ Energy Environ Policy 4(2):51–64

Fankhauser S, Tol R, Pearce D (1997) The aggregation of climate change damages: a welfare theoretic approach. Environ Resour Econ 10:249–266

Grasso M (2007) A normative ethical framework in climate change. Clim Change 81(3):223–246

Gollier C, Tirole J (2015) Negotiating effective institutions against climate change. Econ Energy Environ Policy 4(2):5–28

Johansson-Stenman O, Konow J (2010) Fair air: distributive justice and environmental economics. Environ Resour Econ 46:147–166

Konow J (2003) Which is the fairest one of all? Justice theories. J Econ Lit 41(4):1188–1239

Lange A, Vogt C, Ziegler A (2007) On the importance of equity in international climate policy: an empirical analysis. Energy Econ 29:545–562

Mattoo A, Subramanian A (2010) Equity in climate change, Policy Research, Working Paper No. 5383, World Bank, Washington, DC

Meinshausen M, Meinshausen N, Hare W et al (2009) Greenhouse-gas emission targets for limiting global warming to 2 °C. Nature 458:1158–1163

Metz B (2000) International equity in climate change policy. Integr Assess 1(2):111–126

Page EA (2008) Distributing the burdens of climate change. Environ Politics 17(4):556–575

Pierce D (1988) Economics, equity and sustainable development. Futures 20(6):598–605

Posner EA, Weisbach DA (2012) International Paretianism: a defense. University of Chicago Institute for Law & Economics Olin Research Paper No. 606, University of Chicago, Chicago, IL

Rawls J (1971) A theory of justice. Oxford Universtiy Press, Cambridge

Rose A, Stevens B, Edmonds J, Wise M (1998) International equity and differentiation in global warming policy. Environ Resour Econ 12:25–51

Sterner T (Ed) (2011) Fuel taxes and the poor, the distributional effects of gasoline taxation and their implications for climate policy. RFF Press, Taylor and Francis

Stiglitz JE (2015) Overcoming the copenhagen failure with flexible commitments. Econ Energy Environ Policy 4(2):29–36

UNFCCC (2015) Paris agreement on climate change. unfccc.int/documentation/documents/

Weitzman M (2014) Can negotiating a uniform carbon price help to internalize the global warming externality? J Assoc Environ Resour Econ 1(1/2):29–49
Acknowledgments
Valuable comments of Andreas Schäfer and Max Meulemann are gratefully acknowledged.
About this article
Cite this article
Bretschger, L. Equity and the convergence of nationally determined climate policies. Environ Econ Policy Stud 19, 1–14 (2017). https://doi.org/10.1007/s10018-016-0161-6
Received:

Accepted:

Published:

Issue Date:

DOI: https://doi.org/10.1007/s10018-016-0161-6
Keywords
Climate policy

Equity

Climate agreements

Social welfare
JEL Classification