Abstract
Eco-innovation plays a crucial role in reducing carbon emissions. Exploiting the consolidated IPAT/STIRPAT framework, this paper studies whether a relationship exists between green technological change (measured as stock of green patent) and both CO2 emissions and emission efficiency (CO2/VA). To investigate this relation, a rich panel covering 95 Italian provinces from 1990 to 2010 is exploited. The main regression results suggest that green technology has not yet played a significant role in promoting environmental protection, although it improved significantly environmental productivity. Notably, this result is not driven by regional differences, and the main evidence is consistent among different areas of the country.
Access options
Buy single article
Instant access to the full article PDF.
US$ 39.95
Tax calculation will be finalised during checkout.
Subscribe to journal
Immediate online access to all issues from 2019. Subscription will auto renew annually.
US$ 79
Tax calculation will be finalised during checkout.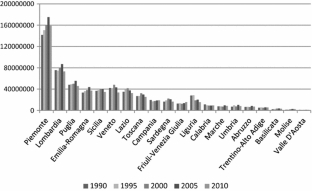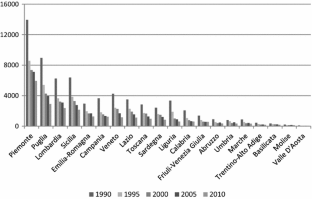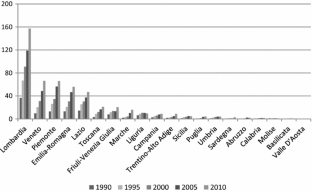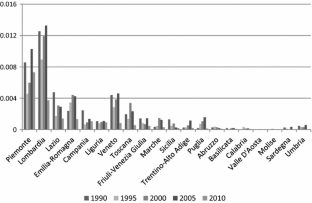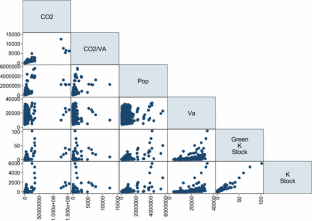 Notes
1.

2.

We included year and provincial fixed effect to control for unobserved heterogeneity. Standard Hausman test (see Table 2 below) rejects the null hypothesis of consistency of the random effect model, motivating the choice of the fixed effect estimator. Moreover, all the dummies being jointly significant (see F test in Table 2) we prefer the fixed effects model over a pooled OLS model.

3.

An extensive discussion of the use of patents as an indicator of innovative activity is provided in Sect. 2.

4.

Applicants may choose to apply at the European Patent Office (EPO), rather than applying to individual patent offices, and designate as many of the EPO member states for protection as desired. The application is examined by the EPO. If granted, the patent is transferred to the individual national patent offices designated for protection. Since 1997, the designation of any additional member states is free after the first seven. Since 2004, all EPO states are automatically designated.

5.

See, for reference, OECD (2011) and other works by the OECD environmental directorate.

6.

In all instances, new provinces are the result of the division in two new administrative entities of an old province. For this reason, we always reconstructed the 1990 data merging the new provinces into the old one.

7.

The average population across Italian provinces was 597,663 in 1990 and 633,791 in 2010, showing only a limited increase in population in the two decades. Moreover, we note that the within variation of population in the panel is five times lower than the between variation, suggesting that the time dimension, in this case, is not relevant.

8.

An F test, not included for sake of brevity, rejects the null hypothesis that the two coefficients are significant across the two samples.
References
Abbott FM (2012) Innovation and technology transfer to address climate change: lessons from the global debate on intellectual property and public health. International Centre for Trade and Sustainable Development, Issue Paper no. 24

Aghion P, Dechezleprêtre A, Hemous D, Martin R, Van Reenen J (2012) Carbon taxes path dependency and directed technical change: evidence from the auto industry. NBER working paper no. 18596

Anton WRQ, Deltas G, Khanna M (2004) Incentives for environmental self-regulation and implications for environmental performance. J Environ Econ Manag 48:632–654

Berrone P, Fosfuri A, Gelabert R, Gomez-Mejia LR (2013) Necessity as the mother of "green" inventions: institutional pressures and environmental innovations. Strateg Manag J 34:891–909

Borhan H, Ahmed EM, Hitam M (2012) The impact of CO2 on economic growth in Asean 8. Procedia Soc Behav Sci 35:389–397

Brizga J, Feng K, Hubacek K (2013) Drivers of CO2 emissions in the former Soviet Union: a country level IPAT analysis from 1990 to 2010. Energy 59:743–753

Cai WG, Zhou XL (2014) On the drivers of eco-innovation: empirical evidence from China. J Clean Prod 79:239–248

Carrión-Flores CE, Innes R (2010) Environmental innovation and environmental performance. J Environ Econ Manag 59(1):27–42

Carson RT (2010) The environmental Kuznets curve: seeking empirical regularity and theoretical structure. Rev Environ Econ Policy 4(1):3–23

Cecere G, Corrocher N, Gossart C, Ozman M (2014) Lock-in and path dependence: an evolutionary a: roach to eco-innovations. J Evol Econ 24(5):1037–1065

Chong WHB, Guan D, Guthrie P (2012) Comparative analysis of carbonization drivers in China's megacities. J Ind Ecol 16:564–575

Christmann P (2000) Effects of "best practices" of environmental management on cost advantage: the role of complementary assets. Acad Manage J 43:663–680

Co CY (2004) Do patent rights regimes matter? Rev Int Econ 12(3):359–373

Cole MA, Neumayer E (2004) Examining the impact of demographic factors on air pollution. Popul Environ 26:5–21

Commoner B (1971) The closing circle: nature man and technology. In: Cahn MA, Brien RO, Sharpe ME (eds) Thinking about the environment: readings on politics property and the physical world. Armonk, New York, pp 167–186

Costantini V, Mazzanti M, Montini A (2013) Environmental performance innovation and spillovers Evidence from a regional NAMEA. Ecol Econ 89:101–114

De Haan M (2004) Accounting for goods and bads: measuring environmental pressure in a national accounts framework. Ph.D. Dissertation. Universiteit Twente, Enschede

Del Río P (2009) The empirical analysis of the determinants for environmental technological change: a research agenda. Ecol Econ 68(3):861–878

Del Río P, Tarancón Morán MÁ, Albiñana FC (2011) Analysing the determinants of environmental technology investments. A panel-data study of Spanish industrial sectors. J Clean Prod 19:1170–1179

Dernis H, Kahn M (2004) Triadic patent families methodology. OECD science, technology and industry working papers, no. 2004/02 OECD Publishing

Dietz T, Rosa EA (1994) Rethinking the environmental impacts of population, affluence and technology. Hum Ecol Rev 1(2):277–300

Dietz T, Rosa EA (1997) Effects of population and affluence on CO2 emissions. Proc Natl Acad Sci USA 94:175–179

Dopfer K (2012) The origins of meso economics. J Evol Econ 22:133–160

Ehrlich P, Holdren J (1971) Impact of population growth. Science 171:1212–1217

Fan Y, Liu LC, Wu G, Wei YM (2006) Analyzing impact factors of CO2 emissions using the STIRPAT model. Environ Impact Asses 26:377–395

Feng K, Siu YL, Guan D (2012) Analyzing drivers of regional carbon dioxide emissions for China: a structural decomposition analysis. J Ind Ecol 16:600–611

Gilli M, Mancinelli S, Mazzanti M (2014) Innovation complementarity and environmental productivity effects: reality or delusion? Evidence from the EU. Ecol Econ 103:56–67

Goulder LH, Schneider SH (1999) Induced technological change and the attractiveness of CO2 abatement policies. Resour Energy Econ 21(3–4):211–253

Griliches Z (1990) Patent statistics as economic indicators. NBER working paper no. 3301

Grossman GM, Krueger AB (1995) Economic growth and the environment. Q J Econ 110:353–377

Harhoff D, Narin F, Scherer FM, Vopel K (1999) Citation frequency and the value of patented inventions. Rev Econ Stat 81(3):511–515

Kaya Y (1990) Impact of carbon dioxide emission control on GNP growth: interpretation of proposed scenarios. Paper presented to the IPCC Energy and Industry Subgroup, Response Strategies Working Group, Paris (mimeo)

Kerr D, Mellon H (2012) Population and the environment: exploring Canada's record on CO2 emissions and energy use relative to other OECD countries. Popul Environ 34:257–278

Kim K, Kim Y (2012) International comparison of industrial CO2 emission trends and the energy efficiency paradox utilizing production-based decomposition. Energy Econ 34(5):1724–1741

Kwon TH (2005) Decomposition of factors determining the trend of CO2 emissions from car travel in Great Britain (1970–2000). Ecol Econ 53:261–275

Liddle B (2004) Demographic dynamics and per capita environmental impact: using panel regressions and household decompositions to examine population and transport. Popul Environ 26:23–39

Liddle B, Lung S (2010) Age-structure, urbanization, and climate change in developed countries: revisiting STIRPAT for disaggregated population and consumption-related environmental impacts. Popul Environ 31(5):317–343

Liu Z, Liang S, Geng Y, Xue B, Xi F, Pan Y, Zhang T, Fujita T (2012) Features trajectories and driving forces for energy-related GHG emissions from Chinese mega cites: the case of Beijing Tianjin Shanghai and Chongqing. Energy 37:245–254

MacKellar LF, Lutz W, Prinz C, Goujon A (1995) Population, households, and CO2 emissions. Popul Dev Rev 21(4):849–865

Marin G, Mazzanti M (2010) The evolution of environmental and labor productivity dynamics. J Evol Econ 23(2):357–399

Mazzanti M, Montini A (2010) Embedding the drivers of emission efficiency at regional level—analyses of NAMEA data. Ecol Econ 69:2457–2467

O'Neill BC, Chen BS (2002) Demographic determinants of household energy use in the United States. Popul Dev Rev 28:53–88

OECD (2009) OECD Patent statistics manual. OECD Publishing, Paris

OECD (2011) Invention and transfer of environmental technologies. OECD Publishing, Paris

Popp D (2002) Induced innovation and energy prices. Am Econ Rev 92:160–180

Popp D, Hascic I, Medhi N (2011) Technology and the diffusion of renewable energy. Energy Econ 33(4):648–662

Prskawetz A, Leiwen J, O'Neill B (2004) Demographic composition and projections of car use in Austria. Vienna Yearbook Popul Res 175–201

Repetto R (1990) Environmental productivity and why it is so important. Chall 33(5):33–38

Shi A (2003) The impact of population pressure on global carbon dioxide emissions 1975–1996: evidence from pooled cross-country data. Ecol Econ 44:29–42

Wang Z, Yang Z, Zhang Y, Yin J (2012) Energy technology patents—CO2 emissions nexus: an empirical analysis from China. Energ Policy 42:248–260

York R, Rosa EA, Dietz T (2003) STIRPAT IPAT and ImPACT: analytic tools for unpacking the driving forces of environmental impacts. Ecol Econ 46:351–365

Zagheni E (2011) The leverage of demographic dynamics on carbon dioxide emissions: does age structure matter? Demography 48:371–399
Acknowledgments
The authors acknowledge financial support of the Italian National Research Project PRIN-MIUR 2010-11 "Climate changes in the Mediterranean area: scenarios, mitigation policies and technological innovation" (2010S2LHSE_002). Usual disclaimers apply.
About this article
Cite this article
Weina, D., Gilli, M., Mazzanti, M. et al. Green inventions and greenhouse gas emission dynamics: a close examination of provincial Italian data. Environ Econ Policy Stud 18, 247–263 (2016). https://doi.org/10.1007/s10018-015-0126-1
Received:

Accepted:

Published:

Issue Date:
Keywords
CO2 emission

Technological change

Green patents

IPAT

Environmental performance
JEL Classification