Abstract
This paper applies nonparametric estimators to examine the effect of regional quality of government on the environmental performance in the NUTS 1 regions in France, Germany, and the UK. A novel measure on governance is used, gauging the partiality, corruption and effectiveness of government services in each region. By utilizing regional-level measures of three pollutants (CO2, CH4 and N2O), the effect of governance on environmental efficiency is analyzed. The empirical analysis suggests that there is a nonlinear relationship between regions' governance quality levels and their environmental performance. It appears that the effect of regional quality of governance is positive up to a certain level, then turning slightly negative. This suggests that higher governance quality will not always result in increased environmental efficiency.
Access options
Buy single article
Instant access to the full article PDF.
USD 39.95
Price excludes VAT (USA)
Tax calculation will be finalised during checkout.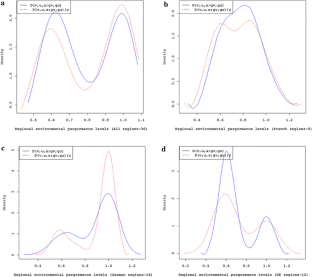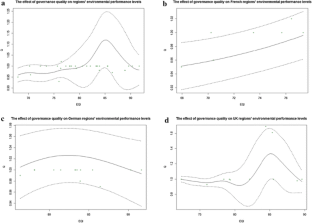 Notes
Since the functional form of regions' environmental process and the effect of governance quality are not known, the analysis in a fully nonparametric framework will be suitable. According to Li and Racine (2007), nonparametric methods do not require any specification of the functional forms for objects being estimated letting the observed data to determine the resulting model.

There are also some other methodological treatments of bad outputs in a DEA context. For instance, Seiford and Zhu (2002, 2005) uses a linear transformation of the pollutnat (bad output) and it treats it within DEA framework as a regular (good) output. Several other studies (Reinhard et al. 2000; Dyckhoff and Allen 2001; Hailu and Veeman 2001; Korhonen and Luptacik 2004; Mandal and Madheswaran 2010) are treating the pollutant as a regular input. Similarly, Kuosmanen and Kortelainen (2005) and Kortelainen (2008) use the notion of eco-efficiency having in their DEA fornulation only the pollutants as inputs.

According to Bădin et al. (2010, p. 634) the separability condition states that the external/exogenous factors to the environmental production process have no influence on the attainable set, affecting only the probability of being more or less efficient. However, as has been highlighted by Daraio et al. (2010), the external/exogenous variables affect directly both the production possibilities sets and the shape of the inefficiencies' distribution.

When discussing corruption, we understand this concept according to its most commonly used definition, "the abuse of public power for private gain" (Treisman 2007).

Regional pollutant data are scarce and therefore our study is limited only for the year 2009 and for 36 NUTS level 1 regions for which the data are available.

In our case, the regional environmental performance follows the assumption of constant returns to scale (CRS). According to Picazo-Tadeo et al. (2012, p. 802) from an ecological perspective, economic activity is commonly characterized by constant returns to scale.

This is the most common assumption made for directional distance functions when measuring environmental efficiency levels. As has been pointed out by Chen and Delmas (2012) under the chosen direction the proposed approach can lead to misspecified efficient frontier especially when there are some decision-making units producing high amounts of bad and good outputs. However, different directions can also be chosen in order for the researcher to test the environmental efficiency under different environmental policy scenarios (see among others Picazo-Tadeo et al. 2012).

For the theoretical background and the asymptotic properties of nonparametric conditional efficiency measures, see Jeong et al. (2010).

According to Podinovski and Kuosmanen (2011), the conventional radial Farrell input and output efficiency measures can be obtained as special cases of the directional distance functions.

For the construction of the density plots, we have used the 'normal reference rule-of-thumb' approach for bandwidth selection (Silverman 1986) and a second-order Gaussian kernel.

According to Daraio and Simar (2014), a positive effect indicates that conditional frontier moves up to the unconditional one when the external variable (i.e., EQI in our case) increases. However, when the effect is negative (indicated by a decreasing nonparametric regression line) the exact opposite phenomenon is observed suggesting that the external variable acts as an extra undesirable output.

"…Corporatism refers to a system of interest representation in which a small number of strategic actors organized associations, represent large parts of the population in an encompassing fashion…" (Crepaz, 1995, pp. 391-392). "…The pluralist form of interest representation is characterised by a large number of atomistic interest groups which are in a competitive struggle over access to the legislative process, using 'pressure politics…" (Crepaz 1995, p. 392).
References
Agnew JD, Pearce J, Pramod G, Peatman T, Watson R, Beddington JR, Pitcher TJ (2009) Estimating the worldwide extent of illegal fishing. PLoS One 4:1–8

Bădin L, Daraio C, Simar L (2010) Optimal bandwidth selection for conditional efficiency measures: a data-driven approach. Eur J Oper Res 201:633–640

Bădin L, Daraio C, Simar L (2012) How to measure the impact of environmental factors in a nonparametric production model? Eur J Oper Res 223:818–833

Barrett CB, Gibson CC, Hoffman B, McCubbins MD (2006) The complex links between governance and biodiversity. Con Serv Biol 20:1358–1366

Bernauer T, Koubi V (2013) Are bigger governments better providers of public goods? Evidence from air pollution. Public Choice 156:593–609

Cazals C, Florens JP, Simar L (2002) Nonparametric frontier estimation: a robust approach. J Econom 106:1–25

Chambers RG, Chung Y, Färe R (1998) Profit, directional distance functions, and Nerlovian efficiency. J Optimiz Theory App 98:351–364

Charron N (2010) Assessing the quality of the quality of government data: A sensitivity test of the World Bank Government Indicators. Available online http://www.qog.pol.gu.se/data/datadownloads/qogeuregionaldata/

Charron N, Lapuente V (2013) Why do some regions in Europe have higher quality of government? J Polit 75:567–582

Charron N, Lapuente V, Rothstein B (2011) Measuring quality of government and sub-national variation. Report for the EU Commission of Regional Development. European Commission Directorate-General Regional Policy Directorate Policy Development

Charron N, Dijkstra L, Lapuente V (2014) Regional governance matters: quality of government within European Union member state. Reg Stud 48:68–90

Chen CM, Delmas M (2012) Measuring eco-inefficiency: a new frontier approach. Oper Res 60:1064–1079

Chung YH, Färe R, Grosskopf S (1997) Productivity and undesirable outputs: a directional distance function approach. J Environ Manage 51:229–240

Cole MA (2007) Corruption, income and the environment: an empirical analysis. Ecol Econ 62:637–647

Collins A, Harris R (2005) The impact of foreign ownership and efficiency on pollution abatement expenditures by chemical plants: some UK evidence. Scot J Polit Econ 52:747–768

Crepaz M (1995) Explaining national variations of air pollution levels: political institutions and their impact on environmental policy-making. Environ Polit 4:391–414

Damania R (2002) Environmental controls with corrupt bureaucrats. Environ Dev Econ 7:407–427

Damania R, Fredriksson PG, List JA (2003) Trade liberalization, corruption, and environmental policy formation: theory and evidence. J Environ Econ Manage 46:490–512

Damania R, Fredriksson PG, Mani M (2004) The persistence of corruption and regulatory compliance failures: theory and evidence. Public Choice 12:363–390

Daraio C, Simar L (2005) Introducing environmental variables in nonparametric frontier models: a probabilistic approach. J Prod Anal 24:93–121

Daraio C, Simar L (2014) Directional distances and their robust versions: computational and testing issues. Eur J Oper Res 237:358–369

Daraio C, Simar L, Wilson P (2010) Testing whether two-stage estimation is meaningful in non-parametric models of production. Discussion paper 1031, Institut de Statistique, UCL, Belgium

Desai U (1998) Ecological policy and politics in developing countries: economic growth, democracy and environment, Albany. State University of New York Press, New York

Dixon RJ, Thirlwall AP (1978) Growth rate stability in the Kaldorian regional model. Scot J Polit Econ 25:97–99

Dyckhoff H, Allen K (2001) Measuring ecological efficiency with data envelopment analysis. Eur J Oper Res 132:312–325

Esty D, Levy M, Srebotnjak T, de Sherbinin A (2005) Environmental sustainability index. Yale Center for Environmental Law and Policy, New Haven

Ewers RM, Smith RJ (2007) Choice of index determines the relationship between corruption and environmental sustainability. Ecol Soc 12:1–20

Färe R, Grosskopf S (2004) Modeling undesirable factors in efficiency evaluation: comment. Eur J Oper Res 157:242–245

Färe R, Primont D (1995) Multi-output production and duality: theory and applications. Kluwer Academic Publishers, Boston

Färe R, Grosskopf S, Lovell CAK, Pasurka C (1989) Multilateral productivity comparisons when some outputs are undesirable. Rev Econ Stat 71:90–98

Färe R, Grosskopf S, Tyteca D (1996) An activity analysis model of the environment performance of firms: application to fossil-fuel-fired electric utilities. Ecol Econ 18:161–175

Färe R, Grosskopf S, Hernandez-Sancho F (2004) Environmental performance: an index number approach. Res Energ Econ 26:343–352

Ferraro P (2005) Corruption and conservation: the need for empirical analyses. A response to Smith and Walpole. Oryx 39:257–259

Fredriksson PG, Svensson J (2003) Political instability, corruption and policy formation: the case of environmental policy. J Public Econ 87:1383–1405

Fredriksson PG, Wollscheid JR (2007) Democratic institutions versus autocratic regimes: the case of environmental policy. Public Choice 130:381–393

Fredriksson PG, List JA, Millimet DL (2003) Bureaucratic corruption, environmental policy and inbound US FDI: theory and evidence. J Public Econ 87:1407–1430

Fredriksson PG, Vollenberg HRJ, Dijkgraaf E (2004) Corruption and energy efficiency in OECD countries: theory and evidence. J Environ Econ Manage 47:207–231

Fredriksson PG, Neumayer E, Ujhelhyi G (2007) Kyoto protocol cooperation: does government corruption facilitate environmental lobbying? Public Choice 133:231–251

Fukuyama H, Yoshida Y, Managi S (2011) Modal choice between air and rail: a social efficiency benchmarking analysis that considers CO2 emissions. Environ Econ Policy Stud 13:89–102

Golden MA, Min BK (2012) Theft and loss of electricity in an Indian State. Working Paper 12/0060, International Growth Centre, London School of Economics and Political Science, London, U.K

Hafner O (1998) The role of corruption in the misappropriation of tropical forest resources and in tropical forest destruction. Transparency International Working Paper, Available from: http://resources.transparency.bg/download.html?id=235

Hahn RW (1990) The political economy of environmental regulation: towards a unifying framework. Public Choice 65:21–47

Hailu A, Veeman TS (2001) Non-parametric productivity analysis with undesirable outputs: an application to the Canadian pulp and paper industry. Am J Agr Econ 83:605–616

Halkos G, Tzeremes NG (2013a) A conditional directional distance function approach for measuring regional environmental efficiency: evidence from UK regions. Eur J Oper Res 227:182–189

Halkos G, Tzeremes NG (2013b) Carbon dioxide emissions and governance: a nonparametric analysis for the G-20. Energ Econ 40:110–118

Halkos G, Tzeremes NG (2013c) National culture and eco-efficiency: an application of conditional partial nonparametric frontiers. Environ Econ Policy Stud 15:423–441

Hall RE, Jones CI (1999) Why do some countries produce so much more output per worker than others? Q J Econ 114:83–116

Hall P, Racine JS, Li Q (2004) Cross-validation and the estimation of conditional probability densities. J Am Stat Assoc 99:1015–1026

Hübler O, Jirjahn U (2003) Works councils and collective bargaining in Germany: the impact on productivity and wages. Scot J Polit Econ 50:471–491

Jeong SO, Park BU, Simar L (2010) Nonparametric conditional efficiency measures: asymptotic properties. Ann Oper Res 173:105–122

Kaldor N (1970) The case for regional policies. Scot J Polit Econ 17:337–348

Kanie N, Managi S (2014) Stimulating a 2015 Climate deal: governance of low-carbon technology transfer. Environ Econ Policy Stud 16:111–113

Katzner T (2005) Corruption—a double-edged sword for conservation? A response to Smith & Walpole. Oryx 39:260–262

Knill C, Lenschow A (1998) Coping with Europe: the impact of British and German administrations on the implementation of EU environmental policy. J Eur Public Pol 5:595–614

Korhonen PJ, Luptacik M (2004) Eco-efficiency analysis of power plants: an extension of data envelopment analysis. Eur J Oper Res 154:437–446

Kortelainen M (2008) Dynamic environmental performance analysis: a Malmquist index approach. Ecol Econ 64:701–715

Koyuncu C, Yilmaz R (2009) The Impact of corruption on deforestation: cross-country evidence. J Dev Areas 42:213–222

Kumar S, Managi S (2010) Sulfur dioxide allowances: trading and technological progress. Ecol Econ 69:623–631

Kuosmanen T, Kortelainen M (2005) Measuring eco-efficiency of production with data envelopment analysis. J Ind Ecol 9:59–72

Leader-Williams N, Baldus RD, Smith RJ (2009) The influence of corruption on the conduct of recreational hunting. In: Dickson Barney, Hutton Jon, Adams William M (eds) Recreational hunting, conservation and rural livelihoods: science and practice. Wiley-Blackwell, Hoboken, New Jersey

Li Q, Racine JS (2007) Nonparametric econometrics: theory and practice. Princeton University Press, New Jersey

Li Q, Reuveny R (2006) Democracy and environmental degradation. Int Stud Quart 50:935–956

Lippe M (1999) Corruption and environment at the local level. Transparency international working paper. Available from: http://resources.transparency.bg/download.html?id=226

López R, Mitra S (2000) Corruption, pollution, and the Kuznets Environment Curve. J Environ Econ Manage 40:137–150

Macpherson AJ, Principe PP, Shao YZ (2013) Controlling for exogenous environmental variables when using data envelopment analysis for regional environmental assessments. J Environ Manage 119:220–229

Managi S, Jena PR (2008) Environmental productivity and Kuznets curve in India. Ecol Econ 65:432–440

Managi S, Opaluch JJ, Jin D, Grigalunas TA (2004) Technological change and depletion in offshore oil and gas. J Environ Econ Manag 47:388–409

Mandal SK, Madheswaran S (2010) Environmental efficiency of the Indian cement industry: an interstate analysis. Energ Policy 38:1108–1118

Meiners RE, Yandle B (1998) Common law environmentalism. Public Choice 94:49–66

Meyer AL, van Kooten GC, Wang S (2003) Institutional, social and economic roots of deforestation: a cross-country comparison. Int For Rev 5:29–37

Miller M (2011) Persistent illegal logging in Costa Rica: the role of corruption among forestry regulators. J Environ Dev 20:50–68

Morse S (2006) Is corruption bad for environmental sustainability? A cross-national analysis. Ecol Soc 11:1–22

Nadaraya EA (1964) On estimating regression. Theor Probab Appl 9:141–142

Nakano M, Managi S (2012) Waste generations and efficiency measures in Japan. Environ Econ Policy Stud 14:327–339

Neumayer E (2003) Are left-wing party strength and corporatism good for the environment? Evidence from panel analysis of air pollution in OECD countries. Ecol Econ 45:203–220

Österblom H, Sumaila RU, Bodin Ö, Hentati-Sundberg J (2010) Adapting to regional enforcement: fishing down the governance index. PLoS One 5:1–8

Pellegrini L (2011) Corruption, development and the environment. Springer, Dordrecht

Pellegrini L, Gerlagh R (2006) Corruption, democracy, and environmental policy: an empirical contribution to the debate. J Environ Dev 15:332–354

Picazo-Tadeo A, Beltra-Esteve M, Gomez-Limon JA (2012) Assessing ecoefficiency with directional distance functions. Eur J Oper Res 220:798–809

Podinovski VV, Kuosmanen T (2011) Modelling weak disposability in data envelopment analysis under relaxed convexity assumptions. Eur J Oper Res 3:577–585

Racine JS (2008) Nonparametric econometrics: a primer. Foundations and trends in econometrics 3:1–88

Reinhard S, Lovell CAK, Thijssen GJ (2000) Environmental efficiency with multiple environmentally detrimental variables, estimated with SFA and DEA. Eur J Oper Res 121:287–303

Robbins P (2000) The rotten institution: corruption in natural resource management. Polit Geogr 19:423–443

Sapru RK (1998) Public policy: formulation, implementation and evaluation. Sterling Publishers, New Delhi

Scruggs L (1999) Institutions and environmental performance in seventeen western democracies. Brit J Polit Sci 29:1–31

Seiford LM, Zhu J (2002) Modeling undesirable factors in efficiency evaluation. Eur J Oper Res 142:16–20

Seiford LM, Zhu J (2005) A response to comments on modeling undesirable factors in efficiency evaluation. Eur J Oper Res 161:579–581

Shephard RW (1970) Theory of cost and production functions. Princeton University Press, Princeton

Silverman BW (1986) Density estimation for statistics and data analysis. Monographs on statistics and applied probabilities No 26. Chapman and Hall/CRC

Simar L, Vanhems A (2012) Probabilistic characterization of directional distances and their robust versions. J Econometrics 166:342–354

Simar L, Wilson PW (2007) Estimation and inference in two-stage, semi-parametric models of production processes. J Econometrics 136:31–64

Simar L, Wilson PW (2011) Two-stage DEA: caveat emptor. J Prod Anal 36:205–218

Smith J, Walpole MJ (2005) Should conservationists pay more attention to corruption? Oryx 39:251–256

Smith J, Obidzinski K, Wood SM, Suramenggala SI (2003a) Illegal logging, collusive corruption and fragmented governments in Kalimantan, Indonesia. Int For Rev 5:293–302

Smith RJ, Muir RDJ, Walpole MJ, Balmford A, Leader-Williams N (2003b) Governance and the loss of biodiversity. Nature 426:67–70

Sundström A (2013) Corruption in the commons: why bribery hampers enforcement of environmental regulations in South African fisheries. Int J Comm 7:454–472

Treisman D (2007) What have we learned about the causes of corruption from ten years of cross-national empirical research? Ann Rev Polit Sci 10:211–244

Walpole MJ, Smith RJ (2005) Focusing on corruption: a reply to Ferraro and Katzner. Oryx 39:263–264

Watson GS (1964) Smooth regression analysis. Sankhya Ser A 26:359–372

Welsch H (2004) Corruption, growth, and the environment: a cross-country analysis. Environ Dev Econ 9:663–693

Wright SJ, Sanchez-Azofeifa A, Portillo-Quintero C, Davies D (2007) Poverty and corruption compromise tropical forest reserves. Ecol Appl 17:1259–1266
Acknowledgments
We would like to thank Professor Shunsuke Managi and two anonymous reviewers for their helpful and constructive comments on earlier version of our manuscript. Any remaining errors are solely the authors' responsibility.
About this article
Cite this article
Halkos, G.E., Sundström, A. & Tzeremes, N.G. Regional environmental performance and governance quality: a nonparametric analysis. Environ Econ Policy Stud 17, 621–644 (2015). https://doi.org/10.1007/s10018-015-0106-5
Received:

Accepted:

Published:

Issue Date:

DOI: https://doi.org/10.1007/s10018-015-0106-5
Keywords
Quality of governance

Environmental performance

Regions

Nonparametric analysis
JEL Classifications