Abstract
Android robots: humanoids with realistic human appearance can serve as a telecommunication medium (teleoperated humanoids). We have anticipated that if teleoperated humanoids acquired with not only their human appearances, but also an ability of to realize human-like head motions, the telecommunication and the system operability through androids would greatly improve. To realize such human-like head motions of teleoperated humanoids, we referred to the human cervical spine mechanism, and accordingly aimed to verify how the cervical structure of teleoperated humanoids would affect the operability in our remote-controlling system. First, we developed a multiple joint cervical structure for our teleoperated humanoid, and then, we evaluated of if the multiple joint cervical structure realized human-like head motions and improved its system operability through experiments from the aspects of its eyesight targeting performance and subjective impressions. Finally, we concluded that our proposed multiple joint cervical structure of the teleoperated humanoid enabled to increase the system operability in comparison with the prototype system: with either a top joint cervical structure or a bottom joint one. We anticipate that this work will contribute to the future development and implementation of telecommunication by humanoids.
This is a preview of subscription content, log in to check access.
Access options
Buy single article
Instant access to the full article PDF.
US$ 39.95
Price includes VAT for USA
Subscribe to journal
Immediate online access to all issues from 2019. Subscription will auto renew annually.
US$ 99
This is the net price. Taxes to be calculated in checkout.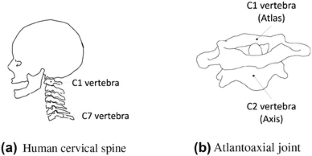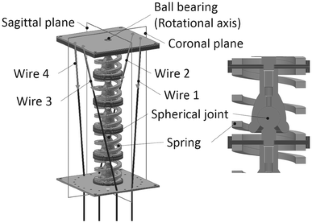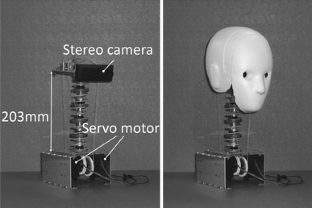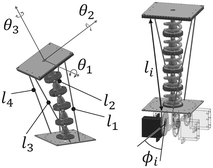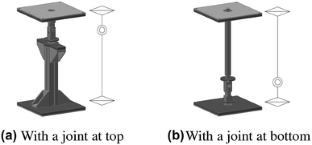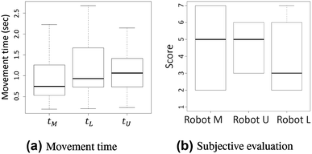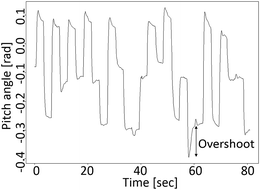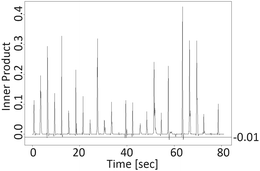 References
1.

Tanaka K et al (2015) Physical embodiment can produce robot operator's pseudo presence. Front ICT Hum Media Interact 2:8

2.

Sakamoto D et al (2007) Android as a telecommunication medium with a human-like presence. In: International conference on HRI, pp 193–200

3.

Al Moubayed S, Beskow J, Skantze G, Granström B (2012) Furhat: a back-projected human-like robot head for multiparty human-machine interaction. In: Esposito A, Esposito AM, Vinciarelli A, Hoffmann R, Müller VC (eds) Cognitive behavioural systems. Lecture notes in computer science, vol 7403. Springer, Berlin, Heidelberg

4.

Ternando CL et al (2012) Design of TELESAR V for transferring bodily consciousness in telexistence. In: IROS, pp 5112–5118

5.

Heuring JJ et al (1999) Modeling and copying human head movements. IEEE Trans Robot Autom 15(6):1095–1108

6.

Kozuki T et al (2015) Development of musculoskeletal spine structure that fulfills great force requirements in upper body kinematics. In: IROS, pp 2768–2773

7.

Reinecke J et al (2016) A structurally flexible humanoid spine based on a tendon-driven elastic continuum. In: ICRA, pp 4714–4721

8.

Neumann DA (2002) Kinesiology of the musculoskeletal system: foundations for physical rehabilitation. Mosby, St. Louis

9.

Yonemoto K (1995) Representation and measurement method for range of motion [Translated from Japanese]. Jpn J Rehabil Med 32(4):207–217 (in Japanese)
Acknowledgements
This work was partially supported by Japan Society for the Promotion of Science Grants-in-Aid for Scientific Research Grant numbers JP25220004 and JP26700026.
Additional information
This work was presented in part at the 22nd International Symposium on Artificial Life and Robotics, Beppu, Oita, January 19–21, 2017.
About this article
Cite this article
Maeda, K., Nakata, Y., Nakamura, Y. et al. Effect of the cervical structure on the operability of teleoperated humanoid head. Artif Life Robotics 22, 497–502 (2017). https://doi.org/10.1007/s10015-017-0387-9
Received:

Accepted:

Published:

Issue Date:
Keywords
Cervical spine

Teleopelated robot

Multiple joints cervical structure

Operability