Abstract
Humanoids are being applied into society gradually in the aspect of human–robot interaction recently. The human spine plays an important role when performing natural human upper body postures. However, most of the humanoids only show tense body postures due to the limitations of their simple mechanical structures. We investigated that the human natural spine postures can be imitated by serially connected rigid links with a few joints by the analysis of human spine motion. In this report, we proposed a robotic spine composed of parallelogram actuation modules, and built a prototype. We also investigated the natural spinal postural appearances which are realized by the prototype.
This is a preview of subscription content, log in to check access.
Access options
Buy single article
Instant access to the full article PDF.
US$ 39.95
Price includes VAT for USA
Subscribe to journal
Immediate online access to all issues from 2019. Subscription will auto renew annually.
US$ 99
This is the net price. Taxes to be calculated in checkout.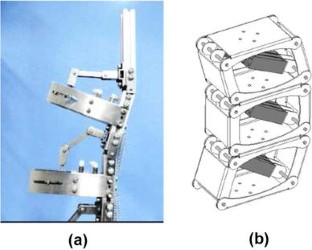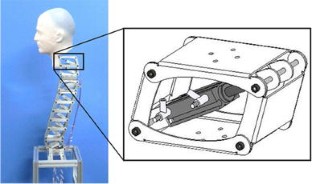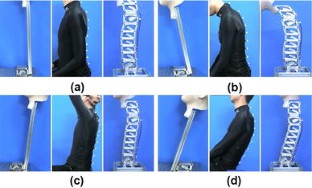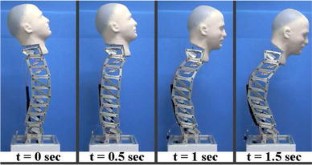 References
1.

Nishio S, Ishiguro H, Hagita N (2007) Geminoid: teleoperated android of an existing person. INTECH Open Access Publisher, Vienna, pp 343–352

2.

Endo N, Takanishi A (2011) Development of whole-body emotional expression humanoid robot for adl-assistive rt services. JRM 23(6):969–977

3.

Kanda T, Ishiguro H, Ono T, Imai M, Nakatsu R (2002) Development and evaluation of an interactive humanoid robot "Robovie". In: Proceedings IEEE international conference on robotics and automation, vol 2. pp 1848–1855

4.

Kozuki T, Hirose T, Shirai T, Nakashima S, Asano Y, Kakiuchi Y, Okada K, Inaba M (2016) Skeletal structure with artificial perspiration for cooling by latent heat for musculoskeletal humanoid kengoro. In: Proceedings of the 2016 IEEE/RSJ International Conference on Intelligent Robots and Systems, pp 2135–2140

5.

Gardner Morse M, Stokes IA, Laible JP (1995) Role of muscles in lumbar spine stability in maximum extension efforts. J Orthop Res 13(5):802–808

6.

Andrei SR, Nakamura Y, Nakata Y, Ishiguro H (2016) Design strategy for robotic spines of androids with a natural postural appearance. In: 2016 IEEE-RAS international conference on humanoid robots, pp 312–317

7.

Ryu H, Nakata Y, Nakamura Y, Ishiguro H (2016) Adaptive whole-body dynamics: an actuator network system for orchestrating multijoint movements. IEEE RAM 23(3):85–92

8.

Van Varseveld RB, Bone GM (1997) Accurate position control of a pneumatic actuator using on/off solenoid valves. IEEE/ASME TMECH 2(3):195–204

9.

Paul AK, Mishra JE, Radke MG (1994) Reduced order sliding mode control for pneumatic actuator. IEEE TCST 2(3):271–276

10.

Linnett JA, Smith MC (1989) An accurate low-friction pneumatic position control system. Proc Inst Mech Eng B 203(3):159–165

11.

Noritsugu T (1986) Development of PWM mode electro-pneumatic servomechanism. I: speed control of a pneumatic cylinder. J Fluid Control 17(1):65–80
Acknowledgements
This work was partially supported by Japan Society for the Promotion of Science Grants-in-Aid for Scientific Research Grant numbers JP26730136 and JP26700026.
Additional information
This work was presented in part at the 22nd International Symposium on Artificial Life and Robotics, Beppu, Oita, January 19–21, 2017.
About this article
Cite this article
Yu, S., Nakata, Y., Nakamura, Y. et al. A design of robotic spine composed of parallelogram actuation modules. Artif Life Robotics 22, 477–482 (2017). https://doi.org/10.1007/s10015-017-0383-0
Received:

Accepted:

Published:

Issue Date:
Keywords
Robotic spine

Human-like

Natural posture

Humanoid

Optimization