Abstract
C11orf95-RELA fusion or, less frequently, YAP1 fusion is recurrently detected in most cases of supratentorial ependymoma. Other fusions have rarely been reported in some cases of supratentorial ependymoma, and little is known about their pathological or clinical features. Here, we present a case of supratentorial ependymoma with unusual pathological findings and C11orf95-MAML2 fusion. A 23-year-old man was admitted to our hospital because of headache and vomiting. Magnetic resonance imaging revealed a cystic lesion in the right frontal lobe, and gross total resection of the tumor was performed. Pathologically, the tumor was mainly composed of typical ependymal lesions with perivascular pseudorosettes and contained some atypical lesions, with granular and ganglion cell features. The tumor was diagnosed as anaplastic ependymoma, which was classified as grade III on the World Health Organization scale, and found to be RELA fusion-positive in the DNA methylation analysis. However, the tumor was negative for C11orf95-RELA fusion, and RNA sequencing detected C11orf95-MAML2 fusion. The patient has not received adjuvant therapy and has remained alive without any evidence of disease for 30 months, suggesting that the prognosis might be better than that of typical C11orf95-RELA fusion-positive ependymoma.
This is a preview of subscription content, log in to check access.
Access options
Buy single article
Instant access to the full article PDF.
US$ 39.95
Tax calculation will be finalised during checkout.
Subscribe to journal
Immediate online access to all issues from 2019. Subscription will auto renew annually.
US$ 99
Tax calculation will be finalised during checkout.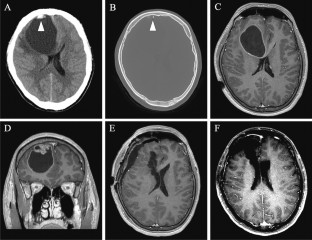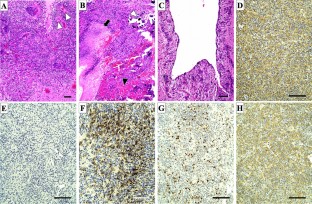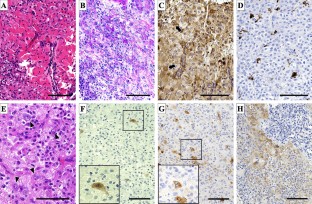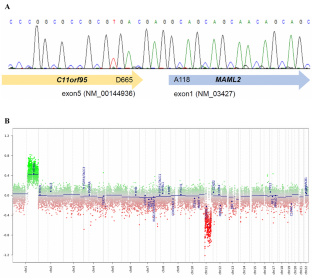 Abbreviations
cDNA:

Complementary deoxyribonucleic acid

EMA:

Epithelial membrane antigen

GFAP:

Glial fibrillary acidic protein

L1CAM:

L1 cell adhesion molecule

PAS:

Periodic acid-Schiff

PCR:

Polymerase chain reaction

RT-PCR:

Reverse transcriptase polymerase chain reaction

TBS-T:

Tris Buffered Saline—Tween
References
1.

Ostrom QT, Gittleman H, Liao P et al (2014) CBTRUS statistical report: primary brain and central nervous system tumors diagnosed in the United States in 2007–2011. Neuro Oncol 16(Suppl 4):iv1–iv63

2.

Louis DN, Perry A, Reifenberger G et al (2016) The 2016 World Health Organization classification of tumors of the central nervous system: a summary. Acta Neuropathol 131(6):803–820

3.

Andreiuolo F, Varlet P, Tauziede-Espariat A et al (2019) Childhood supratentorial ependymomas with YAP1-MAMLD1 fusion: an entity with characteristic clinical, radiological, cytogenetic and histopathological features. Brain Pathol 29(2):205–216

4.

Pajtler KW, Witt H, Sill M et al (2015) Molecular classification of ependymal tumors across All CNS compartments, histopathological grades, and age groups. Cancer Cell 27(5):728–743

5.

Parker M, Mohankumar KM, Punchihewa C et al (2014) C11orf95-RELA fusions drive oncogenic NF-κB signalling in ependymoma. Nature 506(7489):451–455

6.

Pajtler KW, Witt H, Sill M et al (2017) The current consensus on the clinical management of intracranial ependymoma and its distinct molecular variants. Acta Neuropathol 133(1):5–12

7.

Fukuoka K, Kanemura Y, Shofuda T et al (2018) Significance of molecular classification of ependymomas: C11orf95-RELA fusion-negative supratentorial ependymomas are a heterogeneous group of tumors. Acta Neuropathol Commun 6(1):134

8.

Nakamura H, Arai Y, Totoki Y et al (2015) Genomic spectra of biliary tract cancer. Nat Genet 47(9):1003–1010

9.

Wu L, Sun T, Kobayashi K et al (2002) Identification of a family of mastermind-like transcriptional coactivators for mammalian notch receptors. Mol Cell Biol 22(21):7688–7700

10.

Morita M, Murase T, Okumura Y et al (2020) Clinicopathological significance of EGFR pathway gene mutations and CRTC1/3-MAML2 fusions in salivary gland mucoepidermoid carcinoma. Histopathology 76(7):1013–1022

11.

Vivero M, Davineni P, Nardi V et al (2020) Metaplastic thymoma: a distinctive thymic neoplasm characterized by YAP1-MAML2 gene fusions. Mod Pathol 33(4):560–565

12.

Sievers P, Chiang J, Schrimpf D et al (2020) YAP1-fusions in pediatric NF2-wildtype meningioma. Acta Neuropathol 139(1):215–218

13.

Shintaku M, Yoshida M, Ikarashi T et al (2012) Ependymoma with "granular cell" features: report of two cases. Neuropathology 32(6):654–661

14.

Brat DJ, Scheithauer BW, Medina-Flores R et al (2002) Infiltrative astrocytomas with granular cell features (granular cell astrocytomas): a study of histopathologic features, grading, and outcome. Am J Surg Pathol 26(6):750–757

15.

Lee D, Suh YL, Nam DH (2008) Cerebral granular cell tumor. Neuropathology 28(4):417–421

16.

Shi Y, Morgenstern N (2008) Granular cell astrocytoma. Arch Pathol Lab Med 132(12):1946–1950

17.

Rao S, Ravindra N, Sadashiva N et al (2017) Anaplastic ependymoma with ganglionic differentiation: report of a rare case and implications in diagnosis. Int J Surg Pathol 25(7):644–647

18.

Steinberg GK, Rowan LM, White JE et al (1984) An unusual neoplasm of the cauda equina with gangliomatous and ependymomatous elements. Surg Neurol 22(2):164–166

19.

Hirose T, Scheithauer BW, Lopes MB et al (1997) Ganglioglioma: an ultrastructural and immunohistochemical study. Cancer 79(5):989–1003

20.

Miller DC, Koslow M, Budzilovich GN et al (1990) Synaptophysin: a sensitive and specific marker for ganglion cells in central nervous system neoplasms. Hum Pathol 21(1):93–98
Acknowledgements
We would like to thank Erika Komura and Anri Machi for preparing slides and performing immunohistochemistry, and Mai-Honda Kitahara for performing molecular analysis.
Funding
This research did not receive any specific grant funding agencies in the public, commercial, or non-for-profit sectors.
Ethics declarations
Conflict of interest
The authors declare that they have no conflict of interest.
Additional information
Publisher's Note
Springer Nature remains neutral with regard to jurisdictional claims in published maps and institutional affiliations.
Electronic supplementary material
Below is the link to the electronic supplementary material.
: Enlarged image of the brain tumor. A Pseudo perivascular rosettes consist of typical ependymal lesions. B Clear cells contain perinuclear halo. Scale bars: 100 µm (A, B) (TIF 6297 KB)
About this article
Cite this article
Tamai, S., Nakano, Y., Kinoshita, M. et al. Ependymoma with C11orf95-MAML2 fusion: presenting with granular cell and ganglion cell features. Brain Tumor Pathol (2020). https://doi.org/10.1007/s10014-020-00388-6
Received:

Accepted:

Published:
Keywords
Ependymoma

C11orf95-MAML2

Granular cell feature

Ganglion cell feature