Abstract
The IDH-mutant and 1p/19q co-deletion (1p19q codel) provides significant diagnostic and prognostic value in lower-grade gliomas. As ATRX mutation and 1p19q codel are mutually exclusive, ATRX immunohistochemistry (IHC) may substitute for 1p19q codel, but this has not been comprehensively examined. In the current study, we performed ATRX-IHC in 78 gliomas whose ATRX statuses were comprehensively determined by whole exome sequencing. Among the 60 IHC-positive and 18 IHC-negative cases, 86.7 and 77.8% were ATRX-wildtype and ATRX-mutant, respectively. ATRX mutational patterns were not consistent with ATRX-IHC. If our cohort had only used IDH status and IHC-based ATRX expression for diagnosis, 78 tumors would have been subtyped as 48 oligodendroglial tumors, 16 IDH-mutant astrocytic tumors, and 14 IDH-wildtype astrocytic tumors. However, when the 1p19q codel test was performed following ATRX-IHC, 8 of 48 ATRX-IHC-positive tumors were classified as "1p19q non-codel" and 3 of 16 ATRX-IHC-negative tumors were classified as "1p19q codel"; a total of 11 tumors (14%) were incorrectly classified. In summary, we observed dissociation between ATRX-IHC and actual 1p19q codel in 11 of 64 IDH-mutant LGGs. In describing the complex IHC expression of ATRX somatic mutations, our results indicate the need for caution when using ATRX-IHC as a surrogate of 1p19q status.
Access options
Buy single article
Instant access to the full article PDF.
US$ 39.95
Tax calculation will be finalised during checkout.
Subscribe to journal
Immediate online access to all issues from 2019. Subscription will auto renew annually.
US$ 79
Tax calculation will be finalised during checkout.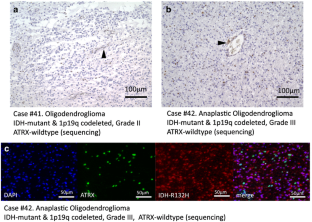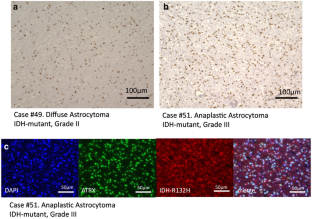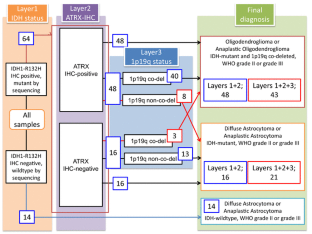 References
1.

Suzuki H, Aoki K, Chiba K et al (2015) Mutational landscape and clonal architecture in grade II and III gliomas. Nat Genet 47:458–468

2.

Ostrom QT, Gittleman H, Liao P et al (2017) CBTRUS Statistical Report: primary brain and other central nervous system tumors diagnosed in the United States in 2010–2014. Neuro Oncol 19:v1–v88

3.

Louis DN, Perry A, Reifenberger G et al (2016) The 2016 World Health Organization classification of tumors of the central nervous system: a summary. Acta Neuropathol 131:803–820

4.

Sanson M, Marie Y, Paris S et al (2009) Isocitrate dehydrogenase 1 codon 132 mutation is an important prognostic biomarker in gliomas. J Clin Oncol 27:4150–4154

5.

Gorovets D, Kannan K, Shen R et al (2012) IDH mutation and neuroglial developmental features define clinically distinct subclasses of lower grade diffuse astrocytic glioma. Clin Cancer Res 18:2490–2501

6.

van den Bent MJ, Brandes AA, Taphoorn MJ et al (2013) Adjuvant procarbazine, lomustine, and vincristine chemotherapy in newly diagnosed anaplastic oligodendroglioma: long-term follow-up of EORTC brain tumor group study 26951. J Clin Oncol 31:344–350

7.

Cairncross G, Wang M, Shaw E et al (2013) Phase III trial of chemoradiotherapy for anaplastic oligodendroglioma: long-term results of RTOG 9402. J Clin Oncol 31:337–343

8.

Cancer Genome Atlas Research N, Brat DJ, Verhaak RG et al (2015) Comprehensive, integrative genomic analysis of diffuse lower-grade gliomas. N Engl J Med 372:2481–2498

9.

Chaturbedi A, Yu L, Linskey ME et al (2012) Detection of 1p19q deletion by real-time comparative quantitative PCR. Biomark Insights 7:9–17

10.

Pinkham MB, Telford N, Whitfield GA et al (2015) FISHing Tips: what every clinician should know about 1p19q analysis in gliomas using fluorescence in situ hybridisation. Clin Oncol (R Coll Radiol) 27:445–453

11.

Hayashi S, Sasaki H, Kimura T et al (2015) Molecular-genetic and clinical characteristics of gliomas with astrocytic appearance and total 1p19q loss in a single institutional consecutive cohort. Oncotarget 6:15871–15881

12.

Jeuken J, Cornelissen S, Boots-Sprenger S et al (2006) Multiplex ligation-dependent probe amplification: a diagnostic tool for simultaneous identification of different genetic markers in glial tumors. J Mol Diagn 8:433–443

13.

Koschmann C, Calinescu AA, Nunez FJ et al (2016) ATRX loss promotes tumor growth and impairs nonhomologous end joining DNA repair in glioma. Sci Transl Med 8:328ra328

14.

Nandakumar P, Mansouri A, Das S (2017) The role of ATRX in glioma biology. Front Oncol 7:236

15.

Schwartzentruber J, Korshunov A, Liu XY et al (2012) Driver mutations in histone H3.3 and chromatin remodelling genes in paediatric glioblastoma. Nature 482:226–231

16.

Kannan K, Inagaki A, Silber J et al (2012) Whole-exome sequencing identifies ATRX mutation as a key molecular determinant in lower-grade glioma. Oncotarget 3:1194–1203

17.

Heaphy CM, de Wilde RF, Jiao Y et al (2011) Altered telomeres in tumors with ATRX and DAXX mutations. Science 333:425

18.

Pekmezci M, Rice T, Molinaro AM et al (2017) Adult infiltrating gliomas with WHO 2016 integrated diagnosis: additional prognostic roles of ATRX and TERT. Acta Neuropathol 133:1001–1016

19.

Reuss DE, Sahm F, Schrimpf D et al (2015) ATRX and IDH1-R132H immunohistochemistry with subsequent copy number analysis and IDH sequencing as a basis for an "integrated" diagnostic approach for adult astrocytoma, oligodendroglioma and glioblastoma. Acta Neuropathol 129:133–146

20.

Takano S, Ishikawa E, Sakamoto N et al (2016) Immunohistochemistry on IDH 1/2, ATRX, p53 and Ki-67 substitute molecular genetic testing and predict patient prognosis in grade III adult diffuse gliomas. Brain Tumor Pathol 33:107–116

21.

Cai J, Zhang C, Zhang W et al (2016) ATRX, IDH1-R132H and Ki-67 immunohistochemistry as a classification scheme for astrocytic tumors. Oncoscience 3:258–265

22.

Leeper HE, Caron AA, Decker PA et al (2015) IDH mutation, 1p19q codeletion and ATRX loss in WHO grade II gliomas. Oncotarget 6:30295–30305

23.

Rogers TW, Toor G, Drummond K et al (2018) The 2016 revision of the WHO classification of central nervous system tumours: retrospective application to a cohort of diffuse gliomas. J Neurooncol 137:181–189

24.

Hewer E, Vajtai I, Dettmer MS et al (2016) Combined ATRX/IDH1 immunohistochemistry predicts genotype of oligoastrocytomas. Histopathology 68:272–278

25.

Wiestler B, Capper D, Holland-Letz T et al (2013) ATRX loss refines the classification of anaplastic gliomas and identifies a subgroup of IDH mutant astrocytic tumors with better prognosis. Acta Neuropathol 126:443–451

26.

Ceccarelli M, Barthel FP, Malta TM et al (2016) Molecular profiling reveals biologically discrete subsets and pathways of progression in diffuse glioma. Cell 164:550–563

27.

Aoki K, Nakamura H, Suzuki H et al (2018) Prognostic relevance of genetic alterations in diffuse lower-grade gliomas. Neuro Oncol 20:66–77

28.

Ogasawara S, Fujii Y, Kaneko MK et al (2016) Establishment of anti-human ATRX monoclonal antibody AMab-6. Monoclon Antib Immunodiagn Immunother 35:254–258

29.

Fujii Y, Ogasawara S, Oki H et al (2015) A high-sensitive HMab-2 specifically detects IDH1-R132H, the most common IDH mutation in gliomas. Biochem Biophys Res Commun 466:733–739

30.

Purkait S, Miller CA, Kumar A et al (2017) ATRX in diffuse gliomas with its mosaic/heterogeneous expression in a subset. Brain Pathol 27:138–145

31.

Ikemura M, Shibahara J, Mukasa A et al (2016) Utility of ATRX immunohistochemistry in diagnosis of adult diffuse gliomas. Histopathology 69:260–267

32.

Weller M, van den Bent M, Tonn JC et al (2017) European Association for Neuro-Oncology (EANO) guideline on the diagnosis and treatment of adult astrocytic and oligodendroglial gliomas. Lancet Oncol 18:e315–e329

33.

Louis DN, Giannini C, Capper D et al (2018) cIMPACT-NOW update 2: diagnostic clarifications for diffuse midline glioma, H3 K27M-mutant and diffuse astrocytoma/anaplastic astrocytoma, IDH-mutant. Acta Neuropathol. https://doi.org/10.1007/s00401-018-1826-y
Acknowledgements
This research was supported by a Grant-in-Aid for Scientific Research on Innovative Areas "Chemistry for Multimolecular Crowding Biosystems" (A.N.) (JSPS KAKENHI Grant no. 17928985) and Platform Project for Supporting Drug Discovery and Life Science Research [Basis for Supporting Innovative Drug Discovery and Life Science Research (BINDS)] from AMED under Grant no. JP17am0101078 (Y.K.). The authors thank Drs. Ichiro Ito and Reiko Watanabe for their second pathological review.
About this article
Cite this article
Yamamichi, A., Ohka, F., Aoki, K. et al. Immunohistochemical ATRX expression is not a surrogate for 1p19q codeletion. Brain Tumor Pathol 35, 106–113 (2018). https://doi.org/10.1007/s10014-018-0312-5
Received:

Accepted:

Published:

Issue Date:
Keywords
Glioma

ATRX

Immunohistochemistry

Whole exome sequencing

1p19q codel