CuFeS2 as an anode material with an enhanced electrochemical performance for lithium-ion batteries fabricated from natural ore chalcopyrite
Abstract
Considering serious pollution from the traditional chemical synthesis process, the resource-rich, clean electrode materials are greatly desired. Conventional electrochemical performance improvement methods, such as quantum dot or coating, are complicated and costly. In this study, CuFeS2 with an enhanced cycle performance is prepared from natural ore chalcopyrite through simple flotation and acid leaching. We obtain micro-sized CuFeS2 with high yield and purity. Electrochemical measurement shows that the natural chalcopyrite with an EDD-S electrolyte displays a high initial charge capacity (992 mAh·g−1 at the initial discharge current density of 0.2 C), an excellent rate performance, and good cycle property. The discharge capacities are approximately 870, 850, 830, 800, 750, and 680 mAh·g−1 at current densities of 0.1, 0.2, 0.3, 0.5, 1, and 2 C, respectively. When the current density is reduced back to 0.1 C, the reversible capacity can recover to 860 mAh·g−1, the cyclability is impressive (initial capacity of 700 mAh·g−1 and 660 mAh·g−1 maintained for 1000 cycles at a high current density of 2 C, corresponding to an excellent capacity retention of 94% after 1000 cycles).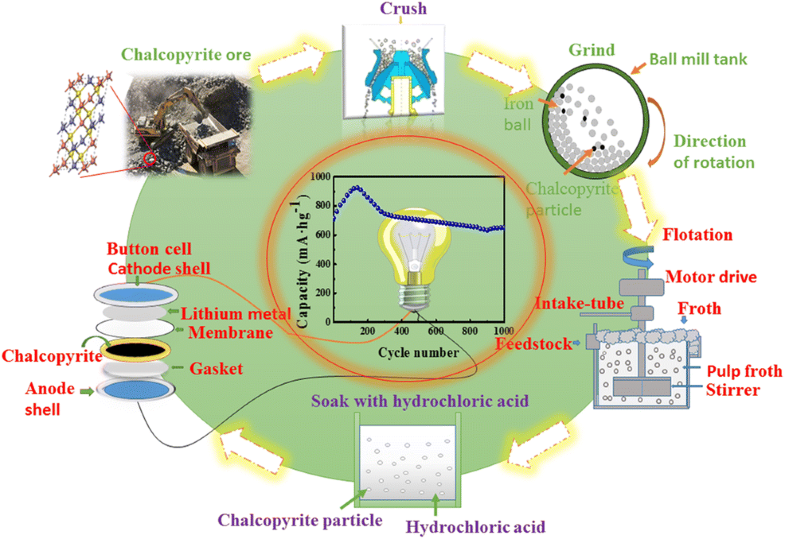 Keywords
Natural chalcopyrite 
Lithium-ion battery 
Anode material 
Electrochemical properties 
Electrolyte 
Notes
Funding information
This work was financially supported by the National Natural Science Foundation of China (51704330, 51622406, 21673298, and 21473258).
Copyright information
© Springer-Verlag GmbH Germany, part of Springer Nature 2019