Electrical cross-talk in four-electrode experiments
A digital simulation approach to the example of rotating ring–disk electrodes
Abstract
The subject of this paper is electrical cross-talk, an interference between the current/voltage characteristics of the two working electrodes in four-electrode (generator/collector) systems. Cross-talk arises in electrochemical cells of finite resistance due to the superposition of the electrical fields of the working electrodes, and often causes difficulties in the interpretation of measurement results. In this paper, we present an algorithm for modelling simple generation/collection experiments with a rotating ring–disk electrode (RRDE) immersed into a finite resistance solution of a redox couple. We show that based on the analysis of the Kirchhoff (Laplace) matrix of the simulation mesh, the effect of electrical cross-talk may be accounted for in such experiments. The intensity of cross-talk is found to be heavily influenced by the selection of the reference point for potential measurements; in practice, this is the position of the reference electrode or the tip of the Luggin probe. The devised model is validated by means of a simple and demonstrative experiment.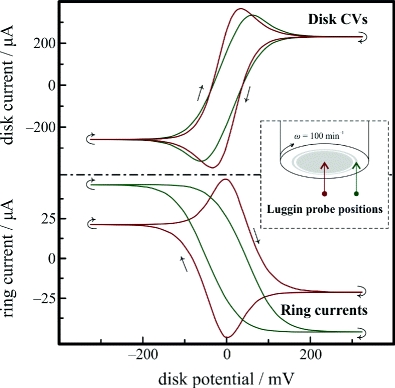 Keywords
RRDE 
Ohmic potential drop 
Cross-talk effects 
Digital simulations 
Kirchhoff (Laplace) matrix 
Notes
Acknowledgments
Some of the chemicals used in this study were donated by G. Inzelt (ferrocyanides) and by T. Pajkossy (mercury), for which the authors express their gratitude. The help of T. Pajkossy in taking the photographs shown in the paper is also highly appreciated. The donation of data acquisition cards used for the experiments is gratefully acknowledged to the National Instruments Hungary Ltd., Debrecen.
This research was supported by the European Union and the State of Hungary, co-financed by the European Social Fund in the framework of TÁMOP 4.2.4.A/1–11–1–2012–0001 National Excellence Program. S. Vesztergom thanks the Scientific Exchange Programme NMS ch (SciEx 13.060) for funding this work. G.G. Láng gratefully acknowledges support from the Hungarian Scientific Research Fund (OTKA–K109036). P. Broekmann acknowledges financial support by the Swiss National Science Foundation (SNSF 200020_149224/1).
Copyright information
© Springer-Verlag Berlin Heidelberg 2016