Abstract
Recently unveiled 'alkali metal fluorosulphate (AMSO4F)' class of compounds offers promising electrochemical and transport properties. Registering conductivity value as high as 10−7 S cm−1 in NaMSO4F phases, we explored the fluorosulphate group to design novel compounds with high Li-ion conductivity suitable for solid electrolyte applications. In the process, we produced sillimanite-structured LiZnSO4F by low temperature synthesis (T ≤ 300 °C). Examining this phase, we accidentally discovered the possibility of improving the ionic conductivity of poor conductors by forming a monolayer of ionic liquid at their particle surface. This phenomenon was studied by solid-state NMR, XPS and AC impedance spectroscopy techniques. Further, similar trends were noticed in other fluorosulphate materials like tavorite LiCoSO4F and triplite LiMnSO4F. With this study, we propose 'ionic liquid grafting' as an interfacial route to enable good Li-ion conductivity in otherwise poor conducting ceramics.
This is a preview of subscription content, log in to check access.
Access options
Buy single article
Instant access to the full article PDF.
US$ 39.95
Price includes VAT for USA
Subscribe to journal
Immediate online access to all issues from 2019. Subscription will auto renew annually.
US$ 99
This is the net price. Taxes to be calculated in checkout.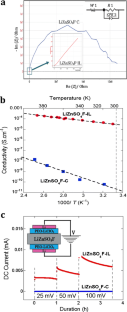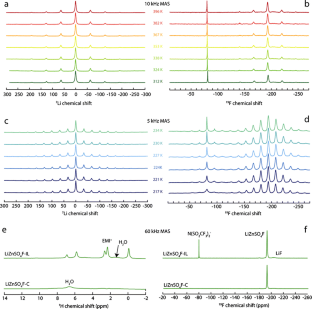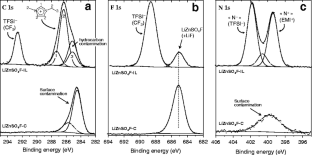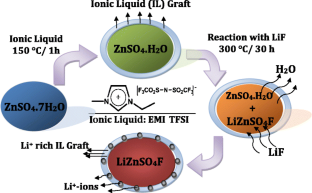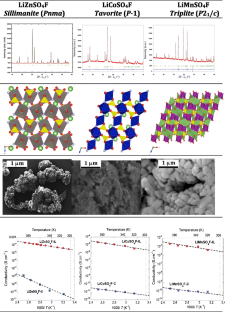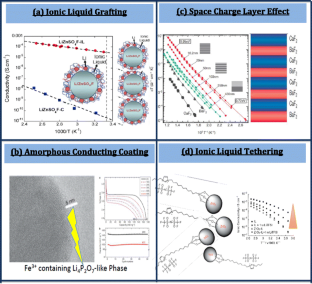 References
1.

Mizushima K, Jones PC, Wiseman PC, Goodenough JB (1980) Mater Res Bull 15:783–789

2.

Padhi AK, Nanjundaswamy KS, Goodenough JB (1997) J Electrochem Soc 144:1188–1194

3.

Nyten A, Abouimrane A, Armand M, Gustafsson T, Thomas JO (2005) Electrochem Commun 7:156–160

4.

Yamada A, Iwane N, Harada Y, Nishimura S, Koyama Y, Tanaka I (2010) Adv Mater 22:3583–3587

5.

Ramesh TN, Lee KT, Ellis BL, Nazar LF (2010) Electrochem Solid-State Lett 13:A43–A47

6.

Nishimura S, Nakamura M, Natsui R, Yamada A (2010) J Am Chem Soc 132:13596–13597

7.

Recham N, Chotard JN, Dupont L, Delacourt C, Walker W, Armand M, Tarascon JM (2010) Nat Mater 9:68–74

8.

Barpanda P, Recham N, Chotard JN, Djellab K, Armand M, Tarascon JM (2010) J Mater Chem 20:1659–1668

9.

Barpanda P, Chotard JN, Recham N, Delacourt C, Ati M, Dupont L, Armand M, Tarascon JM (2010) Inorg Chem 49:7401–7413

10.

Sorokin NI, Sobolev BP (2007) Crystallogr Rep 52:842–863

11.

Barpanda P, Chotard JN, Delacourt C, Reynaud M, Filinchuk Y, Armand M, Deschamps M, Tarascon JM (2011) Angew Chem Int Ed 50:2526–2531

12.

Armand M, Gauthier M, Magnan JF, Ravet N (2004) US Patent 033:360

13.

Rodriguez-Carvajal J (2001) CPD Newslett 26:12–19

14.

Momma K, Izumi F (2008) J Appl Crystallogr 41:653–658

15.

Bielecki A, Burum DP (1995) J Magn Reson A 116:215–220

16.

Barpanda P, Ati M, Melot B, Rousse G, Chotard JN, Doublet ML, Sougrati MT, Corr S, Jumas JC, Tarascon JM (2011) Nat Mater 10:772–779

17.

Kang B, Ceder G (2009) Nature 458:190–193

18.

Sata N, Eberman K, Ebert K, Maier J (2000) Nature 408:946–949

19.

Schaefer JL, Moganty SS, Archer LA (2011) J Mater Chem 21:10094–10101
Acknowledgements
The scientific assistance of Dominique Massiot (Orleans) and Danielle Gonbeau (Pau) is acknowledged. We thank ALISTORE-ERI for the financial support. The first author (PB) is grateful to the Japan Society for the Promotion of Science for a JSPS Fellowship at the University of Tokyo.
About this article
Cite this article
Barpanda, P., Dedryvère, R., Deschamps, M. et al. Enabling the Li-ion conductivity of Li-metal fluorosulphates by ionic liquid grafting. J Solid State Electrochem 16, 1743–1751 (2012). https://doi.org/10.1007/s10008-011-1598-y
Received:

Revised:

Accepted:

Published:

Issue Date:
Keywords
Conductivity

Fluorosulphates

Ionic liquid grafting

Solid electrolyte